With Uber going public at $45 a share, we look at how much its top investors' stakes are worth.
The most valuable US-based unicorn is going public.
Ride-hailing behemoth Uber announced that it will go public tomorrow morning at $45 a share, at the lower end of the range of $44-$50 per share outlined in its April S-1. The company was last valued at $72B, as of August 2018.
Since launching in early 2009, Uber has attracted funding from a bevy of 90+ investors, ranging from VC firms (like Lowercase Capital, G Squared, and Benchmark) to corporates (like Toyota, Microsoft, and Goldman Sachs) to celebrities (Ashton Kutcher was one of the firm's earliest investors).
A decade later, Uber's IPO could mean a massive return on investment for many of its investors.
breakdown of top stakeholders
Using Uber's S-1 filing, we calculated how much its top investors' shares are worth, based on its $45 a share IPO price.
Here's the breakdown of Uber's top investors, from co-founders to key institutional investors.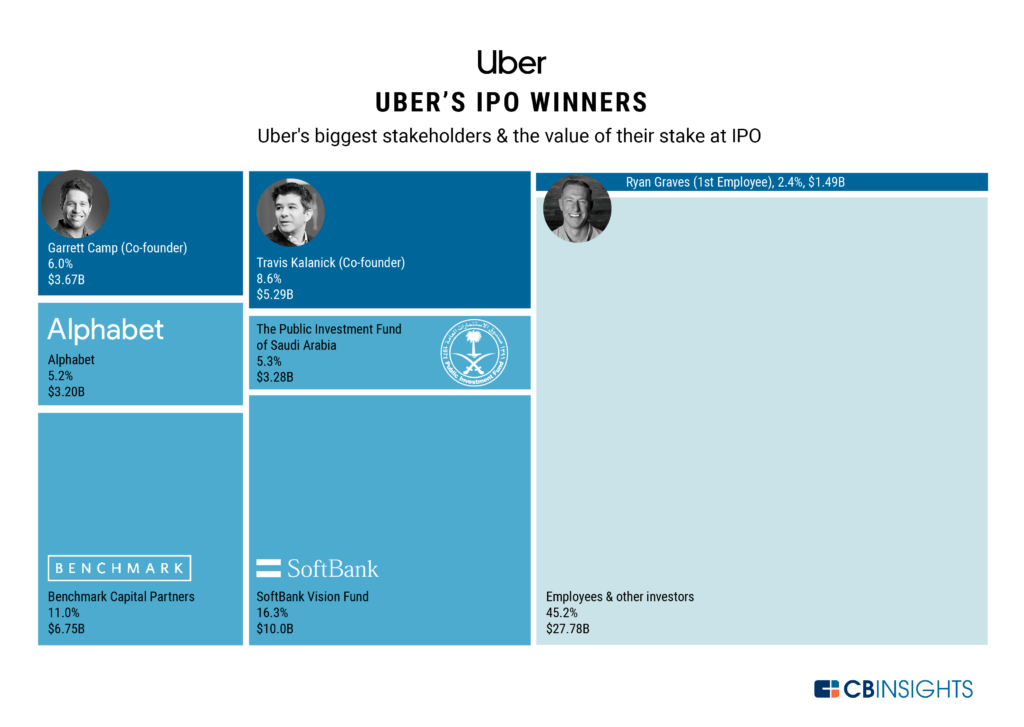 According to Uber's S-1, SoftBank is the largest investor in the company, with 16% of all shares. (Notably, SoftBank has also backed a number of Uber's competitors, including Olacabs, Grab, and Didi Chuxing.)
If, after its lockup period has ended, SoftBank is able to sell all its shares at tomorrow's opening price of $45, it stands to bring in a whopping $10B.
After SoftBank, Benchmark Capital Partners has the second largest share of the company, at 11%.
Cofounders Travis Kalanick and Garrett Camp have an 8.6% and 6% share of the company, respectively.
All of Uber's largest shareholders have agreed to a lockup period of 6 months after the IPO, during which they are not allowed to sell any of their shares.
Top institutional investors timeline
Uber's top institutional investors have taken very different approaches to investing in the startup.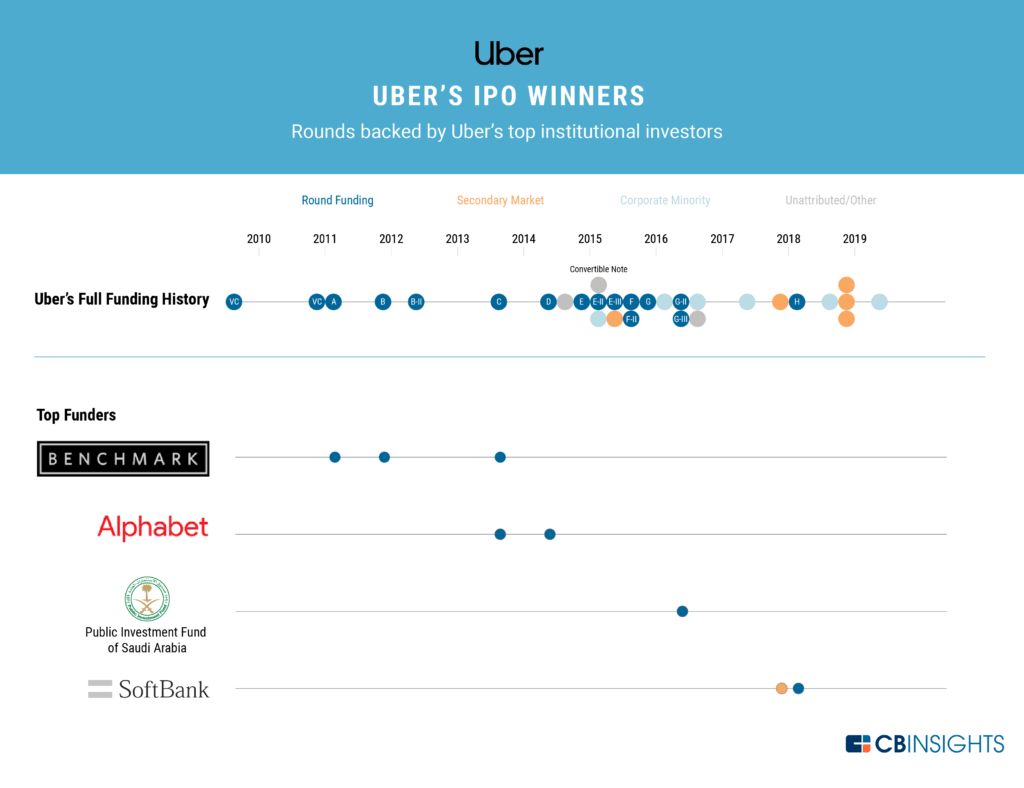 Benchmark was one of Uber's earlier investors, first investing in the company's Series A in February 2011. Alphabet joined on a few years later (via its Google Ventures arm), when the two investors jointly backed its 2013 Series C.
The Public Investment Fund of Saudi Arabia, which boasts a 5.3% stake in the company, only invested in Uber one time, backing a $3.5B tranche of its Series G funding.
SoftBank, the top stakeholder at time of IPO, was one of Uber's largest — and latest — investors. The Japan-based fund led a $1.25B Series H to the company in January 2018, on the heels of a $7B secondary market funding at the end of 2017. The $7B deal is Uber's largest disclosed funding round.
If you aren't already a client, sign up for a free trial to learn more about our platform.