Beijing-based Didi secures $4B from SoftBank and Mubadala to surpass Uber as the most well-funded VC-backed unicorn in the world.
Didi Chuxing, the Chinese ride-hailing unicorn, is having a noteworthy year after raising its second largest funding round earlier this week. Mubadala Investment Company and SoftBank were the sole investors in this massive $4B Series H, which bumped the company's valuation up to $56B.
In April, the company raised a $5.5B Series G — the largest-ever private tech investment, according to sources. With over $18B in total funding (nearly $21B including funding from acquired companies and units), Didi is now the most well-funded VC-backed startup globally. The organization looks to invest further into artificial intelligence, driverless vehicles, and international markets with its growing repository of capital.
This deal is the latest in a series of major funding rounds to Uber's top competitors, as these companies look to capitalize on the woes of the once-unstoppable ride-hailing company. For a deeper look at where Uber stands now and how it is shifting its strategy, check out our Uber teardown.
While the world's most valuable private venture-backed company remains formidable and well-financed, the company's deepening struggles have opened an opportunity for its many rivals. We used CB Insights data to compare the war chest of Uber against other players within the ride-hailing space. These companies are also sometimes referred to as transportation network companies (TNCs), and some provide logistical services beyond passenger transport.
RIDE-HAILING UNICORN FUNDING
As recently as two years ago, it seemed that Uber was poised to dominate ride-hailing markets across the globe, flush with cash and riding the peak of the unicorn craze. The company stayed true to Kalanick's aggressive growth philosophies, venturing into countries from China to Brazil.
With Uber's retrenchment in China and Eastern Europe, the company has reversed course from indiscriminately pouring resources across the globe. Although the company's war chest remains formidable, especially with the addition of $1B in proposed funding from SoftBank and Dragoneer Investment Group, its competitors now sport impressive arsenals of their own. All of Uber's well-capitalized rivals, both domestically and internationally, have raised significant new financing in 2017 as Uber itself has stumbled from crisis to crisis.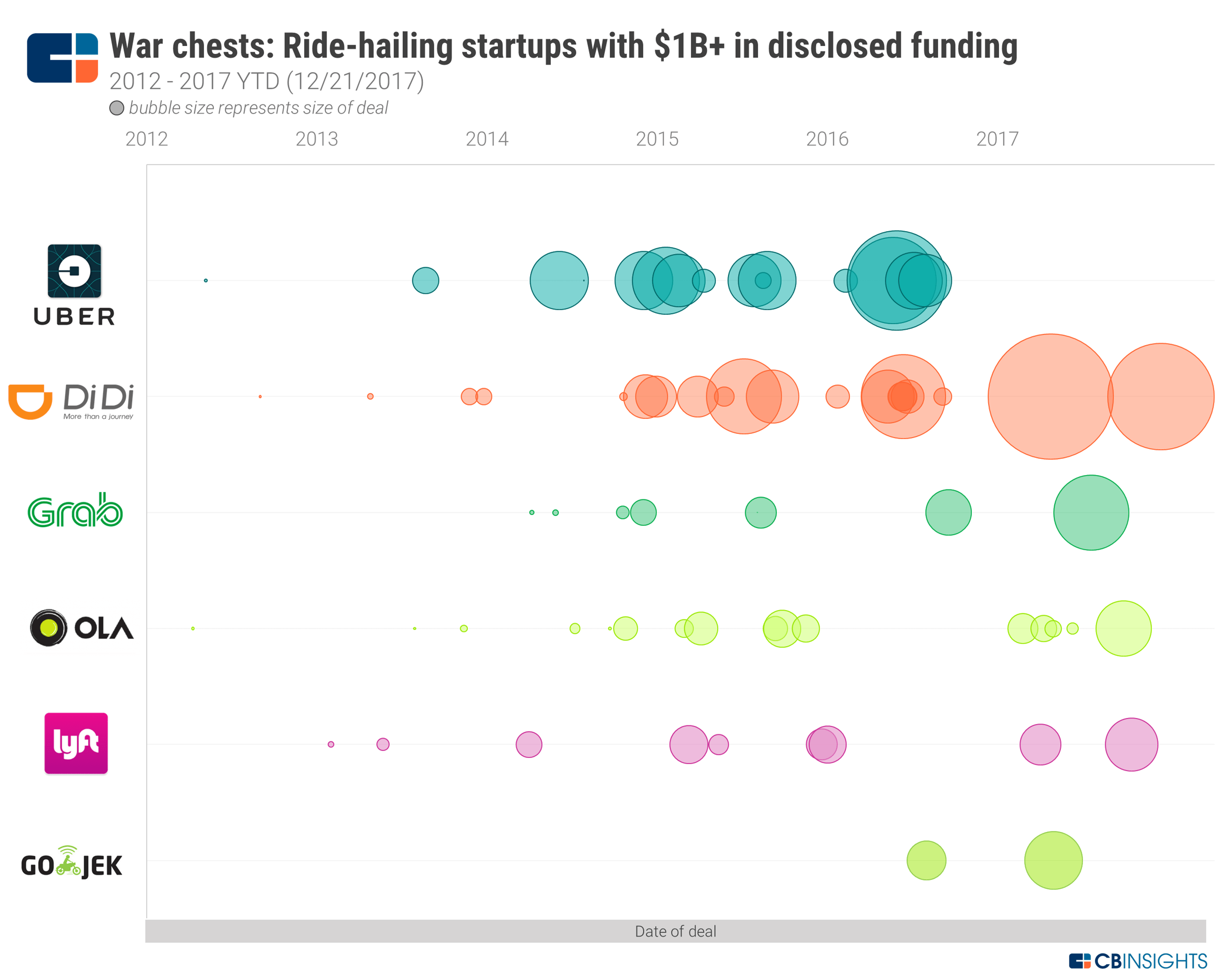 COMPARING WAR CHESTS OF RIDE-HAILING COMPANIES
Didi Chuxing has secured a massive pool of capital that now surpasses that of its US counterpart (as depicted, Didi Chuxing's war chest includes financings to its pre-merger constituents, as well as the Uber China unit Didi acquired in August 2016). Didi's most recent raise was the aforementioned $4B round, which dwarfed the amount raised by many public offerings.
Note: the analysis in the chart below excludes funding to dead companies, and includes all sources of disclosed funding including debt and other instruments.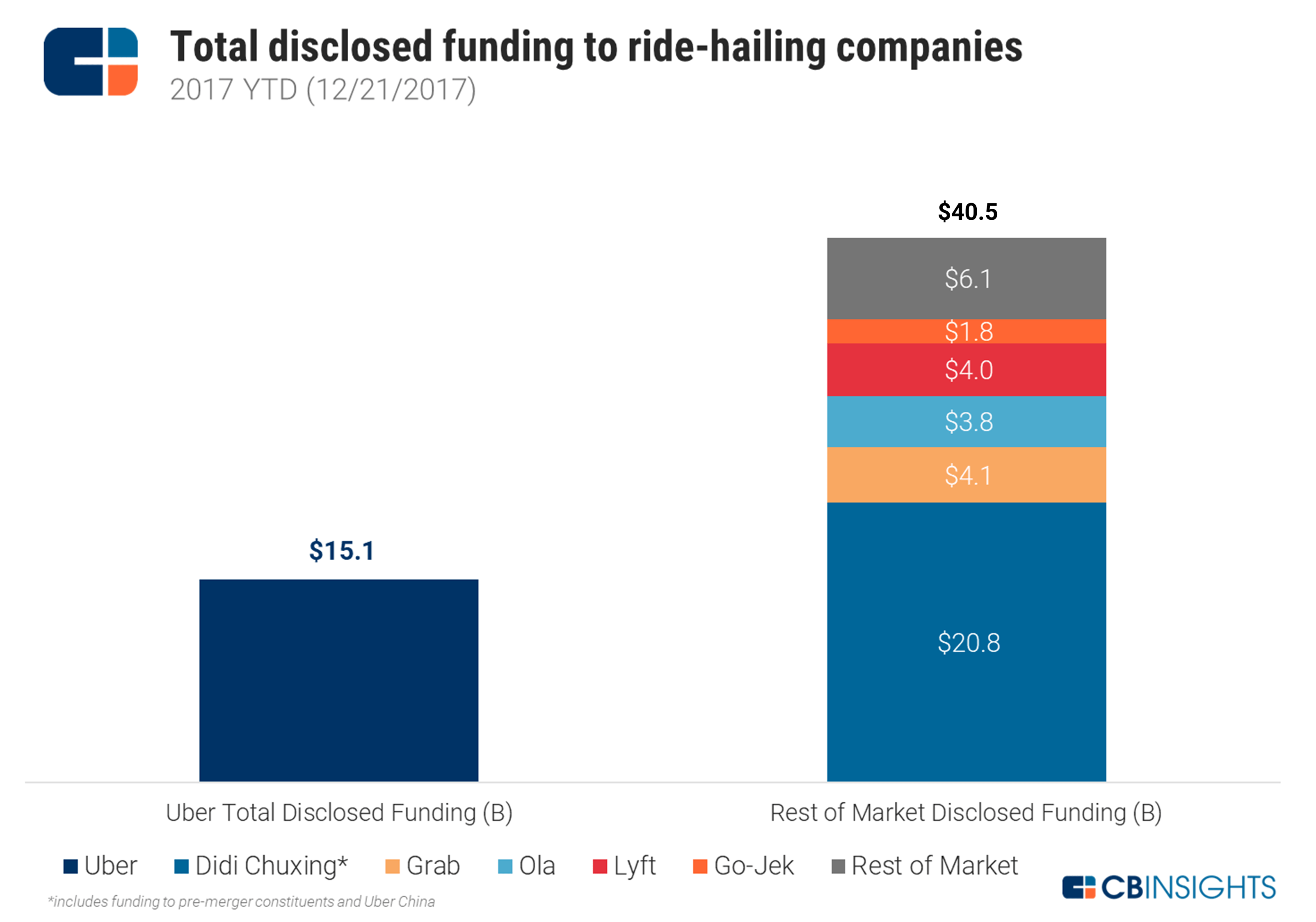 This is a noticeable shift from the picture two years ago, when Uber's war chest was still ahead of the collective funding secured by all of its competitors, to say nothing of any single rival. The rest of the market has now collectively received nearly triple the amount of capital committed to the San Francisco-based company. Nevertheless, Uber still has access to deep capital reserves and alternative sources of funding, such as the $1.15B leveraged loan it raised in July 2016.
Beyond these two behemoths, other players have also secured over multiple billions in funding, including US competitor Lyft and Grab, which now comes second (after Didi Chuxing) with $4.14B in total funding after receiving a recent line of credit for $700M.
It's notable, however, that unlike Uber, these other players have only gained meaningful traction within a specific country or limited geographic region. Of course, this also means that they are able to focus their resources and efforts, while Uber has had to contend with many regional competitors at once. Didi Chuxing's most recent mega-round was said to go towards fueling its international expansion, among other initiatives.
And as deal sizes have risen and more investors have piled in, the web of investors backing top ride-hailing companies has become extremely complex, with several investors holding several complementary (and in some cases competitive) efforts in a single portfolio. The largest players have also become active startup investors and acquirers in their own right; Didi and Uber even hold mutual stakes in each other's businesses.
QUARTERLY FUNDING TRENDS (EX-UBER)
Deal activity in the ride-hailing space (excluding Uber) had fallen for four consecutive quarters prior to Q2'17, mirroring the cooling of investor interest in the broader on-demand space. However, as Uber's challenges mounted in Q2'17 and continued in Q3'17, ex-Uber players received over $10B in funding over the past two quarters. Of course, discussions for some of these deals would have begun well before Uber's most recent developments, but there's no doubt that the giant's struggles have opened an opportunity for its smaller rivals and their investors.
The largest deals so far this year include Chinese ride-hailing company Didi Chuxing's previously mentioned $5.5B Series G (in Q2'17) and $4B Series H rounds (in Q4'17, not pictured), as well as a $2B Series G to the Singapore-based Grab (in Q3'17). A host of others also saw $1B+ mega-rounds in 2017, such as Lyft, Go-Jek, and Ola (fka OlaCabs).
Note that this trend analysis includes equity financings only, as opposed to the total funding comparison below (which includes debt and other financing instruments).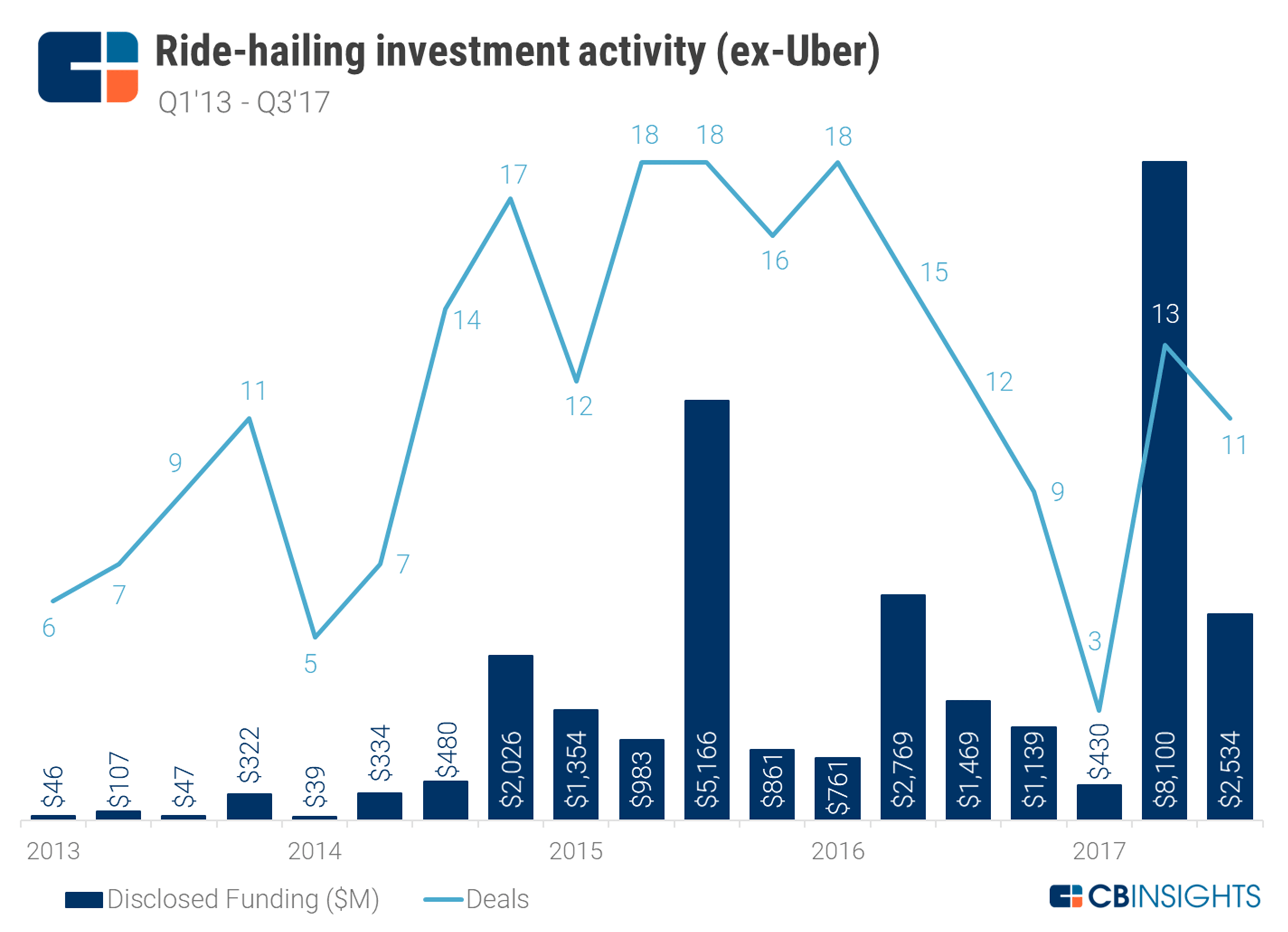 If you aren't already a client, sign up for a free trial to learn more about our platform.