In Q4'18, Uber Eats accounted for nearly 20% of Uber's total bookings. Here's how the food delivery business became a powerhouse revenue stream for the unprofitable ride-hailing giant.
Uber Eats, Uber's food delivery app, is the fastest-growing and most profitable unit within Uber.
Uber Eats has succeeded because it uses the existing global network of drivers within Uber to provide a higher-margin, value-add service to its customers: food delivery.
The service allows users to order food from local restaurants through the app for delivery within 20 minutes to an hour. Food is delivered by local Uber drivers, who receive Uber Eats requests within the standard Uber driver app.
In Q4'18, Uber Eats reportedly generated $2.5B in gross bookings — roughly 18% of Uber's total gross bookings in the quarter. Furthermore, the business line was profitable in nearly a quarter of the cities in which it operates as of 2017.
Below, we take a look at how Uber Eats become one of the powerhouse business lines for the ride-hailing giant and why a recent pullback in operations could spell trouble for Uber.
How Uber Eats makes money
Uber Eats generates revenue in three ways: a sliding scale delivery fee from each customer, a percentage of each driver's gross fare, and a 30% fee from the restaurant on each order.
Each order pays a booking fee that is determined by both distance and by the routes of other orders. In the first example below, an order from a McDonald's 1.5 miles away pays a $3.49 booking fee. In the second example, a restaurant that is 2.6 miles away is only given a $1.49 booking fee.
Despite the distance difference, another Uber Eats customer — somewhere between the origin point of the request and the restaurant — has also ordered from that same restaurant. Since the driver is already coming that way with an order from that restaurant, the Uber Eats app uses the lower booking fee to incentivize you to help create a "batched" order.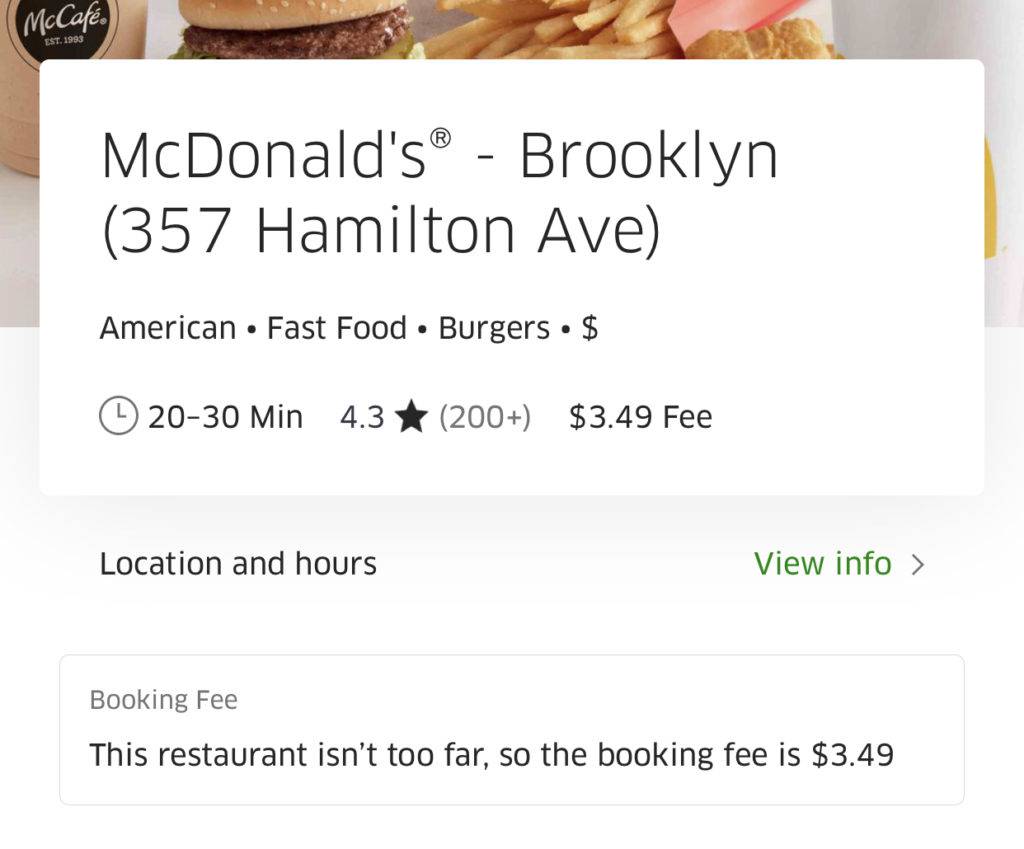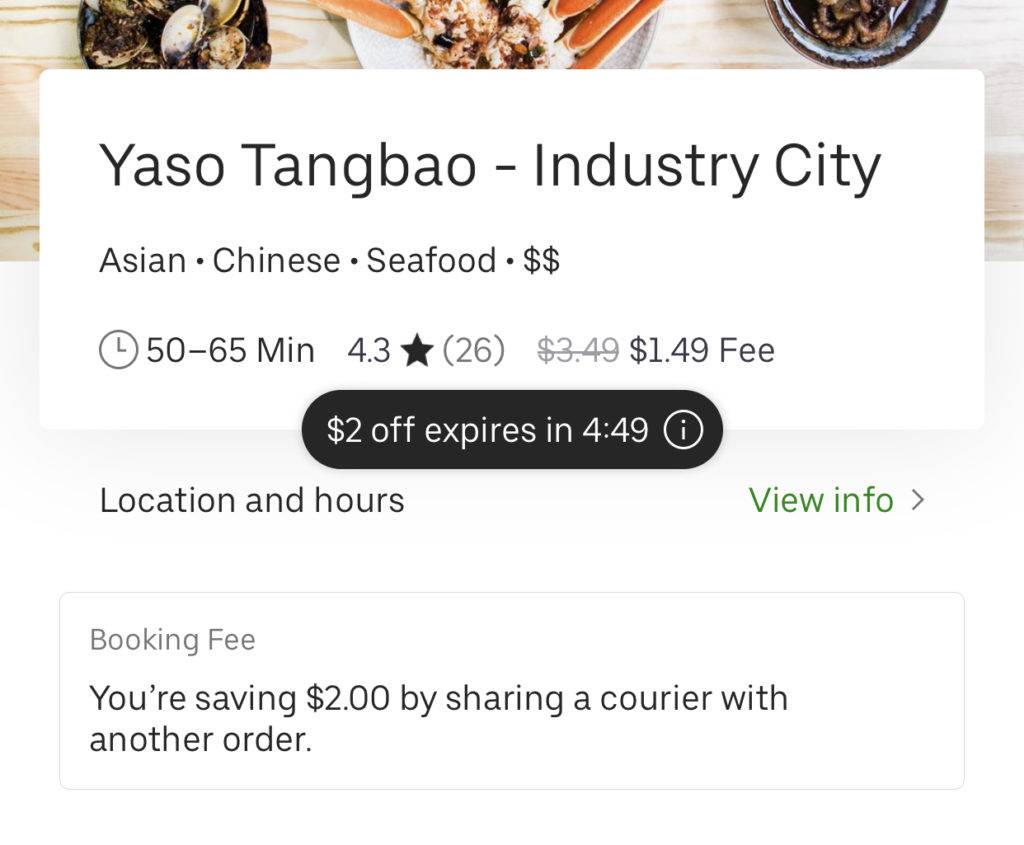 Using Uber Eats, you save money on certain restaurants that already have orders pending with Uber Eats — if you're in the same area as the other order, drivers can batch deliveries and save time.
The customer perceives this as a discount, but it is ultimately a larger victory for Uber. It generates another order (and a 30% cut from the restaurant) while it only has to pay the driver for the minimal diversion to drop off another order.
Uber Eats already saves a significant amount on costs because it utilizes existing Uber drivers to do pickups and delivery. And its global network of drivers has allowed it to easily expand into many new markets.
It also benefits from the fact that the majority of restaurants cannot afford to hire their own delivery drivers. They work with Uber Eats to supplement their revenue with delivery orders, even if they have to pay out a cut to Uber.
Backlash from drivers and restaurants
With razor-thin restaurant margins, you need a high volume of orders to break even with a service like Uber Eats. Many restaurants have opted out: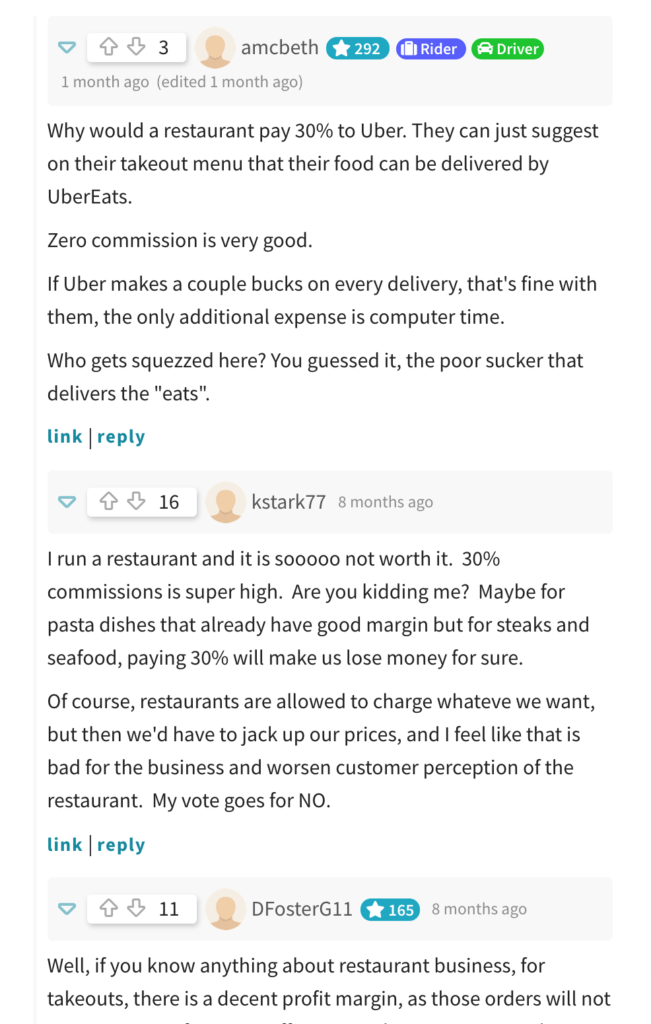 Not all restaurateurs are convinced that working with Uber Eats is worth it given the gross 30% cut it takes out of each order.
Uber Eats' competitive advantage
In parts of the world without well established on-demand food delivery options, Uber has the massive competitive advantage of already owning a fleet of delivery drivers. Once the company makes the connection with a restaurant, it has to just flip a switch to turn delivery on. Potential customers can use all their existing information stored in their Uber app to start ordering.
However, the company has struggled in locations with already established food delivery players and where governments are likely to pass regulations favoring the local operations. In one example, India-based food delivery startup Swiggy recently agreed to acquire the Uber Eats operations in India.
In markets like NYC where other food delivery options like Seamless are well entrenched, Uber Eats growth has been slower. In fact, rival delivery company DoorDash just overtook Uber Eats in US market share, according to TechCrunch, highlighting some potential trouble for the company.
Uber Eats' ultimate value to Uber is not just as a potentially huge profit center for the company, however. It is as a stepping stone to even more revenue-generating "side apps" that demonstrate the potential for Uber to become more than a ride-hailing company.
If you aren't already a client, sign up for a free trial to learn more about our platform.