Also covered are space tech startups and the supply chain giants using blockchain.
Today, we're talking about an alternative protein IPO, blockchain and logistics, the private market space race, and more, including:
Should Tyson Foods acquire Beyond Meat?

FAMGA's beauty obsession

Which corporations love esports?

The private market space race

 Logistics giants experiment with blockchain
 Women's fertility startups
Should Tyson Foods acquire Beyond Meat?
Last week, Beyond Meat released its S-1 ahead of an upcoming IPO. The company is the first meatless meat startup to hit the public markets.

Although Beyond Meat is still not profitable, its revenues more than doubled YoY in the first 9 months of 2018. The company most recently raised a $55M Series G round in December 2017 at a $550M valuation.
With its newly disclosed 2017 revenue figures ($32.6M), Beyond Meat's price/sales multiple falls from 62.5x to a still lofty but slightly less crazy 16.9x.
Through its venture fund, Tyson Ventures, Tyson Foods  has been an investor in Beyond Meats, participating in its Series F and G rounds.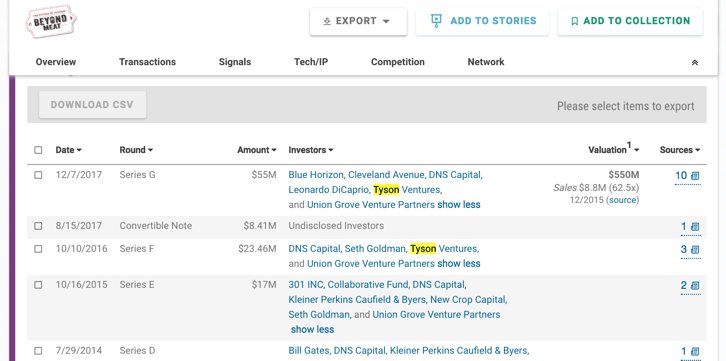 We've seen a number of tech companies get acquired after filing their S-1 and right before their IPO. Could Tyson Foods do the same with Beyond Meat?
Tyson's stock price has been having a tough time this year, so staking a claim in the fast-growing meatless category could be a well-received move.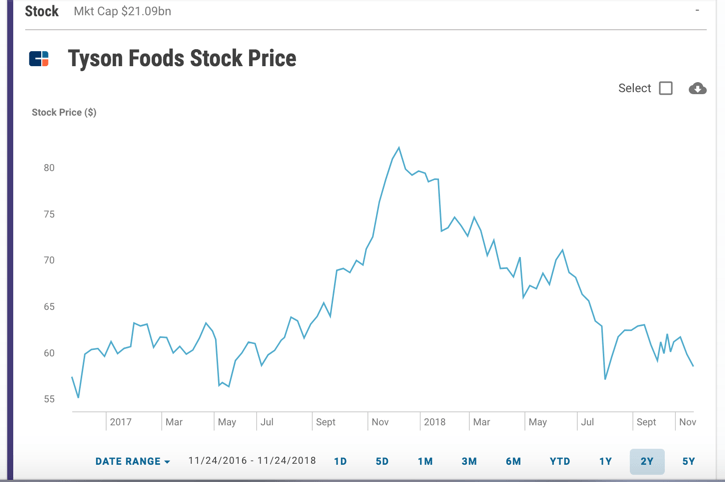 There also seems to be some alignment between Beyond Meat and Tyson.
One of the most interesting disclosures from Beyond Meat's S-1 is that many of its consumers typically eat animal-based proteins.

Beyond Meat produces a variety of meatless products, which traditionally would target the vegan/vegetarian demographic. The CBI consensus industry analyst estimate pegs the meat alternatives market at $5.1B, not exactly a huge target.