CES, the world's largest tech convention, is dedicating an increasing amount of floor space to automotive technology. We map out the overarching trends seen at this year's conference to assess what's next for auto and mobility.
An often-heard joke is that CES should be called the Car Electronics Show.
Over the past few years, major auto players have debuted attention-grabbing technology at what's actually known as the Consumer Electronics Show, reflecting an industry-wide effort to catch up with disruptive forces such as autonomy, connectivity, electrification, and shared mobility.
As tech giants enter the transportation space and threaten traditional auto's foothold, automakers and auto suppliers are utilizing CES as an opportunity to showcase where they're at in developing the vehicle of the future.
From our spot at the world's largest tech convention, we rounded up a few trends that we're looking out for in 2019 and beyond:
---
1. FOR NOW, TECH WILL WORK with drivers, instead of replacing them
Automakers and tech firms approached this year's show with more practicality than years past, choosing to highlight driver assistance technology, rather than focusing on lofty goals around full autonomy. Central to these systems will be AI and computer vision software, a notable focus for the CES show at large.
NVIDIA, which planned to have Level 4 autonomous technology by 2020, shifted gears at this year's show and debuted an advanced driver assistance system for Level 2 vehicles. Level 2 offers features such as cruise control and emergency braking, but still requires full engagement from the driver.
NVIDIA's DRIVE AutoPilot system for Level 2+ vehicles
Toyota also debuted a driver assistance system that demands full engagement from the driver until the system identifies a potential incident, when it's designed to intervene. Called Guardian, the technology is designed to blend the strengths of the human driver with automated driving technology.
The shift in focus reflects growing skepticism from the public and the broader tech space at large around the timeline for fully driverless cars.
---
2. AUTOMAKERS ARE Bringing SENSORS inside the vehicle
While prior CES shows have focused on sensors that help monitor a vehicle's surroundings, a new wave of sensor startups have started bringing cameras into the car to monitor drivers and capture data on passengers.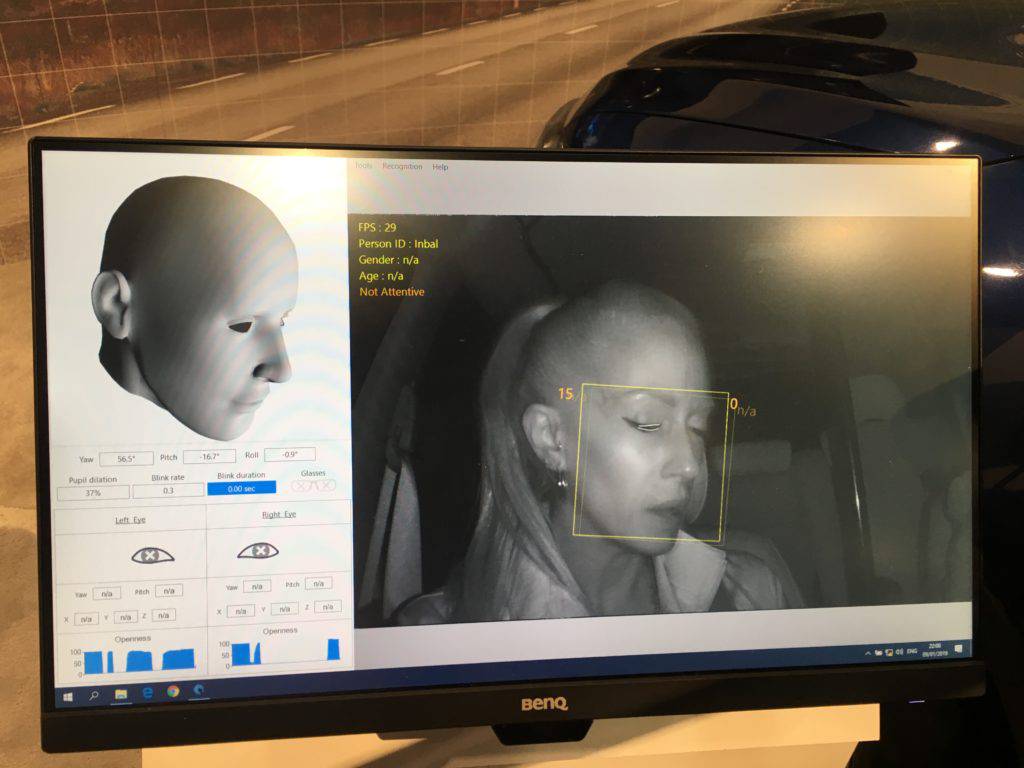 Eyesight's driver monitoring system
Computer vision startup Eyesight showcased its driver monitoring system that uses in-cabin cameras and computer vision technology to detect driver fatigue and distraction by tracking gaze direction, pupil dilation, eye openness, and blink rate.
Additionally, cockpit designers such as Samsung, Qualcomm, and Blackberry are utilizing in-vehicle sensors to automate seat adjustments, lighting, and temperature to reflect passenger preferences.
---
3. MOBILITY IS GOING MULTIMODAL
Perhaps the most attention-grabbing vehicle at this year's show was Bell's flying car concept, called Nexus, which Uber is slated to use for its flying taxi service Uber Air.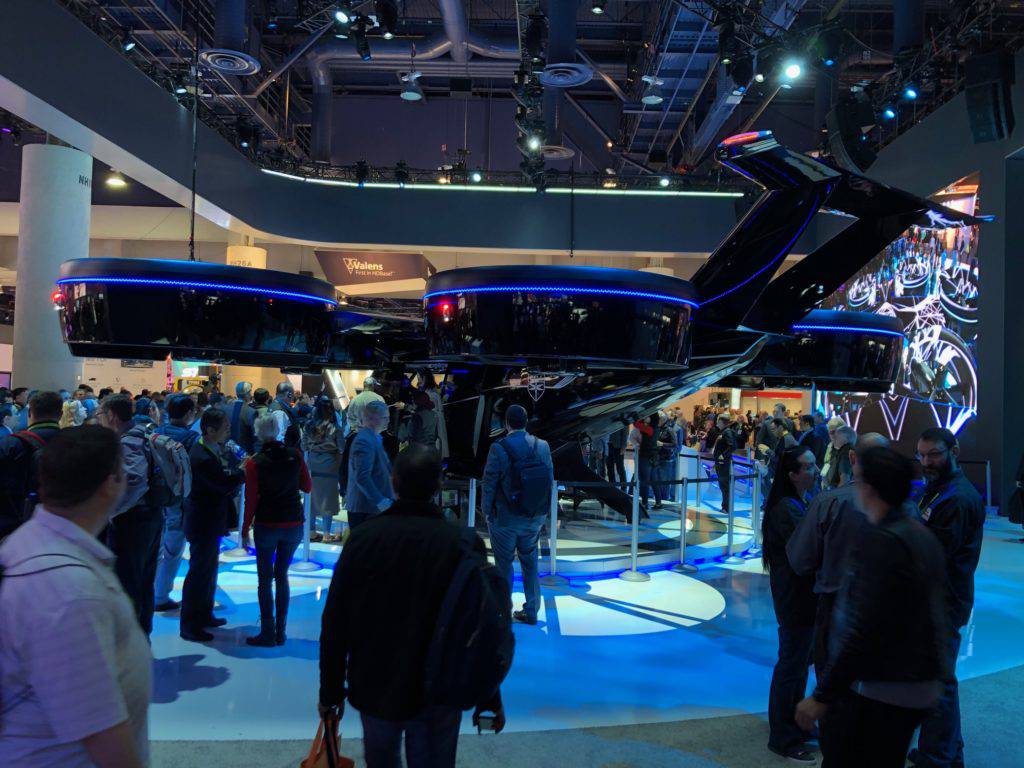 Bell's flying car concept, Nexus
Nexus boasts a range of 150 miles, with speeds reaching up to 150 mph, as well as vertical takeoff and landing (VTOL) capabilities. The hybrid-electric flying air taxi, which is expected to be released in 2025, carries 4 passengers in addition to a pilot.
Additionally, given the frenzy around micromobility over the past year, it was no surprise that personal electric vehicles (PEVs) took up more floor space at this year's event. In highlighting its broad assortment of mobility services, Ford showcased e-scooters from scooter-sharing platform Spin, which it acquired in November 2018.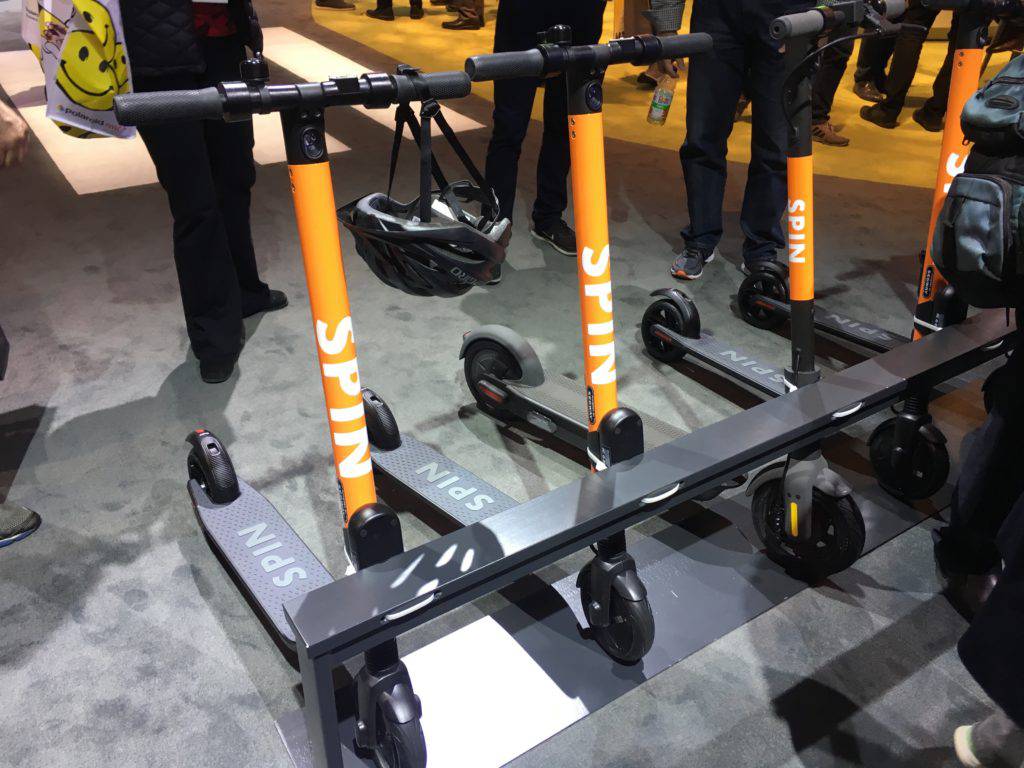 ---
4. VEHICLE TO EVERYTHING (V2X) TECH IS GAINING GROUND
Once a pie-in-the-sky concept, vehicle-to-everything (V2X) technology was a topic of conversation for a number of major automakers including Audi, Ford, Honda, and Hyundai.
The technology provides a fuller picture of a vehicle's surroundings than traditional line-of-sight sensors like cameras, radar, and lidar by allowing vehicles to detect all of the other connected objects that surround them.
Proponents of V2X at this year's show seemed to favor the cellular V2X (C-V2X) approach, which relies on higher-speed cellular networks that have been optimized for automotive applications, rather than direct short range communication (DSRC), which is designed for lower speed radio communications. Ford announced that it would deploy C-V2X in all of its new US vehicle models by 2022.
Nissan took the concept of V2X one step further with its Invisible to Visible (I2V) concept, a VR-based driver awareness system that integrates information from V2X networks and vehicle sensors to create an unobstructed, 360-degree visualization of the driver's surroundings to enhance driver awareness. Nissan described the technology as "helping you to see the invisible."
Nissan's VR presentation of Invisible to Visible (I2V)
Nissan's Invisible to Visible concept (Source: Nissan)
---
5. CAR DATA WILL CREATE NEW REVENUE STREAMS AND MAKE CITIES SMARTER
Smart city technology took up substantial floor space at this year's show, and automotive companies took the opportunity to showcase how connected vehicles will contribute to the cities of the future.
Tier-1 supplier Continental showcased its City Data as a Service platform that integrates data from connected devices across a city to help cities run more efficiently. The platform would deploy data from connected vehicles to enable services such as smart parking and traffic management.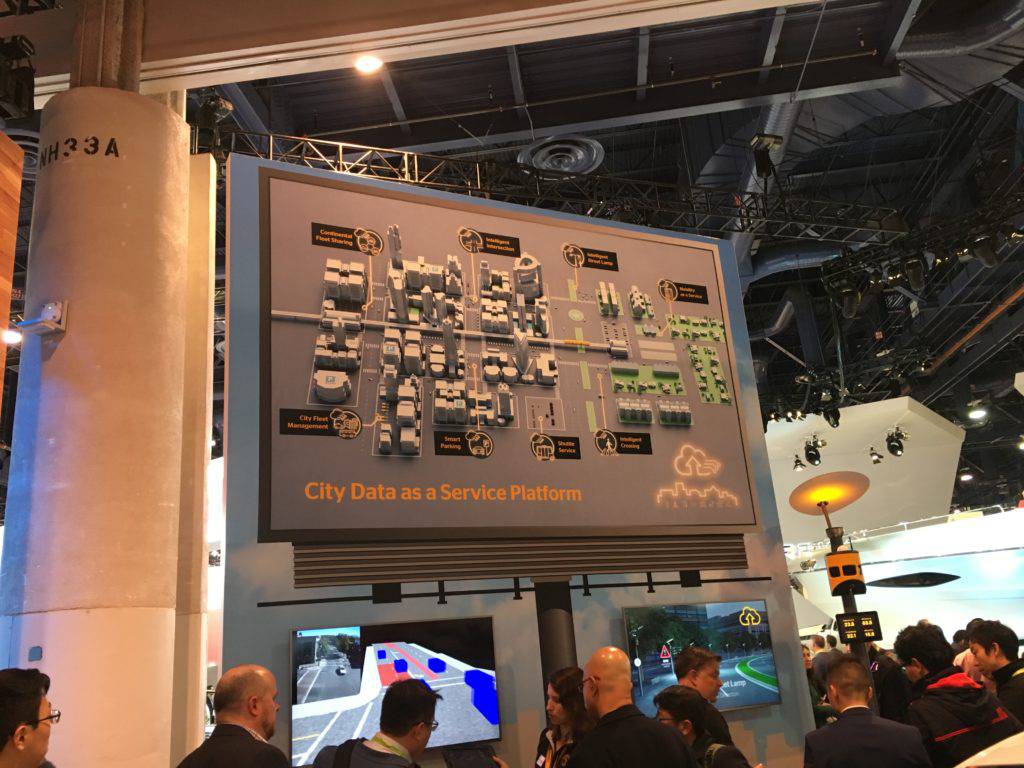 Visualization of Continental's City Data as a Service Platform
---
6. ELECTRIFICATION comes into focus AS THE HYPE around full autonomy fades
At this year's show, almost every production vehicle on display utilized some form of electrification. Daimler even announced an entire sub-brand of Mercedes vehicles featuring 10 new electric models, expected to arrive by 2025.
Another electric vehicle launch in focus was Nissan's Leaf Plus, its long-range EV that can reach up to 226 miles on a single charge, up notably from the prior generation's range of 150 miles, and more than triple the range of the original version.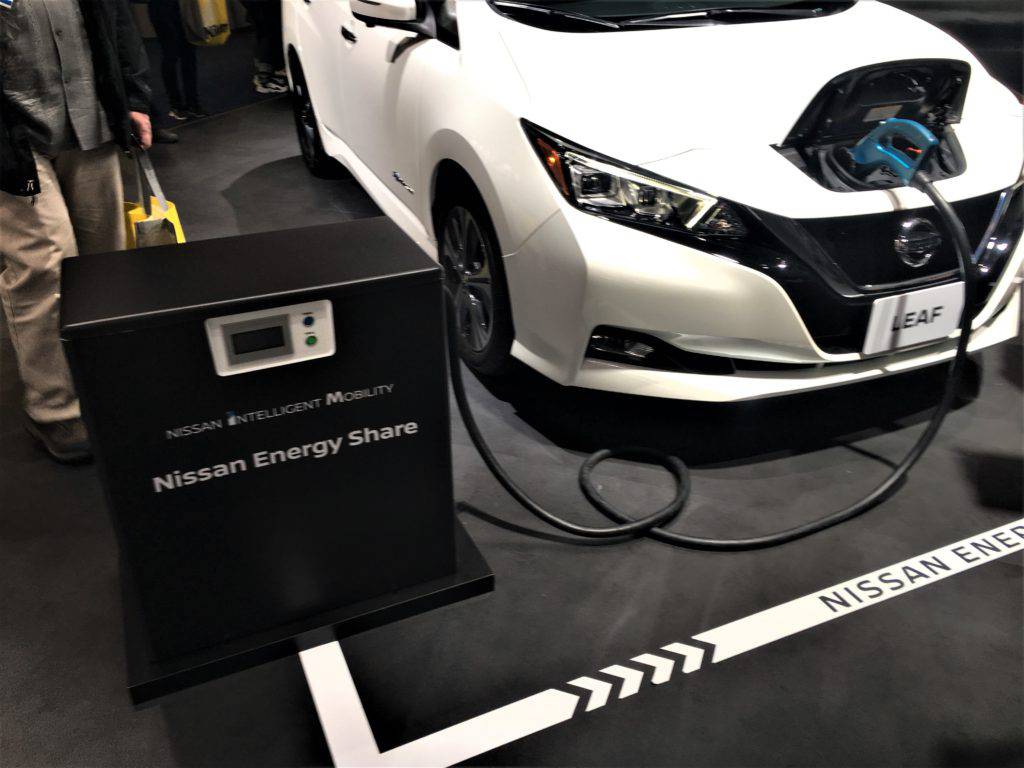 Nissan's Leaf Plus vehicle and accompanying charger 
Automakers and parts suppliers also highlighted new technology designed to increase a vehicle's energy efficiency as range length becomes a top priority. Tier-1 supplier Valeo presented personalized climate control for passengers based on gender and current body temperature to save battery drain for electric vehicles.
---
7. Modular DESIGN will play an important role in mobility's future
Given the uncertainty around the future of auto, a number of automakers presented multi-purpose concept vehicles — similar to Toyota's e-Palette concept in 2018 — that can be converted to carry people and deliver items (among other functions) given their modular nature.
Mercedes presented its Vision URBANETIC, a concept vehicle that's both fully autonomous and fully electric. The vehicle's body, which sits above the chassis, can be swapped out to either carry up to 12 people or transport up to 550 pounds of delivery goods.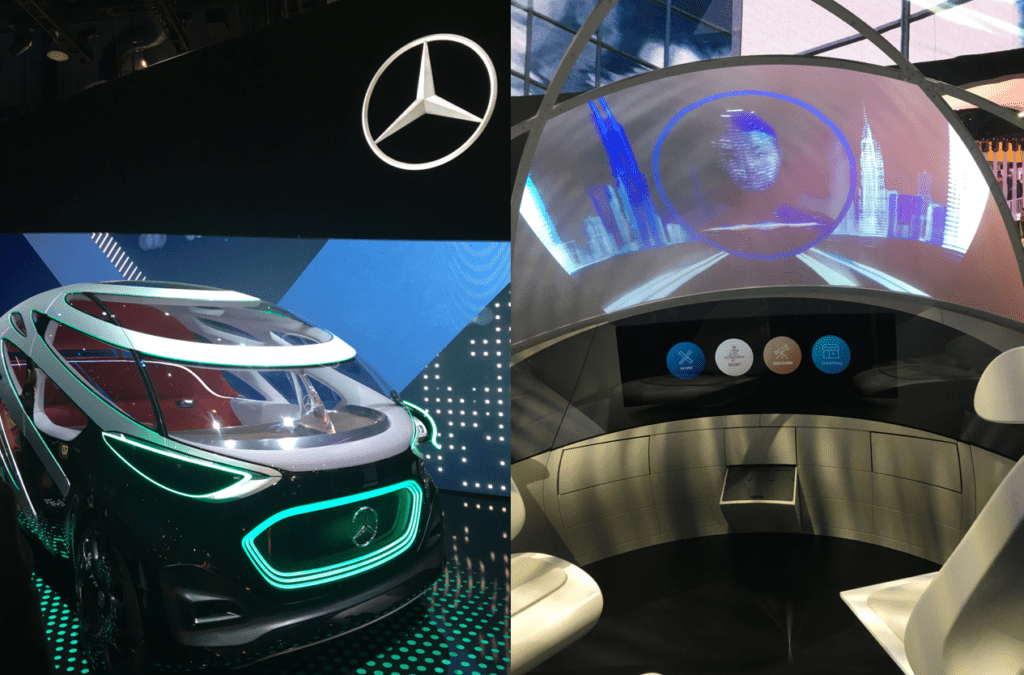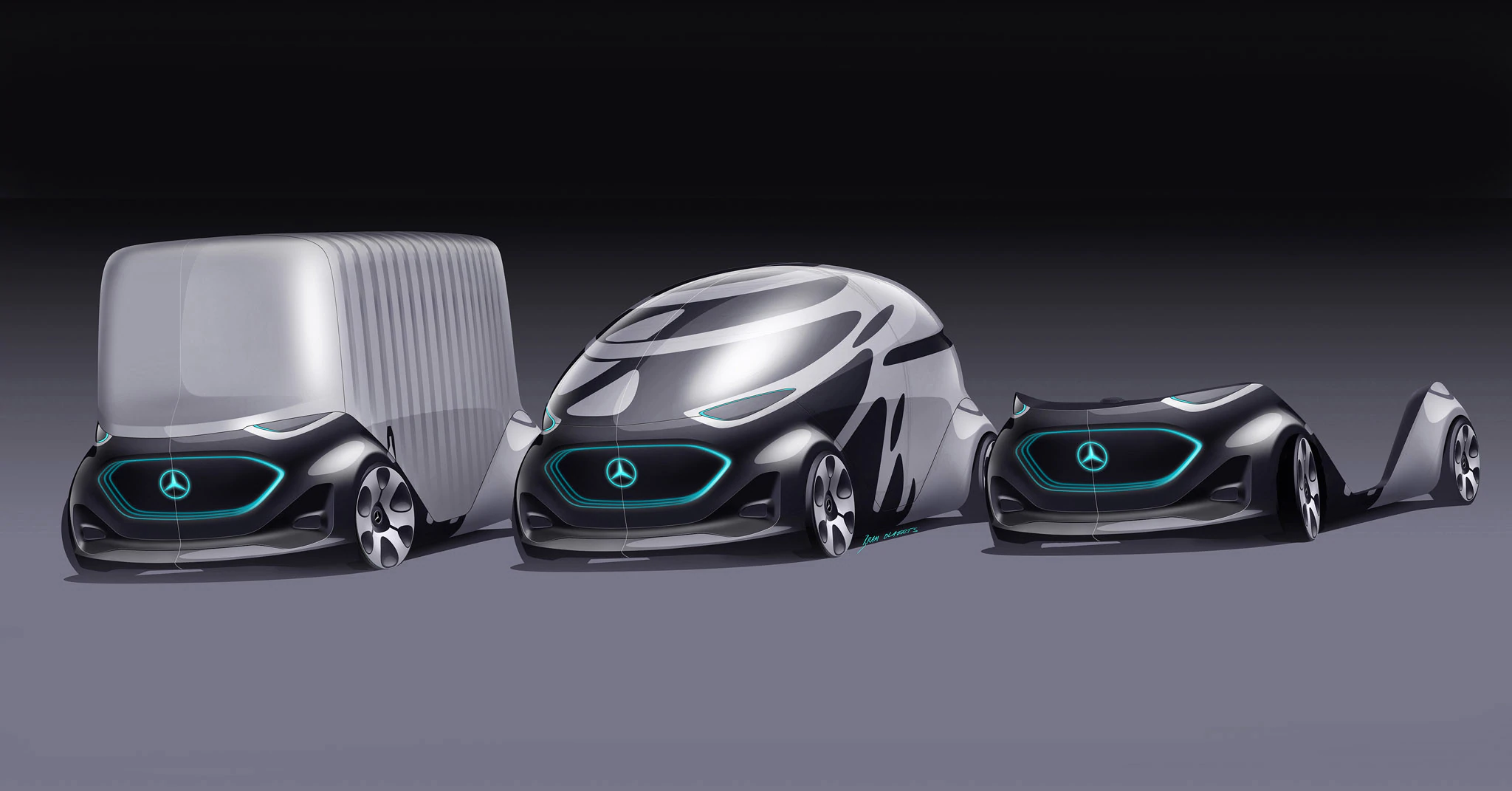 Mercedes' Vision URBANETIC concept vehicle
---
8. ALEXA STEALS THE SPOTLIGHT ON VOICE, THOUGH AUTOMAKERS are WORKing ON THEIR OWN TECH
Voice technology was a highlight across this year's show. The tech is especially relevant for automotive, as voice could offer a distraction-free way to access information, stream music, and control the vehicle's interior.
In Amazon's major push to promote Alexa across the connected ecosystem, the company centered its entire presentation around the Alexa-equipped Audi e-tron SUV, which has Alexa built into the console display. The voice assistant can help the driver check the news and weather, in addition to creating to-do lists and streaming music.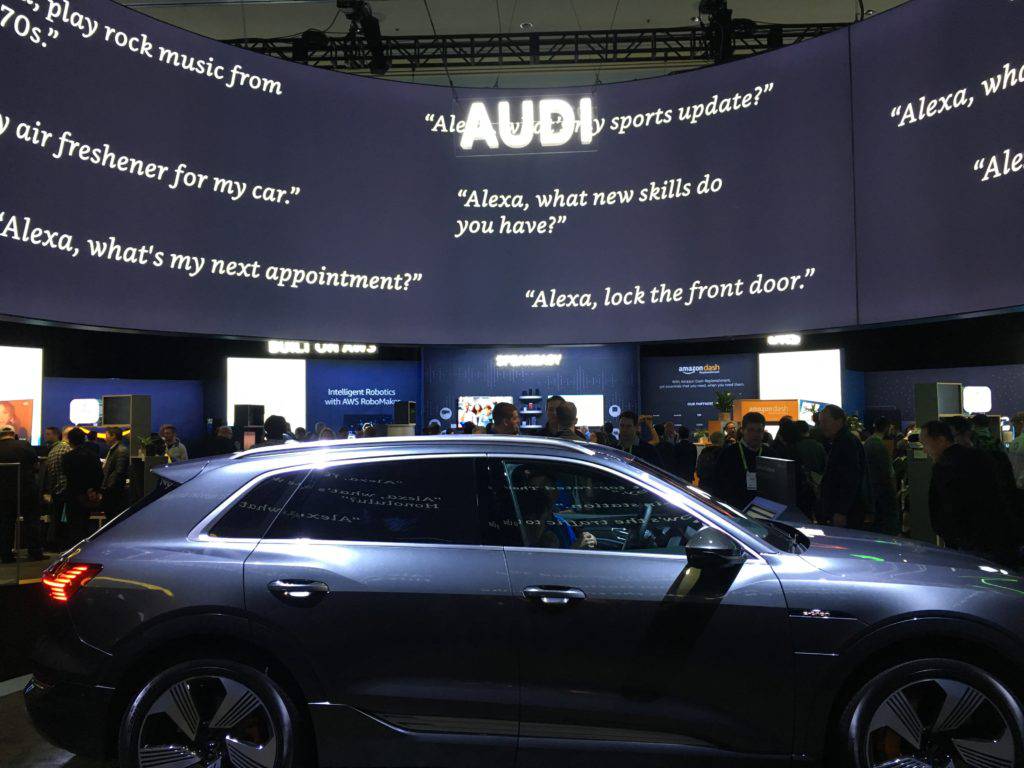 Audi's e-Tron SUV was the centerpiece of Amazon's exhibit space 
A number of other automakers showcased their own voice assistants, designed to control different parts of the vehicle such as temperature and lighting, in addition to serving as a paperless owner manual and a resource for monitoring vehicle health.
---
9. LOOKING AT ALTERNATIVE USE CASES FOR autonomous vehicles 
Another concept gaining ground at this year's show was autonomous delivery, or transporting goods rather than people to bypass some of the initial risks associated with using self-driving vehicles for ride-hailing services.
Udelv debuted the latest generation of its self-driving delivery van, Newton, which utilizes Baidu's Apollo 3.5 autonomous driving platform. Udelv's Newton is slated to become the first commercially available vehicle working with the Apollo 3.5 software.
Additionally, a number of automakers showcased prototypes that looked more like robots than traditional vehicles. For example, Continental debuted its delivery "dog," a four-legged robot that's capable of walking up stairs and stepping over objects to deliver packages.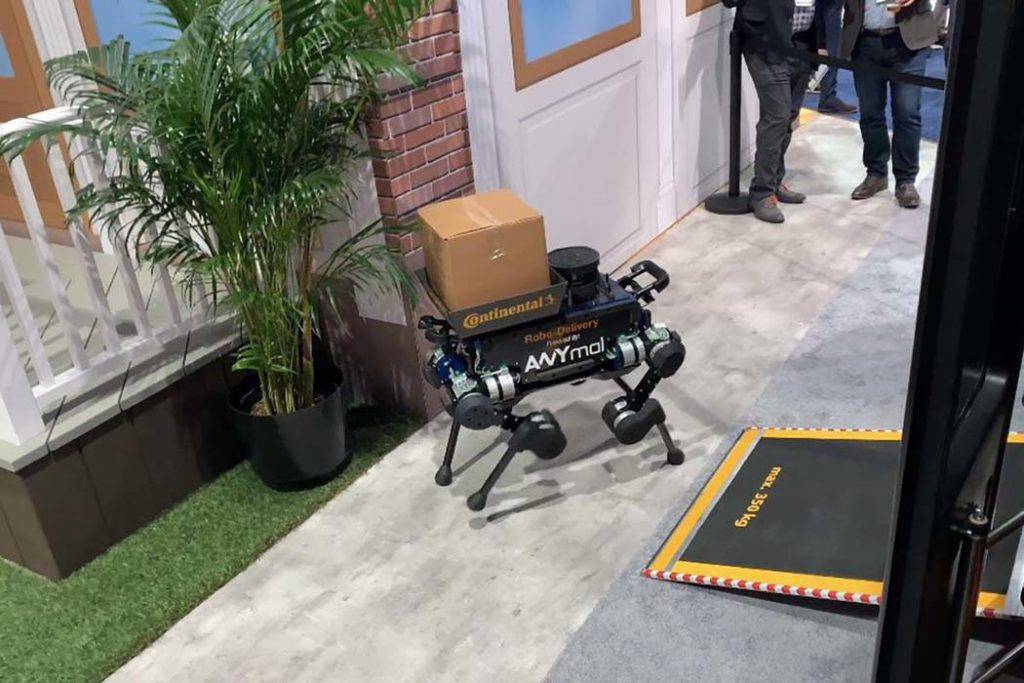 Another showstopper at this year's show was Hyundai's Elevate concept vehicle, which is part car, part robot. The vehicle, designed for first responders traveling over rough terrain, has four extendable legs with wheels that allow it to navigate rough ground and step over obstacles along the way.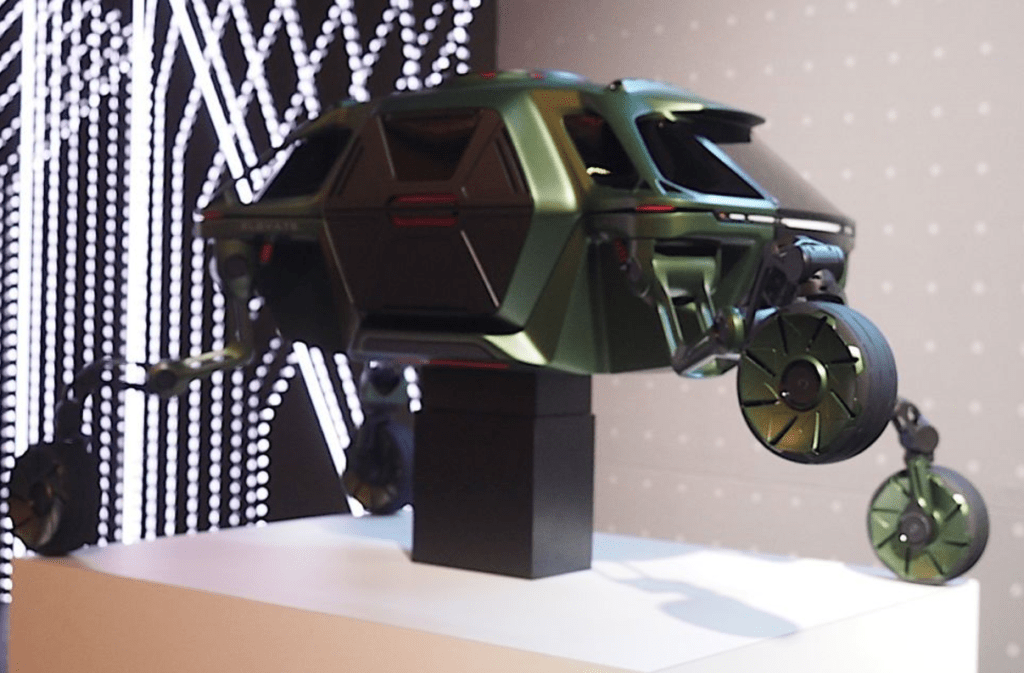 Hyundai's Elevate concept vehicle
---
10. The car is becoming a digital platform
With advancements in connectivity, payments technology, and voice & gesture recognition, automakers are designing next-generation cockpits that can offer new types of content and enable in-vehicle commerce.
On the content side, startups showcased VR technology to take in-vehicle entertainment to the next level. Holoride, a VR startup that spun off from Audi, designed a VR entertainment system for passengers that matches the VR content's movements to the vehicle's movements to reduce motion sickness in the vehicle while also entertaining car passengers.
Demos of Holoride's in-vehicle VR experience (Souce: TechCrunch)
Companies also presented technology that integrates payment capabilities into the vehicle's dashboard, creating in-vehicle digital wallets that allow drivers and passengers to purchase items from their cars. The technology aims to streamline the payment process for everyday purchases such as gas and coffee.
---
If you aren't already a client, sign up for a free trial to learn more about our platform.