Despite a recent dip in activity, deals to travel tech startups are on pace for a fourth-consecutive high this year.
Travel tech companies in emerging markets have been making headlines recently, from the successful IPO of Despegar, the Latin American travel tech unicorn, to the $500M raised this year by Indonesian online travel portal unicorn Traveloka Indonesia.
In addition to their unicorn status and focus on emerging markets, both Despegar and Traveloka Indonesia also have a well-known common investor: US-based online travel company Expedia.
In an industry that was one of the first to be disrupted by the internet, corporate and VC investor interest in the travel tech space has grown as startups continue to attack existing travel markets — and create new ones as well.
This year has been no exception: at the current pace, deal activity is on track to surpass last year's record-breaking 316 deals, while equity funding in 2017 YTD has already nearly matched the 2016 total.
A weak Q3'17 in terms of deals contrasts with a strong first half of the year, though it remains to be seen whether this will be an aberration or longer-term slowdown.
Using CB Insights data, we analyzed annual and quarterly equity investment trends to private travel tech companies, as well as funding by deal stage.
We define travel tech startups as tech-enabled companies offering products and services focused on travel and tourism, including booking services, search and planning platforms, on-demand travel, car rentals, and recommendation sites. We exclude ride-hailing startups from this analysis.
In this research brief we cover:
Annual financing TRENDS
With 244 deals so far, 2017 has already seen more travel tech funding rounds than both 2013 and 2014, and is on track to exceed the record 316 deals observed in 2016.
Equity funding also tracks positively, with nearly $3B raised YTD, already on par with 2016 levels. This year is on track to clock in below the 2015 peak of nearly $5B, which was buoyed by a $1.5B Series E round secured by travel tech unicorn Airbnb.
At the current run rate, total funding to travel tech companies could grow by 27% from previous year, flirting with the $4B mark across a record of 326 deals.
This year's top deals to travel tech companies include a $350M tranche of Series B funding raised by Traveloka Indonesia in July. The round, which was backed by Expedia, valued the company at $2B, making it the second most valuable tech startup in Indonesia.
For the fourth year in a row, travel giant Airbnb is claiming one of the 2 top spots for the largest deals to travel tech startups, closing a $448M tranche of Series F funding in March.
Other noteworthy deals this year include Starwood Capital's $250M corporate minority investment in London-based Yotel, as well as Oyo Rooms' $250M Series D, backed by Sequoia Capital India and SoftBank Group, among others.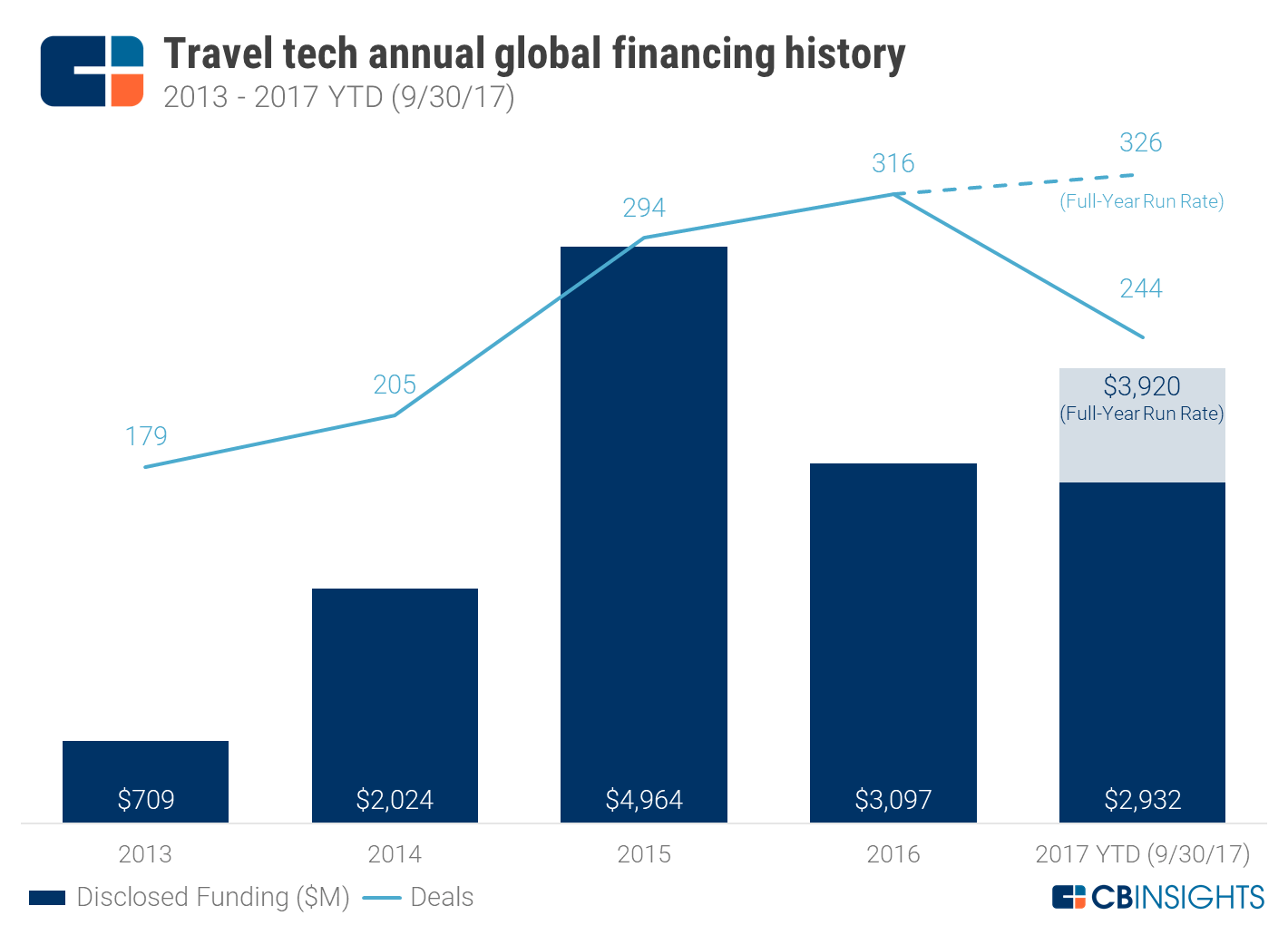 QUARTERLY FinancinG TRENDS
On a quarterly basis, deal flow tumbled 26% to 66 deals in Q3'17, reaching its lowest level since Q1'15 and representing the biggest drop over the 2013 – 2017 YTD period.
This contrasts with a solid first half of the year for travel tech deals — with 89 funding events both in Q1'17 and in Q2'17 — but is in line with the downward trend observed during the second half of the year in recent years.
Dollars to travel tech companies soared 77% during Q3'17, largely buoyed by two deals: Traveloka Indonesia's $350M Series B and Yotel's $250M corporate minority round (both mentioned above).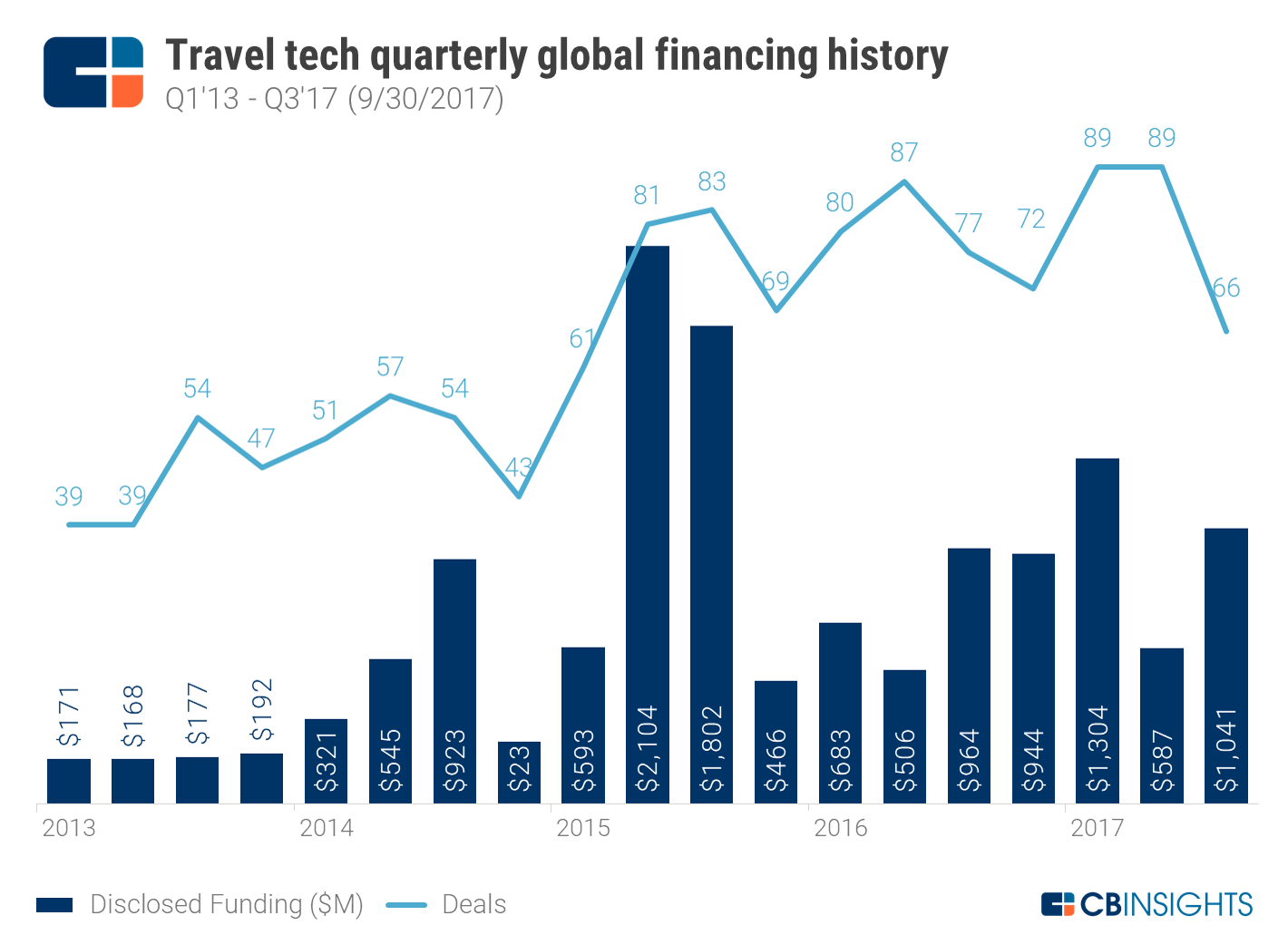 DEAL SHARE BY STAGE
There has been little change in terms of deal share between 2016 and 2017 YTD, with only a notable increase in Series B share, which grew from 4% in 2016 to 11% in 2017 YTD.
New companies continue to see funding, as the sector continues to be dominated by early-stage (Seed / Angel and Series A) rounds, which have represented over 60% of deals over the past 4 years.
Mid-stage (Series B & C) and later-stage (Series D & E+) deals combined have varied between 17% – 22% over the same period, while deals in the "Other" category have been trending up, mainly due to a rise in corporate minority investments.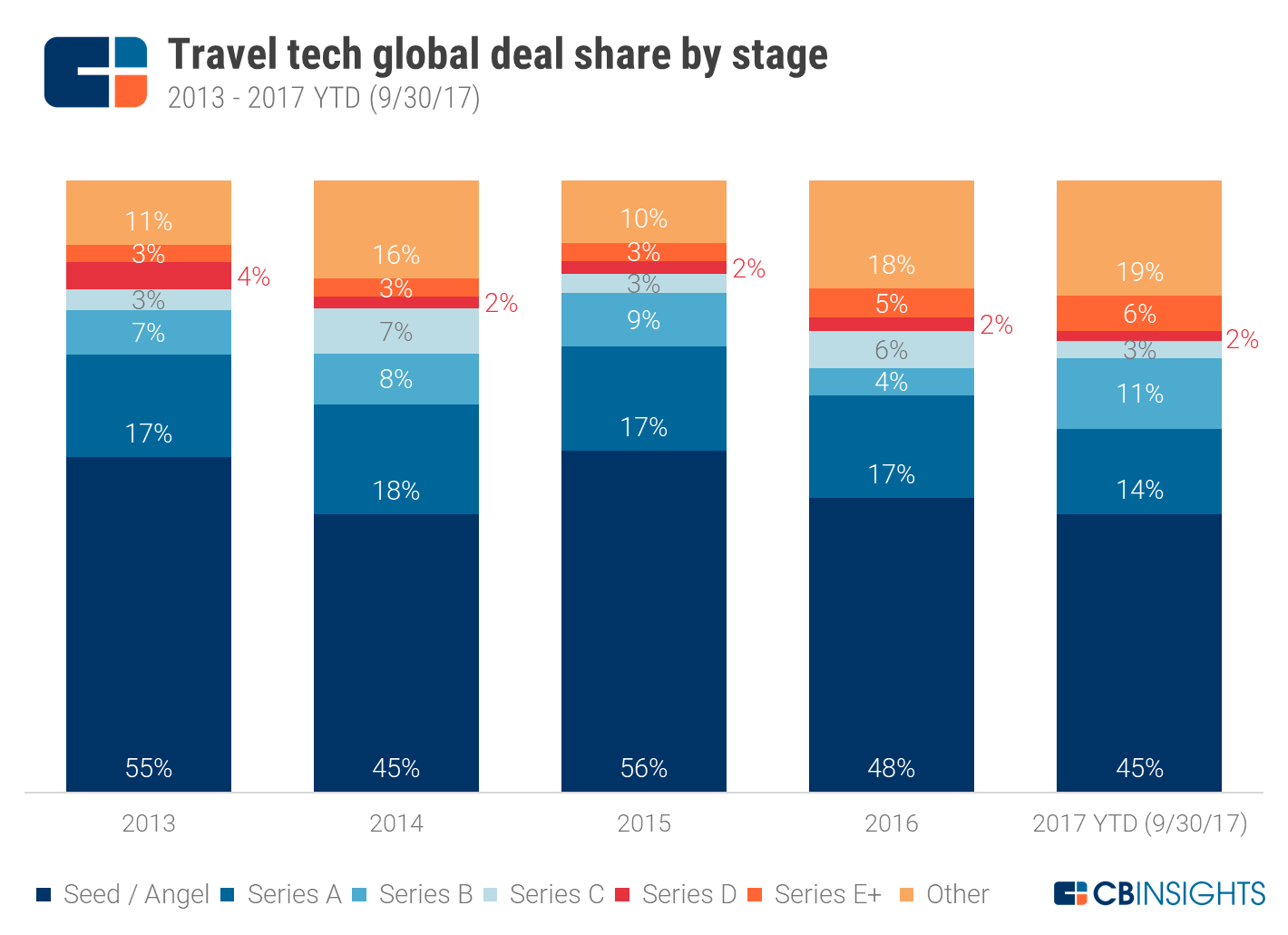 If you aren't already a client, sign up for a free trial to learn more about our platform.