500 Startups, Global Founders Capital, and Gobi Partners rank among the top VC investors in travel tech.
Travel tech is a well-established category but startups are still bringing innovation to the space and attracting financing. Deals are on track to hit an all-time high this year as a broad range of VCs invest in the sector.
Using CB Insights data, we ranked the most active investors into unique travel tech startups since 2013, including venture capital and corporate venture investors.
We define travel tech as tech-enabled companies offering services and products focused on travel and tourism, including booking services, search and planning platforms, on-demand travel, and recommendation sites. Car-hailing services are excluded.
The most active VC investors are generalist VCs with a focus on early-stage (seed and Series A) investments. The notable exception here is Accel Partners, which also invests in later-stage companies.
With half of the 6 most active investors located outside of the US, travel tech is booming in regions such as Asia and Europe.
In keeping with this, less than half of the 52 portfolio companies listed are based in the US (19). Europe and Asia are home to 14 companies each.
Click image to enlarge.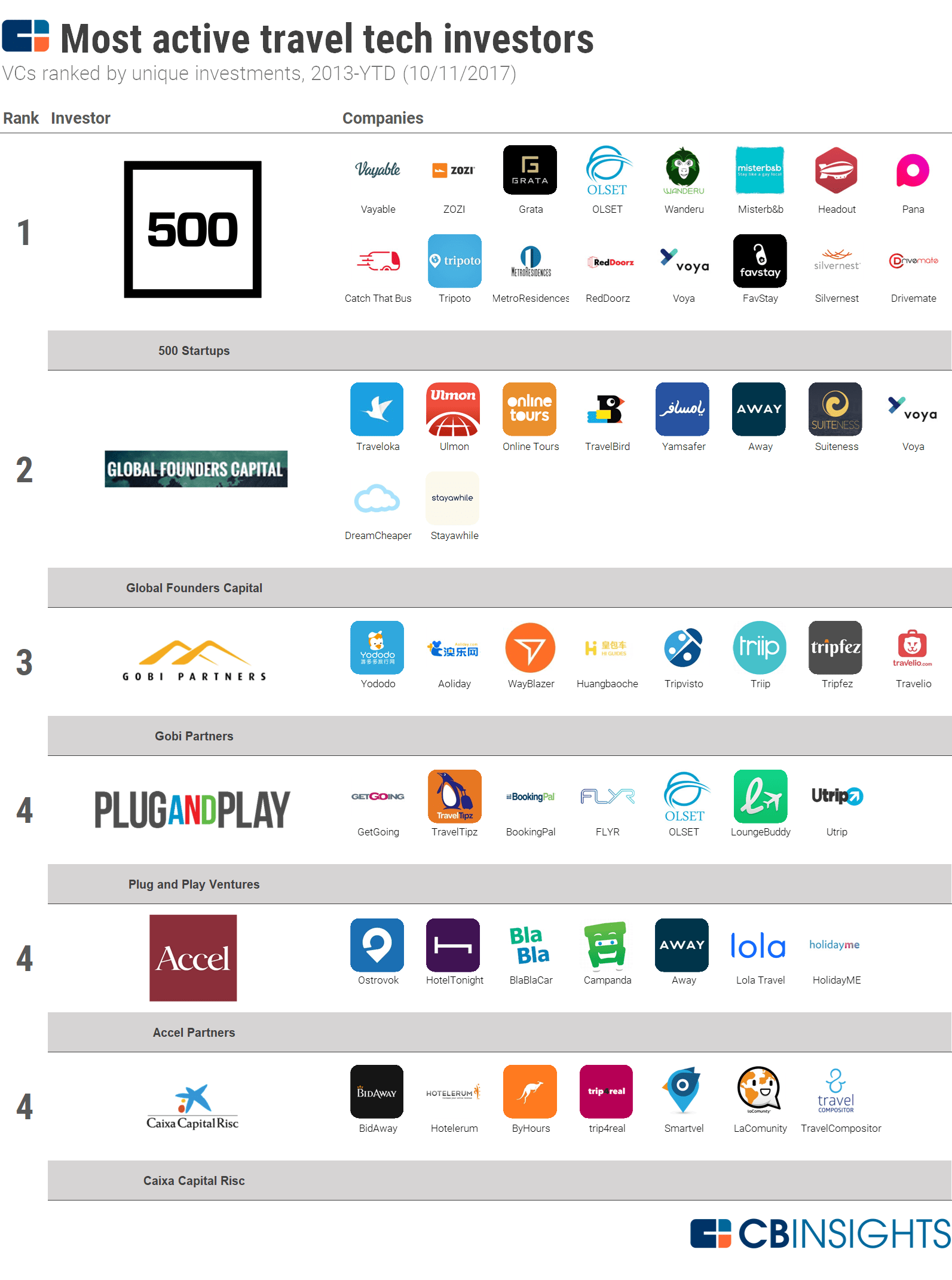 *Exited companies are included in the above graphic.
Track all the Travel Tech startups in this brief and many more on our platform
Startups disrupting where we go and how we get there. Look for Travel Tech Startups in the Collections tab.
Track Travel Tech Startups
Key takeaways
500 Startups is the most active VC investor in travel tech, with 16 startups in its portfolio since 2013. Its investments span from the US to Southeast Asia to Europe, with a significant number focused on accomodation booking such as Denver-based Silvernest and France-based Misterb&b.
500 Startups recently added the Thailand-based self-described "Airbnb for your car" Drivemate to its portfolio, the firm's second travel tech investment in Thailand this year. Previously it participated in vacation rental company FavStay's financing round in Q2'17. Other Southeast Asia travel tech portfolio companies include Singapore-based MetroResidences and RedDoorz as well as India-based Tripoto and Malaysian early stage company Catch That Bus.
In second is Global Founders Capital, the Rocket Internet venture investing arm, with 10 unique travel tech investments between 2013 and 2017 YTD, including the recently listed Indonesia-based unicorn Traveloka. The majority of Global Founders Capital's travel tech portfolio companies are based in Europe and in the US. They include TravelBird, an online booking website offering a daily curated list of deals and smart luggage direct-to-consumer brand Away, among others. Its most recent investment was a seed round to US-based home rental Stayawhile in Q2'17.
The third most active VC in the travel tech space since 2013 is China-based Gobi Partners, with 8 unique investments since 2013. Gobi Partners is clearly focused on Asia, with 7 out of 8 travel tech portfolio companies located in either China (3), Indonesia, (2), Singapore (1) or Malaysia (1). Its sole travel tech investment outside Asia is US-based WayBlazer, an AI-based travel recommendation engine.
The fourth position is shared between Plug and Play Ventures, smart money investor Accel Partners, and Spain-based Caixa Capital Risc, with 7 unique travel tech investments each. Plug and Play Ventures' travel tech portfolio is very US-centric, with investments in AI-driven price forecasting FLYR and travel planning startup Utrip. Caixa Capital Risc focuses on seed investment in Spanish startups. TravelCompositor, a travel sales system, is its most recent investment in the space (Q2'16).
Although Accel Partners hasn't made any new investment in travel tech this year, its portfolio comprises a number of well-known travel tech companies such as car-sharing French unicorn BlaBlaCar and hotel booking platform HotelTonight.
If you aren't already a client, sign up for a free trial to learn more about our platform.