With VC and corporate interest on the rise, the industry looks towards AI, blockchain, and other technologies to help drive innovation.
The travel tech space is rapidly evolving. Deals and dollars reached record annual highs in 2017, with $5.3B invested across 348 deals. New categories have emerged beyond traditional online booking & search platforms, and the industry is seeing an uptick in participation from a diverse range of investors.
In this report, we look at financing and investor trends across the space, highlight startups across emerging categories, analyze the impact of technologies such as AI and blockchain, and dive into opportunities & forward-looking challenges across the sector. Specifically, we will focus on:
We define travel tech as tech-enabled companies offering services and products focused on travel and tourism, including booking services, search and planning platforms, on-demand travel, and recommendation sites. Car-hailing services such as Uber are excluded.
Track all the Travel Tech startups in this brief and many more on our platform
Startups disrupting where we go and how we get there. Look for Travel Tech Startups in the Collections tab.
Track Travel Tech Startups
investment trends
With 348 investment deals, 2017 was a record breaking year for travel tech and represented the fifth consecutive year of deal growth. The year also set a record high in term of dollar amount with close to $5.3B invested, above the 2015 peak of nearly $5B, which was buoyed by a $1.5B Series E round secured by travel tech unicorn Airbnb.
The top deal to travel tech companies in 2017 was a $1B funding round raised in October by Virgin Galactic, a space travel company focused on tourism that is planning to launch commercial flights in 2018. The round was backed by the Public Investment Fund of Saudi Arabia as part of its plan to diversify its economy away from oil.
The second largest deal in 2017 went to unicorn Airbnb with a $447M Series F follow-on raised in Q1'17. It is the fourth year in a row that Airbnb claims one of the top 2 spots for the largest deals to travel tech startups.
Other noteworthy deals in 2017 include a $350M tranche of a Series B round raised by Indonesian unicorn Traveloka — funded by online travel agency (OTA) Expedia — as well as TuJia's $300M Series E, backed by Chinese OTA Ctrip and others.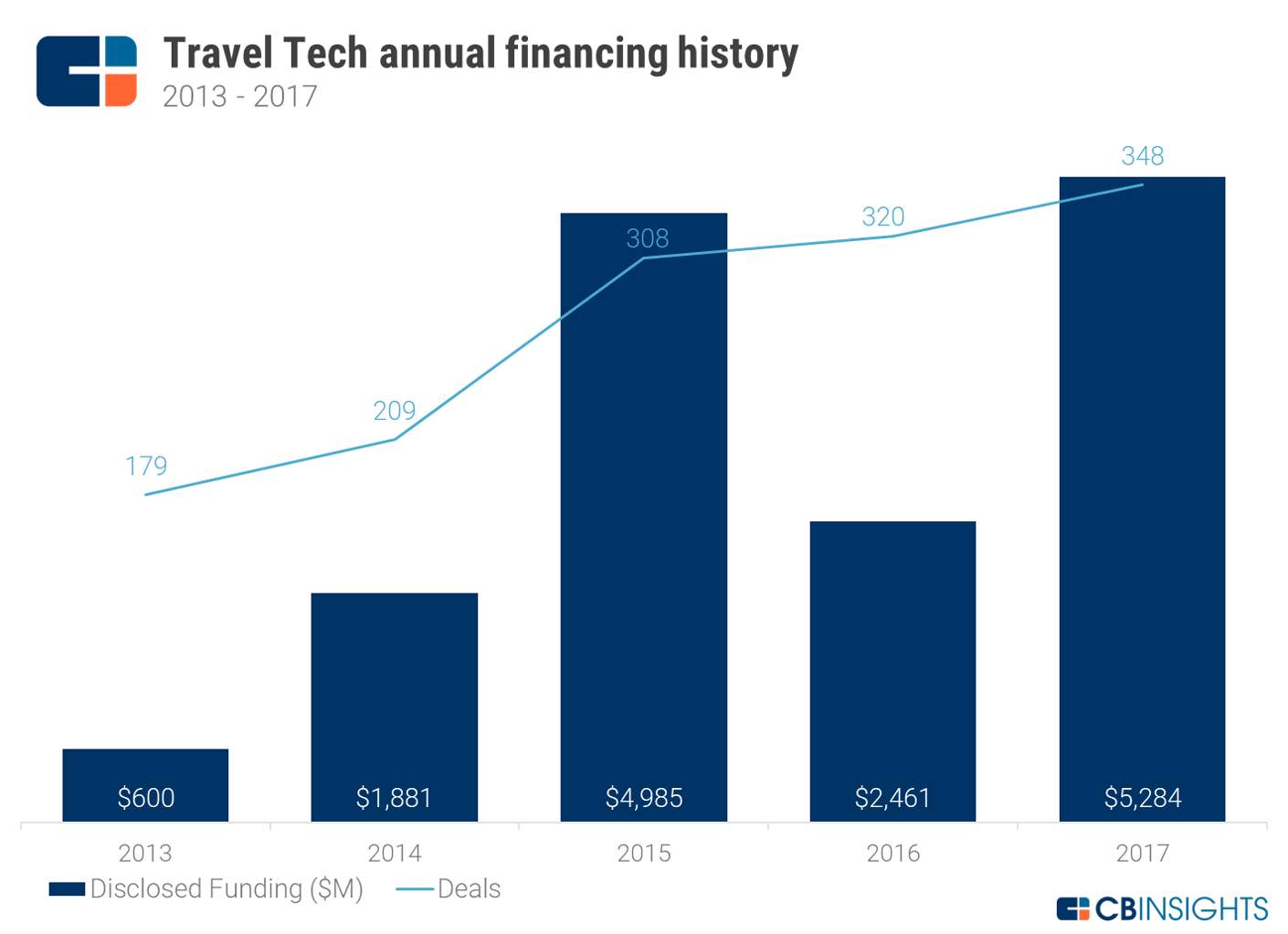 Early-stage deals (Seed/Angel and Series A) have represented the majority of travel tech deals since 2013 and represent approximately 60% of 2017 deals. Last year's largest early-stage travel tech deals was a $50M Series A raised by B2B-focused startup Upside.
While new companies continue to see funding, the share of Seed/Angel deals has been decreasing between 2013 and 2017, which could signal some maturation of the sector.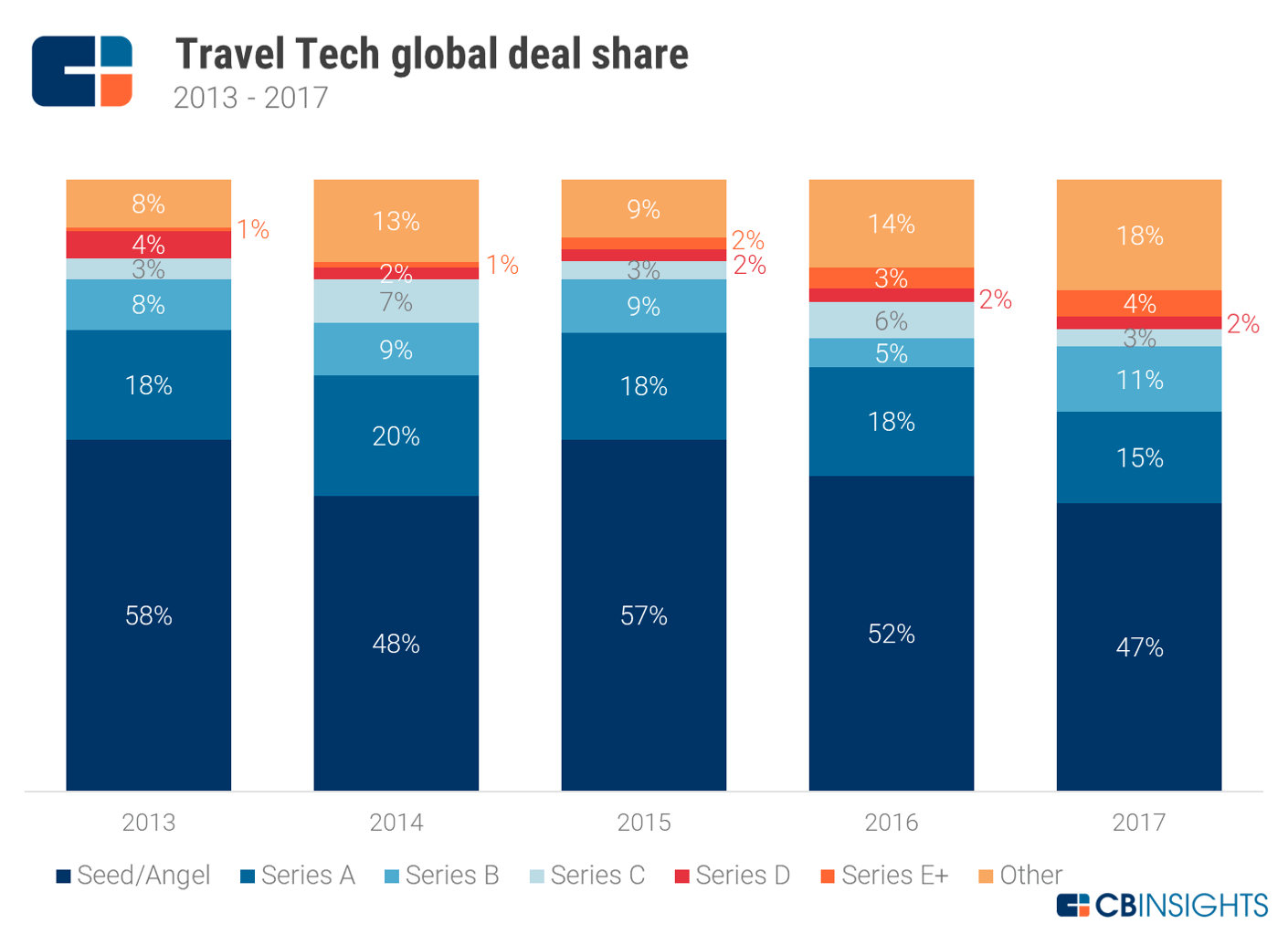 geographic trends: China and India take their fair share
International startups claim close to 70% of global deal share since 2013, although the US remain the largest single country with 31%.
India comes in second place with 10% of all deals, with a rising domestic travel market benefitting local travel websites such as Goomo, as well as a growing network of budget hotels with startups Oyo Rooms and Treebo making it easier to book these hotels through their platforms.
A boom in Chinese travelling abroad combined with a soaring vacation rentals market have been key drivers behind the 8% of global deals captured by China since 2013. When looking at global funding, China takes the second spot right behind the US, with 25% of global dollar funding.
As we pointed out in our Airbnb Strategy Teardown, the 4M+ listings home sharing giant is facing serious competition in China with TuJia and XiaoZhu having raised close to $1B combined and offering 650k and 200k listings respectively, mainly located in China. This compares to the 120k listings Airbnb has in China.
European countries such as France, the UK, and Germany, which are among the most visited countries in the world, attracted between 6% and 7% of global deals each.
most active VC investors: an international crowd
With 4 out of the 6 most active VC investors located outside of the US, travel tech appears to attract an international crowd of investors. This is also true when looking at the 50+ startups the most active VC investors have invested in: the US is home to 17 of them, as many as Europe, while 15 of these startups are located in Asia.
US-based 500 Startups is the most active VC investor in travel tech with 16 unique investments since 2013, including to AI-powered personal travel agent Voya and LGBT friendly home sharing startup Misterb&b.
Germany-based Global Founders Capital, an investment fund set up by the Rocket Internet founders, comes second with 11 unique investment in travel tech.
Interestingly, Spain-based Caixa Capital Risc is among the most active VC investors with 7 unique investments. It is the venture arm of one of Spain's largest financial institution, La Caixa, and invests mainly in Spanish startups such as hotel booking platform ByHours, in which Luxembourg-based Howzat Partners has also invested.
Please click to enlarge.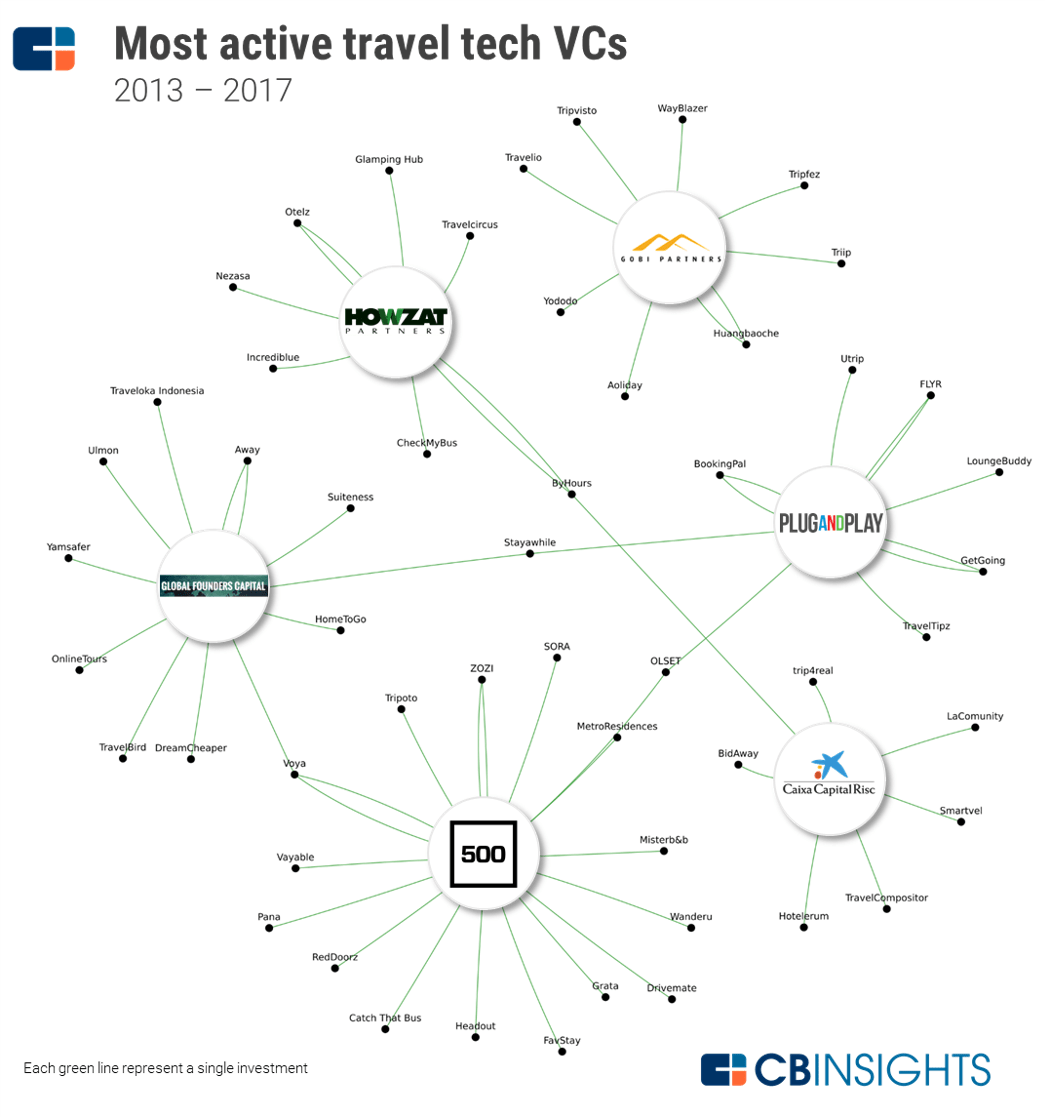 Spotlight: corporate activity
In line with overall deal growth in the space, the number of startup investments with corporate participation soared from just 18 deals in 2013 to 88 in 2017.
China-based Tencent is the most active corporate investor with 8 deals since 2013, while Amadeus Ventures come second with 5 investments. Amadeus Ventures is the travel venture fund of Amadeus, the largest intermediary between travel agencies and providers such as hotels and airlines.
Travel incumbents are also becoming more active in the startup world. Top hotel chains such as AccorHotels and Hyatt each participated in 3 deals in 2017 while online travel agencies (OTAs) including Expedia and Ctrip participated in 4 and 3 deals respectively. The largest corporate deal in 2017 was Expedia's $350M injection into Indonesian startup Traveloka.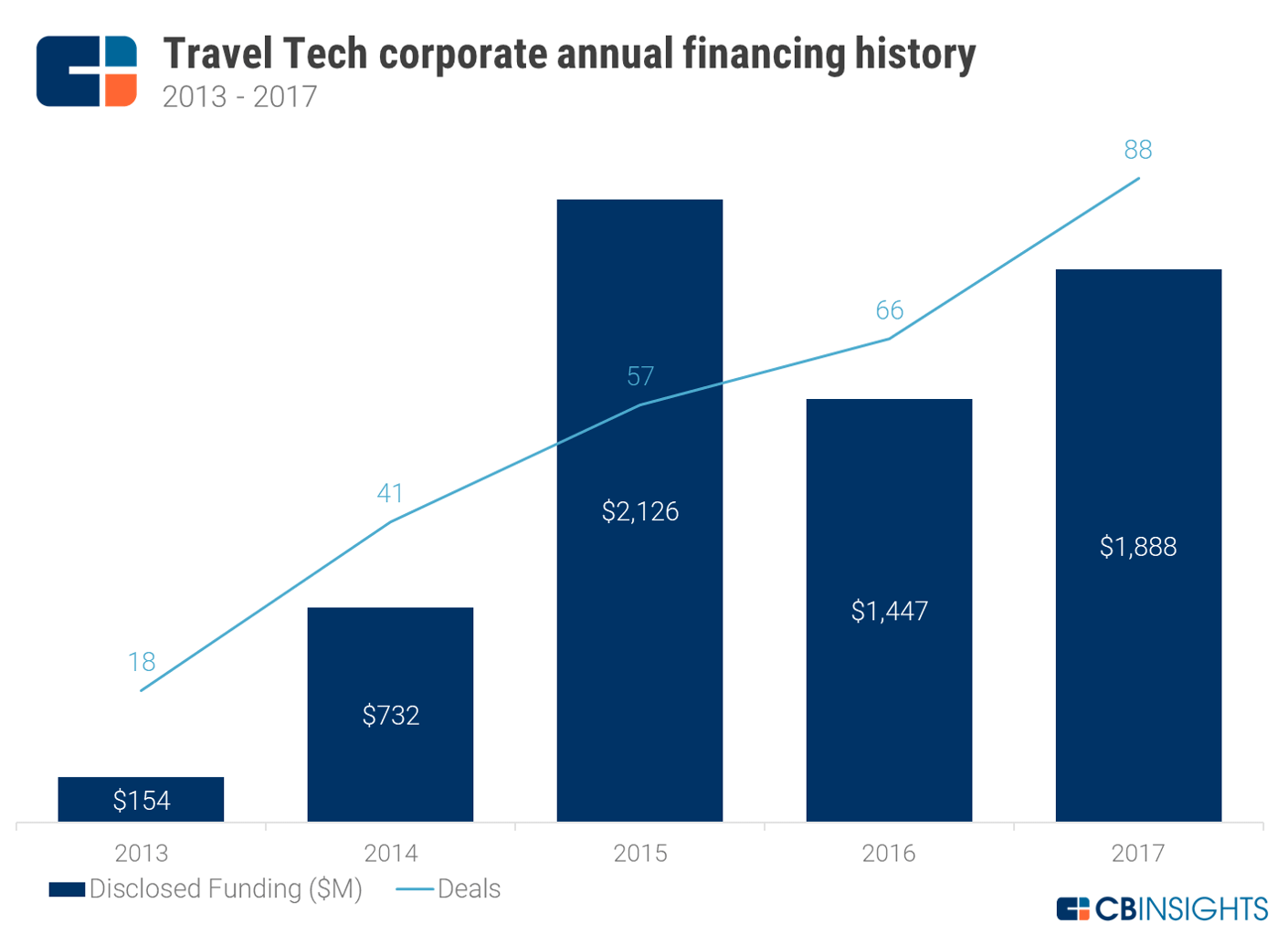 Expedia and other online travel agencies use startups to stay relevant
When online travel agencies (OTAs) took off in the early-2000s — including big names like Expedia and TripAdvisor — traditional offline travel agencies suffered. However, this first generation of disruptors is now being challenged by the likes of Airbnb as well as early-stage startups. To compete, OTAs have made 10 investments and 25 acquisitions over the past 5 years to keep on growing.
Expedia and TripAdvisor are most active among top OTAs with 10 unique travel tech investments and acquisitions each, followed by China-based Ctrip with 8 deals and Priceline with 7.
A key driver behind the big 4 OTAs activity has been to build and consolidate market share through acquisitions: Germany-based Trivago was acquired by Expedia while Priceline bought UK-based Momondo Group. In this low margin business, size matters a lot and the broader the offering, the more likely are travelers to use a booking platform.
Another focus has been to move beyond core geography to tap into new territories with Ctrip expanding outside of China by acquiring UK-based flight comparison platform Skyscanner and Expedia betting on South East Asia as it invested in Indonesian booking platform Traveloka.
The big 4 OTAs have expanded their capabilities to encompass hotels and rooms themselves, not just planning tools. Expedia acquired vacation rentals company HomeAway for $3.9B in 2015 as a response to the rise of Airbnb while Ctrip is an investor in Chinese home sharing platform TuJia.
Online travel agencies have also entered hotel operations to deepen their involvement with their hotel partners. For example, Priceline acquired buuteeq, a digital marketing startup targeting hotels, and Expedia invested in hotel operations software company Alice.
Please click to enlarge.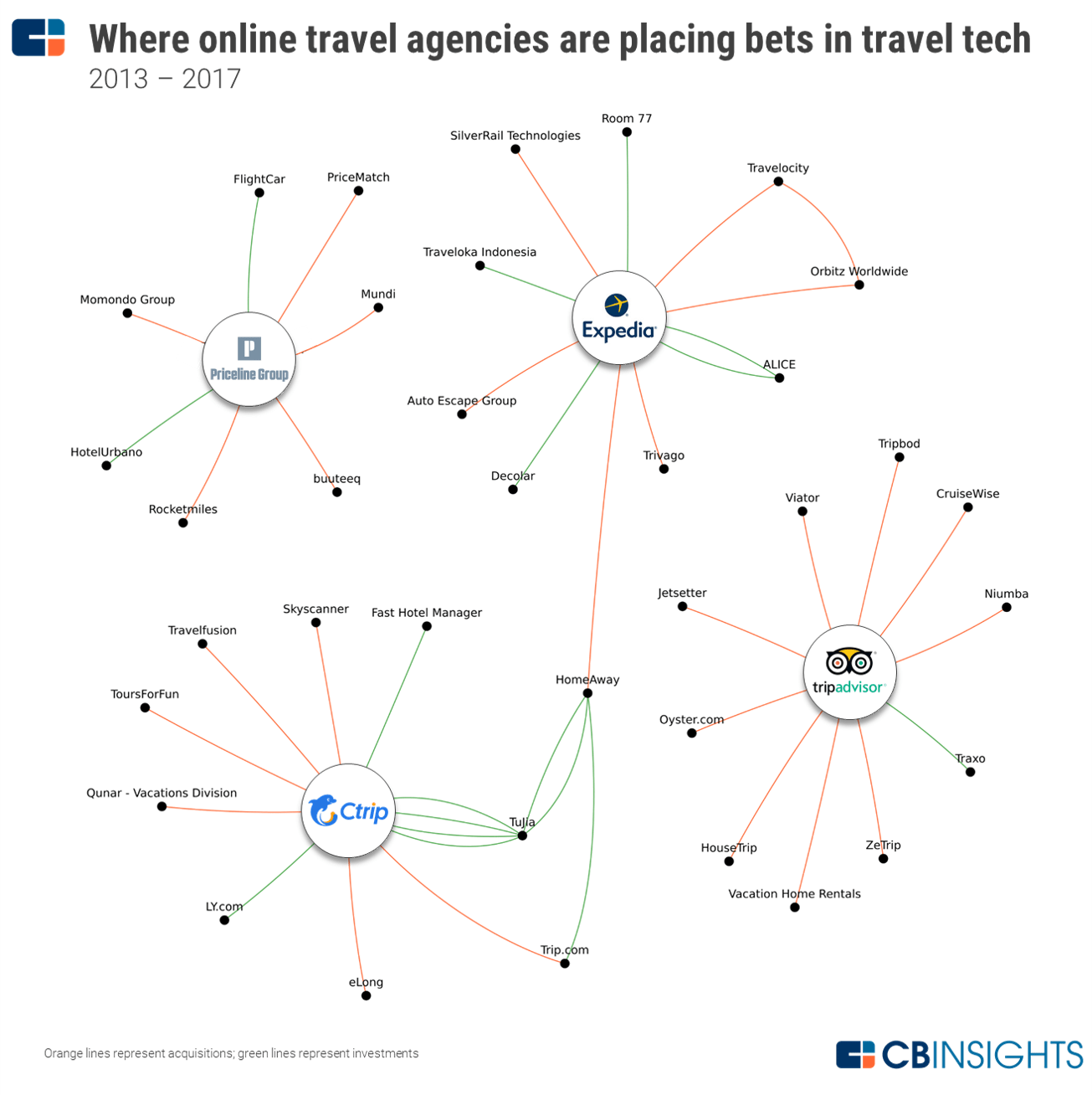 Private market landscape
We've previously mapped out 90+ travel tech startups across 10 categories which have raised $10B combined.
Unsurprisingly, general and specialized booking & search categories have the highest number of startups as they have historically been the first segment of the travel industry to be disrupted back in the 1990s, with the emergence of OTAs such as Expedia, Priceline, Ctrip, and TripAdvisor.
Categories such as car sharing & rentals as well as home sharing & rentals have also attracted investors. Both categories already have startups of significant size with Airbnb, TuJia, and BlaBlaCar being valued more than $1B.