While China takes just 8% of global travel tech deal share, the country accounts for over a quarter of funding to the travel tech industry since 2013.
Since 2013, travel tech startups from general booking platforms to smart luggage have raised well over $10B across 1,000+ deals.
While US-based companies lead in both number of deals and dollar amount raised, travel tech startup ecosystems have also emerged in Asia and Europe. On the investor side, half of the most active investors in the space are located outside of the US.
Notably, many travel tech startups outside the US are focused on riding local trends. While many Chinese startups have been capitalizing on soaring outbound tourism, Indian companies such as Oyo Rooms are more focused on fast-growing domestic travel market.
Using CB Insights data, we mapped the global distribution of travel tech startups and identified geographic trends within the industry.
We define travel tech as tech-enabled companies offering services and products focused on travel and tourism, including booking services, search and planning platforms, on-demand travel, and recommendation sites. Car-hailing services are excluded.
To create the map below, we identified countries with 10+ private travel tech startups that have raised funding since 2016, then highlighted the top 3 most well-funded startups from that list in each selected country.
There is a full list of the companies featured on the map at the end of this post.
This map is not meant to be exhaustive of companies in the space. Please click to enlarge.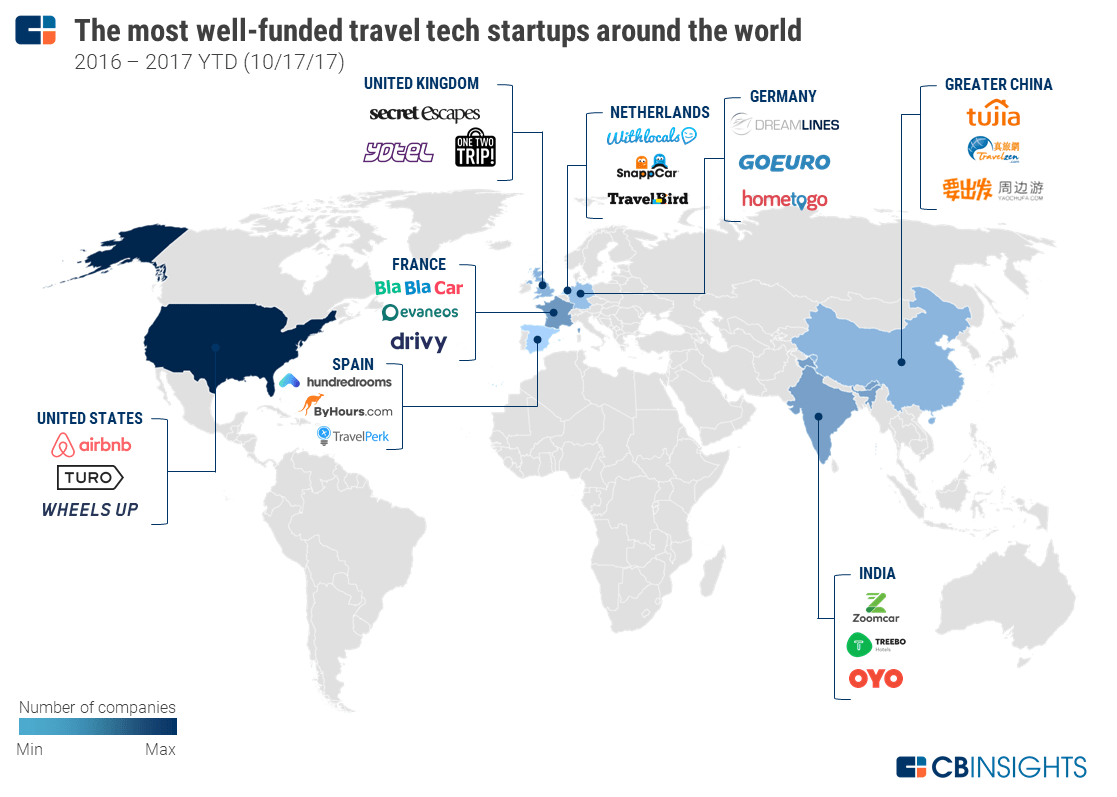 Global deal share trends
US-based travel tech startups have claimed 31% of global deal share since 2013. After the US, the world's most populous countries, India and China, account for 10% and 8% of global deals respectively, followed by European countries such as France (6%), Germany (6%), the UK (6%), and Spain (4%).
US global deal share has been declining over the years, from over 38% in 2013 to less than 25% in 2017 YTD, as other countries have emerged on the travel tech scene. France, the world's most visited country, saw its share rise from slightly under 2% to almost 8% over the same period.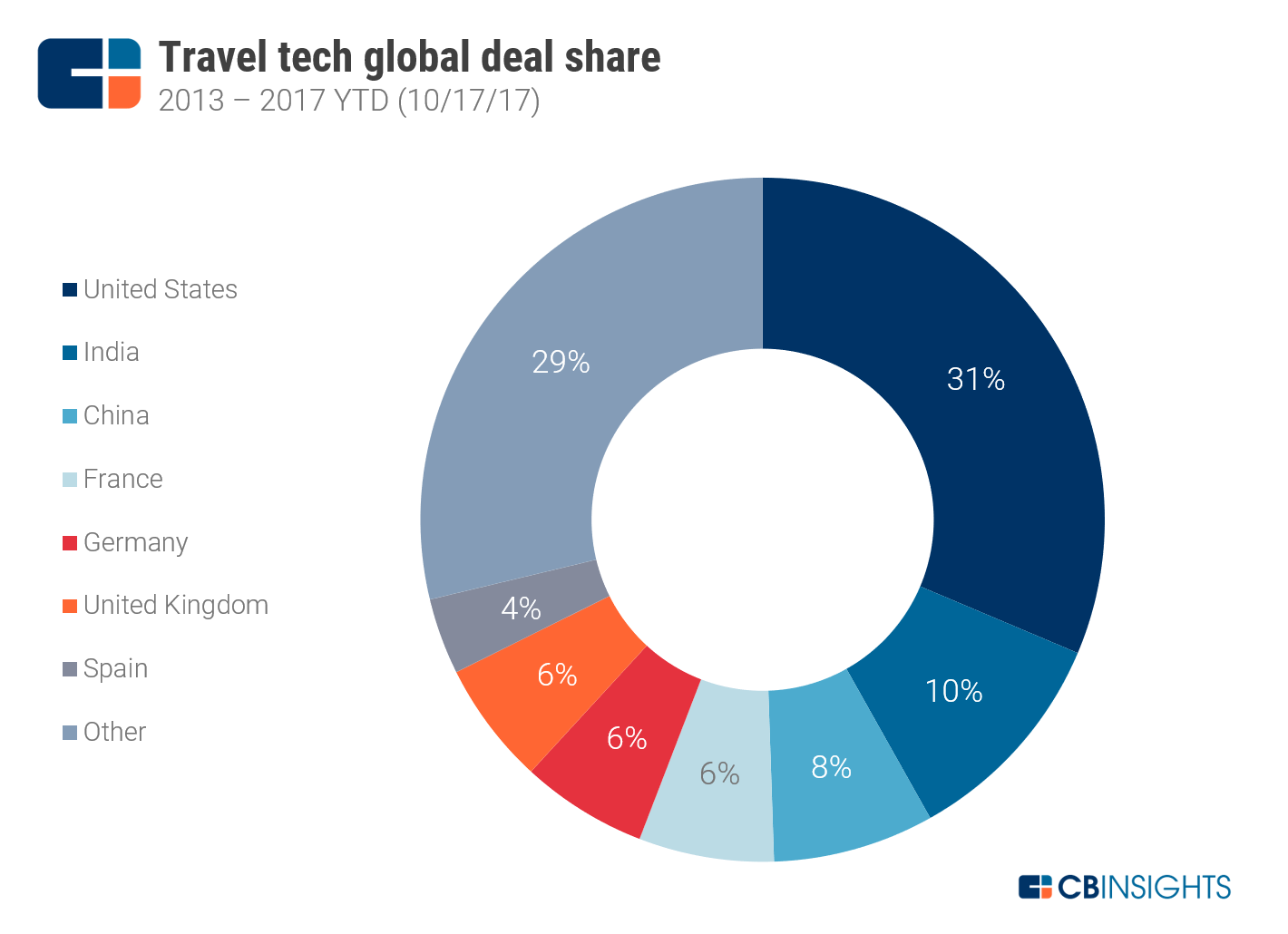 Track all the Travel Tech startups in this brief and many more on our platform
Startups disrupting where we go and how we get there. Look for Travel Tech Startups in the Collections tab.
Track Travel Tech Startups
Global funding trends
US-based startups dominate travel tech global funding, taking 38% of funding over 2013 – 2017 YTD. The US is followed by China with 26%, while India, the UK, France, Indonesia, and Germany are distant followers, with just 3% – 7% of global funding share.
China's 26% share of global funding, which contrasts sharply with its 8% global deal share, is largely the result of rounds to booking platform LY.com (with $1.25B in total funding) and home-sharing unicorn TuJia ($764M). Together, these startups are responsible for over half of the total funding raised by Chinese travel tech startups since 2013.
With $4.4B in total funding, home-sharing unicorn Airbnb is the most well-funded travel tech startup in the world. However, it is also the only US-based company to make it to the top 5, the others being based in China (LY.com and TuJia), India (Oyo Rooms), and Indonesia (Traveloka).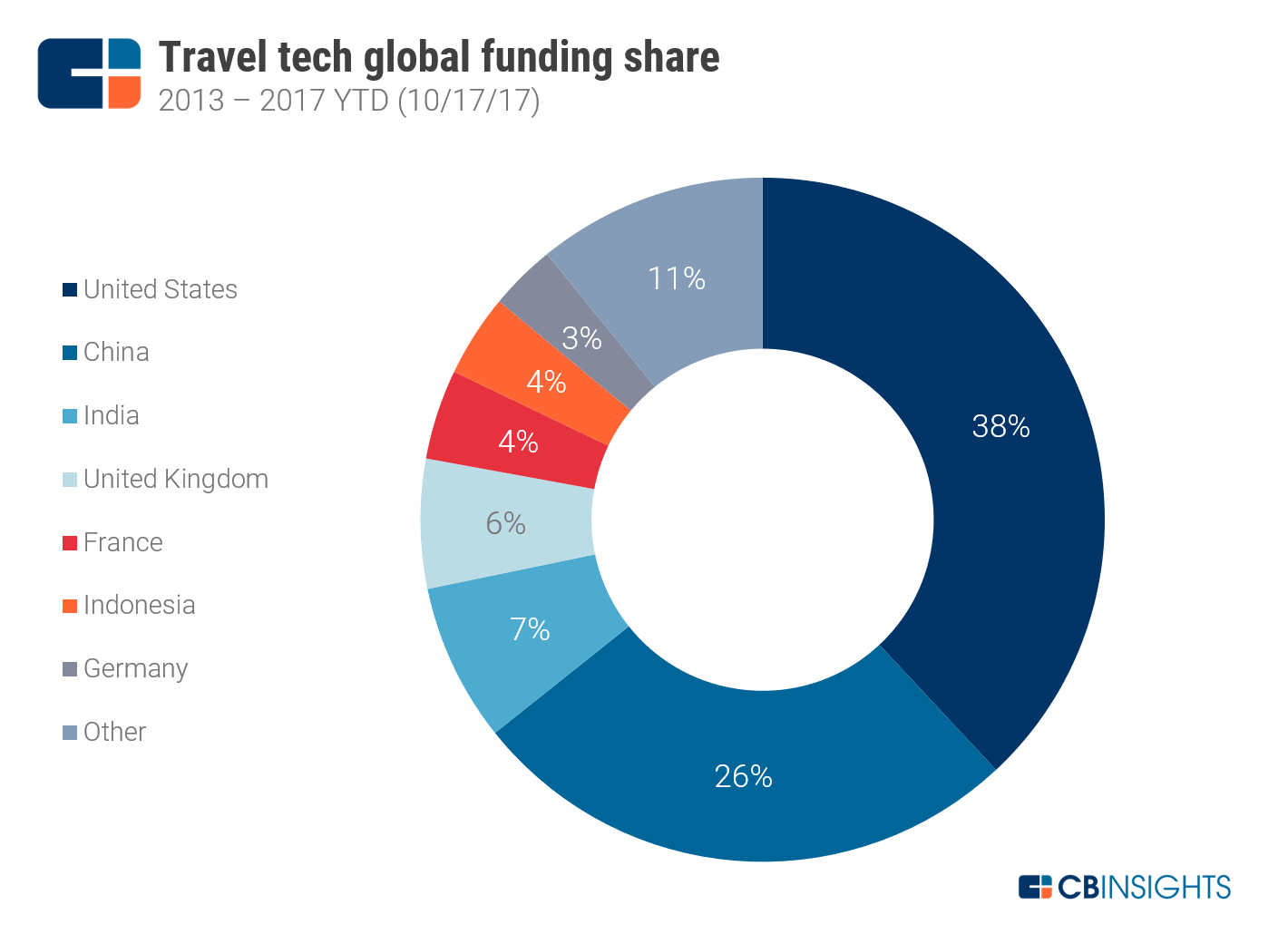 Companies list
If you aren't already a client, sign up for a free trial to learn more about our platform.