Notable exits include the IPO of Latin American online travel booking service Despegar, as well as Airbnb's acquisition of villa rental startup Luxury Retreats.
VC-backed travel tech exits have been on the rise, with over 70 IPOs and M&A transactions over the past 5 years. As of Q3'17, this year has already surpassed the previous 4 years' annual exit totals, with 19 M&A deals and one IPO.
The top exit in 2017 YTD was Expedia-backed Despegar's IPO in Q3'17, which valued the company at $1.8B.
Only two other VC-backed travel tech companies have achieved $1B+ valuations at exit over the past 5 years: Travelport (IPO in Q3'14, $1.9B) and Skyscanner (acquired by Ctrip in Q4'16 for over $1.7B). The majority of other exits fall in the <$100M range.
The most active acquirers over the period include travel tech unicorn Airbnb (3 acquisitions) and online travel giants TripAdvisor (5 acquisitions) and The Priceline Group (3 acquisitions).
In addition, travel tech startups themselves have made a significant number of acquisitions, with a startup featuring as an acquirer in nearly half of the M&A deals over the past year.
Using the CB Insights database, we analyzed exit activity in the travel tech sector since 2013 and mapped out a timeline of notable M&A deals over the past year.
ANNUAL EXIT TRENDS
With 20 exits during the first 9 months of 2017 (up from 19 during full-year 2016), this year is on track to set an all-time record for travel tech exits, mainly driven by significant M&A activity. M&A transactions represent the vast majority of exits 2013 – 2017 YTD.
Notable deals over the time period include the acquisitions of Viator (acquired by TripAdvisor for $200M), Luxury Retreats (acquired by Airbnb for $200M), and Onefinestay (acquired by AccorHotels for $168M).
There were only a handful of IPOs over the same period, including one in 2017 YTD: Latin American startup Despegar went public in September, at a $1.8B valuation. Despegar is an online booking platform based in Argentina and backed by Tiger Global Management, Expedia, and smart money VC Sequoia Capital, among others.
The uptick in exit activity over the last 5 years tracks with the overall increase in deals and funding in the travel tech sector since 2013.
Travel tech M&A TIMELINE
Over the past 12 months, 3 VC-backed travel tech startups have been acquired for over $100M.
The largest such deal was Ctrip's $1.7B acquisition of Skyscanner, which dwarfs the second largest deal, Airbnb's $200M acquisition of Canadian villa rental company Luxury Retreats. Although relatively small, this transaction is an important move for the home-sharing unicorn as it looks to amplify its presence in the luxury space.
Track all the Travel Tech startups in this brief and many more on our platform
Startups disrupting where we go and how we get there. Look for Travel Tech Startups in the Collections tab.
Track Travel Tech Startups
This year has also proven busy for Expedia, which acquired a majority stake in SilverRail for $148M in Q2'17, bought crowd-sourced travel recommendations startup Tripl through its majority-owned subsidiary Trivago in Q4'17, placed bets on a number of travel tech startups, including a $350M investment in Indonesian unicorn Traveloka, and remains a key shareholder in the recently listed Despegar.
Other deals initiated by big corporates include the $53M sale of the London-based house-swapping platform Love Home Swap to hospitality company Wyndham Worldwide in Q3'17.
Interestingly, travel tech startups such as vacation rental booking company RedAwning and activity-listing platform Peek Travel have also been active acquirers themselves, making up almost half of the acquisitions that have taken place in the last year.
Some of these acquiring startups were looking to buy a competitor, such as France-based hosting platform NightSwapping, which acquired MyTwinPlace in Q3'17, and campsite and outdoor booking platform Campsy, which acquired Camping and Co. in Q2'17.
Others were on the lookout for new capabilities, such as B2B travel app Lola, which acquired Room 77 for its metasearch technology in Q4'16.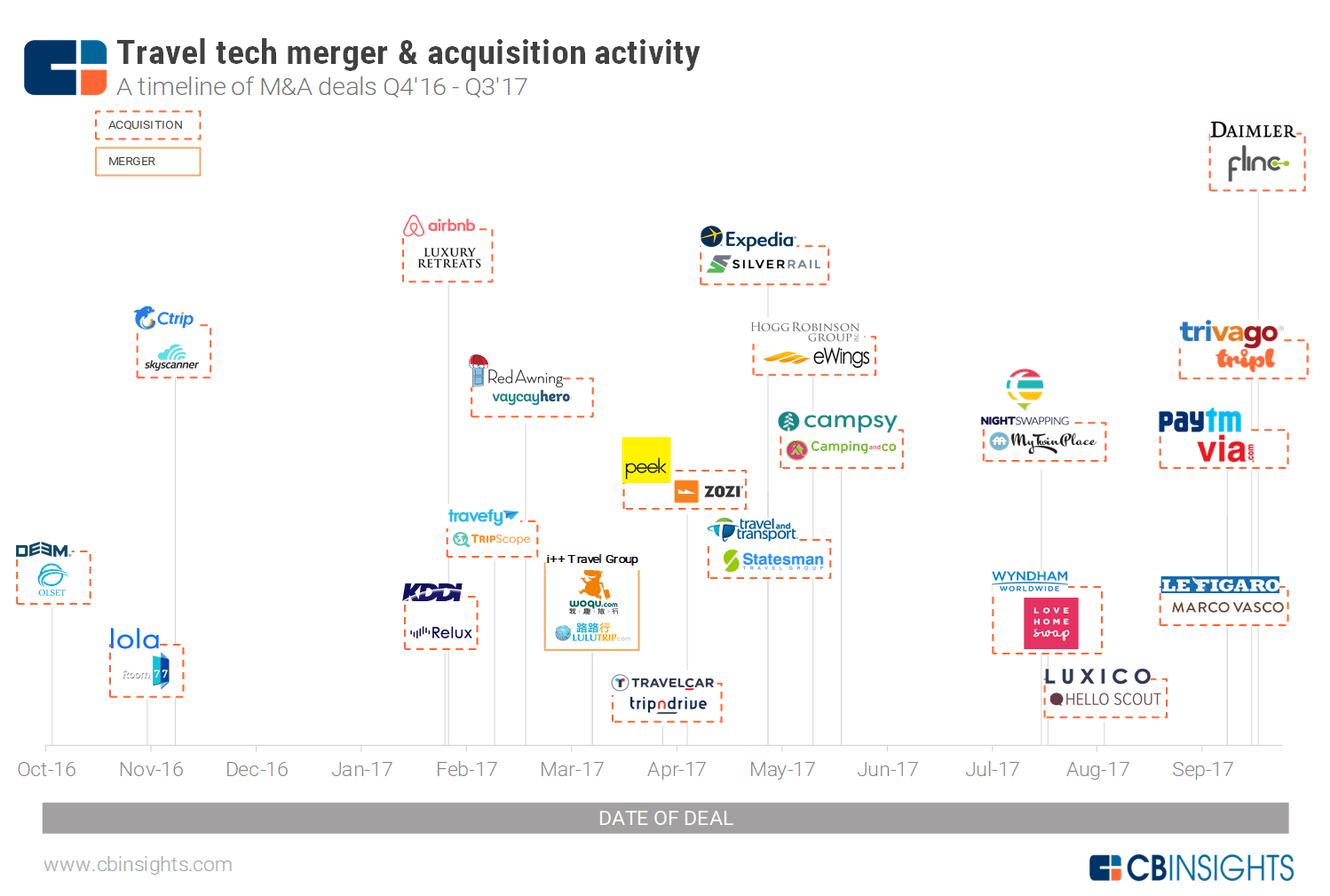 If you aren't already a client, sign up for a free trial to learn more about our platform.