Incumbents in the air travel and hospitality spaces are rolling out novel fitness offerings — from in-flight workouts to spin bikes in hotel rooms.
Staying in shape while traveling has always been a challenge. However, incumbent institutions like airports and hotel chains are starting to change this.
By integrating new traveler-focused fitness offerings, hotels and airports are responding to consumers' increasing demand for on-demand fitness options. The strategy could help established travel companies boost brand loyalty, while further differentiating themselves from Airbnb and other new rental market entrants.
On-demand fitness could transform your next airport layover
On-demand fitness services have begun to target business travelers by meeting them directly at airports.
At the same time, airports and travel services are recognizing that consumers increasingly view fitness as a lifestyle. By integrating fitness offerings into airports, they can entice tourists and business travelers to fly out of a specific airport.
Startups ROAM Fitness and FlyFit Global offer workout facilities behind airport security. ROAM launched in the Baltimore-Washington International airport in January 2017, while FlyFit has announced it will launch in Heathrow London this winter. Another startup, Sanctifly, offers a members' club that allows travelers to book airport hotel gyms and other wellness facilities.
Airport fitness startups could become attractive acquisition or partnership targets for hotels or fitness apparel brands, helping these brands connect with frequent (and potentially high-spending) travelers in a memorable way.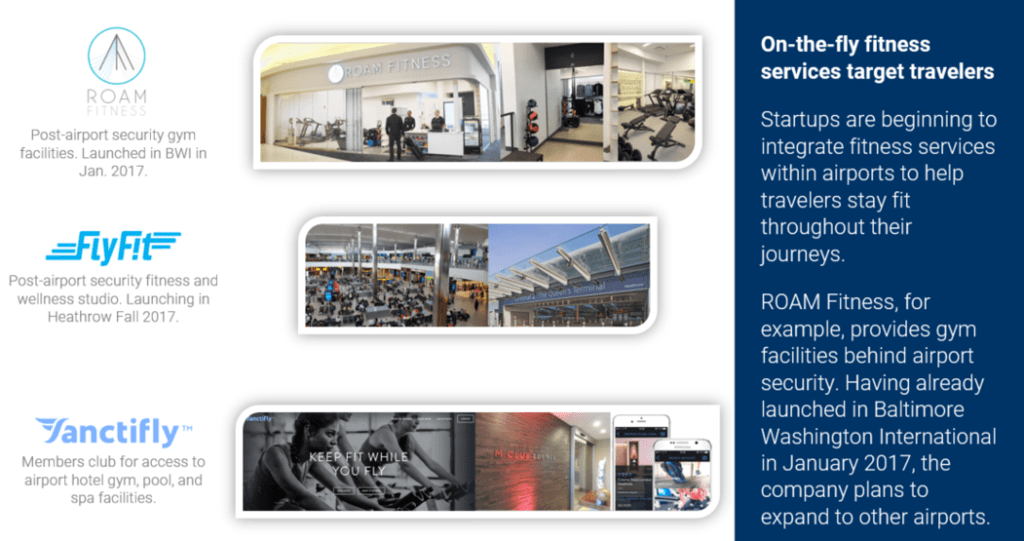 In-flight fitness takes off
Beyond airports, fitness is literally reaching new heights as it is being explored by airlines as an in-flight service.
A3, a division of Airbus based in San Jose, is testing a variety of modular in-flight concepts, including one focused on fitness. The fitness module would feature Peloton spin bikes, yoga mats, and other fitness equipment.
For luxury airlines or first-class travelers, fitness services could prove to be an enticing amenity. By integrating fitness into flights, airlines can make flying a more enjoyable experience, and subsequently influence consumers' airline choices.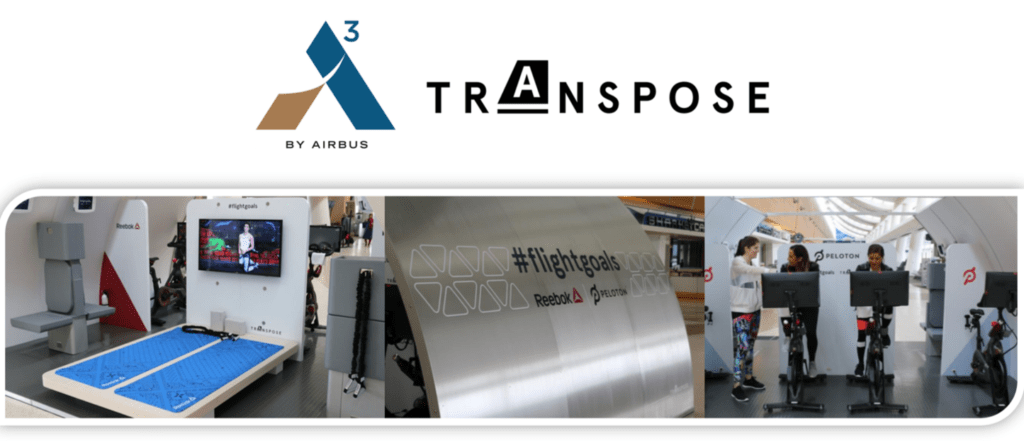 Track all the fitness startups in this brief and many more on our platform
Fitness tech companies are using technology to augment approaches to developing or maintaining physical fitness. Look for Fitness Tech in the Collections tab.
Track fitness tech startups
Hotels also look to integrate wellness in travel
Amidst a massive transformation of the hotel industry, hotels and hospitality brands are also looking to incorporate fitness and wellness brands into their service offerings to drive customer loyalty.
For example, Hyatt Hotels acquired both wellness resort brand Miraval Group and fitness and spa brand Exhale earlier this year.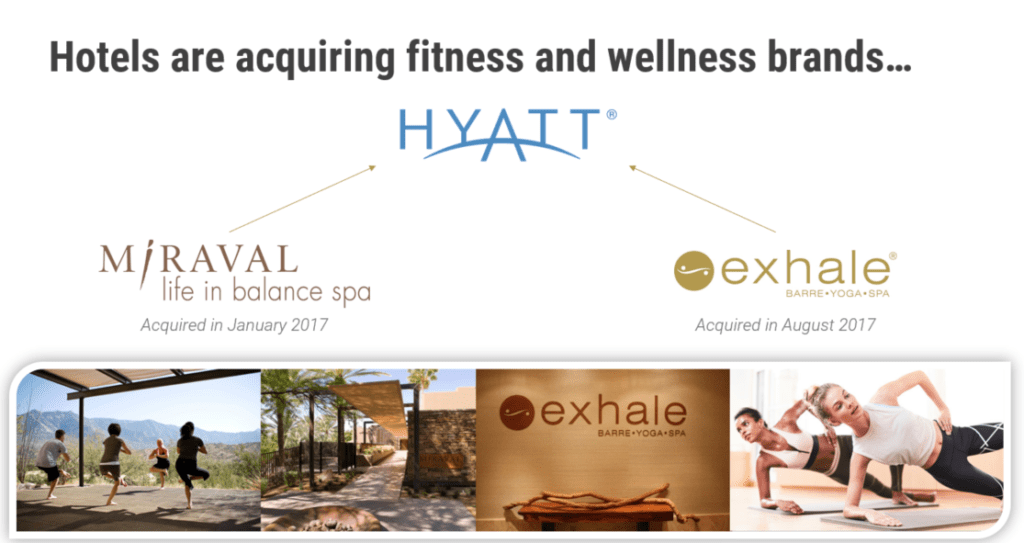 Hotels are further personalizing their visitors' workouts by integrating in-room fitness services. Westin's partnership with Peloton brought spin bikes to guest rooms, while Hilton's "Five Feet to Fitness" program offers in-room gyms for hotel guests.
In-room curated fitness offerings could increase brand loyalty for hotels. As the hotel industry transforms, integrating fitness services into hotels could give them a leg up over Airbnb and other rental options that may not offer such fitness amenities.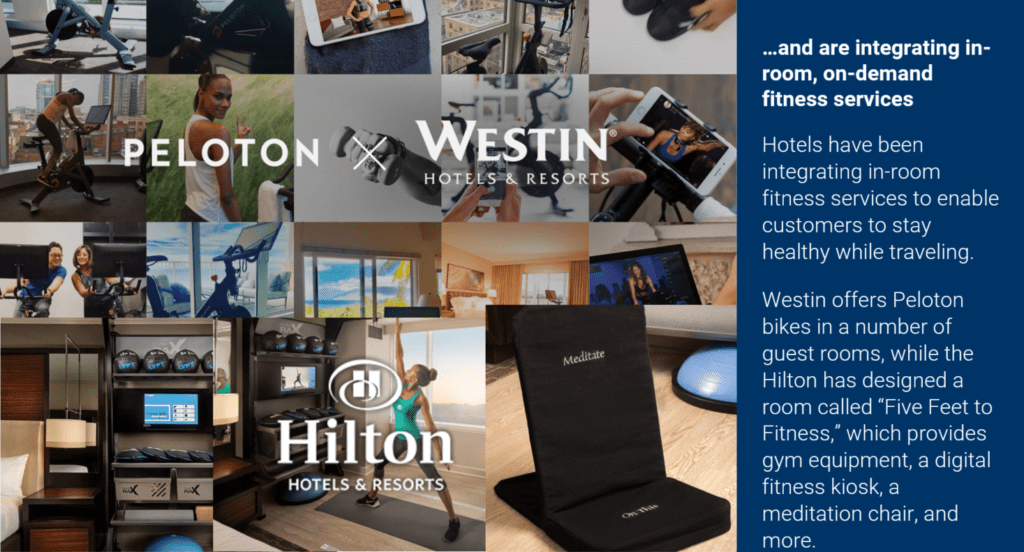 If you aren't already a client, sign up for a free trial to learn more about our platform.