Shifting car ownership trends, the rise of ride-hailing services, and new offerings like bike- and scooter-sharing options are changing the future of commuting.
The following is a guest post by Paul Asel, managing partner at NGP capital.
"Baseball, hot dogs, apple pie, and Chevrolet."
According to this 1974 jingle, owning and driving a car is one of America's great pastimes. Owning a car has long been a status symbol and aspirational rite of passage into the American middle class. As the middle class expanded, so did car ownership, more than doubling to 84% per capita between 1960 and 2007.
However, cars are expensive to own. The estimated annual cost to own a car is $8500 across the US, and much higher in cities: about $12,000 in San Francisco and $15,000 in New York City, including parking, insurance, maintenance, gas, and tolls.
But technology and new business models allow savvy consumers to receive the benefits of a privately-owned vehicle without the hassle and cost of ownership. As a result, car ownership in the US declined to 80% per capita by 2014. Many analysts project a further decline in car ownership by 2030.
A new mobility paradigm is emerging.
Rather than transportation-as-an-asset, where car ownership is the prevailing commute pattern, transportation-as-a-service is proving to be more cost effective and, in some cases, time-efficient model.
Smart commuting: A better model
Innovations in urban mobility must address three key consumer interests: commute times, transportation costs and convenience.
The US has invested heavily in privately owned transportation and infrastructure, while Europe has invested more in public transportation. Unsurprisingly, as the charts below show, US citizens own 41% more cars per capita, but spend 23% more time commuting by public transit than their European counterparts.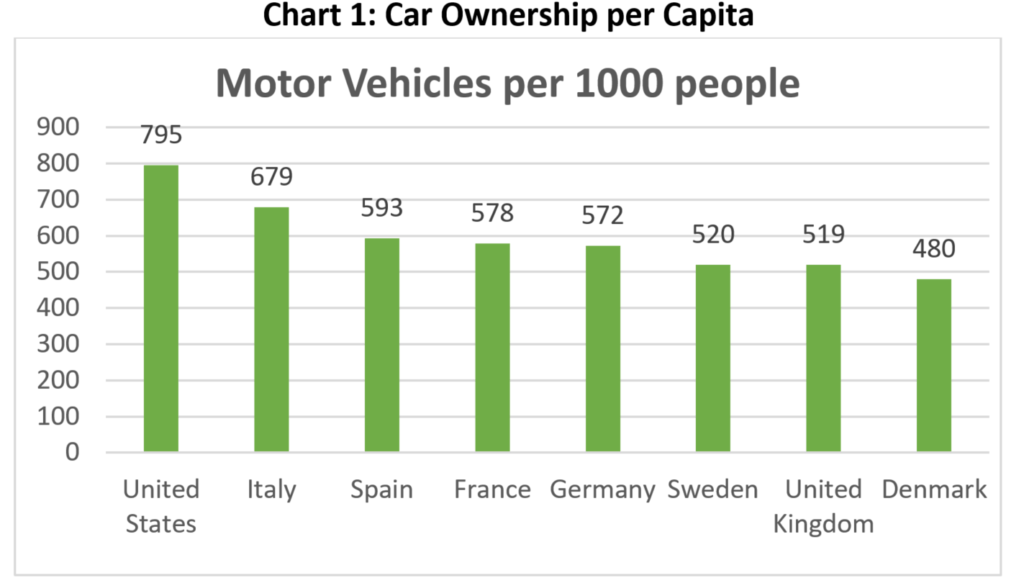 Source: Moovit
The European experience suggests that shared transportation can reduce commute times in major cities while lowering commute costs.
While private cars offer faster commute times in low density cities and light traffic, congestion can triple commute times as cities grow. Drivers in New York, Los Angeles and San Francisco spend over 20% of their commute times in congestion during peak hours, a problem exacerbated by the rise of ride-hailing services.
Uber and Lyft drivers now account for 15 — 20% of city traffic in San Francisco on weekdays racking up over 570,000 miles daily on city streets. Private cars also contribute to urban sprawl, as parking consumes up to 25% of city space.
In comparison, large European cities have 2.5x higher population density than major US cities, allowing more residents to walk or bike to work. As a result, residents in Berlin and Paris spend on average 25 fewer minutes per day commuting than San Franciscans, and 55 minutes less than Los Angelinos.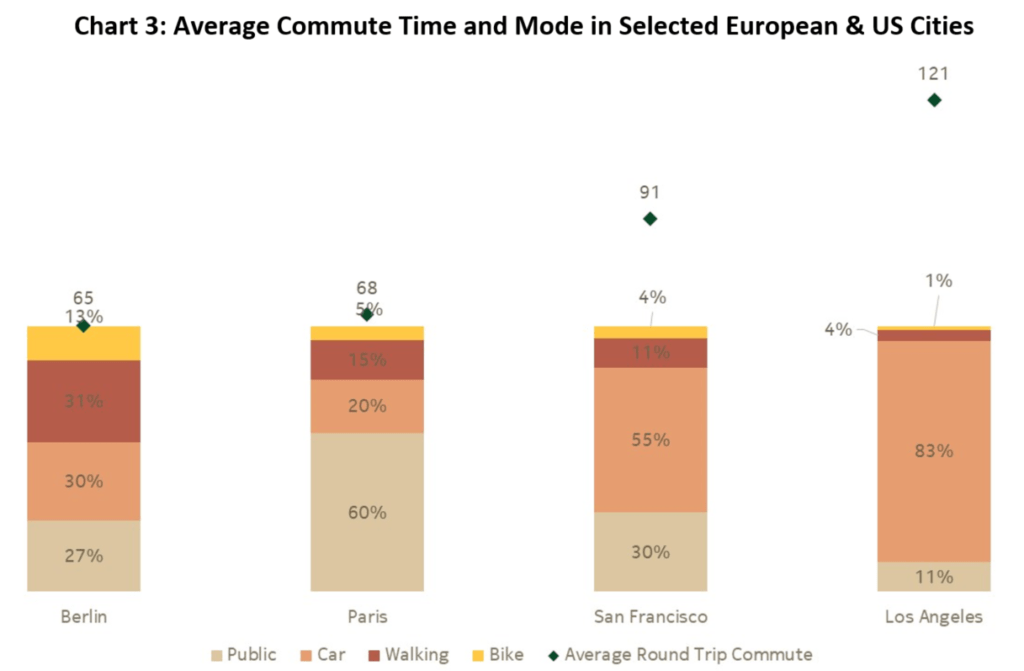 Sources: NGP Capital analysis based on Moovit, AllTransit, Inrix, Nexar, city government data.
Moreover, commuting by car is the most expensive form of local transportation. As the chart below shows, residents of Miami, Atlanta, and Los Angeles, where over 80% of workers commute by car, spend 10% more of their annual income on transportation than residents of New York and Washington DC, where more than half of workers commute by other means.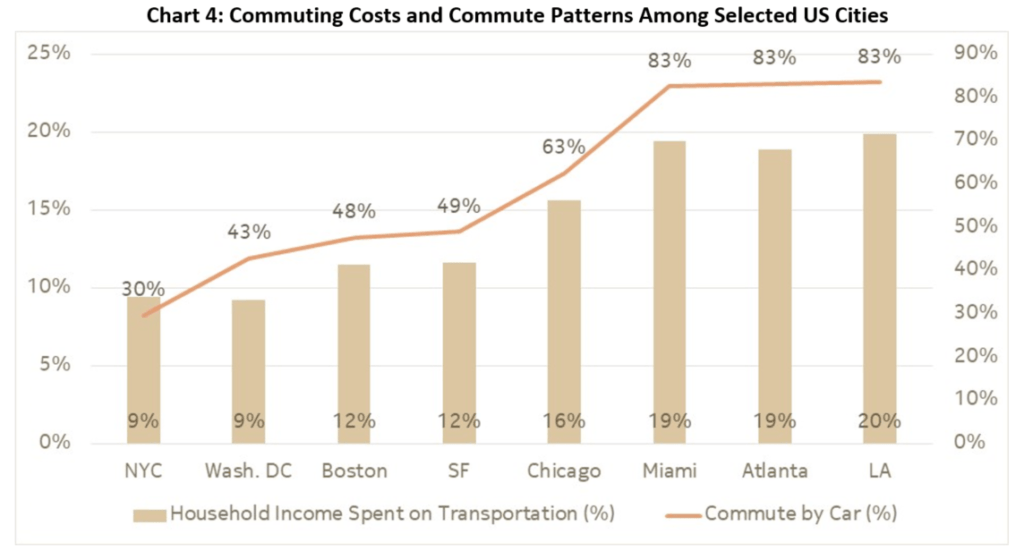 Source: AllTransit
Convenience is the third rail of public transport. Young adults who spurn car ownership in their youth revert to the car owning norm once married with families.
Several factors play a role in this transition: the unit economics of private and public transport change as families expand, logistics and luggage are more challenging with public transport, and families tend to live further from work.
Smart commuting: Roadmap to an improved commuting experience
Mary Barra, CEO of General Motors, has acknowledged that the auto industry will change more in the next five years than in the past fifty. Yet public fascination with autonomous driving prospects have masked significant changes underway today that are expanding our transportation options.
Smart commuting will look very different even before autonomous vehicles become prevalent. Below are a few new options that may impact commuters in unanticipated ways as they combine and reconfigure our commuting calculus.
Ride-Hailing
At first glance, Uber and Lyft are a substitute for taxis. Look more closely, and Uber and Lyft fundamentally alter commuting and car ownership considerations.
Taxis are not a good commuting option as a fixed supply of taxis lag peak demand during rush hour. But crowdsourced ride-hailing offers flexible supply to match peak demand. Uber and Lyft have expanded the supply of ride-hailing cars in New York 5x in the past few years. San Francisco now has 45,000 registered Uber/Lyft drivers, of which 6,500 drivers are typically on the road during rush hour (compared to just 1,800 taxis).
This alters car ownership in two ways. First, some drivers can now afford cars, with ride-hailing income subsidizing the purchase price. Second, riders are increasingly substituting ride-hailing for car ownership, with a recent Lyft survey finding that 250,000 passengers have ditched their personal car.
Autonomous driving will also further erode the logic of car ownership. Ride-hailing services currently cost around $2.50 per mile, compared with $1.20 per mile to own and operate a car. With automation, car-sharing, and other factors, ride-hailing costs could decline by 70% to about $0.70 per mile.
Technology innovation may accelerate this trend as Uber and Lyft invest heavily to promote autonomous vehicles, which would substantially reduce costs and broaden adoption of ride-hailing services.
Car-Sharing
With cars only in use 4% of the time, our 250 million cars in the US are parked over 5.8 billion hours each day.
In comparison, a study in San Francisco found that an average shared car is used by 19 people and driven six hours daily, a 600% increase over owned cars. A shared car replaces as many as 13 privately owned vehicles and can reduce car ownership levels by half.
Yet these studies may still underestimate the value of car sharing models at scale. Car-share companies enable consumers to adjust their car preferences to their daily needs: a customer might use a pickup truck for weekend work, an SUV for family outings, and a luxury car for date nights.
As a recent GM announcement suggests, subscription models that bundle insurance and maintenance, and permit car usage of various makes and models in multiple cities may be the prevailing car ownership model of the future. Car-sharing models may thus offer compelling cost and convenience advantages to car ownership.
Solving the First- and Last-Mile Problem
Public transportation operates as a hub-and-spoke system with rail systems as the backbone. But riders are often left to solve the first- and last-mile problem, which often accounts for about 50% of commute time.
Public transport alternatives are often inadequate. In San Francisco, up to one third of train capacity during peak hours is reserved for commuter bicycles. Surely there is a better way.
Europe and China are turning to bicycles to solve the first- and last-mile problem. Bikes account for 55% of daily commutes in Copenhagen and 43% in Amsterdam. Paris hopes to triple bike commute rates to 15% by 2020, and Berlin aims to double bike commutes to 25% by 2025. In China, bike commuting has blossomed recently as over 25 million commuters ride to work using shared bikes.
In the United States, a full year of bike activity in 2016 was equal to China's daily total, with bikes accounting for just 4% of commutes in San Francisco and 1% in New York. But many US cities are now experimenting with shared bike systems, as well as shared electric bikes and scooters. Minneapolis found that public transport use increased by 25% when bike share systems were aligned with rail lines.
With startups like dockless bike-sharing program Limebike and electric scooter rental startup Bird having recently raised funding for bike- and scooter-sharing programs in the US, the prospects for bike-sharing in the US are improving.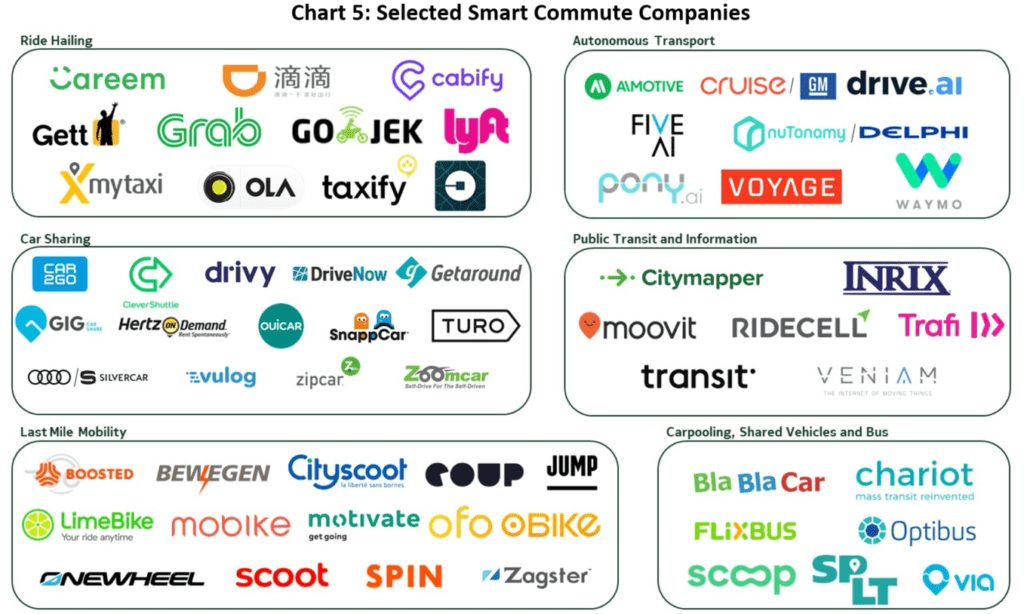 The road ahead: Smart cities
As telecom and software companies have offered consumers bundled services over time, improving cost and convenience, efficient transportation systems will be well-integrated, offering residents a range of options balancing cost, time, and convenience preferences.
New information systems are offering real-time visibility into public transport options. While the private sector is playing an increasing role in smart commuting (as shown in the above chart), cities will continue to play the central role in orchestrating and integrating commuting options.
Smart cities must offer an attractive combination of livability, affordability, and convenience to attract the talent and companies that will drive future city success.
---
Paul Asel is managing partner of NGP capital and a global technology investor across the US, Europe, and Asia. He has been engaged in acquisitions and IPOs valued cumulatively at over $25 billion. He is currently focused on NGP's investments in the US and Asia in the mobile, IOT, auto sectors. Asel is on the Boards of Gigwalk, Workfusion and Zubie. Prior to NGP, Paul was responsible for technology investments in Asia at the International Finance Corporation. He received an MBA from Stanford and a BA from Dartmouth. Paul is co-author of Upward Bound: Lessons of How Nine Leaders Achieved their Summits.
If you aren't already a client, sign up for a free trial to learn more about our platform.