As many countries reopen their economies after months of quarantine, transportation authorities and startups alike are grappling with how to keep people safe. We answer some of our readers' most pressing questions on the future of mobility.
Covid-19 has hit the mobility ecosystem hard, slashing consumer spending across everything from scooter and ride share to parking to auto parts retail. Usage of public transportation systems has similarly pulled back.
Our recent webinar on The Future of Transportation: The Impact of Covid-19 on Mobility surveyed emerging mobility trends and developments in the context of the pandemic, as well as bright spots to watch. 
Below, we answer some of our readers' most pressing questions from the webinar on the future of transportation.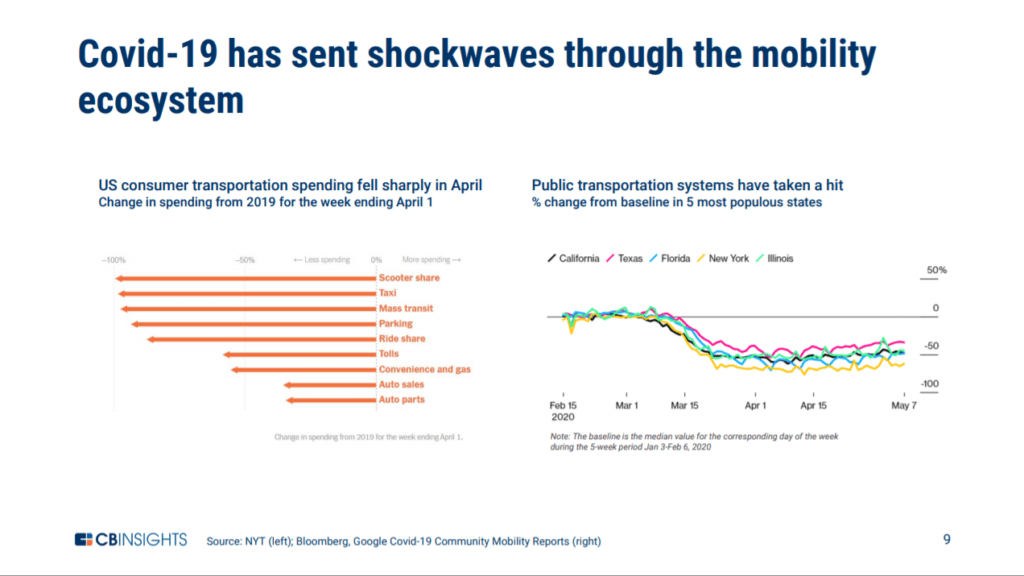 Is the passenger vehicle market the only one seeing an increase in demand for electric vehicles (EVs), or does this also extend to freight transport via heavy-duty vehicles?
Medium- and heavy-duty vehicles like trucks and buses are certainly in focus on the electrification front. Electrification can have a significant impact here, given that these vehicles make up only 10% of all vehicles in the US but account for 28% of emissions in the transportation sector.
In many ways, this segment is low-hanging fruit, as governments and corporations are buying these vehicles. Additionally, the operating characteristics for buses and trucks are more favorable than those for passenger vehicles, because buses and trucks typically operate on fixed routes and can be parked at central depots to be recharged overnight. These qualities can help mitigate range anxiety.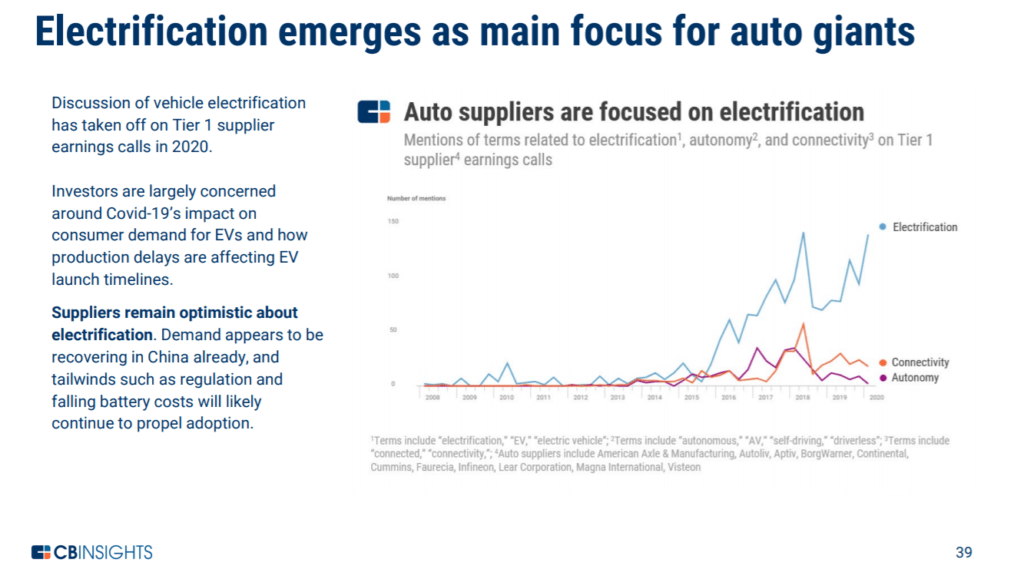 How does middle-mile transportation and delivery compare to last-mile?
The middle mile offers a number of cost-saving opportunities for logistics operators that the last mile doesn't. For one, middle-mile vehicles typically run the same route, which makes it simpler to automate them. By contrast, last-mile delivery routes tend to be much more complex.
Further, the same company typically owns the distribution center and the brick-and-mortar location — making up the 2 points of the middle mile — which allows it to control both ends of that piece of the supply chain.
Given the priority Tier 1 suppliers are placing on electrification, what are some of the most advanced rapid or wireless charging technologies being developed?
Several startups are exploring ways to deliver a charge quickly while minimizing stress on the grid.
FreeWire Technologies, which is backed by BP Ventures among others, has developed an EV charging station that can be charged from a normal wall outlet and then deployed anywhere to power multiple vehicles a day. The company claims the charger offers a 40% lower installation cost and can help alleviate stress on the grid by powering itself during off-peak hours at a lower voltage. The company's Boost charger can deliver a 480-mile range on a one-hour charge.
Meanwhile, Israel-based StoreDot, also backed by BP Ventures, has developed a fast-charging solution that can deliver a full charge in 5 minutes. 
On the wireless charging front, WiTricity, backed by Qualcomm, Intel, and GE, has developed magnetic resonance technology to wirelessly charge electric vehicles. WiTricity's approach creates the ability to charge multiple devices at once, as well as over distances and through materials like wood, plastic, granite, and glass.
Further, New York-based HEVO Power has developed a solution that enables EVs to charge themselves. The company's power station automatically beams electricity up to a car-mounted receiver to wirelessly charge it. Several major automotive manufacturers and utility brands have adopted HEVO's approach. 
Track all the Electric Vehicle Tech Startups in this brief and many more on our platform
Startups are looking to support the growing electric vehicle ecosystem through advancements vehicle design and the build-out of a proper charging infrastructure.
Track Electric Vehicle Tech Startups
Others are leveraging AI to speed up the development of new EV charging solutions. Toyota, in collaboration with Stanford and MIT, developed AI software that can predict how batteries would respond to different charging approaches. This approach cut down the length of the testing process from almost 2 years to 16 days.
If the arrival of a vaccine or treatment for Covid-19 alleviates consumer concerns around getting sick in shared spaces, behaviors may gradually revert back to normal. We've already seen this in China and other countries that have largely overcome the virus.
That said, more permanent changes to mobility behavior could result from deurbanization and indefinite remote work. These trends would likely drive demand for personal vehicles in suburban and rural regions and would lead to lower usage of public transportation and on-demand mobility.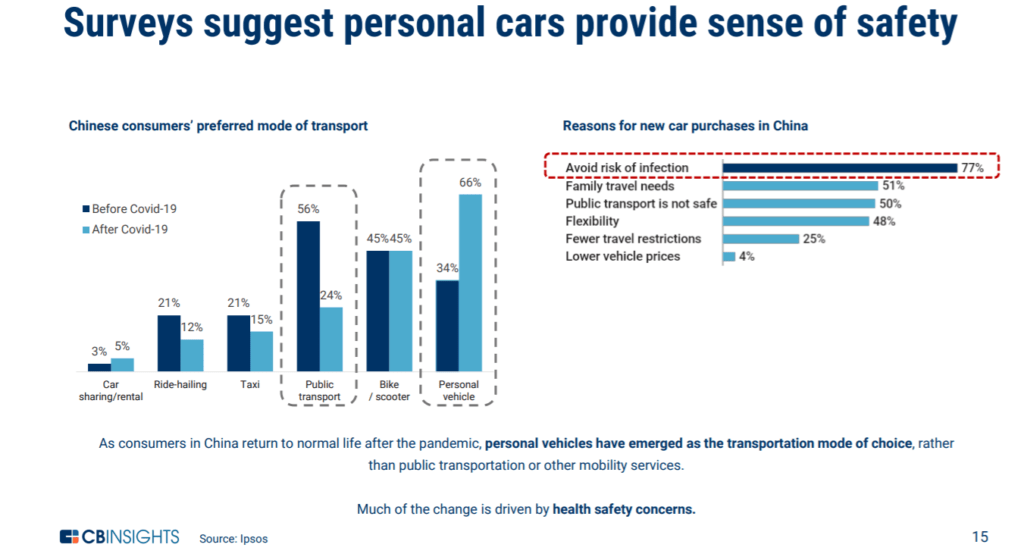 Will Covid-19 delay the implementation and penetration of autonomous vehicles (AVs)?
Even before the pandemic hit, AV development had already fallen behind expectations. And as the pandemic forces AV developers to face financial constraints, it's likely AV development will slow even further.
Over the next few years, we expect to see tech companies drive much of the progress in this space given they have the capital to do so. 
In the AV space, will Tier 1 suppliers shift from system-level development toward component/subsystem industrialization?
Overall, it seems like Tier 1 suppliers will be less involved in the development of fully self-driving systems than had been expected previously.
Automakers are increasingly partnering directly with pure-play AV developers (e.g. Alphabet's Waymo, GM's Cruise, Zoox, Argo AI) rather than Tier 1s for autonomous driving systems. 
Outside of Aptiv, which appears to still be working on a fully autonomous driving system, other suppliers such as Bosch and DENSO are now more focused on developing driver assistance systems.
If you aren't already a client, sign up for a free trial to learn more about our platform.