Executives across the globe are responding to what the trade war means for their industries, from auto to e-commerce to food & beverage, and more.
The United States has levied heavy tariffs targeting sectors in Mexico, the EU, and China over the preceding weeks.
The growing number of tariffs that the Trump administration has announced are expected to affect companies across multiple industries — from construction to food production to motor vehicles, and more.
As trade wars heat up, execs and analysts are speculating about what the effects could be. Tariff and trade war talk on earnings calls hit an all-time high last quarter.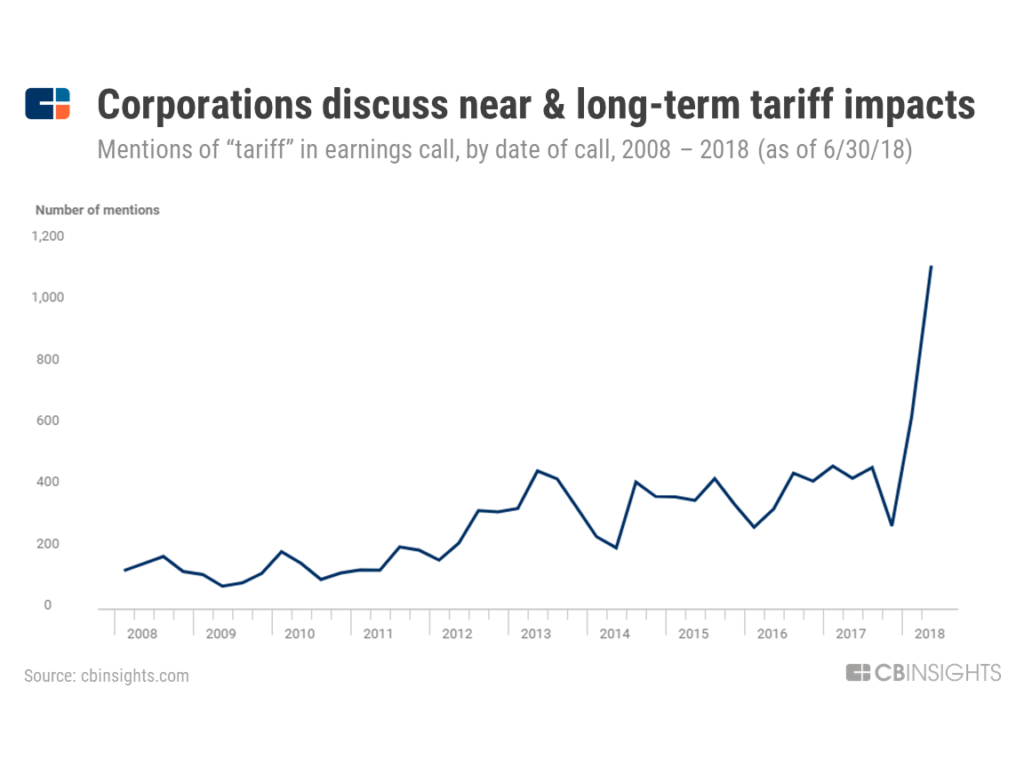 CEOs, CFOs, and others at many of the world's largest companies have been sounding off for weeks on earnings calls, in interviews, and elsewhere on how they plan to navigate tariffs and how they expect their industries to be affected.
Here's what they have to say.
Table of Contents
Motor vehicle companies brace for impact
Companies in the auto industry will feel the impact of Trump's announced 25% tariff on steel and a 10% tariff on aluminum targeting Canada, Mexico, and the European Union. The industry will feel the pinch in rising costs of steel and aluminum, and in higher prices of cars and motorcycles sold outside of the U.S.
The tariffs have led to a slow second quarter in 2018 and uncertainty going forward, according to industry insiders.
Ford Motor Company saw a downtick in Q2. Here's EVP & CFO Bob Shanks during the company's earnings call:
"This was due in part to unexpected events over which we had little control such as the fire at our U.S. supplier Meridian … It also reflects a policy environment that's increasingly uncertain, causing real unfavorable bottom line effects on the business such as higher commodity costs, beyond normal cyclical effects as well as tariff-related impacts."
In talking about how General Motors Co. is handling "raw material pressures," EVP & CFO Charles Stevens said:
"On a go-forward basis, as we cycle through 2018, we have levers that we can pull that are longer term in nature. Obviously, we'll continue to work with suppliers, work with them across the entire value chain. We can look at footprint from a sourcing perspective. We can look at ultimately replacement or substitution of materials. So, we will not leave this unmitigated piece of this as a permanent erosion in margins, if that's kind of where you're getting at."
While company leaders within Fiat Chrysler have expressed some uncertainty due to the tariffs, they also say that pricing has yet to be impacted by the Chinese tariffs, which may be as high as 25% on goods imported into the country.
According to CEO Michael Mark Manley,
"All new vehicles in China for a period of time are able to hold pricing power, and then obviously, follow the curve depending on the strength of the brand. So I think for the balance of this year for quite a lot of the volume that we have in our plan, we're in good shape; and then, we'll see how 2019."
CFO Richard Keith Palmer, however, explained that raw material costs have added pressures on the company:
"In terms of the costs themselves, yes, we are obviously seeing some pressure there. On steel we have, basically, we have fixed priced contracts for most of our steel buy through 2018. I think it's going to be interesting to see, as the discussions around tariffs, duties, et cetera, get clarified, where the steel price goes. We have built into our plan what I would consider for 2019 a reasonable level of commodity price increase, but we will see an increase in 2019 at current prices, especially for steel.

We buy most of our steel in the local jurisdictions where we produce. And even in situations like in NAFTA, where we do buy steel, say, in the U.S. and export it to Mexico, Canada, then come back, we do have the opportunity, I think, to use duty drawback to eliminate the impact. So not overly concerned today."
BMW may be the most optimistic company within the industry, as it touted its wide production footprint as a stave against harm. As CFO Nicolas Peter explained:
"If you look at all those discussions related to tariffs, I think the BMW group is in an extremely strong position. Why? Because we have a strong production footprint in all three major geographical parts of the world and we have a very flexible production system. Our number one factory from pure volume perspective is in the United States in the Spartanburg. We have a strong footprint in China and in Europe, including the UK."
General Motors' chairman and CEO Mary Teresa Barra also expressed some positivity due to the company's manufacturing capabilities in China:
"We're pretty localized across the board. Our general strategy is build where we sell. And so, we have a lot of manufacturing capability in China."
Harley Davidson puts itself on the opposite side of the spectrum. During the company's Q2 earning call, CFO John Olin explained the dramatic effects the tariffs will collectively have on the business:
"When the tariffs first happened, we believed that there would be an impact to raw material costs of $15 million to $20 million, and we have not changed that. The markets have done what they've done. They haven't changed much, nor has our perspective of the cost of incremental steel and aluminum costs. With regards to the tariffs in the European Union going from 6% to 31%, we believe that will be $30 million to $35 million.
So in aggregate, we believe that the cost of tariffs this year will be $45 million to $50 million."
Also reeling from the tariff wars of 2018 is Daimler AM, manufacturer of Mercedes-Benz. The company's shares hit a two-year low at the end of June after the luxury car maker issued a surprise profit warning, citing trade tensions and the ongoing diesel emissions scandal.
Daimler said fewer sales of Mercedes SUV than expected and higher costs that can't be passed on to customers need to be factored into its new 2018 earnings projections "because of increased import tariffs for US vehicles into the Chinese market."
Toyota also released a company statement bemoaning the tariffs when they were first announced:
"A 25% tariff on automotive imports, which is just a tax on consumers, would increase the cost of every vehicle sold in the country. Even the Toyota Camry, the best-selling car in America, made in Georgetown, Kentucky, would face $1,800 in increased costs.  We believe the only plausible outcome of this investigation is to reject the notion that automotive imports threaten national security."
Some food and beverage industries are boiling under pressure while others benefit
Companies within the food and beverage industry have been discussing the implications of the wide-ranging tariffs for months now — and while a few have expressed some positivity, the general consensus is that the outlook is negative.
In Tyson Foods' Q2 earnings call, CEO Thomas Hayes responded to a question on the impact of Chinese tariffs on pork margins:
"I think it's a good insight. It hasn't affected us. If you think about our total business, we sell less than 0.5% in total sales to China in pork. So it's about $150 million-ish, I think in 2017. So the tariff and everything that's going on has created some issues. And certainly, the supply would be backed up in the U.S.

As it relates to byproducts, [it's] not a big factor given the small base that we rely on. "
Hormel Foods Corporation executives also talked a bit about offsetting issues due to the tariffs. CEO Jim Snee said in the company's Q2 earning call:
"The outlook remains positive for our international segment … To date, we have been successful exporting pork around the world. However, given the uncertain impact of the tariffs on the pork industry, we are expecting modestly lower sales and margin in our export business. Favorable performance for our China meat business should offset the potential impact on export sales."
The cheese industry, though, expects a deep-cutting impact from tariffs.
BelGioioso Cheese Inc., a private company based in Green Bay, Wisconsin, said sales to Mexico have dropped since the country implemented tariffs of up to 15% in early June. The company has also had to sell its cheese for lower prices in order to retain overseas customers.
Plymouth, Wisconsin-based Sartori Co. anticipates the tariffs will cost its business $4M — or 1.5% — of its estimated annual sales of $265M.
"It's a nightmare," BelGioioso President Errico Auricchio said.
Farmers in the US are particularly concerned about soybeans.
China's tariff on US soybeans went into effect in early July, and Latin America is already beginning to reap the benefits of it. Over 60% of US soybeans go to China, a trade worth approximately $14B in 2017.
But China is beginning to source its soybeans from Brazil, and US sellers are shipping their produce to Brazil to meet the country's internal demand.
Chairman and CEO of Farmland Partners Paul Pittman said:
"Just in recent weeks we've started exporting soybeans from the United States to Brazil. That seldom happens, but what's happening is the Brazilians are selling more beans to China, so we are having to backfill the Brazilian internal demand for their own crushing facilities."
Philadelphia-based agricultural solutions company FMC, which produces herbicides, insecticides, and fungicides, said this shift in trade routes for commodities like soy will be to its benefit.
"The fear of Chinese tariffs on US soybean import is leading to South American growers looking to expand soybean acreage. So again, a shift that will benefit FMC," said the company's CEO and chairman.
The aluminum tariff will undoubtedly have the largest impact on the food and beverage industry.
Anthony DiSilvestro, SVP and CFO of Campbell's Soup, said during the company's Q2 earning report:
"The problem starts with the forecast that we're seeing for an acceleration in cost inflation and part of that is due to the impact of the upcoming tariff. So we see pretty significant increases on steel and aluminum and other parts of the commodity basket, things like wheat, resins. Corrugated is another area where we see some increases. So that's obviously going to put some pressure on the margin. And obviously, the question is what is the impact of potential pricing to help to offset that. "
Coca-Cola expressed concern in its Q3'18 earnings call, as tariffs will affect the company's input costs.
CEO James Quincey spoke about increasing product costs:
"The price increase I just talked about on the last question is predominantly the price increase from the bottling system on the sparkling brands in particular, which faced a whole series of input costs: freight, yes; plastic resins, yes; metal in all its various forms for many reasons, including tariffs. So there is some broad-based push on input costs that have kind of come in and affected us and many other industries as well. And that's what's driving the price increase that we took in the middle of the year, which was kind of the off-cycle price increase."

…Now, of course, there is some level of uncertainty from geopolitical risk and escalating trade conflicts, but our industry remains vibrant and growing. And we are winning and we have momentum in the business."
The brewing industry will be hit especially hard by tariffs. By some estimates, the tariff itself would be equal to $347.7M in taxes for the brewing industry and could lead to over 20,000 jobs being lost.
MillerCoors is expecting a loss that will total $40M. CEO Gavin Hattersley told Bloomberg that raising prices by 50 cents per 12-pack to offset the tariffs would be detrimental to the beverage industry:
"I can't just go to the shareholders and say, 'You're going to have to accept my profit's going to be $40 million less.' It doesn't work that way."
American steel and aluminum industries are poised to build success
The 25% tariff on steel has bolstered the economic case for using locally made steel. Moody's Investors Service recently raised its outlook for the US steel industry from stable to positive, in part due to the tariff decision.
"Imports remained high through April in advance of tariff implementation, but should subside once the tariff goes into effect," Moody's said.
And companies are feeling the boon. AK Steel released a statement saying:
"We are encouraged by the Trump Administration's actions to address the threat to the US manufacturing base, our economic competitiveness and our national security from unfairly traded steel imports and global excess capacity."
Here's what Tamara Lundgren, CEO of Schnitzer Steel Industries, had to say:
"Even before these tariffs were announced, anticipation of this action had led to reduced imports during the quarter and strengthening domestic steel pricing. Since the announcement of tariffs, domestic rebar prices have increased further … The full impact and duration of the 232 tariffs are not known .. At this point however, the tariffs together with the impact of earlier trade cases have benefited the US steel industry."
In terms of the aluminum industry, the Alliance for American Manufacturing said domestic aluminum is already benefiting from the Trump administration's plan.
It "means more jobs and added capacity," the Alliance said.
Alcoa Corporation, the nation's sixth largest producer of aluminum, talked about tariffs on the company's Q2 earning call. CEO Roy Harvey said:
"In short, tariffs will not solve the challenges faced in the aluminum industry. Still, the U.S. holds real advantages that can incentivize the development of a competitive aluminum smelting industry. To be able to compete on a global scale and to make an aluminum investment attractive, producers need four main things. Favorable local and global market dynamics, capital costs that can support healthy returns, attractively priced long-term energy and a competitive regulatory environment."
Goods manufacturers and e-commerce groups are looking for answers
A wide array of goods producers and related businesses have discussed how tariffs will impact their bottom line and the wallets of consumers. But companies are still unsure how they will affect business in the future.
Helen of Troy's CEO Julien Mininberg talked about the tariffs in the company's Q2 earnings call:
"Based on the effective date of the changes and the time it will take for them to be fully reflected in the average cost of our inventory, the estimated tariff impact on fiscal 2019 cost of goods sold is expected to be approximately $3 million to $3.5 million. This estimate assumes no mitigating pricing or sourcing actions on our part and is likely subject to change as events continue to develop.

Of course, we will explore all options available to us to reduce the impact of the tariff changes and commodity pressures. A second round of tariff changes has been proposed, which we expect would not have a meaningful impact on our fiscal 2019 results, due primarily to the anticipated effective date. While we currently anticipate achieving our fiscal 2019 outlook, the current trade environment is certainly a concern and could provide a meaningful headwind next fiscal year if we ultimately realize the full year impact of effective and proposed tariff changes in their current form."
During Whirlpool Corp.'s Q2'18 earnings call, CEO Marc Bitzer expressed uncertainty as to how exactly the company will be impacted:
"Uncertainty related to tariffs and global trade actions have all led to increased cost of certain strategic components and finished goods imports and exports. While these increased raw material headwinds are significant, we have also demonstrated our ability to overcome these types of challenges in the path for a variety of means, including cost-based price increases, cost reductions and efficiency improvement and we will continue to do so."
Luckily for Hasbro, Inc., its products have yet to be included in any tariff talks. During the company's Q2 earnings call, chairman and CEO Brian Goldner discussed his company's outlook:
"In terms of the tariffs, we've been working with and talking to the administration and our congressional delegations to ensure we're communicating just how terrible an impact the ongoing tariff or trade war would be. Thus far we've only seen nonmaterial changes to the tariff schemes of other countries that don't really impact our business. Our toy business is not been part of the 303 designation that is currently been put in place. But we continue to monitor the situation and we continue to talk and firmly believe in a free trade environment as the best course for our company and for the industry."
China-based e-commerce giant Alibaba Group holds a positive out view when looking at the tariff situation.
During the company's Q4'18 earnings call, co-founder and executive vice chairman Joseph Tsai had this to say:
"The trade war right now is really just between the United States and China, so it's really limited to that trade flow. So when Chinese consumers look abroad to buy things from oversees, they could be replacements. So, for example, if we can't import food items from the U.S., we could be importing food items from Southeast Asia, from Thailand, Malaysia, from Taiwan, where they grow a lot of fruit. And so there will always be alternative channels for us to bring in imported products to satisfy Chinese consumers. So, obviously, a trade war is not good for anybody and will hurt small businesses in the United States. But our Chinese consumers are going to find alternative ways to bring imports into the country through our platform."
Financial experts are torn
Financial industry experts have expressed mixed opinions about the trade war. Some don't seem to be worried about the tariffs while others are sounding the alarm bells.
Michael Corbat, CEO and director of Citigroup, falls into the former camp, but still warns against a trade war with China. As he said:
"The impact of a U.S.-China trade war is probably a bigger macro event than it is a Citi-specific trade event, meaning that I'm just hard-pressed to believe that if you've got two of the book-ends of the global economy that the world is counting on for growth, and you've got a trade war going that growth is likely to suffer, and that's likely to have a spillover to the rest of the economy, seems — as of today and as of recent conversations that — from what, I'm sure, we're all reading that things have deescalated a bit there and seem to be headed in a more positive direction. But I think it's in everyone's best interest to try and avoid a trade war, if we can."
Co-founder and co-executive chairman David Rubenstein of Carlyle Group expressed similar sentiments in an interview with CBS News in March:
"The relationship is so strong that I don't think we're going to really have a trade war. It's not in anybody's interest. So there have been some disputes on tariffs and so forth. But I don't think it's going to upset this enormous relationship."
According to Richard Turnill, global chief investment strategist for BlackRock:
"Trade tensions are here to stay … Even without a full-blown trade war, escalating frictions could weigh on business confidence and growth … Economic fundamentals are still running strong."
Turnill also wrote about trade wars and tech rivalry in a post for the BlackRock Blog:
"Ultimately, a full-blown trade war is in neither party's interest. A limited agreement to reduce the U.S. trade deficit with China looks feasible. Yet we see rivalry in the technology sector as a more fundamental issue that could lead to enduring tensions."
Execs who believe that the tariff situation is a dire one include Leon Cooperman, chairman and CEO of Omega Advisors. He had this to say to CNBC:
"I think it is very dangerous, and I think he's [Trump] on the wrong track, and I hope he backs off. "I think the market is complacent … I think the market is assuming by the way it is acting as he has done often in the past, he backs off."
David Kelly, chief global strategist at JPMorgan Funds, told CNN Money:
"We need to resolve this. While the economy can absolutely take it right now, tariff worries a year from now when rates are higher and fiscal stimulus fades could be much more damaging."
Conclusion
Industry leaders are trying to adapt to the ongoing trade wars, and there doesn't seem to be an end in sight.
After the Trump administration announced it would be imposing additional 25% tariffs on $16B worth of Chinese goods, China answered with matching tariffs on the same amount of American goods. This will further affect some American-made vehicles, fiber optic cables, industrial chemicals, and gasoline.
Meanwhile, the US has attempted to mitigate the tensions with the EU, suspending planned tariffs on European auto makers while in talks with the EU about tearing down trade barriers.
Perhaps Jay Timmons, president of the National Association of Manufacturers, summed it up best when he told the Los Angeles Times:
"While these additional tariffs may be an attempt to create more leverage, they also increase the risks for manufacturing in America and add to mounting uncertainty. We are already seeing price increases that will be felt by consumers and working families, and additional retaliatory tariffs could close major markets off to U.S. exports."
If you aren't already a client, sign up for a free trial to learn more about our platform.