Immunotherapy draws the lion's share of attention from top VCs, but startups focused on other types of cancer therapies, such as protein targeting, are also starting to gain recognition.
The top VCs in healthcare have played an active role in shaping emerging fields in cancer therapeutics. 
Using the CB Insights platform, we compiled a list of 27 investors that, according to portfolio strength and exit history, are the best-performing VCs in healthcare.
Since reaching its peak in 2015 with 51 deals, smart money VCs' participation in cancer therapeutics has been slowing down, evidenced by two consecutive years of decreasing investments in this space.
Notable mega-round deals from 2015's high include Deerfield Management's participation in Stemcentrx's $250M Series G in Q3'15. Additionally, cancer immunotherapy startup Gritstone Oncology raised a $102M Series A from Versant Ventures and Clarus, among others, later in Q4'15.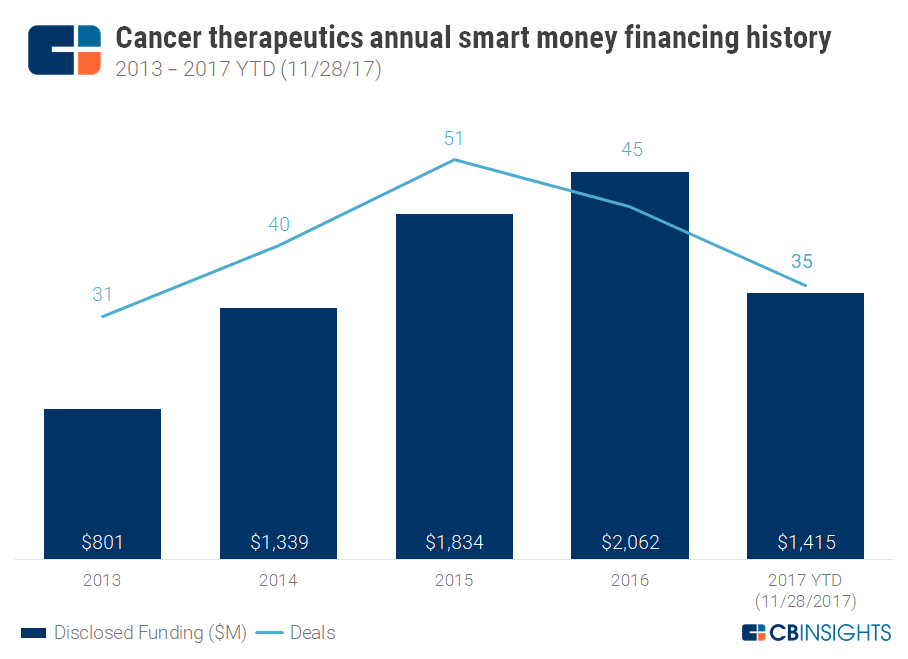 We used the CB Insights Business Social Graph to visualize how these smart money VCs and cancer therapeutics startups are linked, looking at investments from 1/1/15 to 11/28/17.
Click to enlarge the full graphic below. Each green line symbolizes one investment round.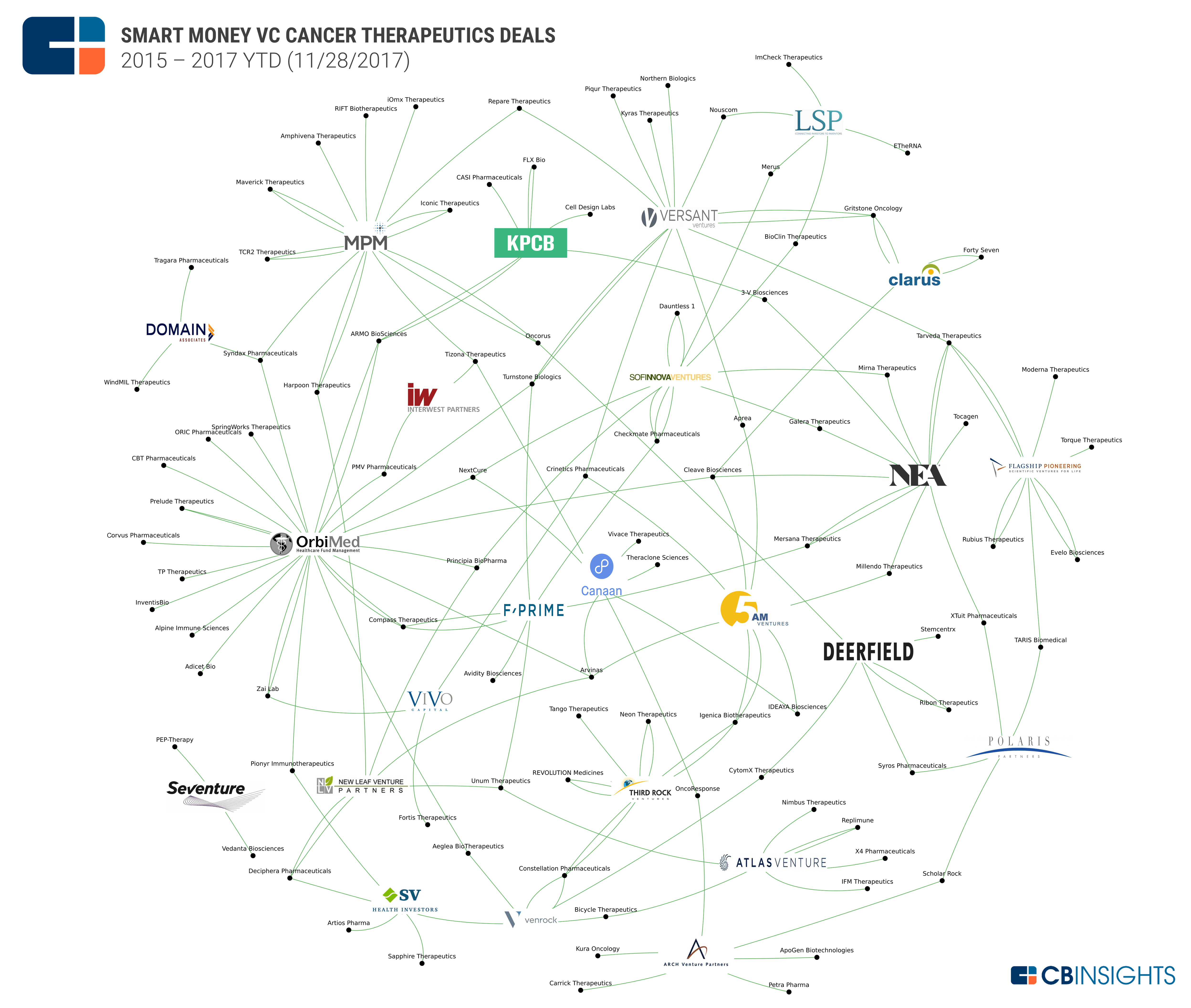 We define the cancer drug startup space to include pharmaceutical and biotech companies in the drug discovery and/or development phase with a stated focus on cancer therapeutics. We exclude areas such as medical devices & diagnostics (e.g. instrumentation, delivery systems), genetic testing platforms, and digital health.
Key takeaways
Leading trend: Immunotherapy deals account for 62% of cancer therapeutics deals invested in by smart money VCs. This is consistent with the overall trend in cancer therapy, where immunotherapy has taken center stage.
Key non-immunotherapy deals: Cleave Biosciences and Arvinas both had 4 out of the 27 smart money healthcare VCs invest, the most in this space. With products that target key proteins that cancer cells need to survive, these two startups buck the overall trend tilted toward immunotherapy. 5AM Ventures and OrbiMed Advisors invested in both companies.
Biggest investors: OrbiMed Advisors invested in over 25 cancer therapeutics deals worth $1.2B over the time period. MPM Capital invested in over 15 deals, while New Enterprise Associates followed with more than 10. These 3 investors have been the most visible in this space in the recent years.
Co-investments: 39% of cancer therapeutics deals invested in by smart money VCs were co-investments involving 2 or more of these investors.
Highest funded deal: Moderna Therapeutics, which makes preventative and therapeutic cancer vaccines, raised a $474M Series F in Q3'16. Flagship Pioneering was the only smart money VC firm that invested.
Follow-on deals: Nearly 28% of these smart money investments were follow-on deals. Third Rock Ventures invested in follow-on deals for 4 out of its 5 cancer therapeutics companies that it initially backed. Clarus did this for 2 out of the 3 companies it financed in this space.
No investment activity: Khosla Ventures has no investments in cancer therapeutics. Founders Fund hasn't participated since Stemcentrx's $200M Series F round in May 2014. Alta Partners' last financing in this space was in September 2014 to antibody-developing Allakos' $10M Series A -II round.
Note: To analyze smart money trends, we looked at the activity of 27 top VC firms investing in healthcare, selected according to portfolio valuations and investment outcomes.
Here's our full list of 27 smart money investors in healthcare:
5AM Ventures
Alta Partners
ARCH Venture Partners
Atlas Venture
Canaan Partners
Clarus
Deerfield Management
Domain Associates
F-Prime Capital
Flagship Pioneering
Founders Fund
InterWest Partners
Khosla Ventures
Kleiner Perkins Caufield & Byers
Life Sciences Partners
MPM Capital
New Enterprise Associates
New Leaf Venture Partners
OrbiMed Advisors
Polaris Partners
Seventure Partners
Sofinnova Ventures
SV Health Investors
Third Rock Ventures
Venrock
Versant Ventures
Vivo Capital
If you aren't already a client, sign up for a free trial to learn more about our platform.