The largest US banks have acquired only 18 fintech startups since 2013, but activity in the last 5 months has started picking up. In total, 2017 saw more acquisitions by top US banks than any other year.
Recently, Goldman Sachs' consumer banking division Marcus has been on the M&A hunt. The bank acquired the team behind credit card startup Final in Jan'18, and it is rumored to be in talks with personal finance management app Clarity Money.
But overall, Goldman's recent fintech M&A binge appears to be an industry outlier, not the norm. Since 2013, 80% of the top 50 banks by total assets operating in the US have not acquired a fintech startup. These banks include Bank of America, Wells Fargo, Citi, and Morgan Stanley.
The lack of acquisitions over the last few years could be the result of stringent compliance measures, or of banks not wanting to carry inflated goodwill (intangible assets) values on balance sheets.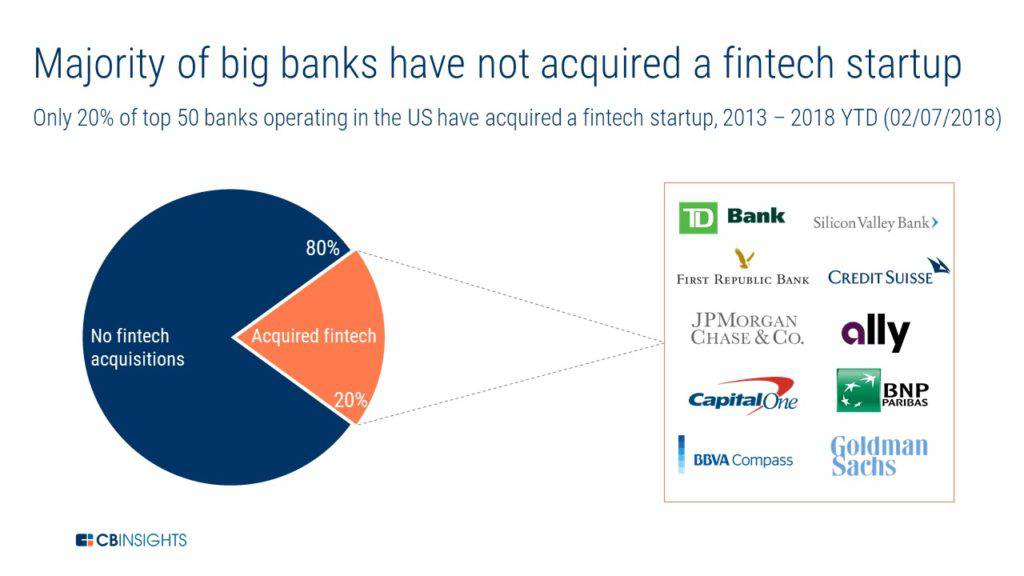 With that said, this trend is beginning to change.
Which banks are currently leading the charge?
Since 2013, only 18 fintech startups were acquired by just 10 of the top 50 US banks. Eight of the acquisition took place in 2017, the most seen in any year across the time period.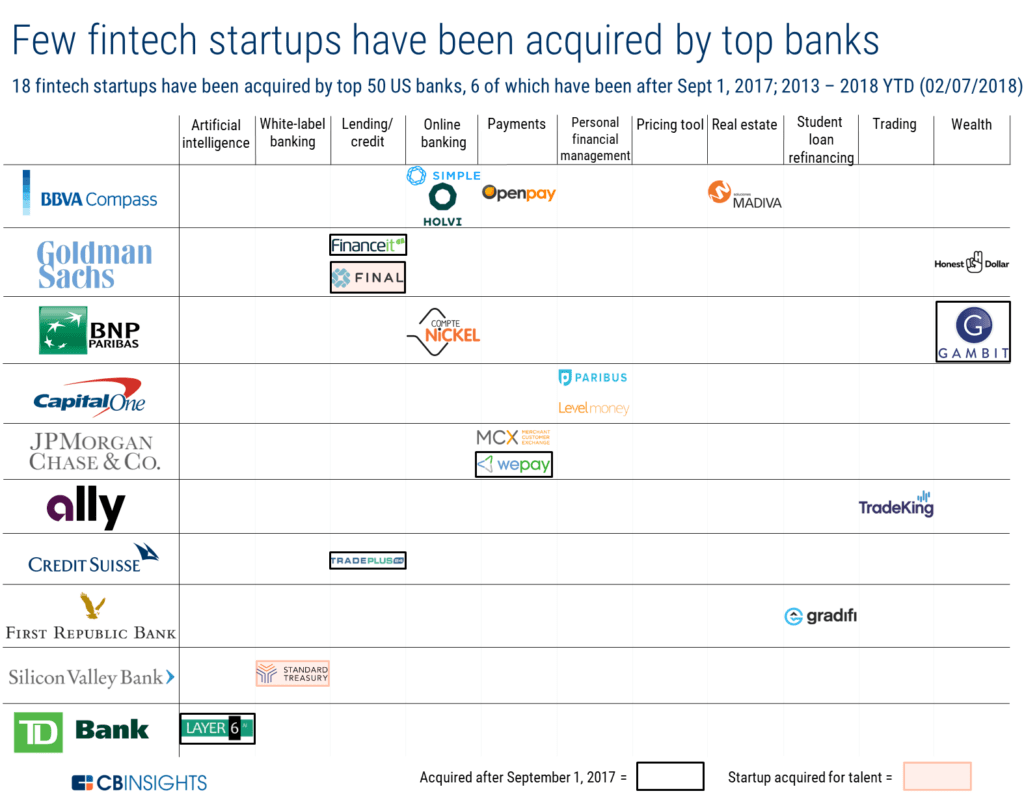 The space saw a significant uptick in activity beginning late last year. Since September 2017, there have been 6 fintech acquisitions made by 5 different banks — already half the amount of fintech startups acquired from 2013 to August 2017. In addition, four of those banks — JPMorgan, BNP Paribas, Credit Suisse, and TD Bank — made their first fintech acquisitions of the time period (2013 – 2018) in 2017.
BBVA
BBVA has been the most active acquirer of fintech startups in the last five years, as it is attempting to supplement its traditional banking operations with new fintech products.
The Spanish bank has acquired startups in the online banking, payment, and real estate valuation sectors. Of BBVA's four acquisitions, three of the them are located outside of the US: Madiva Soluciones, Holvi Payment Services, and Openpay, which are headquartered in Spain, Finland, and Mexico, respectively.
Goldman Sachs
Goldman Sachs has been particularly active as of late, focusing on ramping up its consumer loan business. Most recently, Goldman's merchant banking division took a majority stake in FinanceIt, a POS lending startup that allows contractors to offer financing to customers, while its Marcus division acquired the team behind credit card startup Final to bolster their credit talent.
Goldman is also reportedly close to acquiring personal finance management startup Clarity Money. This could fit well with the bank's strategy of building up their consumer debt business to ensure customers are fully informed about their finances.
BNP Paribas
BNP Paribas acquired its first fintechs in 2017. In April, BNP purchased Compte Nickel, an online bank, and followed that up in September by taking a majority stake in Gambit, a robo-advisor. These acquisitions appear to be in line with BNP's commitment to delivering quality investment solutions to clients, while also improving digital offerings.  
JPMorgan Chase
JPMorgan Chase acquired two payment-oriented startups in 2017. This aligns with the organizational goal of scaling Chase Pay, the bank's payments solution. Read more about JPMorgan's emphasis on payments in our JPMorgan Chase Competitive Strategy Teardown.
As more banks look to build out their own fintech products, more fintech M&A or acqui-hires could follow.
If you aren't already a client, sign up for a free trial to learn more about our platform.