We look at where the world's top unicorn investors are based and break down the geographic trends of the billion-dollar companies in their portfolios.
There are currently nearly 800 unicorns (private companies valued at $1B+) from 40+ countries around the world. Of those, about half are based in the US (50%), followed by China (20%).
Using CB Insights data, we dug into which investors have backed the most unicorns. Below, our graphic ranks them by unicorn count and breaks down the geographic distribution of the unicorns in their portfolios.
Among the top 10 unicorn investors, unicorn portfolio companies are largely US-based, followed by China-based unicorns. China-based investors have backed proportionally more Chinese unicorns, and US-based investors have backed proportionally more American unicorns.
Please click to enlarge.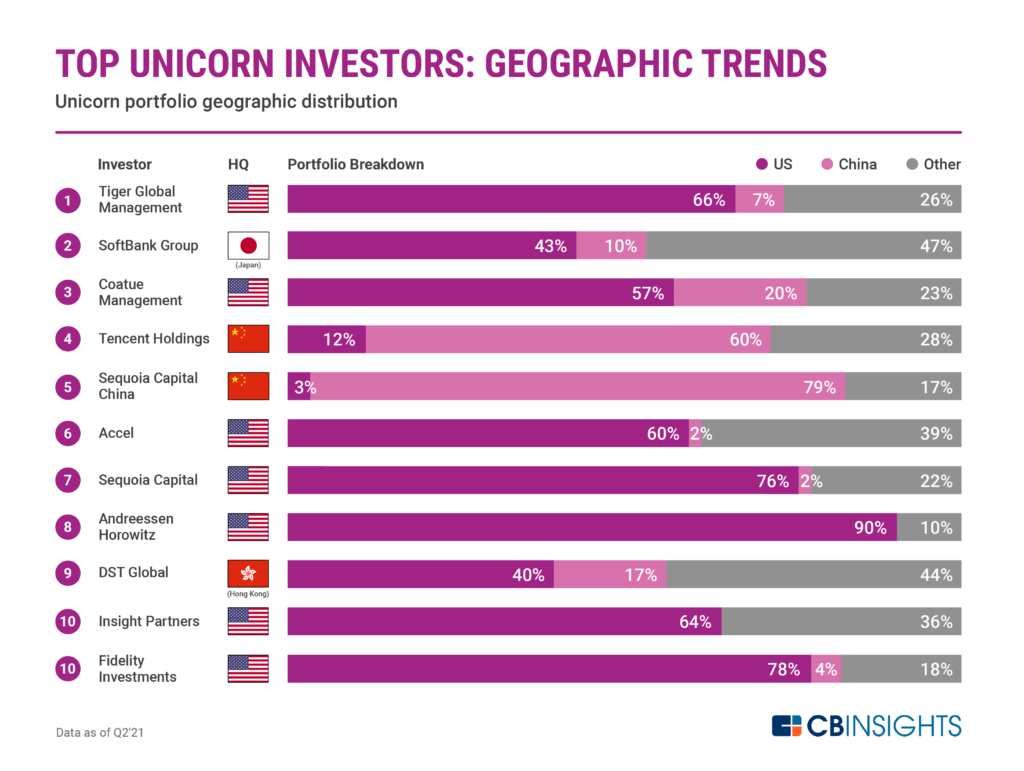 All of the US-based top 10 unicorn investors have at least half of their unicorn portfolios made up of US-based companies. Sequoia Capital China has the largest proportion of China-based unicorn portfolio companies, at 79%, while Japan-based SoftBank has backed the largest proportion of unicorns outside of the US or China, with 47% of its investments spanning other countries, including India, the UK, Brazil, and more.
The most valuable unicorn in China — and in the world — is ByteDance, parent company of several viral content platforms, including TikTok. Valued at $140B, ByteDance has been backed by top unicorn investors Tiger Global Management, SoftBank Group, Sequoia Capital China, and Tencent Holdings. We look at how ByteDance became the world's most valuable unicorn here.
The most valuable unicorn in the US is payments processor Stripe, valued at $95B. The company has been backed by top unicorn investors Andreessen Horowitz, Sequoia Capital, DST Global, Tiger Global Management, and Fidelity Investments. Among these, Andreessen Horowitz and Sequoia Capital both got in early, each investing in Stripe's seed round in 2011. We examine how Stripe is supercharging retail in our teardown report here.
For more unicorn investor analysis — including which investors are most efficient with their unicorn bets — dig into the full report here.
If you aren't already a client, sign up for a free trial to learn more about our platform.