We rank the top 10 investors based on unicorn portfolio companies (worth $1B+) and score their efficiency based on early-stage bets.
There are currently 750+ unicorns (private companies valued at $1B+).
Over the years, some 3,600+ investors have backed these unicorns. While the vast majority (67%) of unicorn investors have only invested in one unicorn company, there are some investors who have pulled away from the group, backing 10, 20, and even 100+ unicorn companies.
Using CB Insights data, our graphic visualizes which investors have backed the most unicorns.
US-based Tiger Global Management has the most current unicorn companies in its portfolio, with more than 120 current unicorns backed.
Japan-based SoftBank Group comes in second place, backing 77 unicorns, followed by Coatue Management, with 61.
Rounding out the rest of the top 10 unicorn investors are Tencent (60 unicorns), Sequoia Capital China (58), Accel (57), Sequoia Capital (54), Andreessen Horowitz (52), DST Global (48), and Insight Partners and Fidelity Investments (tied at 45).
For investors looking to reap major returns from their investments, it's not only important to invest in high-performing companies, but to invest in them early. Getting involved early on generally means greater equity, greater control, and greater eventual returns. 
To measure each firm's unicorn investment prowess, we looked at the proportion of their unicorn investments made at the early stage (seed or Series A funding rounds).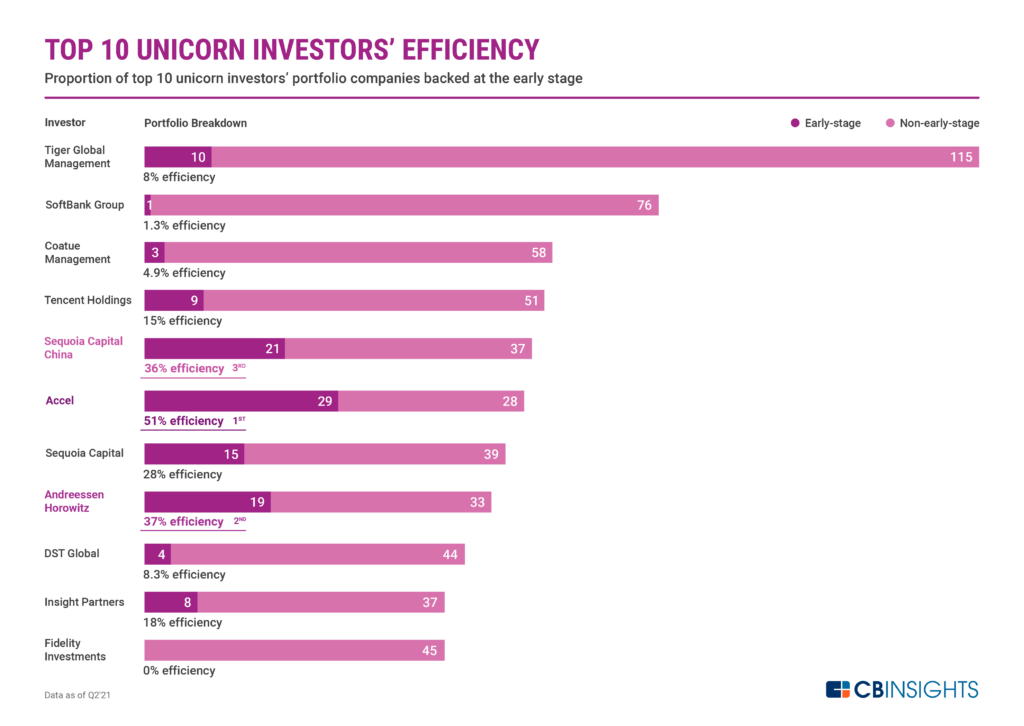 Among the top 10 unicorn investors, Accel leads for efficiency, having invested in 51% of its unicorn portfolio companies at the early stage. Andreessen Horowitz takes second place (37%) and Sequoia Capital China is in third (36%).
For more unicorn investor analysis — including which unicorn has been backed by the most top investors — dig into the full report here.
If you aren't already a client, sign up for a free trial to learn more about our platform.