Driven by increases in biotech investing, Google is the most active healthcare investor among US-based tech corporates.
Tech companies have set their sights on healthcare investment opportunities.
The healthcare landscape is increasingly shifting from fee-for-service to value-based care. Healthcare startups have reached unicorn status in areas such as health insurance, electronic medical records, telemedicine, and biotechnology. Over the last few years, large tech companies have entered the healthcare sector, increasing internal R&D and private market activity in the space.
For instance, Amazon recently entered the pharmaceutical distribution sector with its acquisition of PillPack. Meanwhile, Google has increased its stake in health insurance startup Oscar Health to 10% with its recent $375M investment.
Below, we compiled a list of the top 10 tech companies in the US by market cap (as of 9/6/18) and analyzed their private healthcare market activity.
The companies on our list include the following corporates and their associated venture capital arms. (Telecommunications companies such as AT&T or Comcast were not included as they have minimal exposure to the healthcare industry.)
Apple
Alphabet
Microsoft
Amazon
Facebook
General Electric
Oracle
Intel
Cisco Systems
IBM
ANNUAL INVESTMENT HISTORY
Since 2012, the top 10 tech corporates in the US have participated in 209 healthcare financing deals and have spent a total of $4.7B on 25 healthcare acquisitions. 
Top tech companies have participated in 27 funding rounds in 2018 so far — already equal to the total number of deals seen in 2014. At the current run rate, 2018 is on track to reach 41 deals, slightly below its peak of 45 in 2017.
Google and GE remain the most active investors among their peers in healthcare startups. While GE announced plans to divest its healthcare assets in June, it has continued to make healthcare investments out of its GE Ventures investment arm.
Sizable rounds include Google's participation in a Series D ($165M) in Oscar Health via capitalG and Verily Life Sciences, Alphabet's minority investment ($375M) in Oscar Health, and GE Venture's participation in the $100M Series E to Iora Health.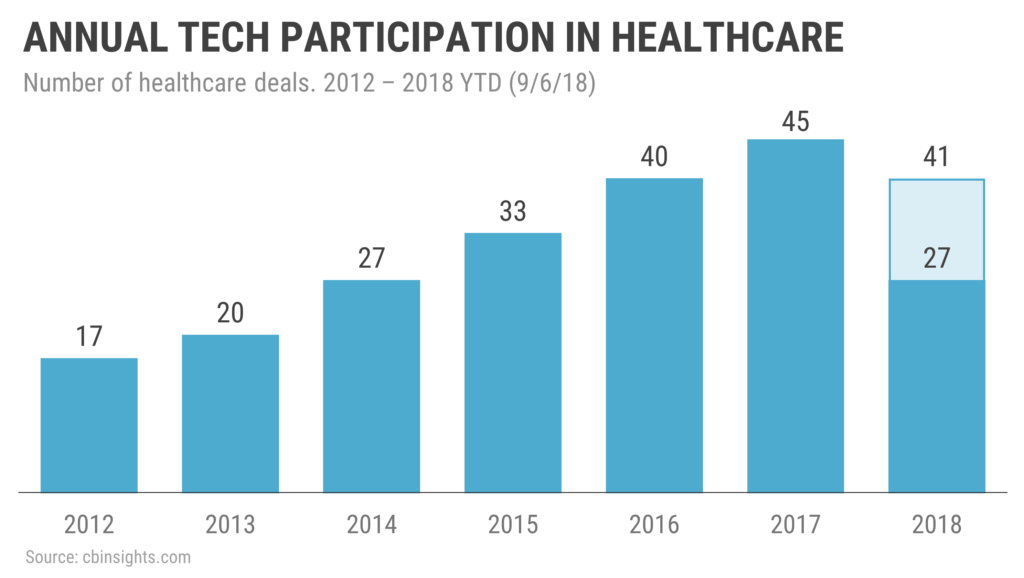 As shown in the heatmap below, the biotechnology sub-sector has become a recent area of focus for big tech — 23 of 36 biotech investments have occurred since Q4'16. Interest in healthcare e-commerce appears to have waned, as no new investments have been made since 2015.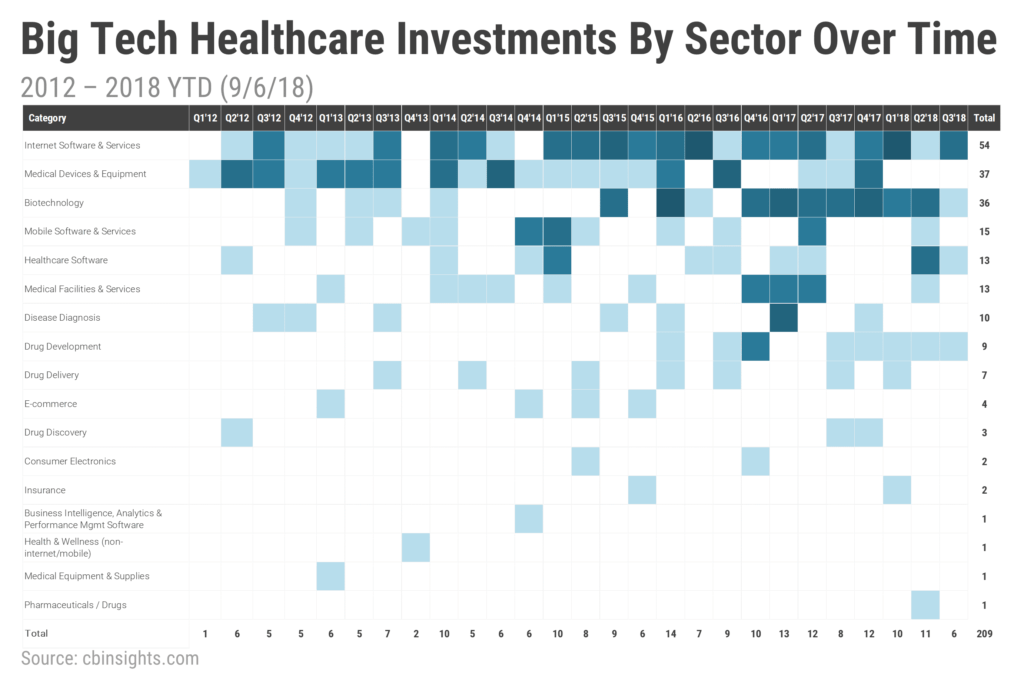 Investments in medical devices and equipment have declined recently, with no new deals announced in 2018 so far — the drop-off is partly explained by the announcement that GE is divesting its healthcare unit in Jun'18. GE has participated in 21 of 37 medical device investments since 2012.
BUSINESS SOCIAL GRAPH
Click on the image below to enlarge. Orange lines are acquisitions, green lines are investments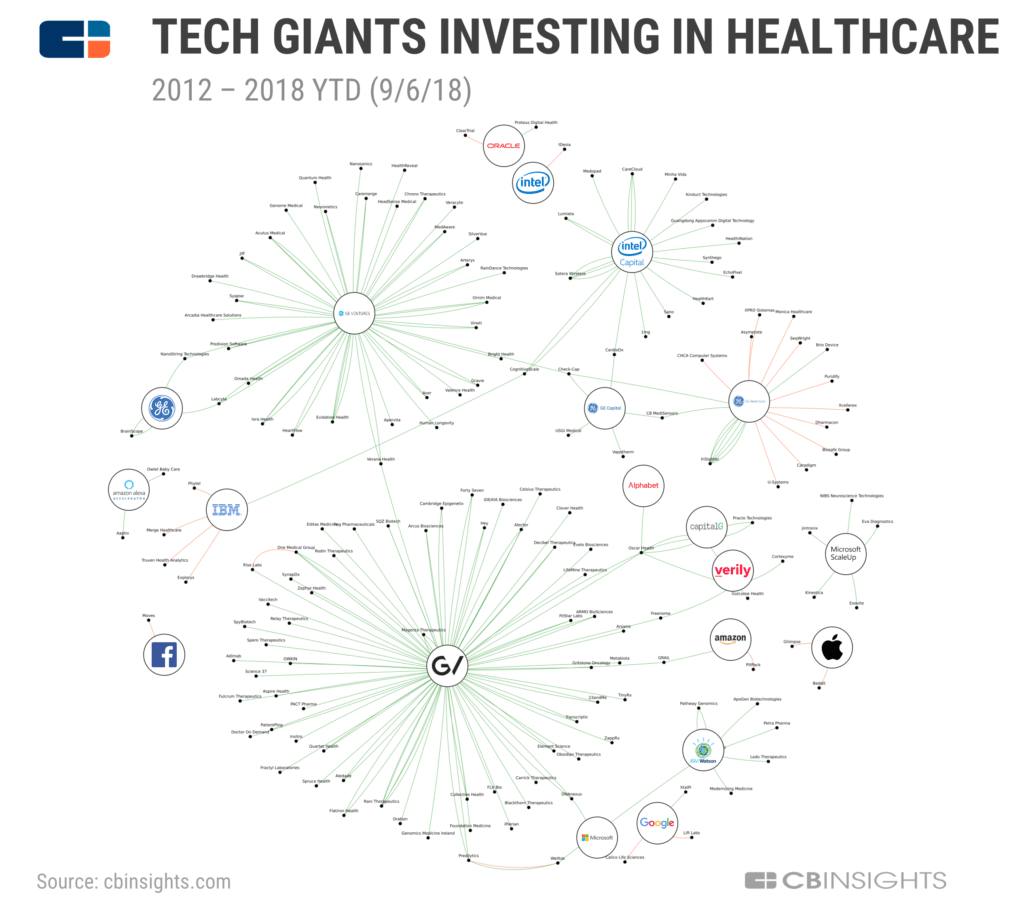 Key takeaways
A number of companies in the business social graph above have received investments from multiple big tech companies: Verana Health, CognitiveScale, GRAIL, DNAnexus, and CardioDx.
Google: Google continues to be the most active tech corporate investing in healthcare in the US. Through its various investment vehicles, Google has participated in 14 of the 15 largest healthcare raises in 2018 that included big tech companies.
Virtually all of its activity has gone through GV, with 92 healthcare investments since 2012.
Alphabet recently became the fourth Google entity to invest in Oscar Health, joining GV, Verily Life Sciences, and CapitalG. Freenome is the only other healthcare company that has received investments from multiple Google entities (GV and Verily).
Google remains active in the biotechnology space, participating in 30 of 36 deals since 2012. With only a 10% chance of FDA approval for Phase I drugs, this sub-sector is relatively risky. Notably, the company participated in Alector's recent $133M Series E to fund the company's investigation of new drugs for Alzheimer's Disease — no new drugs have been approved to treat the disease since 2003.
General Electric: Prior to the June announcement of its intention to divest its healthcare assets, GE was the most prolific acquirer among big tech companies (12 of 25 total acquisitions) and the second most active investor behind Google. However, the company has not ceased healthcare investment altogether, with two recent investments in the healthcare data space. The company has invested in Evidation Health, a collaboration with Stanford Health to generate real world evidence, and Verana Health, which is focused on ophthalmology data.
Apple: Apple has mainly focused on building out its internal healthcare services HealthKit, CareKit, and ResearchKit. It acquired sleep monitor company Beddit in May 2017. It also acquired personal health data platform, Gliimpse, in 2016.
IBM: Investing through both its corporate entity and the IBM Watson Group, IBM has slowed its investment in healthcare, with no new investments since 2016. Prior to its slowdown, IBM had focused in the pharmaceuticals and genomics sectors, with investments in Pathway Genomics (2014, 2016), Lodo Therapeutics (2016), and Petra Pharma (2016), and ApoGen Biotechnologies (2016).
Amazon: Amazon's largest involvement in the healthcare sector came this past June with its announced acquisition of medication packaging and distribution company, PillPack. Prior to the deal, the company's only healthcare investments had been in cancer diagnostics company GRAIL and baby monitoring startup Owlet Baby Care.
Intel: All of Intel's investments in healthcare startups have gone through their venture arm, Intel Capital. Recent investments include Lumiata, which uses data and predictive analytics to improve the quality of care in hospitals, and EchoPixel, which is developing tools to enable non-invasive colon cancer screening.
Others: Facebook, Microsoft, Cisco, and Oracle have all demonstrated limited private market activity in healthcare since 2012.
If you aren't already a client, sign up for a free trial to learn more about our platform.