Combined, the 10 largest tech companies have acquired 50 AI companies in the last 5 years, targeting facial recognition startups, chatbots, chip makers, and more.
Artificial intelligence is the future of big tech — and is already an integral part of the consumer and enterprise products at Facebook, Apple, Microsoft, and Google.
Now network connectivity providers like Cisco and Oracle are integrating advanced machine learning algorithms into their IT and cloud infrastructures, while GE has focused its efforts on AI for the industrial internet of things.
AI startups have played a huge role in advancing the internal R&D efforts at big tech companies:
Google was one of the earliest corporations to start acquiring private companies to advance its own AI research. It is now the most active acquirer in the space.
Amazon's 2013 acquisition of Evi Technologies played a huge role in the development of the now popular Amazon Alexa.
Apple, although secretive about its projects, has been ramping up its M&A activity in recent months.
Although the venture arms of Google and Intel have invested in a broad range of AI applications, their direct investments and acquisitions have been more strategically focused. (For instance, Google's move into the Chinese market with a $60M round to Mobvoi, and Intel's acquisition of AI hardware startups Movidius and Nervana Systems).
We used CB Insights data to analyze the AI efforts of the top 10 tech companies in the US by market cap (as of 8/15/2017) and their corporate venture arms. Combined, these companies have invested in 80 artificial intelligence startups, and acquired 50 companies in the last 5 years.
The companies on our list include the corporates below. Note that telecommunications companies such as AT&T or Comcast are not included, and we only include first exits of acquired companies.
The companies we looked at are:
Amazon
Apple
Cisco
Facebook
GE
Google
IBM
Intel
Microsoft
Oracle
Track all the AI startups in this brief and many more on our platform
From auto tech to healthcare, startups are transforming industries with artificial intelligence. Look for Artificial Intelligence in the Collections tab.
Track AI Startups
Please click to enlarge.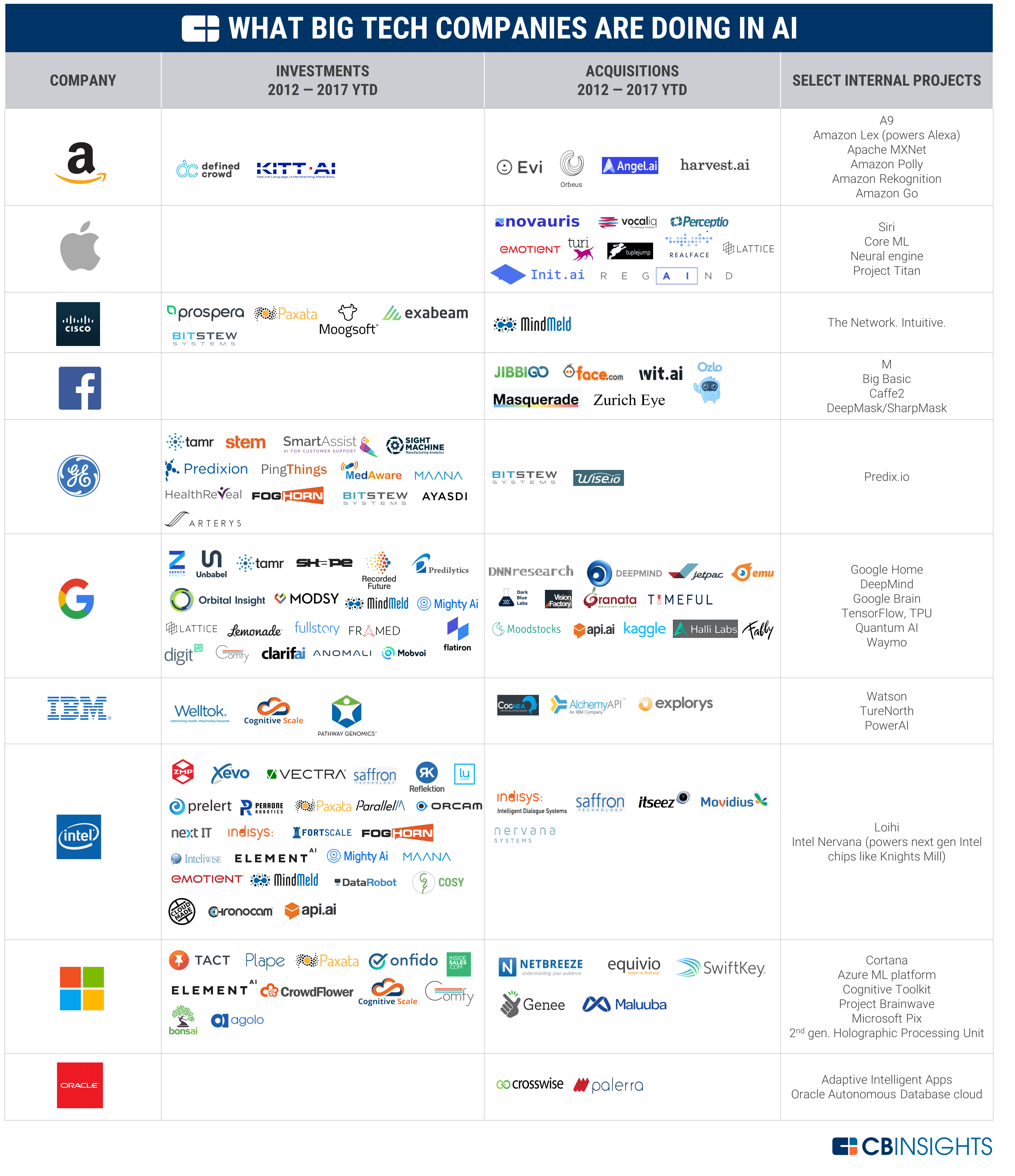 Amazon