Acquisitions by large tech companies are on track for the slow down this year.
A few years ago, tech giants were scooping up companies at a fast clip. But recently, mergers and acquisitions by big tech companies such as Microsoft, Apple, and Facebook have slowed, and are on track to decrease in 2017.
Exits by tech startups are also down, as noted in our recent 2016 Global Tech Exits Report. There were approximately 3350 tech exits in 2016, down 4% from 2015.
We used CB Insights data to analyze the M&A activity of the top 10 tech companies in the US by market cap (as of 8/15/2017). Combined, these companies have acquired 433 startups since 2013.
The companies on our list include the corporates below. Note that telecommunications companies such as AT&T or Comcast were not included.
The companies we looked at are:
Apple
Google
Microsoft
Facebook
Amazon
General Electric
Oracle
Intel
Cisco Systems
IBM
*Transactions involving more than one acquirer were not included in this analysis. We excluded telcos from our analysis.
Through August 2017, these top tech companies have only made 46 acquisitions. At the current rate, this group would be on track to make approximately 74 acquisitions through the end of the year — a 25% drop from 2016 numbers. While deals saw a slight uptick from 2015 to 2016, the rate of acquisitions has seen overall decline since a peak of 100 in 2014. (Logged in clients can view this deal search to see the line-by-line data.)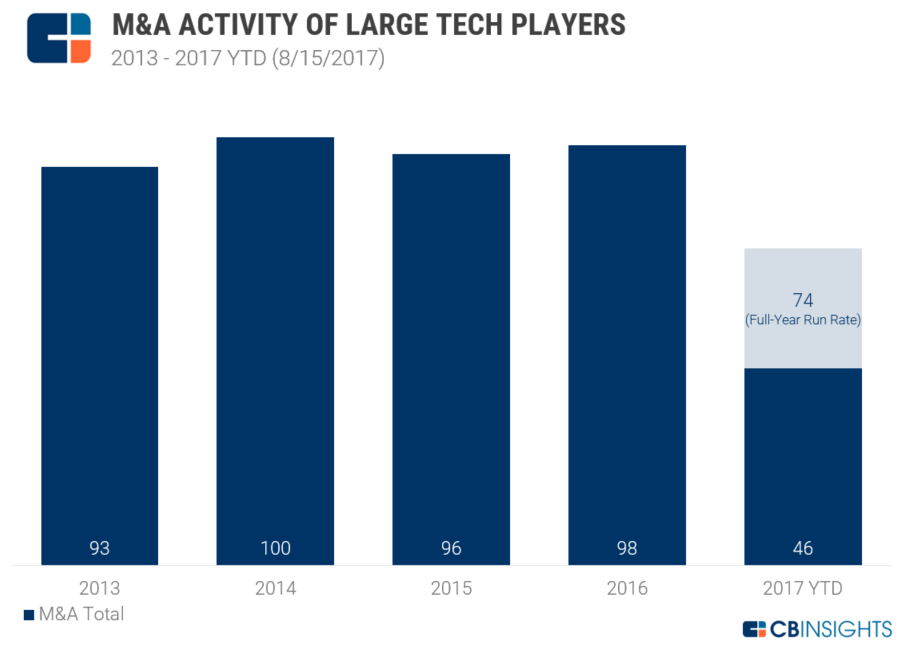 We examined these companies individually to understand their M&A activity over time (2013 to 2017 YTD). Some key takeaways below.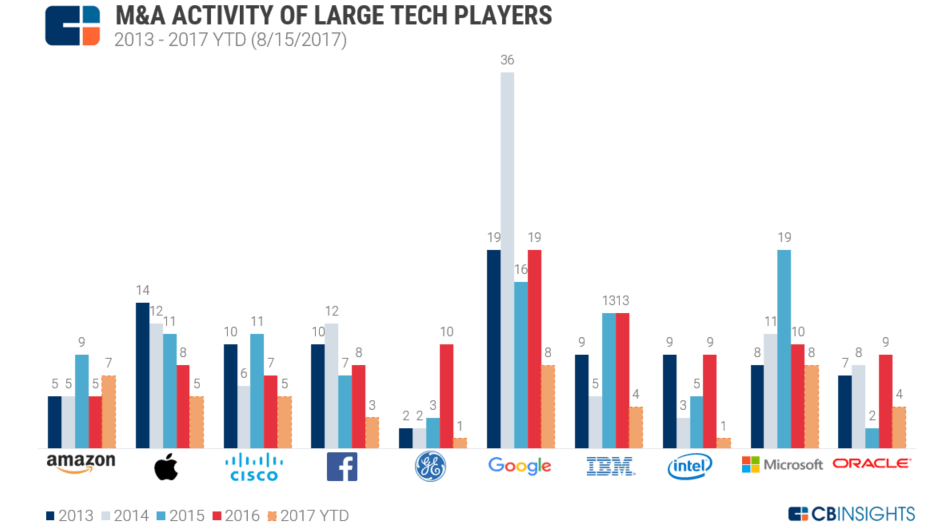 Four tech companies are bucking the downward trend: Amazon, Apple, Cisco, and Microsoft are on track to make more acquisitions this year than 2016 at the current rate.
A lot of the recent focus for companies has been in the artificial intelligence space, with the largest deal being Intel's $15B+ acquisition of Mobileye. (Logged in subscribers can see all the AI acquisitions with this deal search.)
Amazon has had an aggressive M&A strategy in 2017. The company has already made 7 M&A deals in 2017 to-date, more than the total for 2016 acquisitions. These deals have also been sizeable, with Whole Foods topping the list at $13.7B, followed by Arab e-commerce company Souq for $580M. We delve deeper into this acquisition strategy in our Amazon teardown.
Apple has made AI a clear priority in its acquisition strategy. Since acquiring Siri in 2010, the company has made several other speech acquisitions in recent years, including Vocal IQ and Novauris Technologies. The company has also made key acquisitions in the AR/VR space, including facial recognition companies Emotient and Faceshift. We dive deep into Apple's M&A strategy here.
Cisco has made 5 acquisitions this year, the largest to date being that of performance monitoring company AppDynamics, which is poised to help Cisco achieve greater application visibility across the company's data platforms and drive long-term revenue in security, IoT, and the cloud.
Facebook has made 3 disclosed acquisitions this year, one of which was content rights management company Source3, presumably to bolster its platform as an attractive place for content creators. The company made double-digit acquisitions from 2013 – 2014, but slowed in the following years. In 2016, the company made 2 acquisitions in the machine/robotics space, Zurich Eye and Nascent Objects.
GE went on an acquisition spree in 2016 that correlates with company efforts to step up their activity in the IIoT space. The company made 10 acquisitions that year including those of 3D printing companies Arcam, Concept Laser, and SLM Solutions.
Google has been the most active of all the tech companies we analyzed, making just under 100 acquisitions since 2013, including more than 35 acquisitions in 2014 alone. For more information, view our real-time feed of Google's acquisitions here, or see our teardown about Google's acquisitions strategy.
IBM dramatically increased its M&A activity in 2015 and 2016, making 13 acquisitions both years, primarily of security and analytics companies. The company has largely focused on advancing healthcare via Watson Health, having acquired Phytel, Explorys, and Merge Healthcare in 2015 and Truven Health Analytics in 2016.
Beyond healthcare, IBM's 2016 acquisitions of payment fraud analytics company IRIS Analytics and regulatory compliance consulting firm Promontory Financial Group indicate increasing interest in applying predictive analytics and AI to the financial services industry.
Intel has only made 1 M&A transaction this year, which was of the aforementioned $15B+ acquisition of Mobileye, following a spree of 9 acquisitions in 2016.
Microsoft ramped up M&A activity every year from 2012 – 2015. It slowed in 2016 with 10 deals, though that included Microsoft's $26B acquisition of LinkedIn. Microsoft has already acquired 8 companies this year, the latest of which is cloud computing company CycleComputing to help bolster Microsoft Azure.
Oracle reached its peak year for M&A activity in 2016 with 9 acquisitions, including that of NetSuite, which was one of the company's largest acquisitions to date. Oracle also acquired cloud-based construction collaboration software provider Textura that year, indicating the company's strategic efforts to build out industry-focused software applications.
If you aren't already a client, sign up for a free trial to learn more about our platform.