We mapped out the top-funded tech startups in Latin America and the Caribbean by country, including unicorns like Rappi in Colombia and Nubank in Brazil.
Since 2009, $16B has been invested across nearly 2,800 deals to tech startups in Latin America and the Caribbean. Despite uncertainty brought on by the Covid-19 pandemic, 2020 marked a record year for the region, with tech companies raising a record $4.2B in funding across more than 370 deals.
This momentum has held strong in 2021: as of March, the region has seen nearly $1.3B in equity funding year-to-date. Top deals include a $400M Series G to challenger bank Nubank in January and a $205M Series F to express delivery service Loggi in March (both companies are based in Brazil).
Using CB Insights data, we identified the top-funded tech startups in Latin America and the Caribbean by country, based on disclosed equity funding.
See the infographic below and the complete list of startups at the end of this post.
Our analysis ranks companies based on total disclosed equity funding and only considers tech companies that have raised at least $1M of equity funding. Companies included have all raised equity funding since 2016. We exclude subsidiaries and majority-owned startups.
Please click to enlarge.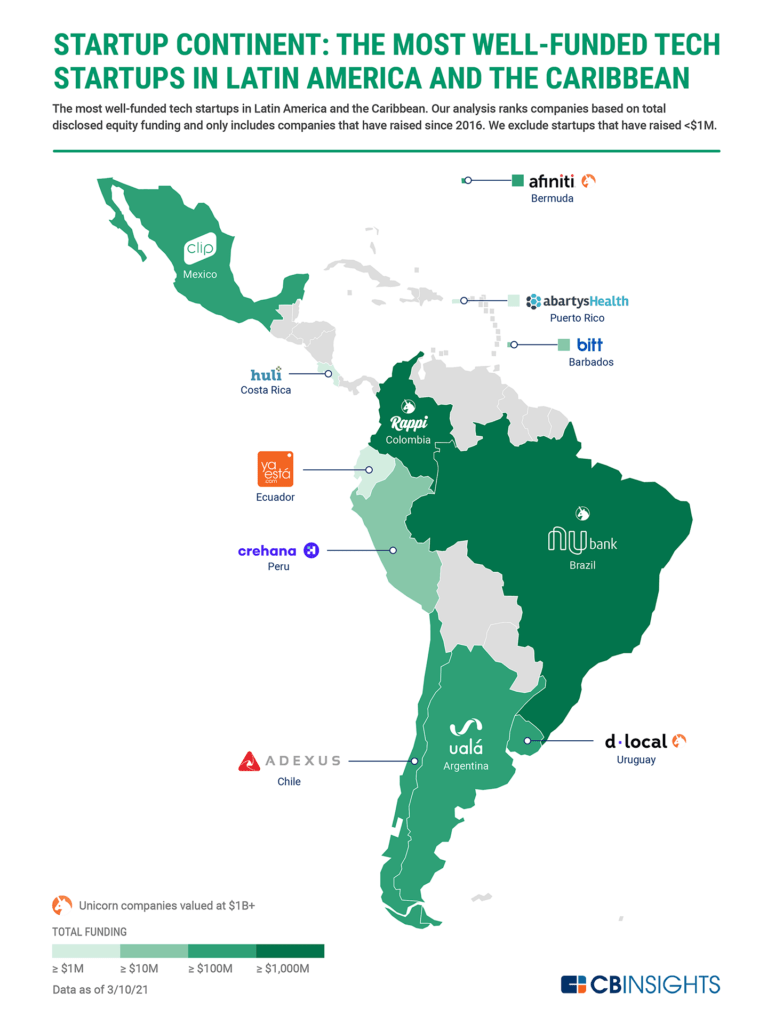 KEY TAKEAWAYS
The most well-funded startup in Latin America is on-demand delivery startup Rappi in Colombia, with over $1.7B in total disclosed equity funding.

Rounding out the top 3 most well-funded startups in the region are

 Nubank ($1.5B in funding) and Uruguay-based payments platform dLocal ($200M).
Four of the 12 companies featured in our map are unicorns (valued at $1B+): Nubank (valued at $25B, Brazil), Rappi ($3.5B, Colombia), enterprise AI platform Afiniti ($1.6B, Bermuda), and dLocal ($1.2B, Uruguay).
In aggregate, the startups on our map have raised $4.1B.

The region is home to 7

 

countries whose most well-funded tech startup has raised at least $100M in funding,

including the above-mentioned unicorns, as well as Mexico-based Clip, Chile-based Adexus, and Argentina-based Uala. Only Rappi and Nubank have raised over $1B.

The least well-funded startup on the map is

Ecuador-based online retailer YaEsta.com, with $3.3M raised.
Fintech startups in Latin American and the Caribbean have been on a recent tear. For companies included on our map, applications  range from banking (Nubank, Uala) to payments (Clip, dLocal) to crypto (Bitt).
If you aren't already a client, sign up for a free trial to learn more about our platform.