Our graphic highlights the top-funded tech startup in every European country, including unicorns like Sweden's Northvolt and Germany's Celonis.
Europe is home to prominent startup and innovation hubs across cities like Berlin, Stockholm, London, and more. But the tech boom is diffusing across the continent — and Europe-based startups are emerging far beyond the established tech hotbeds.
Since 2015, more than $200B has been invested across nearly 23,500 equity deals to VC-backed startups on the European continent.
FREE DOWNLOAD: VENTURE IN EUROPE SHATTERS RECORDS
2021 venture funding in Europe has already broken annual records, with $50B+ invested on the continent YTD. Download our free State of Venture Report to get the TL; DR on all the latest venture trends, in Europe and beyond.
This includes investments into leading tech unicorns like ride-hailing network Bolt in Estonia, delivery marketplace Glovo in Spain, and payments company Mollie in the Netherlands.
Using CB Insights data, we identified the most well-funded VC-backed tech startup in each country in Europe. Collectively, the startups on our map have raised nearly $21.3B in disclosed equity funding.
See the full infographic below, and the complete list of tech startups at the end of this post.
Our analysis ranks companies based on total disclosed equity funding and only considers VC-backed tech companies that have raised an equity round since 2016. Companies must have raised a minimum of $1M in equity funding. 
Please click to enlarge.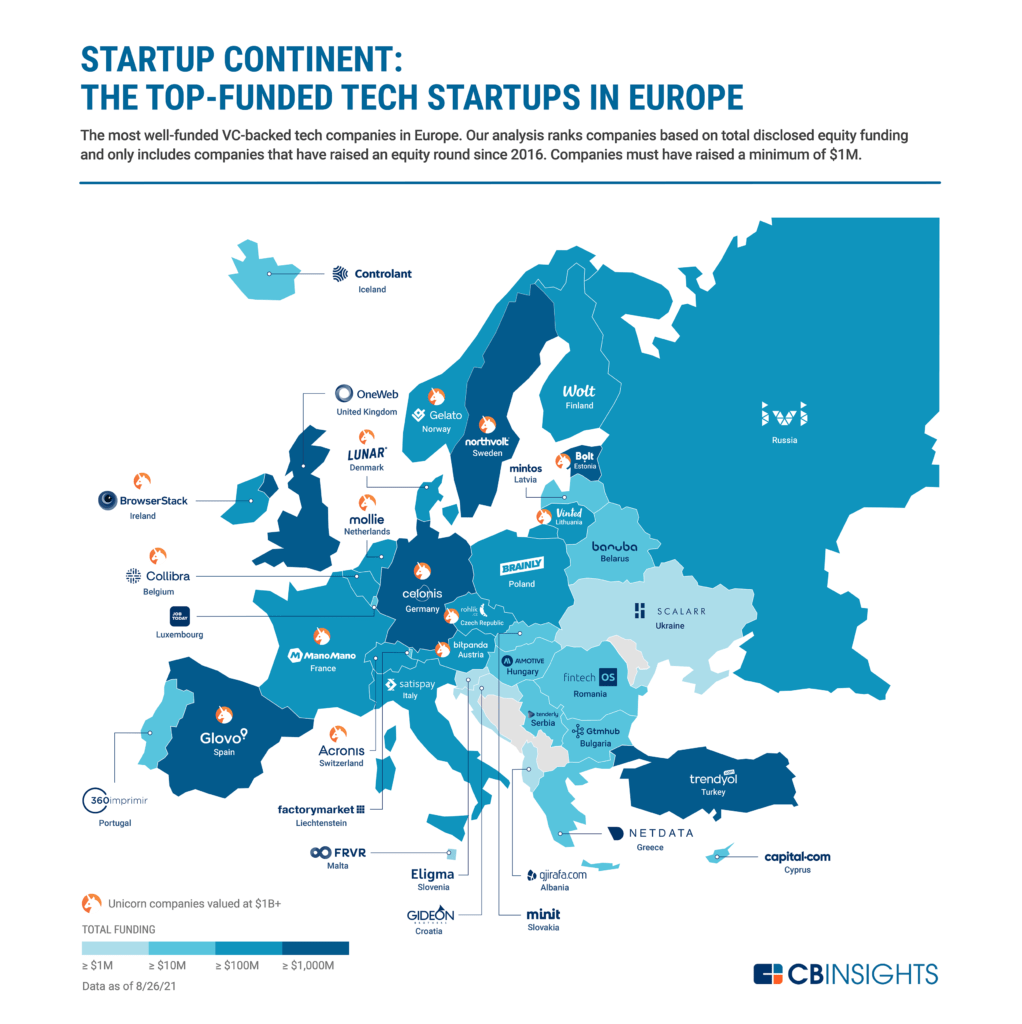 Key takeaways from the top-funded Europe-based tech startups
The top-funded startup in Europe is the United Kingdom's broadband satellite company OneWeb, with $5.2B in disclosed equity funding.
Rounding out the top 3 most well-funded startups in the region are Sweden-based Northvolt ($4B in disclosed equity funding), which manufactures sustainable batteries, and e-commerce marketplace Trendyol in Turkey ($1.5B).
Fourteen of the 38 companies featured in our map are unicorns with disclosed valuations of $1B+ (all tracked in real time on the CB Insights global unicorn tracker). The 5 most highly valued unicorns are: Celonis ($11B valuation, Germany), Northvolt ($9.1B, Sweden), Mollie ($6.5B, Netherlands), Bolt ($4.8B, Estonia), and Vinted ($4.5B, Lithuania).
The region is home to 20 countries whose most well-funded tech startup has raised over $100M in equity funding. Six countries — the UK, Sweden, Turkey, Germany, Estonia, and Spain — have tech startups that have raised more than $1B in equity funding.
The least well-funded startup on the map is Malta-based FRVR, an early-stage games developer that has raised $5.6M.
Since our last update of this map in March 2021, 2 featured startups have pursued exits: Denmark-based Trustpilot went public in March, and Malta-based Gambling.com Group went public in July.
To learn more about tech startups on other continents, take a look at our pieces on the most well-funded tech startups in Latin American and the Caribbean and the top-funded tech startups in Asia and the Pacific.
If you are interested in learning more about the most well-funded US-based tech startups, check out our infographic on top US tech startups by state.
List of tech startups in Europe
If you aren't already a client, sign up for a free trial to learn more about our platform.