Top spirits companies are scouting for growth. While premium tequila has been a popular investor bet, craft spirits may be the next area of growth.
The beverage industry is booming. Over the past four years, beer behemoth AB InBev has expanded into new beverage spaces, making investments in cider and soft drinks, among other categories. JAB Holdings, which initially focused on luxury, has pushed into the coffee space with a number of acquisitions, including its $13.9B cash acquisition of Keurig Green Mountain.
In comparison, the spirits market — which consists of rum, vodka, and tequila, among others — remains fragmented. In 2016, the share of the 10 largest spirits companies (based on volume sold) combined was less than 20%, according to IWSR.
But leaders in the space have become increasingly active in the private market, with the 5 largest spirits companies making 25 deals since 2014.
Using CB Insights data, we analyzed where the 5 largest spirits companies (by volume sold) — Diageo, Pernod Ricard, Beam Suntory, Bacardi, and Brown-Forman — and their venture funds have placed their private market bets since 2014.
Note: Diageo's investments made through Distill Ventures are included. 
Please click to enlarge.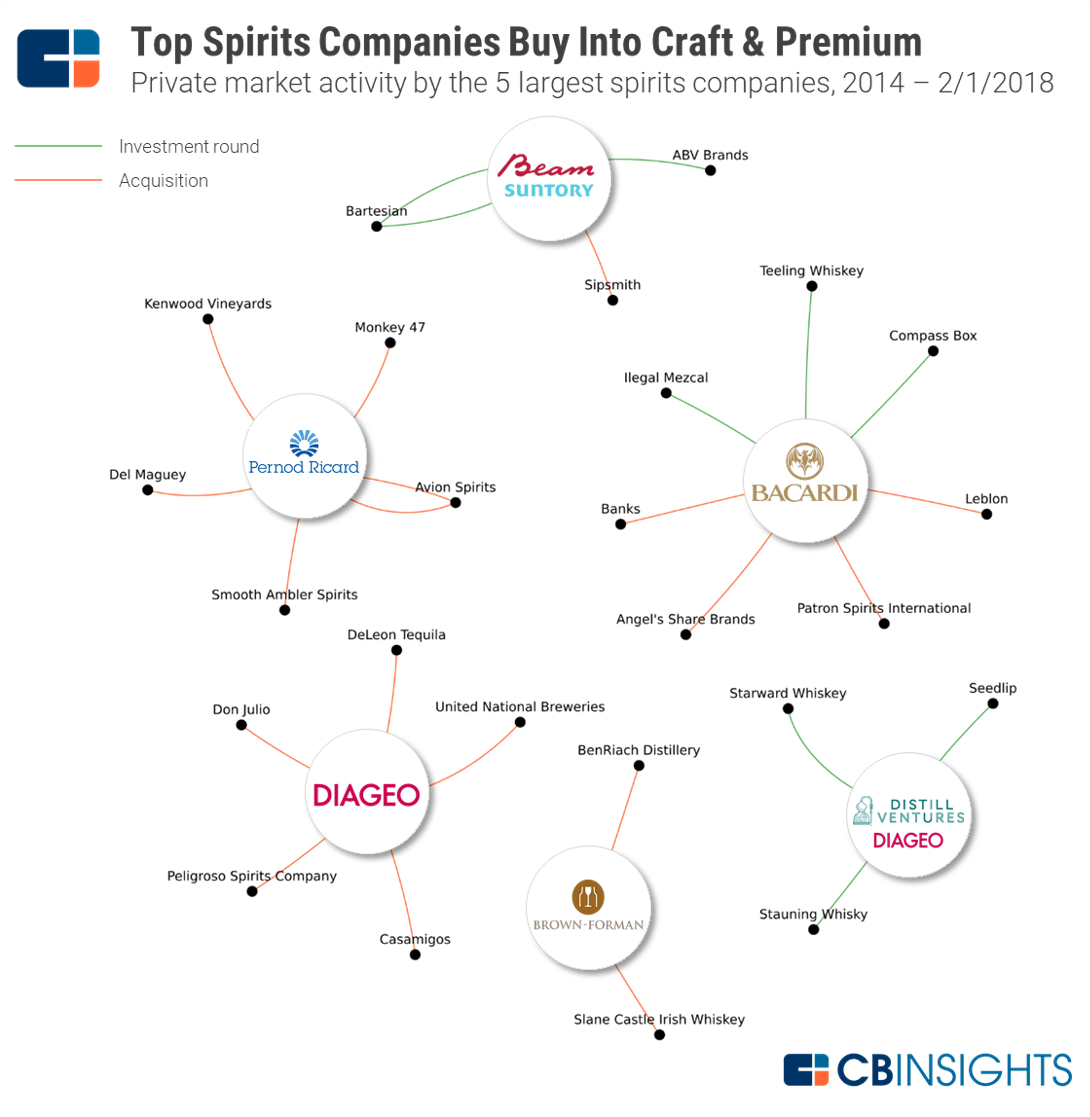 INVESTOR takeaways
These spirits companies have acquired 6 premium tequila brands (DeLeon, Peligroso, Avion, Don Julio, Casamigos, and Patrón) in their pursuit of growth. At the same time, top spirits companies are increasingly placing their bets on craft — low volume, independently owned brands — with 12 deals since 2014. This includes deals to Stauning Whisky, Compass Box, and Monkey 47, among others.
Diageo: Diageo, the largest spirits company on our list, has been the most active investor with 5 acquisitions and 3 investments across this timeframe (directly and through its venture arm). Since 2014, Diageo has made half of its deals in the premium tequila segment, acquiring DeLeon, Peligroso, and Don Julio. In 2017, it spent $1B to buy a fourth premium tequila brand, Casamigos, which was co-founded by George Clooney in 2013. As a result, tequila was Diageo's fastest growing category during the 6 months ending in Dec'17, with organic net sales up 43% compared to the same period last year.
Diageo has placed bets in craft spirits through Distill Ventures, its venture arm that launched in 2013. Distill Ventures has invested $15M in Danish whiskey brand Stauning Whisky and an undisclosed amount in Australia-based Starward Whiskey.
Distill Ventures also invested in Seedlip, a startup producing distilled non-alcoholic spirits. The fund claims to have invested in over 15 companies, although it only disclosed 3 deals.
Diageo has also reinforced its business in Africa by taking control of United National Breweries, a beer producer based in South Africa.
Bacardi: Bacardi ranks second with 7 deals. The privately-owned spirits giant recently offered $5.1B to buy premium tequila brand Patrón, in which it already held a minority stake. It is the largest acquisition made by one of the top spirits companies since 2014, and the latest targeting premium tequila brands.
The Bermuda-based company went heavy on craft whiskey, acquiring Angel's Envy, and becoming a minority investor in Compass Box and Teeling. It has also invested in rum (Banks Rum), the category it is most known for.
Bacardi has scouted Latin America for premium brands in upcoming categories such as mezcal (Ilegal Mezcal) and cachaça (Leblon), hoping to reproduce the high growth enjoyed by premium tequila brands.
Pernod Ricard: Next up is France-based Pernod Ricard, which has made 3 out of its 5 deals in the craft segment, acquiring German gin brand Monkey 47, US-based bourbon distiller Smooth Ambler, and Mexican mezcal company Del Maguey.
Before that, the second largest spirits company bought a majority stake in premium tequila brand Avion, and acquired full control in Jan'18. The company also invested in other alcohol categories, acquiring Sonoma-based wine producer Kenwood Vineyards.
While Pernod Ricard launched its venture arm Convivialité Ventures in 2017, it has not yet disclosed any investments.
Beam Suntory: Since Suntory took over Beam for $16B in 2014, Beam Suntory has made 3 deals. It has gained greater access in the fast-growing South African market, buying a 50% stake in spirits distributor ABV Brands, and entered the craft gin segment by acquiring London-based Sipsmith.
It has also invested in Bartesian, a startup producing Nespresso-like machines for cocktails.
Brown-Forman: As the least active on our list since 2014, the US-based spirit group has made two acquisitions focused on European whiskey with Irish whiskey distiller Slane and Scotch producer BenRiach.
If you aren't already a client, sign up for a free trial to learn more about our platform.