We analyzed the 50 largest American and European retail banks to pick the top 3 leaders in AI. Here's how these innovators are building the tech in-house, poaching top talent, and deploying AI across departments.
Retail banks have started investing in artificial intelligence (AI) as a way to engage customers, cut fraud-related losses, and offer differentiated data and insights-as-a-service to corporate clients. 
The equity deal-making activity of large American and European retail banks reflects the breadth of AI use cases within the sector. While banks were initially focused on virtual assistants and personal finance management tools, they're now making deals across a variety of use cases — including property intelligence, AI developer tools, and continuous integration/continuous delivery (CI/CD) automation. This indicates that AI could benefit a number of banking functions.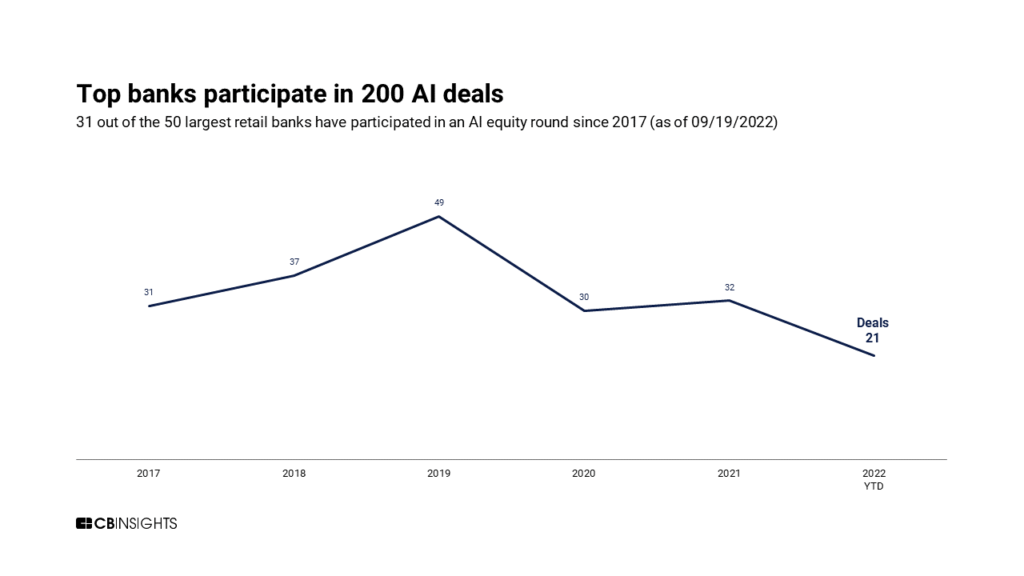 However, only 3 of the 50 banks have acquired an AI startup so far, and only 8 have applied for AI-related patents in the US. AI innovation in banking is also limited by the shortage of AI talent. Right now, larger banks are competing for a limited pool of top AI researchers. 
In this report, we identify the retail banks leading in AI and look at how they are building and using the tech.
To pick the top 3 retail banks in AI, our analysts looked at a number of metrics, including earnings call transcripts, partnerships and licensing agreements with AI vendors, AI patent applications, internal R&D, team strength, tech spend, AI investments and acquisitions, and recent product launches.
Table of contents
Top 3 retail banks in AI

Appendix and methodology
Top 3 retail banks in AI
For each of the 3 winners, we highlight its sources of key AI talent and major AI initiatives in production.
Note: The sections below are not intended to contain an exhaustive list of key people at the bank or projects in production.
---

Capital One is the leading applicant of AI patents in the United States, among the 50 banks analyzed in this report, having submitted 430+ applications to date. AI for anti-fraud and improving the online experience of card users are high on Capital One's list of priorities.
It is 1 of only 3 banks on the list to have made an AI acquisition, having acquired AI consultancy firm Notch in 2018. Notch's 16-person team joined the Capital One Center for Machine Learning. The center now focuses on areas including graph machine learning, AI explainability, anomaly detection, and natural language processing.
The bank has made a major push toward public cloud adoption — phasing out its on-prem data centers — further enabling high-compute machine learning applications.
Who is Capital One targeting for AI talent?
Capital One has hired AI leadership from companies like Facebook, Bell Labs, and Fidelity. Below, we highlight a few notable hires that are helping to lead the bank's AI initiatives.
Abhijit Bose

,

MVP, head of enterprise machine learning (ML) and AI engineering. Previous position(s): head of engineering at Facebook AI Research, managing director and head of data science at J.P. Morgan, and VP of data science at American Express.

Nurtekin Savas, head of machine learning and data science.

Previous position(s):

senior VP of machine learning and artificial intelligence at Fidelity.

Senthil Kumar

,

chief scientist at Capital One Center for Machine Learning. Previous position(s): applied scientist at Bell Labs.
AI initiatives at Capital One
Capital One has deployed a diverse set of AI projects, focusing on everything from improving the mobile app experience for consumers to building internal developer tools for the bank's engineers. 
Anti-fraud and security: Capital One partnered with startup Signifyd for "authorization rate optimization" — using AI to minimize the number of legitimate credit card transactions declined for suspected fraudulent activity. Separately, the bank is partnering with startup Securonix to develop cloud-native cybersecurity solutions. Capital One Ventures has also participated in 2 of Securonix's funding rounds.
Auto loan approval:

Capital One's Auto Navigator — an ML-based application that pre-qualifies users for auto financing and can "

underwrite

every car in America and for any consumer in a fraction of the second" — is one of its earliest ML-based product launches. More recently, the bank piloted augmented reality features that allow users to scan a car they see and get information about its make, model, and financing options.

Web payments:

The bank uses machine learning at the edge (on the consumer's device) to identify payment pages and payment fields on websites. This is part of Capital One's virtual card number generation feature, which allows users to create a unique virtual credit card number for each merchant they transact with online and limit their exposure to potential security breaches. 

Diagnosing and fixing mobile app issues:

The bank built an internal ML tool for its DevOps engineers to help identify mobile app issues and respond to app failures in real time. To prevent app downtime for customers, Capital One indicated that it would look to move the algorithms beyond failure detection to proactive prevention in future iterations.

Open-source AI development tool: Capital One released an open-source tool called rubicon-ml in 2021 to support version control and experiment tracking during the AI development process.
---

In his 2022 letter to shareholders, J.P. Morgan Chase (JPM) CEO Jamie Dimon wrote that the bank was spending hundreds of millions of dollars on AI and seeing identifiable returns on its tech bets. JPM spent $12B on technology in 2021 alone. 
JPM had 115 major AI projects in production as of 2021, with plans to scale to 1K projects in 5 years. The bank has applied for 70+ AI patents in the US since 2017, with recent patent topics covering everything from economic forecasting to synthetic data generation and sensitive data discovery in documents. 
In addition, JPM has participated in 8 equity deals for startups since 2019, including a $175M mega-round to CI/CD automation vendor Harness.io.
Who is JPM targeting for AI talent?
JPM has hired top AI talent from academic and commercial organizations — including Capital One, Carnegie Mellon University, S&P Global, and Google — for its AI research team. Below, we highlight 2 notable hires that are helping to lead the bank's AI initiatives.
Manuela Veloso

,

head of AI research. Previous position(s): head of the machine learning department at

Carnegie Mellon University,

 

president of the Association for the Advancement of Artificial Intelligence.

David Castillo

,

managing director, firmwide head of AI/ML tech & global product line leader of AI/ML tech. Previous position(s): MVP at Capital One's Center for Machine Learning, adjunct professor in the computer science department at the University of Maryland.
AI initiatives at JPM
The bank's AI research division is focusing on a broad range of functions, like anti-fraud, customer experience, and policy compliance.
Anti-fraud:

As of 2021, JPM had spent around $100M on the development of anti-fraud systems for consumer payments.

The

investment reportedly brought the bank's annual fraud losses down by

14%

from 2017 to 2021. It currently offers Safetech Fraud — an anti-fraud solution for e-commerce merchants that uses AI to identify fraudulent behaviors like

card testing

. 

Synthetic financial datasets: These datasets are used for

applications where real-world data is sparse or privacy concerns restrict data sharing. For example, they can represent anti-money laundering behavior and customer journey flows. The bank has

applied for patents

related to the generation of these datasets in a manner that protects user privacy.

Property intelligence: The bank partnered with Reonomy, which uses machine learning to bring together property data from public and private sources, to provide in-depth property insights to its commercial real estate clients. 
Sports analytics: JPM took a minority stake in sports analytics company KAGR. The Wall Street Journal

deemed it

an "unusual partnership" — underscoring the bank's unique opportunity to use sports data and analytics to support its wealthy clients who own or are looking to buy sports teams. During the pandemic, KAGR used machine learning to predict fans' willingness to return to live sports venues across 30 US markets. It tapped into demographic data, location-specific Covid-19 data, and historic ticketing data, among other datasets.

AI infrastructure:

JPM built Omni, an in-house data platform for its engineers and developers, to speed up and standardize AI development across the bank.
---

Among evaluated banks, Royal Bank of Canada (RBC) was one of the first to launch AI research labs across Canada. By November 2017, RBC had already opened its Borealis AI labs in Edmonton, Toronto, and Montreal. In 2018, which kicked off with RBC announcing it would invest $2.5B into technology initiatives over the course of the year, the lab network expanded to comprise "60 PhD-level researchers across five Canadian research centers."
RBC has applied for 60+ AI patents in the US since 2017. Last year, its applications were centered around topics such as facial recognition tokenization, AI explainability, and fairness testing.
RBC has open-sourced some of its AI tools for the research community at large and made AI trustworthiness a core focus.
Who is RBC targeting for AI talent?
RBC has hired researchers from the University of Toronto, Facebook Reality Labs, and biometrics startup Nymi. Below, we highlight 2 notable hires that are helping to lead the bank's AI initiatives.
Foteini Agrafioti

,

chief science officer and head of Borealis AI. Previous position(s): co-founded and served as the CTO of smart wristband and ECG monitoring startup Nymi.

Greg Mori

, senior research director at Borealis AI. Previous position(s): director at The Artificial Intelligence Network of British Columbia, visiting scientist at Google. 
AI initiatives at RBC
In a 2017 earnings call, RBC announced the initial launch of NOMI, its AI-powered financial well-being assistant. Since then, AI projects at the bank have scaled and now cover everything from custom hardware to automated coding.
Custom-built GPU servers: These servers are

powered by NVIDIA GPUs and have been deployed on-premises at the bank, reportedly reducing the time it takes to run AI analysis on client data from days to minutes.

Electronic trading:

RBC built Aiden, an AI-based electronic trading platform

that uses deep reinforcement learning to perform 32M calculations per order and adapts to changing market conditions. Its AI algorithm is designed to help reduce slippage (the difference between expected and actual trading prices).

Property intelligence: RBC Ventures has invested in multiple funding rounds for property intelligence startup Ojo Labs. The two organizations also established a partnership to connect Ojo's home buyers and sellers in Canada with mortgage professionals at RBC.
Portfolio management: The bank invested in (and is a client of) Boosted.ai, a startup developing no-code machine learning tools that can automatically adjust positions on fund manager stock picks. 
AI-powered coding:

Borealis AI launched

Turing text-to-SQL,

a tool that converts natural language queries into SQL code, enabling non-technical users to work with relational databases.

AI ethics and transparency: Borealis runs Respect AI, an online hub with open-source tools and educational resources focused on AI fairness, explainability, data privacy, and governance.
Appendix and methodology
For this report, we analyzed data on the 50 largest American and European retail banks by market cap (data as of 9/21/22).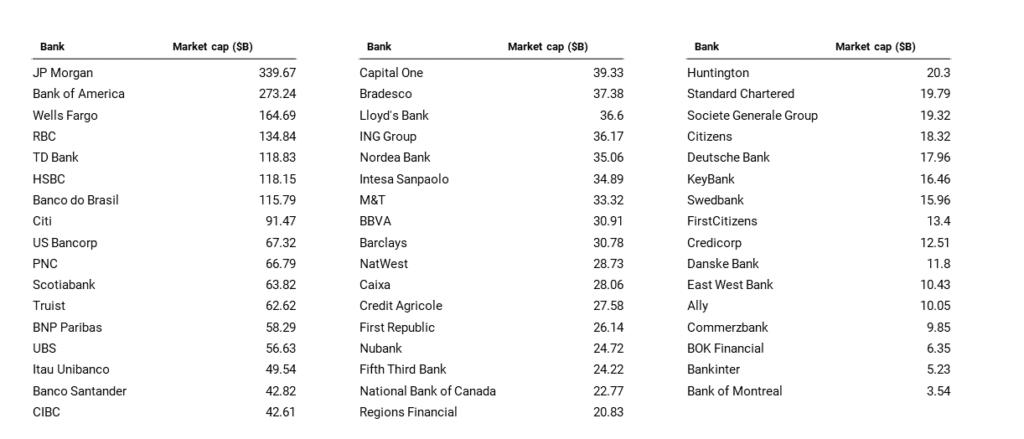 For our data-informed scoring process for selecting the winners, we used CB Insights datasets such as key people data, earnings transcript data (based on keyword searches for common AI-related terms), news mentions, patent applications (based on keyword searches of title and abstract for common AI-related terms), partnership data, and startup deals data.
For investment and M&A activity, we included the relevant investment arms and subsidiaries of the listed banks, but we excluded investment management units such as Merrill Lynch. We checked each bank's vendor relationships and investments against our artificial intelligence startup collection, which includes 8K+ startups that build hardware and infrastructure for AI, sell AI software-as-a-service, or sell products that use AI as a core differentiator.
If you aren't already a client, sign up for a free trial to learn more about our platform.