Even amid the pandemic, blockbuster tech M&A deals continued to make headlines. We visualize the 10 largest deals of 2020.
Despite ongoing global challenges, 2020 saw a steady stream of tech mergers and acquisitions, with Q4'20 setting a quarterly record of over 2,000 tech M&A deals.
In some cases, tech companies sought to consolidate in the face of a harsh economic outlook. Others saw massive growth under the same conditions — due to the acceleration of many consumer and corporate trends — which drove valuations up and turned them into appealing acquisition targets.
Below, we visualize the top 10 M&A deals of 2020 by valuation.
Please click to enlarge.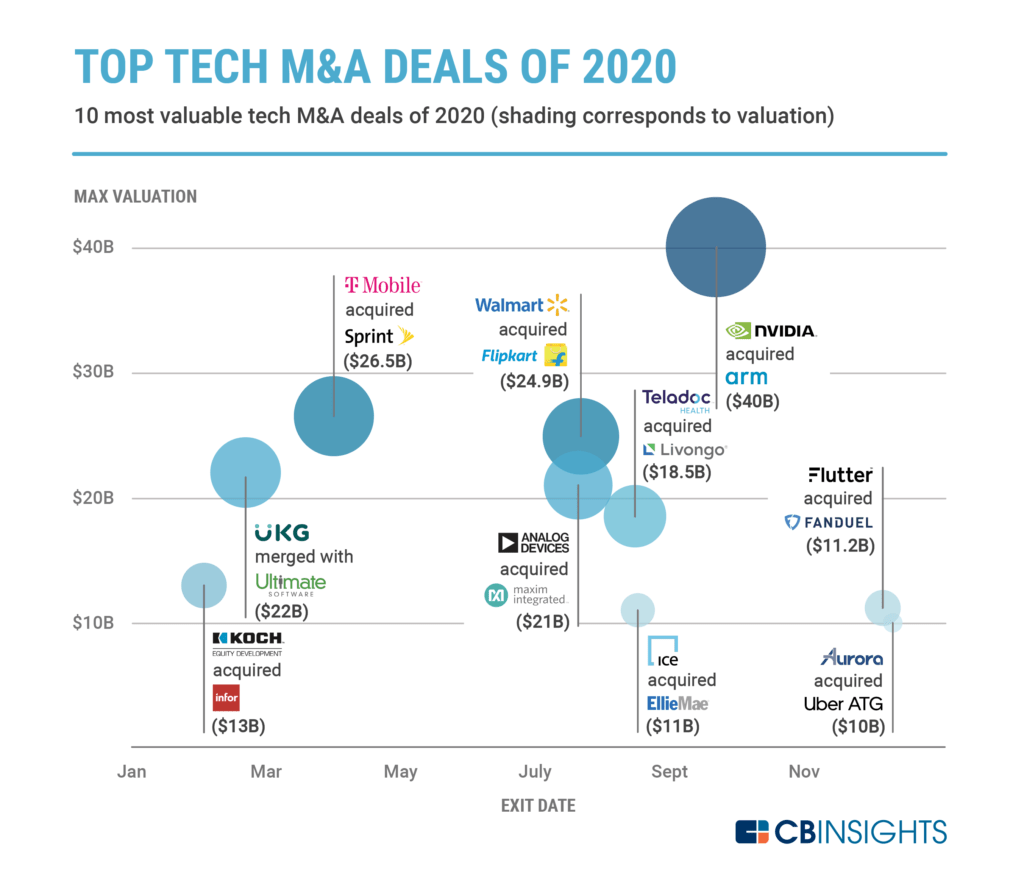 Key takeaways
Nvidia snagged the largest M&A deal of the year with its $40B acquisition of chip designer Arm from SoftBank, which had bought Arm for $32B in 2016. Nvidia hopes the acquisition will position it at the forefront of AI computing.
The second largest deal was T-Mobile's $26.5B purchase of telecom provider Sprint, followed by Walmart's $24.9B expansion of its corporate majority stake in India-based e-commerce company Flipkart.
Computing and cloud capabilities were a trend among the year's largest tech M&A deals, including Nvidia's acquisition of Arm, Analog Devices' purchase of chipmaker Maxim, and Koch Equity's acquisition of Infor.
Other leading deals highlight trends brought into focus by the pandemic. Teladoc acquired Livongo Health in a deal that took less than 3 months to complete, pointing to the booming telehealth space. Flutter Entertainment's purchase of FanDuel is a bet on fantasy sports at a time when in-person sports are less available.
A number of these deals expanded on previous ones. For instance, Koch Equity grew its existing stake in Infor, which already counted Koch as an investor and customer. Flutter's deal with FanDuel raised its stake in the company from 58% to 95%. And Walmart has invested multiple times in Flipkart, as it aims to beat out competitors in the Indian e-commerce space.
For more of the year's tech highlights, dig into our 2020 Tech Highlights graphic here.
If you aren't already a client, sign up for a free trial to learn more about our platform.