Airlines are increasingly looking to cut overhead and better maintain their aircraft. From predictive analytics to AR platforms, we look at where the most active investors in airline operations tech see opportunities.
Airlines are facing increasing pressure to make operations more efficient.
Amid the Covid-19 pandemic, passenger numbers have plummeted to just a fraction of what they were in 2019 — cutting deeply into revenues.
Efficiency was top-of-mind for airline executives even before the pandemic, but in a newly lean operating environment, it is more important than ever. Reflecting this trend, technologies like predictive analytics and AI-driven software platforms have gained attention from investors in recent years — though investment in the space has stalled so far this year.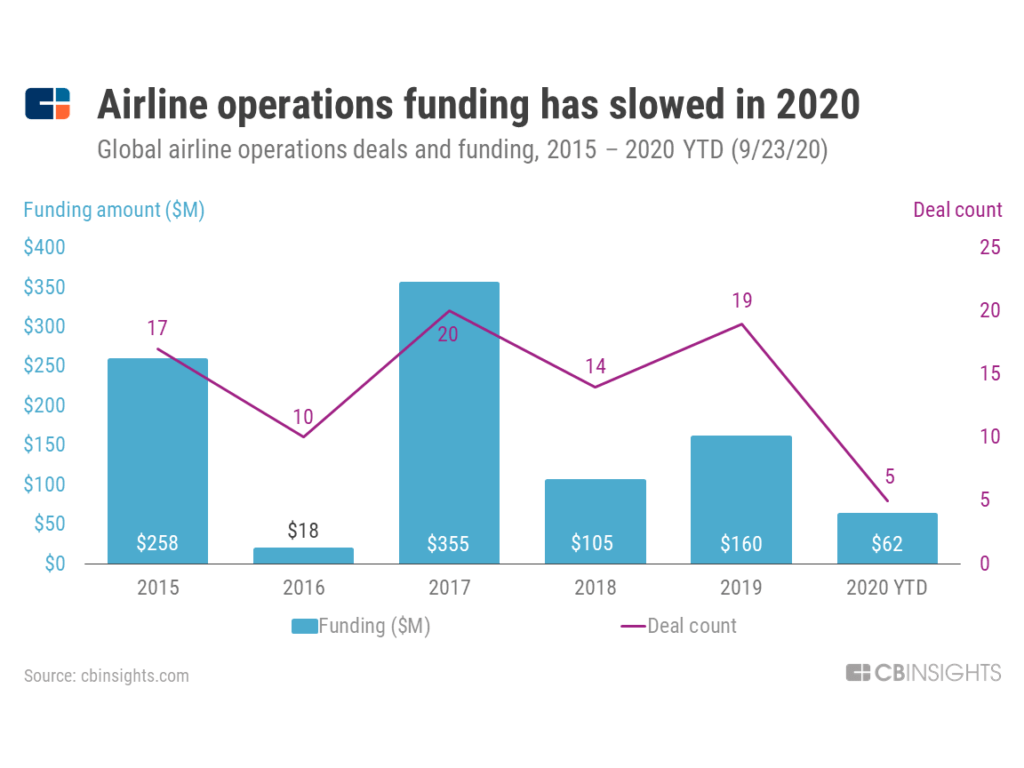 Below, we look at where the most active investors in airline operations tech see opportunity as airlines look to become more efficient and respond to the fallout from the pandemic.
TOP INVESTORS IN AIRLINE OPERATIONS
Since 2015, the 10 most active investors in airline operations companies have made 42 individual investments across 20 companies in the space.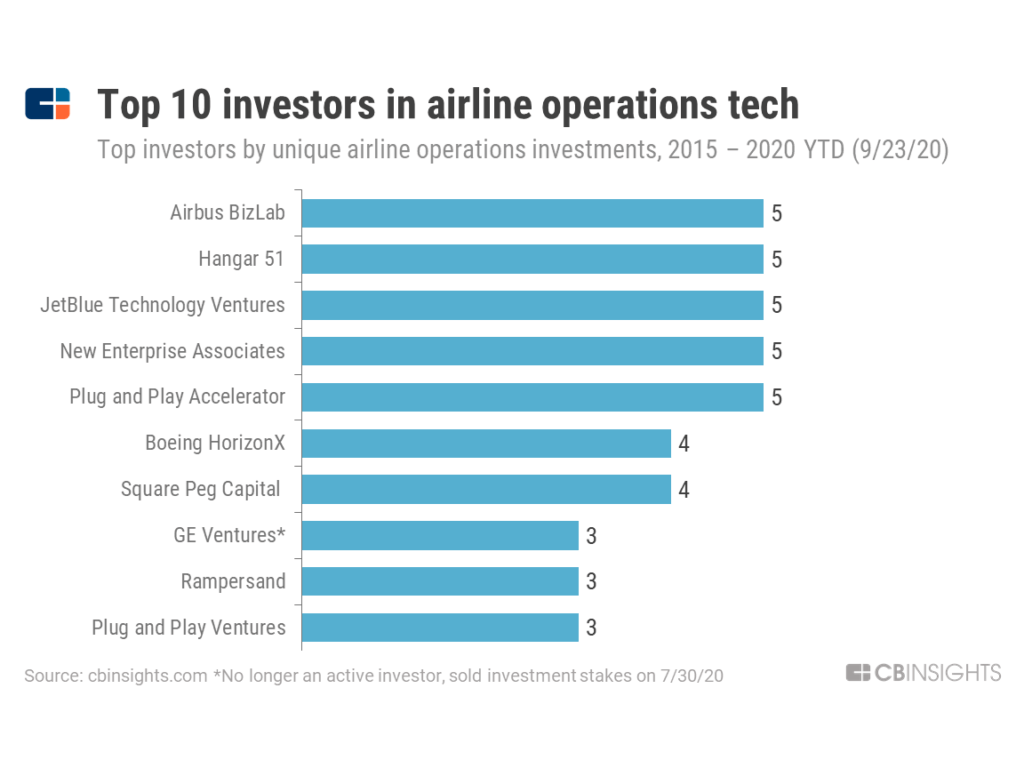 Among the most active investors are initiatives like Airbus BizLab and Hangar 51, which are affiliated with plane maker Airbus and airline group IAG, respectively. These funds focus heavily on building partnerships with early-stage companies for strategic company objectives, such as Hangar 51's incubator investment in Satavia, a weather disruption predictor platform, in 2018.
Meanwhile, aerospace funds like JetBlue Technology Ventures and Boeing HorizonX are also among the most active investors in the space. They tend to make larger investments to more mature companies, such as baggage tracking platform Unicoaero and weather prediction company ClimaCell.
Investments made by VC firms like New Enterprise Associates (NEA) and Australia-based Rampersand focus more on platform companies that offer broader use-cases beyond aviation. For example, NEA-backed Upskill develops an augmented reality platform that can provide information to plane maintenance workers, but the platform is also being used by workers in industries like telecommunications.
GE Ventures, which had previously made co-investments with NEA and HorizonX, is no longer active and sold its investments to 40 North Ventures in July 2020.
PREDICTIVE TECHNOLOGY COMPANIES RECEIVED THE MOST DEALS
Since 2015, predictive analytics companies — which seek to use sensor feeds and historical information to predict future airline demand or problems — have received the largest share of deals (45%) from the top airline operations investors. 
In comparison, deals to companies offering operation suites, which aim to centralize airline operations like fleet management and flight planning, take only 15% share. This suggests that investors believe airlines are more likely to augment their operations with tech like predictive analytics than look for all-in-one operational overhauls.
Maintenance companies, which offer products for the servicing and repair of aircraft, received the smallest share of deals (5%).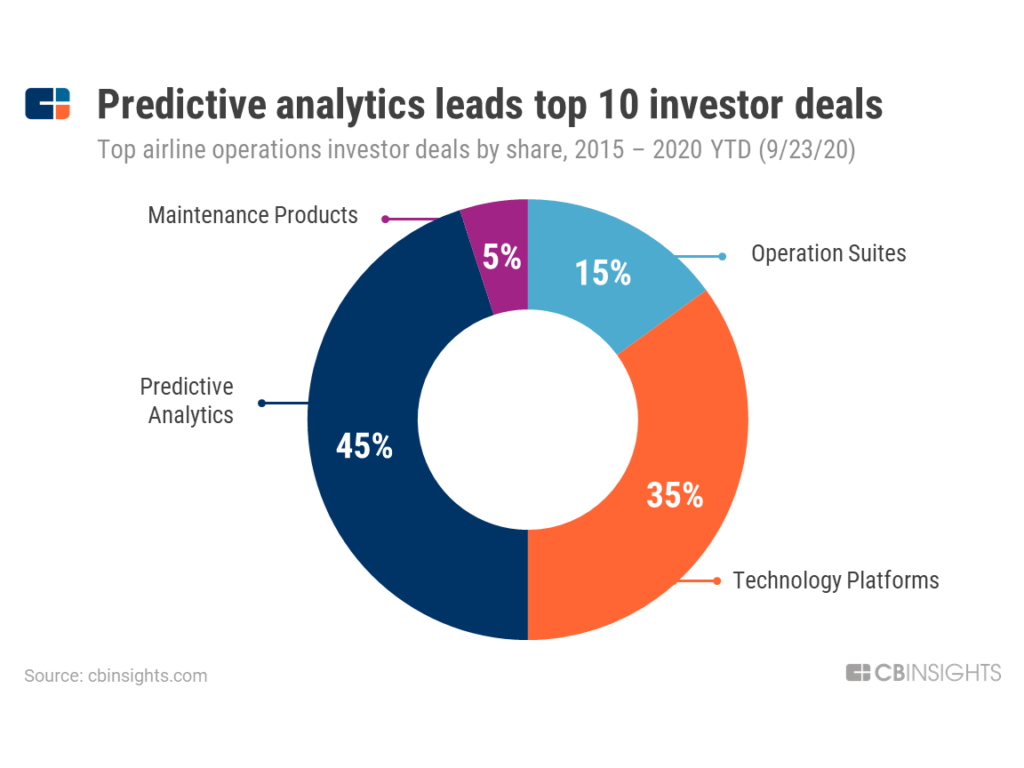 The predictive analytics category includes one of the most well-funded companies in the airline operations space, SparkCognition, which has raised $168M in total disclosed equity funding. The company claims to be able to predict issues such as operational failures or flight groundings. Boeing HorizonX participated in the company's $33M Series B in 2017 and $100M Series C in 2019.