Sustainability-focused food and beverage startups are drawing more dollars and larger deals. We analyze where top investors are placing their bets across the space.
Funding to the food and beverage industry is on the rise, with dollars in the space reaching a new high in 2020.
download the 12 Tech Trends To Watch Closely In 2022 report
Download our full report to find out the top trends poised to reshape industries in 2022.
Food and beverage companies raised $5.9B in equity funding last year, up 82% from $3.2B in 2019. This acceleration is a sign of the industry working to diversify supply chains after Covid-19 exposed weak spots in the current food system.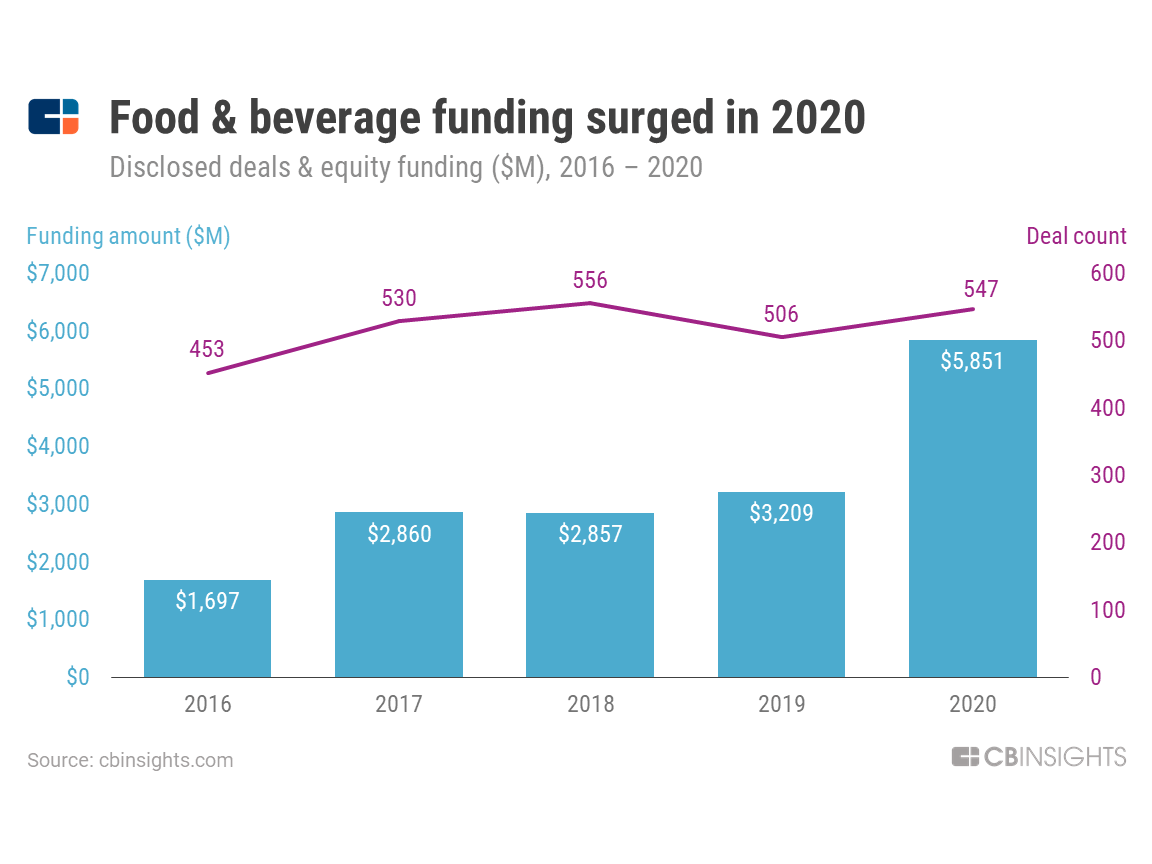 While deal count rose only 8% year-over-year, average deal size increased, with sizable investments going to companies like designer protein developer Geltor, plant-based food producer Impossible Foods, and non-dairy milk company Califia Farms.
Financing across the industry has focused on sustainable food practices like alternative protein development and food waste prevention, reflecting increased consumer demand for sustainable and eco-conscious products.
Below, we take a look at the most active investors in the food and beverage space and where they're placing their bets. This analysis excludes accelerators and crowdfunding.
TOP INVESTORS IN FOOD & BEVERAGE
The majority of the most active investors from the past 5 years have been VC funds, with the exception of sovereign fund Temasek and CVCs 301 Inc. (General Mills) and Danone Manifesto Ventures.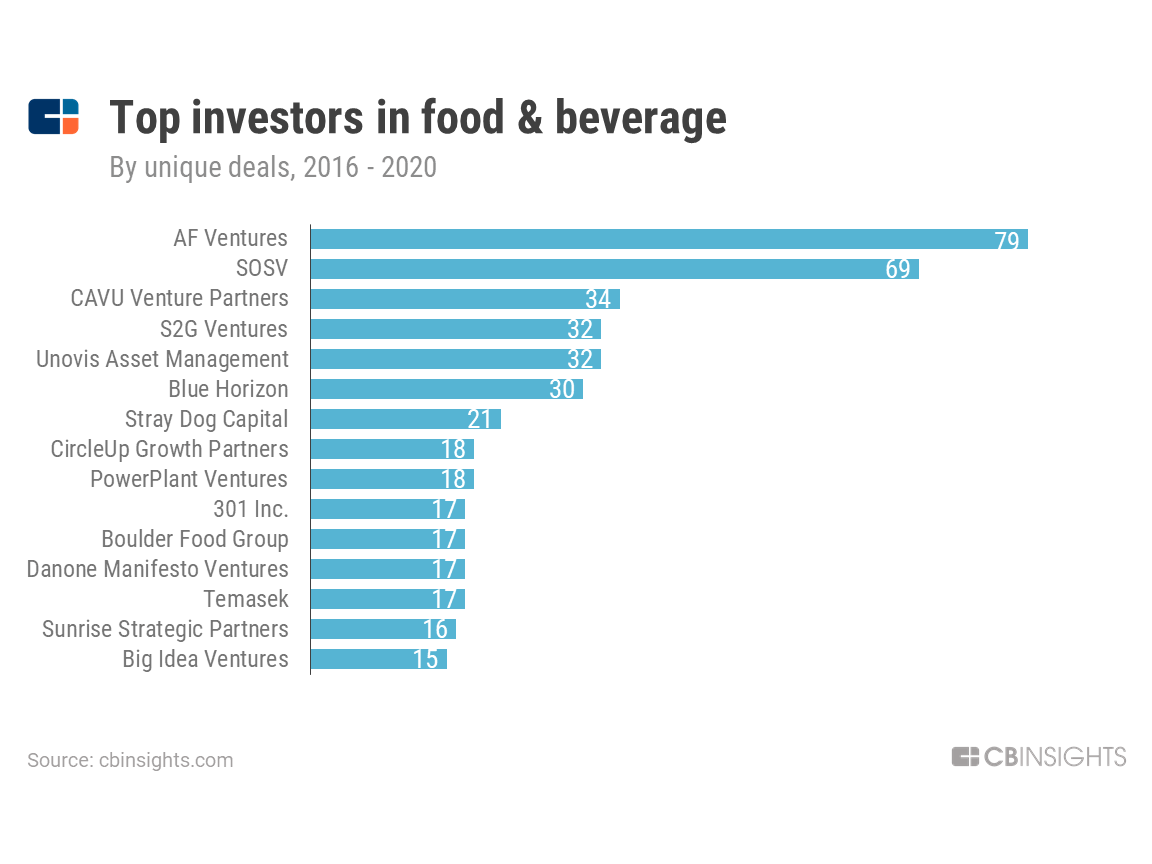 Leading the pack is AF Ventures (fka Accel Foods), a VC firm that focuses on supporting packaged food and beverage startups. Many of its investments are in companies that strive to marry wellness and convenience. For example, in 2019, AF Ventures participated in a $28M Series A round to Alpha Foods, an alternative protein frozen meal startup. In 2020, it invested in a $6.7M Series C round for Kidfresh, which produces healthy frozen snacks for children.
AF Ventures' food and beverage funding activity peaked in 2018, when it participated in 22 rounds totaling $72M. The firm dialed back in 2020 to 9 rounds that raised $28M.
Meanwhile, SOSV has continuously increased its food & beverage investments year over year. In 2020, for instance, SOSV participated in Series B rounds to both Memphis Meats (a $161M round) and Geltor (a $91M round). SOSV had previously funded both companies in seed and Series A rounds. 
CAVU Venture Partners, the third-most active investor, has participated in about half the number of deals as the top two. CAVU has focused efforts in the non-alcoholic beverage space, including participating in rounds to Bulletproof, Health-Ade Kombucha, and High Brew Coffee. Like AF Ventures, CAVU has decreased funding activity since 2018.
Investors like Blue Horizon, S2G Ventures, and PowerPlant Ventures have invested with an eye to improving sustainability within the food industry. In 2020, Switzerland-based Blue Horizon participated in rounds totaling $313M, with the majority going to startups developing vegan and clean meat alternatives. Unovis Asset Management and Stray Dog Capital have also focused on supporting alternative protein development.
Food & Beverage Startups
Startups working on new foods and beverages have the potential to change how and what we eat. Look for Food & Beverage Startups in the Collections tab.
Track food & beverage startups
THEMES ACROSS INVESTMENTS
Top food and beverage investors are backing companies across multiple segments working to create a more sustainable food system.
The alternative and sustainable proteins category leads in deal volume (with 31% of deals) from top investors since 2016, followed by packaged foods (27%) and non-alcoholic beverages (21%).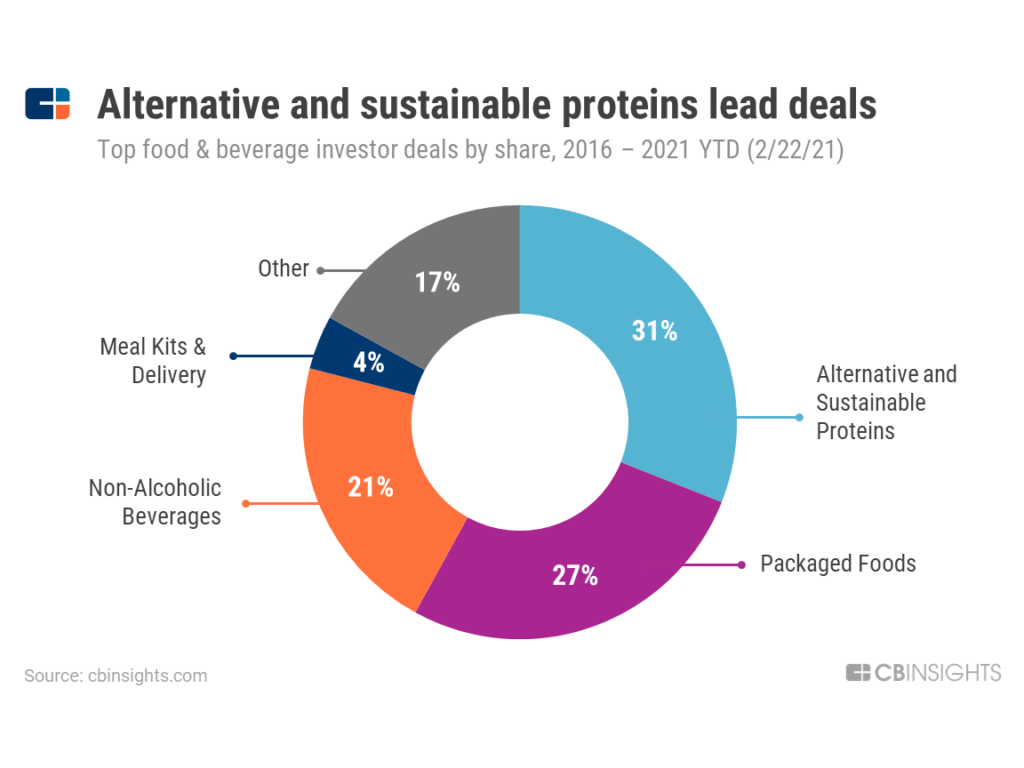 Protein-packed investments
The alternative proteins category has received more investments than any other since 2016. Startups in alternative proteins accounted for 43% of total industry funding (across all investors) in that timeframe, while taking 56% of deals in 2020 alone.