Using the 50 most active accelerators' portfolios, we look at which early-stage startups have the fastest headcount growth and strongest management teams.
Accelerators have experienced significant portfolio growth over the past few years.
In 2022, the 50 most active accelerators collectively backed 7,794 accelerator deals — up 14% YoY and 34% compared to 2020.
The startups supported by these accelerators span industries ranging from aerospace to e-commerce, with many focused on emerging areas like artificial intelligence and renewable energy tech.
Using CB Insights data, we analyze the most active accelerators' portfolios to determine which early-stage startups show the most promise in 2 areas:
Employee headcount growth

Management team quality
In order to focus on startups with organic growth, our analysis looks only at those that have raised $10M or less in total funding.
Let's dive in. 
Who are the fastest-growing early-stage companies among top accelerators' portfolios?
Two companies stand out among top accelerators' early-stage portfolios for their rapid headcount growth: Fresh Factory and Kiwify. Both were part of Y Combinator winter batches (in 2022 and 2021, respectively).
Each company's workforce grew over 300% from June 2022 through June 2023. Fresh Factory provides cold chain fulfillment centers, while Kiwify offers an online course development platform.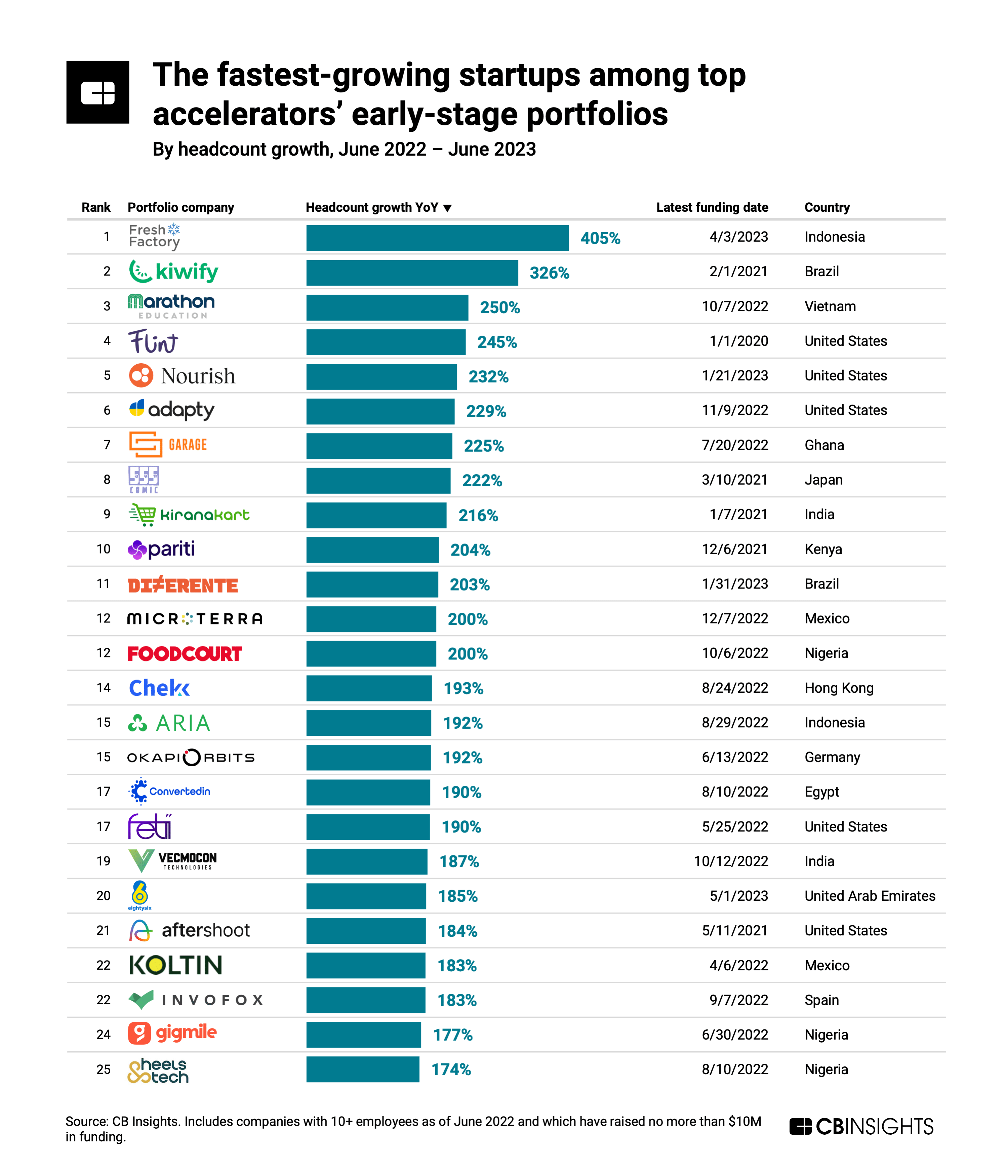 The rest of the top 25 startups all saw headcount growth of 150%+ during the same time frame. Notably, they are a global bunch, spanning 5 continents and representing countries such as Egypt, Indonesia, and Nigeria, in addition to startup epicenters like the US and the UK.
Which ones have the most impressive management teams?
A company's management team can be an essential factor in determining its future success.
To assess management quality, CB Insights' Management Mosaic score looks at a variety of factors, including founding and management teams' work accomplishments like previous exits, funding rounds, industry experience, as well as their education background and network.
Below, we rank top accelerators' early-stage portfolio companies by Management Mosaic score to determine the strongest teams.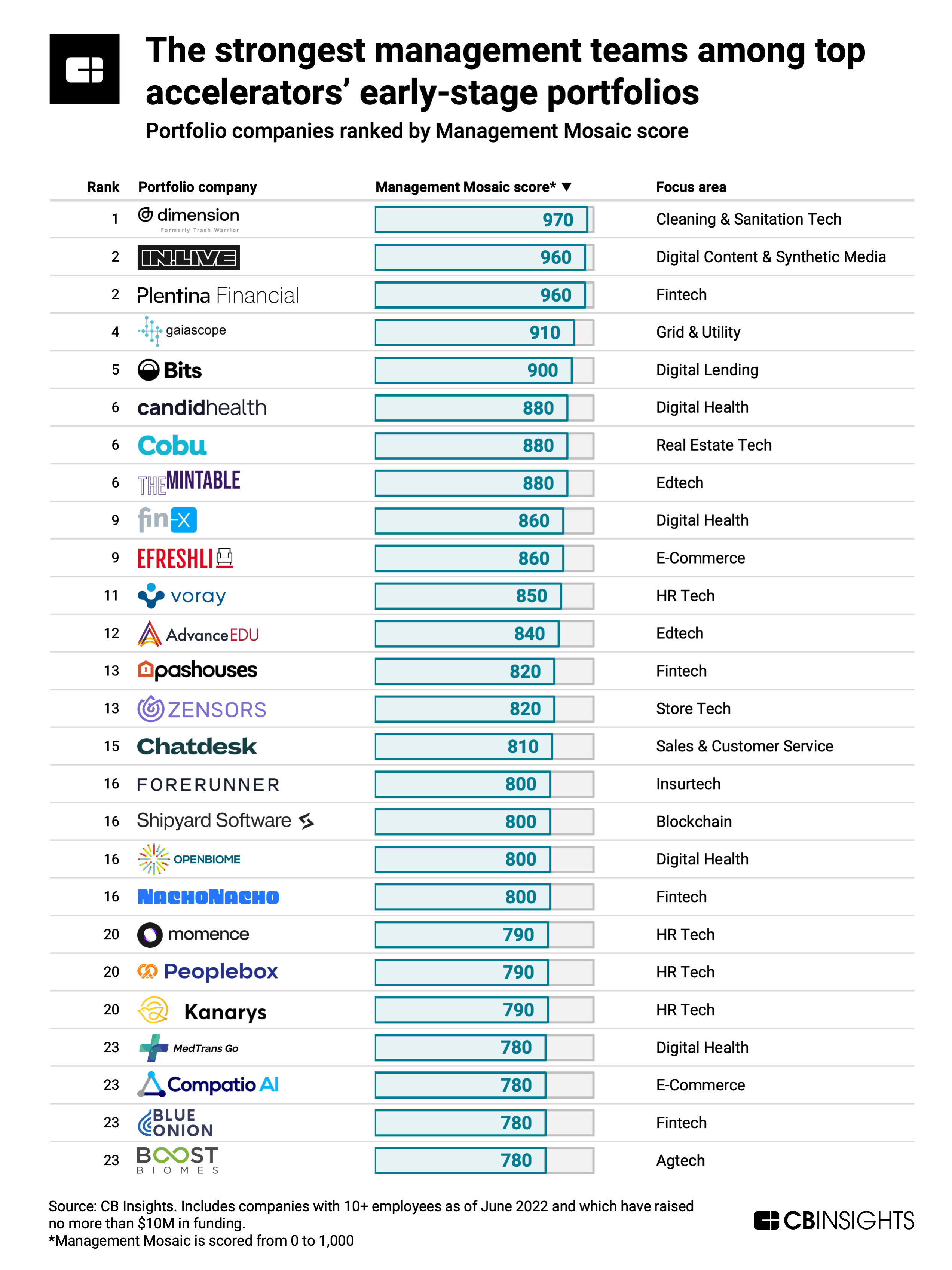 Dimension (backed by 500 Global's accelerator) is a waste management platform and the top-ranked startup here with a Management Mosaic score of 970 out of 1,000. The company is led by founder and CEO Lily Danqi Shen, whose work history includes stints at Niantic, Opendoor, and Deloitte.
Other notable management teams in this list include:
Gaiascope

(backed by Y Combinator)

, an energy analytics company for the

grid & utility

industry, was co-founded by CEO

Lauren Kuntz

and COO

Jess Stiles

. Previously, Kuntz earned a PhD in climate science from Harvard, while Stiles brings energy-specific investment banking experience.

The Mintable

(

backed by Australian accelerator Startmate)

, a learning platform for business

managers

, was co-founded by CEO

Lauren Humphrey

and COO

Melissa Miller

. Both previously worked as VPs at

Gusto

, a payroll solutions unicorn.

Bits

(backed by Y Combinator)

, a credit building app, was founded by

Faisal Khalid

. He's previously worked for major financial firms like

 

American Express

and

Citibank

, as well as founding multiple other startups.
If you aren't already a client, sign up for a free trial to learn more about our platform.