In October 2019, CB Insights announced our first-ever annual Digital Health 150 — a list of the 150 most promising digital health startups across the globe. Below, we take a look at where these companies are now.
In 2019, digital health companies from 18 countries spanning 17 overarching categories were selected for the first-ever annual CB Insights Digital Health 150.
They were selected from a pool of over 5,000 companies based on several factors, including patent activity, investor profile, news sentiment analysis, proprietary Mosaic scores, market potential, partnerships, competitive landscape, team strength, and tech novelty.
Since announcing our list, many of these startups have exited, raised equity funding, and entered into strategic partnerships.
For our 2019 report, we defined digital health as companies in the healthcare space that use technology/software as a key differentiator from their competition. This includes everything from disease diagnostics to tech-driven health insurance platforms to AI tools for drug discovery.
Startups were categorized by their main focus areas, and categories were not mutually exclusive. Please click to enlarge.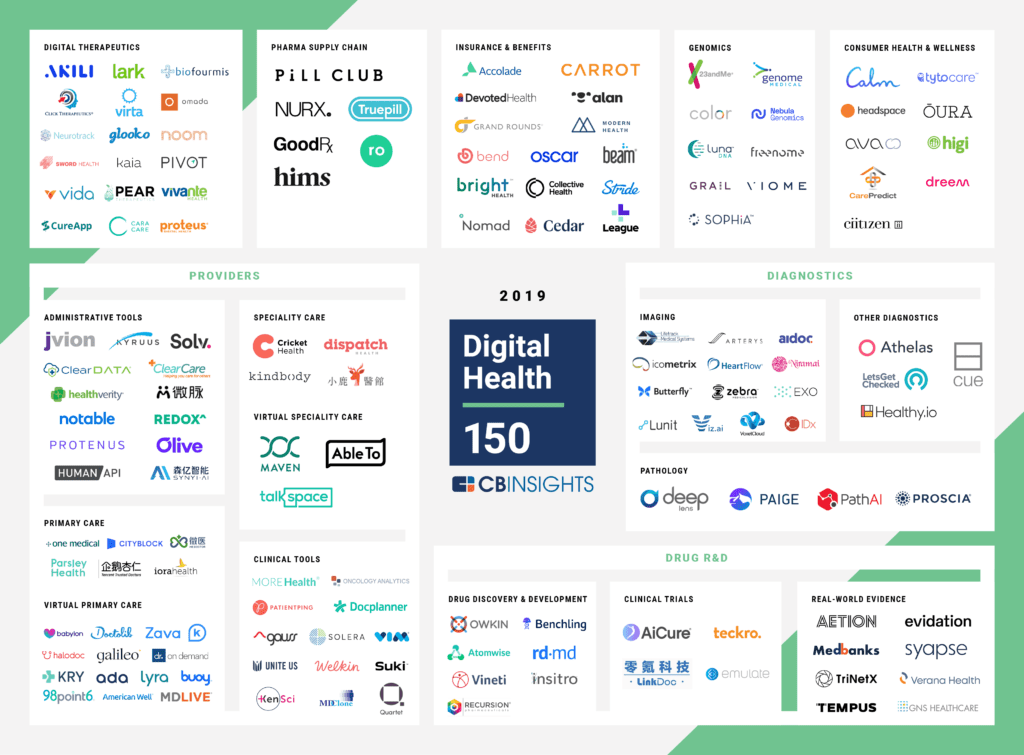 Below, we take a closer look at how these companies have grown since we published the list in October 2019.
Table of contents
Track all the Digital Health 150 Startups in this brief and many more on our platform
The 150 private digital health startups working to recreate how healthcare is delivered. Look for The Digital Health 150 in the Collections tab.
Track The Digital Health 150 Startups
exits: 3 exits from digital health 150 startups
Three startups named to the Digital Health 150 have exited, with 2 acquisitions and 1 IPO.
In April 2020, UnitedHealth acquired telebehavioral care company AbleTo for $470M. UnitedHealth will fold AbleTo into its Optum subsidiary, which had previously backed AbleTo in a Series D financing round in January 2019.
Concierge medicine company One Medical went public in January 2019, raising $245M in its IPO. Before exiting, the company had raised $402M in total disclosed funding.
Home care software-as-a-service (SaaS) platform ClearCare was acquired by WellSky in October 2019. WellSky offers healthcare & human services software solutions for providers in various settings from hospitals to hospices to home care agencies.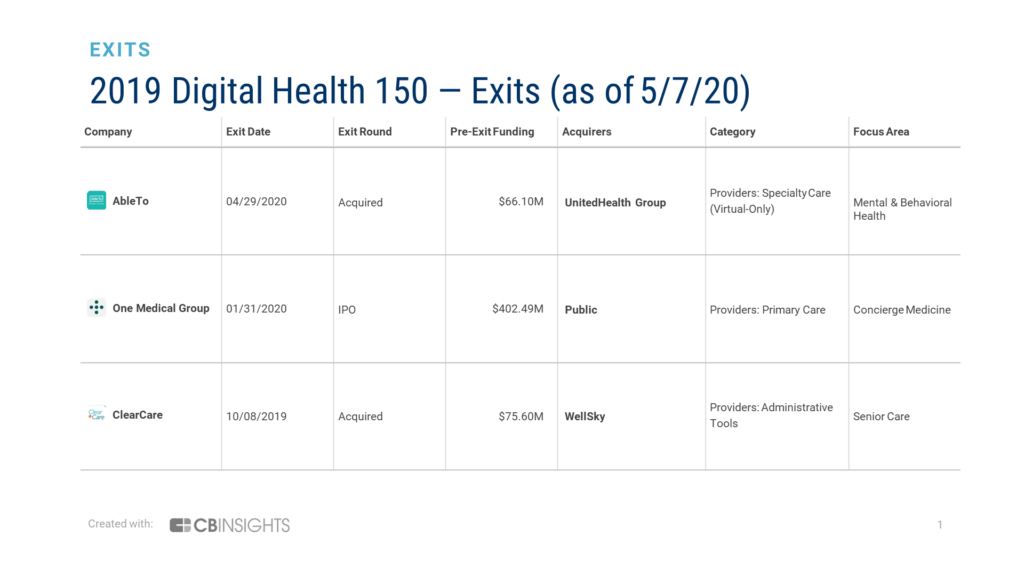 Funding: Digital health 150 startups raise nearly $3B more
Deals
Since October 2019, 47 of the Digital Health 150 startups have collectively raised over $2.9B in equity financing from investors.
Seven startups have raised mega-rounds (rounds of $100M+) in that time. These deals span the categories of insurance & benefits, primary care, genomics, and real-world evidence (RWE).
Three of these startups — Medbanks Network Technology, Tempus, and Verana Health — develop RWE platforms used for drug R&D.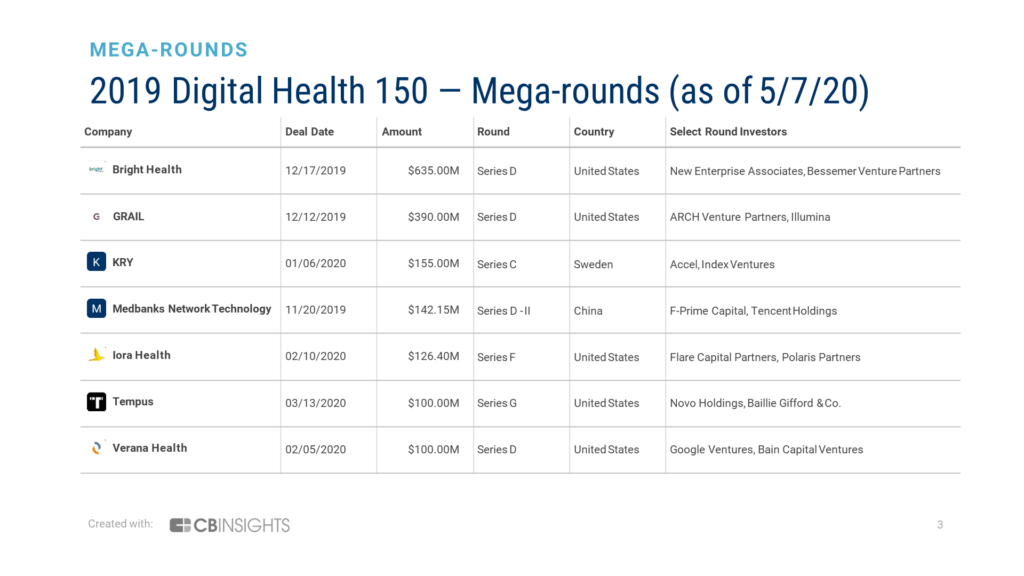 Investors
Notable investors and corporations, including venture capital firms, pharma companies, and health insurers, backed these startups.
For example, Venrock invested in 5 of these startups, including digital diabetes management company Virta Health and AI digital assistant company Suki.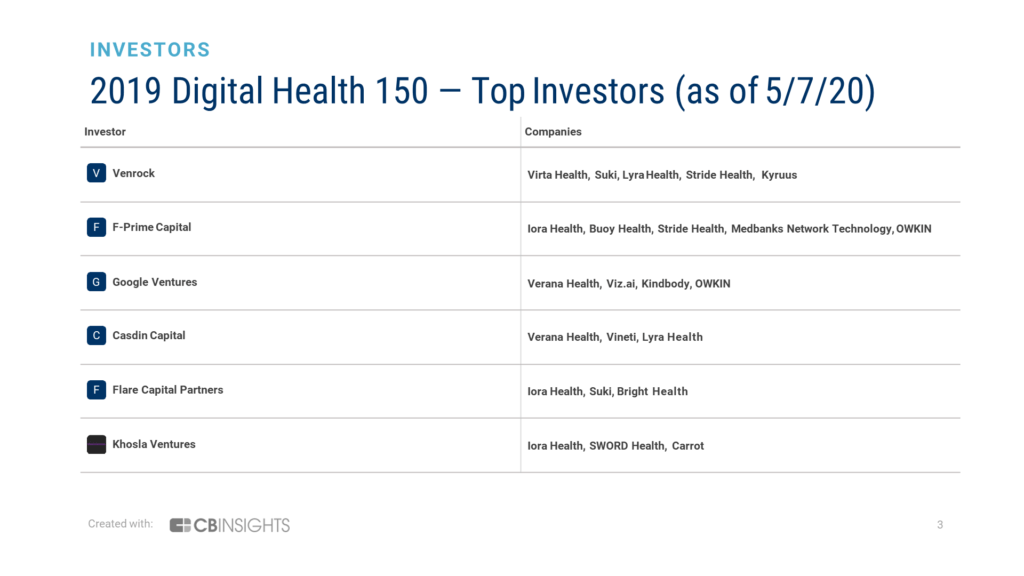 Pharma companies such as Novartis and Bristol-Myers Squibb invested in logistics solution Vineti and pathology platform PathAI, respectively.
Health insurers also participated in investments here. For instance, Anthem invested in virtual primary care company K Health while Humana took a corporate minority in health benefits platform Accolade. Accolade filed its S-1 for a $100M IPO in late February.
Notable partnerships
Many of the Digital Health 150 startups have formed strategic partnerships with key players in the healthcare industry across pharma, medical devices, health systems, insurers, and technology companies. Below are some key examples.
Pharma
Medical devices
Health systems
Health plans
Technology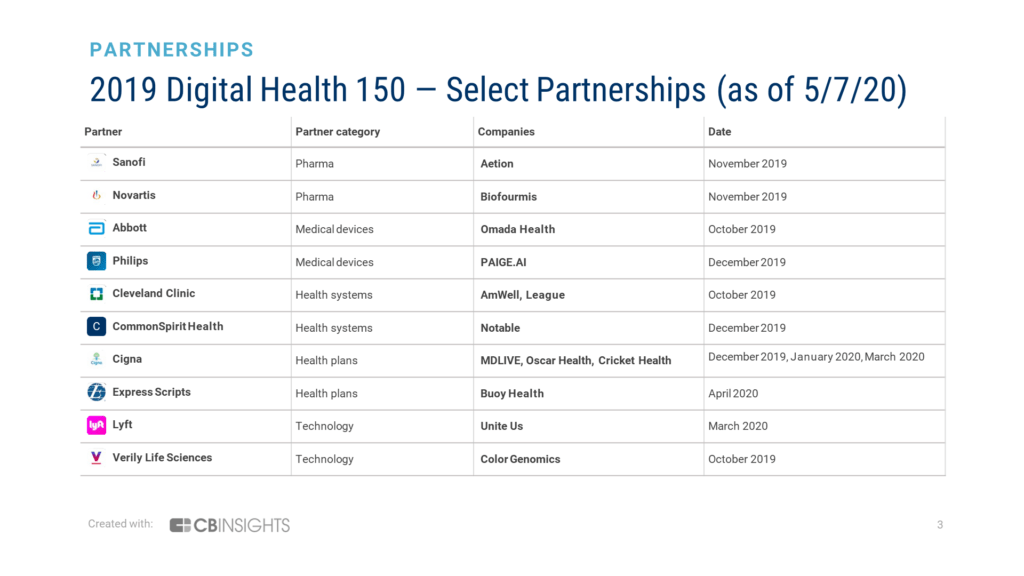 Select responses to covid-19 pandemic
Many of the Digital Health 150 companies have launched new initiatives or products to help patients through the pandemic. Some are also providing additional resources and waiving costs for their existing products for the time being. Below are some key examples.
If you aren't already a client, sign up for a free trial to learn more about our platform.