Accelerators take the top two spots for most active investors, with corporates playing a relatively small role in the space.
Construction tech has seen an uptick in deal activity over the last couple of years, as investors look to "legacy" sectors with lots of room for major software efficiency improvements.
Using CB Insights data, we examined the most active investors in the construction tech space since 2012. We define construction tech as startups working on construction design, team collaboration, and project site management, as well as those using drones and big data analytics to transform the traditional mapping and surveying of construction sites.
Yearly Unique Investors
Looking at the number of investors that made at least one investment into a construction tech company every year since 2012, we see that 2016 hit an all-time high of 94 investors, following some ups and downs in prior years. This is a 169% increase from the number of investors in 2012 (35).
While the number of total investors is still relatively small, the upward trend indicates more sustained and growing interest in the space.
Most Active Investors
Accelerators take the top two spots when it comes to the most unique investments in the construction tech space. Y Combinator is the most active, with investments in 9 construction tech companies, while 500 Accelerator takes second place with investments in 8 companies. In addition, 500 Accelerator's parent VC firm, 500 Startups, had made a few construction tech plays of its own, with investments to companies including Flipt and PlanGrid.
Two "smart money VCs," Andreessen Horowitz and Kleiner Perkins Caufield & Byers, are also among the most active investors. Their investments including overlapping participation in rounds to drone solutions provider Airware, which has also seen investment from Y Combinator and Google Ventures.
Techstars, Almi Invest, and Brick & Mortar Ventures are three more recent investors in the ecosystem, having each made their first construction tech investment in 2015. Each has made at least one investment to the frontier tech and robotics space within construction tech, a subsector that has seen increased investor interest as applications for the construction industry increase.
Of this group, Brick & Mortar Ventures, which focuses solely on architecture, engineering, and construction, made the most recent investment, with participation in a $2.3M funding round to AR/VR company Holobuilder in Q1'17. On the robotics front, Almi Invest participated in a $360K seed round to CBOT, which provides automatic floor tiling, also in Q1'17.
Notably absent from the list of top investors are any corporates, who could be betting on more mature industries for now rather than the nascent construction tech space.
Click on the image to enlarge.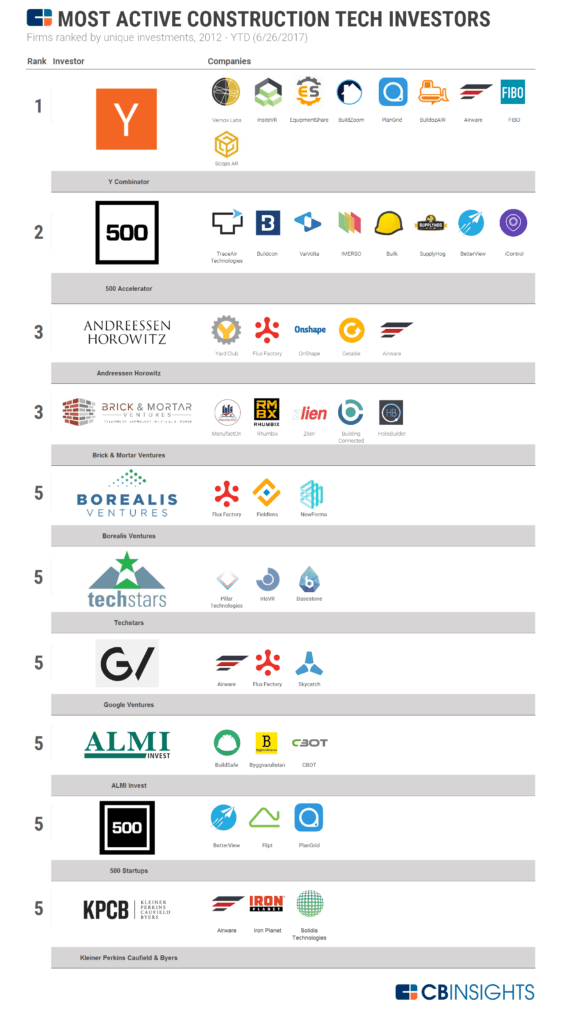 Track all the construction tech startups in this brief and many more on our platform
Startups working in construction tech have the potential to upend approaches to design, procurement, and operations. Look for Construction Tech Startups in the Collections tab.
Track Construction Tech startups
SPOTLIGHT: Corporate Participation
On the whole, corporates are not very active in the construction tech space, with a peak of only 16% participation in deals in 2013 (compared to the 20+% participation that's common in more developed sectors). In fact, corporate participation in construction tech deals has been declining: at only 12%, 2016 saw the lowest corporate participation since 2012.
If you aren't already a client, sign up for a free trial to learn more about our platform.