Below we visualize the top beauty empires.
Beauty is booming and the number of brands in the space is exploding. The global beauty and personal care market is worth approximately $180B.
While there are tons of startups pushing forward new beauty trends, the market still largely belongs to a handful of companies who own the majority of household personal care brands.
get the free beauty trends report
Find out the 14 trends changing the face of the beauty industry, from "waterless" beauty to virtual try-ons.
P&G, with a market cap of approximately $199B, recently acquired skincare and cosmetics brand First Aid Beauty in a signal of how the industry is shifting.
Take a look below at the beauty brands that own cosmetics aisles.
Click to enlarge.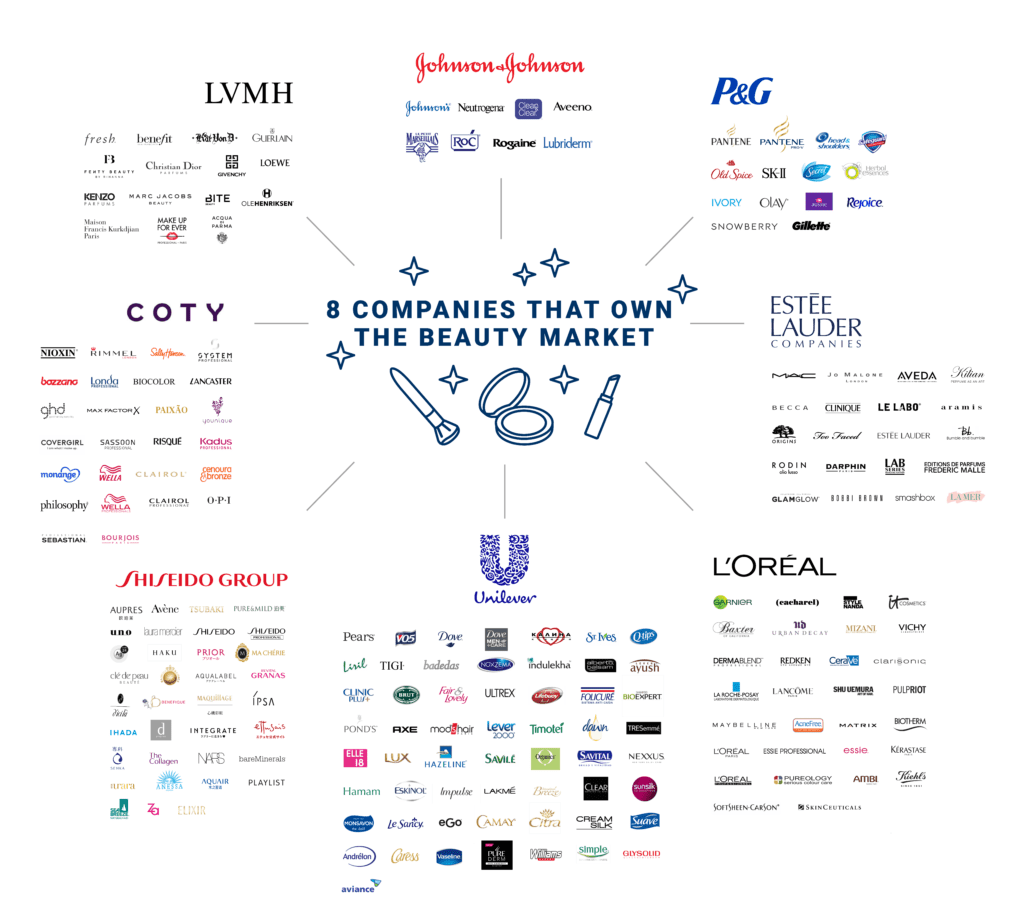 THE TOP BRANDS IN THE BEAUTY SECTOR
LVMH

Since Louis Vuitton merged with Moët & Chandon and Hennessy to form LVMH in 1987, the conglomerate has absorbed some of the world's most notable luxury brands. In 2017 alone, LVMH acquired Christian Dior and Maison Francis Kurkdjian, while Rihanna's Fenty Beauty makeup line launched in Sephora and Harvey Nichols stores.  

Johnson & Johnson

After major American acquisitions like Neutrogena in 1994 and Aveeno in 1999, Johnson & Johnson has looked abroad to find their next big thing, introducing the popular French body wash brand Le Petit Marseillais to the US market last year after acquiring the company in 2006.

P&G

The world's largest consumer products company has been rapidly trimming down its portfolio over the last few years, focusing on core brands that produce the vast majority of its revenue, absorbing startup competitors like New Zealand-based skincare brand Snowberry.

Estee Lauder

Amid the "retail apocalypse" and frantic claims that millennials are killing off every industry, Estee Lauder has been thriving, successfully adding millennial-friendly brands to its portfolio. The company's largest acquisition, $1.45B for Too Faced in 2016, expanded Estee Lauder's speciality store footprint and contributed significantly to the company's revenue growth in Q1'18.

L'Oreal

Maybe she's born with it, maybe it's Maybelline, maybe it's a string of high profile acquisitions. L'Oreal has taken an international approach with its purchases, snapping up other companies to augment its product lines or expand into areas where its own brands are lagging. L'Oreal's deal-making has been largely successful, with sales nearing $30 billion last year.

Unilever

Unilever, the owner of ubiquitous brands like Vaseline, Suave, and Dove, has also looked to acquire smaller personal care brands to stay nimble and capitalize on trends. Recent acquisitions of trendy companies like Schmidt's Naturals, Sundial, and Carver Korea are directly geared towards attracting millennial and international consumers.

Shiseido Group

The Japanese beauty conglomerate has recently been looking to tech startups to enhance its in-store experiences, but has been acquiring smaller beauty brands for years. Shiseido has also embraced international expansion, including its 2016 acquisition of Laura Mercier for $260M.

Coty

NYC-based Coty is rebranding some of its more notable brands, like Covergirl. Its purchase of an array of former P&G brands in 2016, and more recently of peer-to-peer sales brand Younique and hair styling appliance maker ghd, are starting to pay off. Luxury product lines are driving most of Coty's revenue growth, particularly in overseas markets.  
If you aren't already a client, sign up for a free trial to learn more about our platform.