Companies focused on electronic health records, information management systems, and predictive analytics top the list of digital health acquirers.
Investment into the digital health sector has been growing for years, with 2017 on track to reach record levels of over $10B. Last quarter saw the highest quarterly funding in the past 4 years, reaching $3.2B across 290 deals.
However, the digital health ecosystem is still maturing, and large exits have been limited. Part of the difficulty of building a successful digital health company lies in the uphill battles against evolving regulatory infrastructures, walled-off legacy systems, and the challenges of convincing customers to change long-held health behaviors.
Nevertheless, large companies will acquire digital health startups if there is a clear value-add that cannot be easily replicated internally. We used CB Insights data to track annual M&A activity and the most active acquirers of digital health companies since 2013.
Annual M&A history
In general, first-time M&A activity in the digital health sector has fluctuated in the range of 30 – 45 deals per quarter for the past 3 years. Q1'17 was the most active quarter since 2013, reaching 46 first-time M&A deals. While Q2'17 fell 35% to just 34 deals, M&A activity for 2017 YTD is currently slightly ahead of the same time period in 2016.
The slowest quarter for digital health M&As was Q2'13, which saw only 17 first-time M&A deals. However, the sector has not dropped below 30 per quarter since then.
The 3 largest first-time M&A deals to occur in 2017 YTD include McKesson's $1.4B acquisition of CoverMyMeds, QuintilesIMS's $200M acquisition of STI Technologies, and HMS Holdings' $170M acquisition of Eliza Corporation, all in Q1'17. CoverMyMeds is one of the largest platforms for electronic prior authorization requests, while STI Technologies provides smart prescription savings cards and data solutions, and Eliza Corporation offers revenue management and consumer experience software for the healthcare industry.
Top Acquirer trends
The most active acquirers in the digital health space are a fairly diverse cohort, with top companies ranging from electronic health record (EHR) providers like TELUS and athenahealth, tech giants like IBM, and apparel companies like Under Armor. See the full list below.
Please click to enlarge.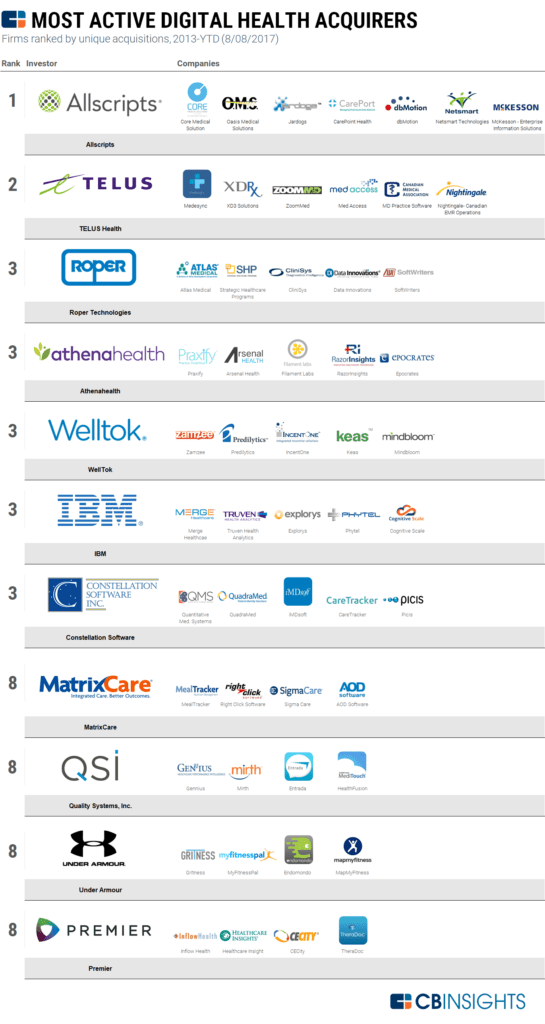 Most Active
The most active acquirer of digital health companies since 2013 is NYC-based Allscripts, a publicly traded provider of electronic health records. Allscripts has acquired 7 digital health companies in the past 4 years, the most recent being the health IT business unit of McKesson (acquired for $185M in cash) in Q3'17.
The business unit includes an EHR platform, revenue cycle management solutions, and lab analytics. Prior to this, Allscripts' largest disclosed acquisition was of dbMotion for $235M in Q1'13.
Since 2013, Allscripts has acquired 3 international companies: dbMotion in Israel, Oasis Medical Solutions in the UK, and Core Medical Solutions in Australia.
Highest Valuation
The most highly-valued acquisition of a digital health company since 2013 is the pending acquisition of WebMD by Internet Brands for about $2.8B, expected to close in Q4'17. In second and third place, respectively, is the Q1'16 acquisition of Truven Health Analytics by IBM for $2.6B and the Q1'17 acquisition of CoverMyMeds by McKesson for $1.4B.
Track all the digital health startups in this brief and many more on our platform
Startups working on digital health have the potential to change how medical care is practiced and delivered. Look for Digital Health in the Collections tab.
Track digital health startups
Select Acquirers
If you aren't already a client, sign up for a free trial to learn more about our platform.