As the pace of artificial intelligence acquisitions quickens — and the pool of acquirers expands — here are the companies leading the AI charge.
Artificial intelligence has long been a major focus for tech leaders across industries. Big corporations across every sector, from retail to agriculture, are trying to integrate machine learning into their products. At the same time, there is an acute shortage of AI talent.
This combination is fueling a heated race to scoop up top AI startups, many of which are still in the early stages of research and funding.
Below, we dig into AI acquisition trends, from which companies are the most acquisitive to what areas of focus are attracting the most attention.
View an interactive version of this post.
Tech giants lead in ai acquisitions
The usual suspects are leading the race for AI: tech giants like Facebook, Amazon, Microsoft, Google, & Apple (FAMGA) have all been aggressively acquiring AI startups in the last decade.
Among the FAMGA companies, Apple leads the way, making 20 total AI acquisitions since 2010. It is followed by Google (the frontrunner from 2012 to 2016) with 14 acquisitions and Microsoft with 10.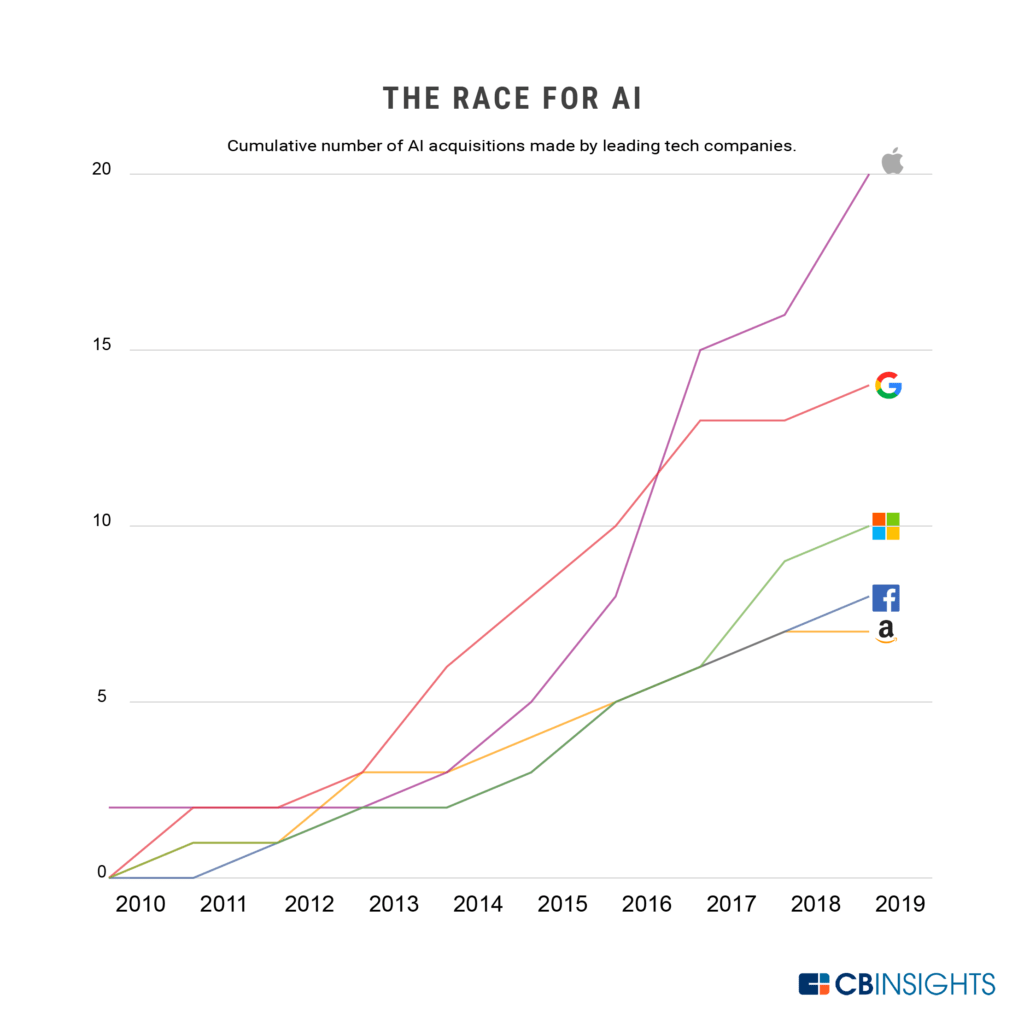 Apple's AI acquisition spree, which has helped it overtake Google in recent years, was essential to the development of new iPhone features. For example, FaceID, the technology that allows users to unlock their iPhone X just by looking at it, stems from Apple's M&A moves in chips and computer vision, including the acquisition of AI company RealFace.
In fact, many of FAMGA's prominent products and services came out of acquisitions of AI companies — such as Apple's Siri, or Google's contributions to healthcare through DeepMind. 
That said, tech giants are far from the only companies snatching up AI startups.
Since 2010, there have been 635 AI acquisitions, as companies aim to build out their AI capabilities and capture sought-after talent (as of 8/31/2019).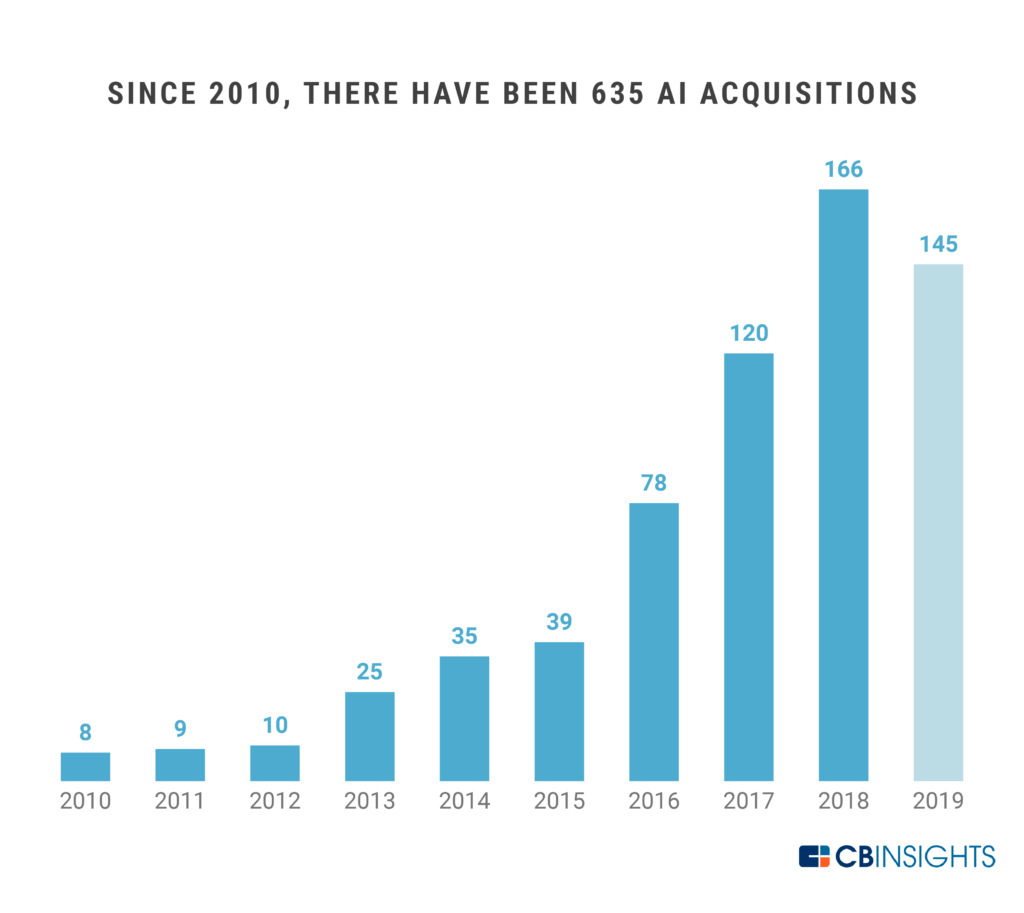 The pace of these acquisitions has also been increasing. AI acquisitions saw a more than 6x uptick from 2013 to 2018, including last year's record of 166 AI acquisitions — up 38% year-over-year. 
In 2019, there have already been 140+ acquisitions (as of August), putting the year on track to beat the 2018 record at the current run rate.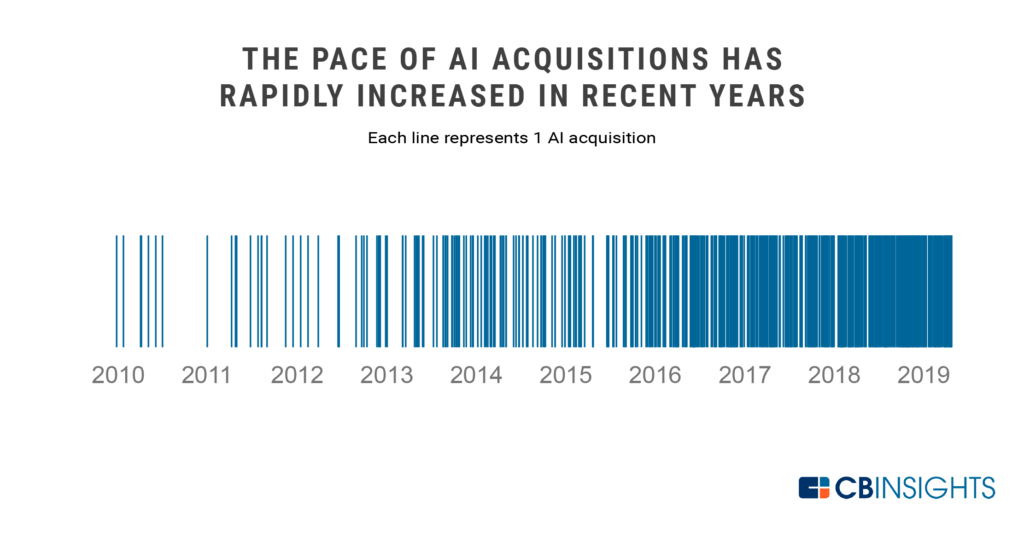 Part of this increase in the pace of AI acquisitions can be attributed to a growing diversity in acquirers. Where once AI was the exclusive territory of major tech companies, today, smaller AI startups are becoming acquisition targets for traditional insurance, retail, and healthcare incumbents.
For example, in February 2018, Roche Holding acquired New York-based cancer startup Flatiron Health for $1.9B — one of the largest M&A deals in artificial intelligence. This year, Nike acquired AI-powered inventory management startup Celect, Uber acquired computer vision company Mighty AI, and McDonald's acquired personalization platform Dynamic Yield.
Despite the increased number of acquirers, however, tech giants are still leading the charge. Acquisitive tech giants have emerged as powerful global corporations with a competitive advantage in artificial intelligence, and startups have played a pivotal role in helping these companies scale their AI initiatives.
Apple, Google, Microsoft, Facebook, Intel, and Amazon are the most active acquirers of AI startups, each acquiring 7+ companies. 
Meanwhile, the vast majority of acquirers (431) have only acquired a single AI company.
Heatmap: acquirers focus on retail & Speech
We created a heatmap of AI acquisitions sorted across 15+ core industries that startups operated in prior to acquisition (such as healthcare or finance), or by one of 12 cross-industry applications (like sales or cybersecurity).
Retail & CPG topped all other industries in the number of AI acquisitions (67 since 2010), due to record-level M&A activity last year. These acquisitions have added AI-driven customer analytics, in-store inventory management, and personalized e-commerce experiences to retailer's capabilities.
Recent examples include McDonald's $300M acquisition of personalization platform Dynamic Yield, Ulta Beauty's acquisitions of virtual makeover startup GlamST and customer engagement software company QM Scientific, and Nike's acquisitions of inventory management company Celect and guided shopping experience platform Invertex.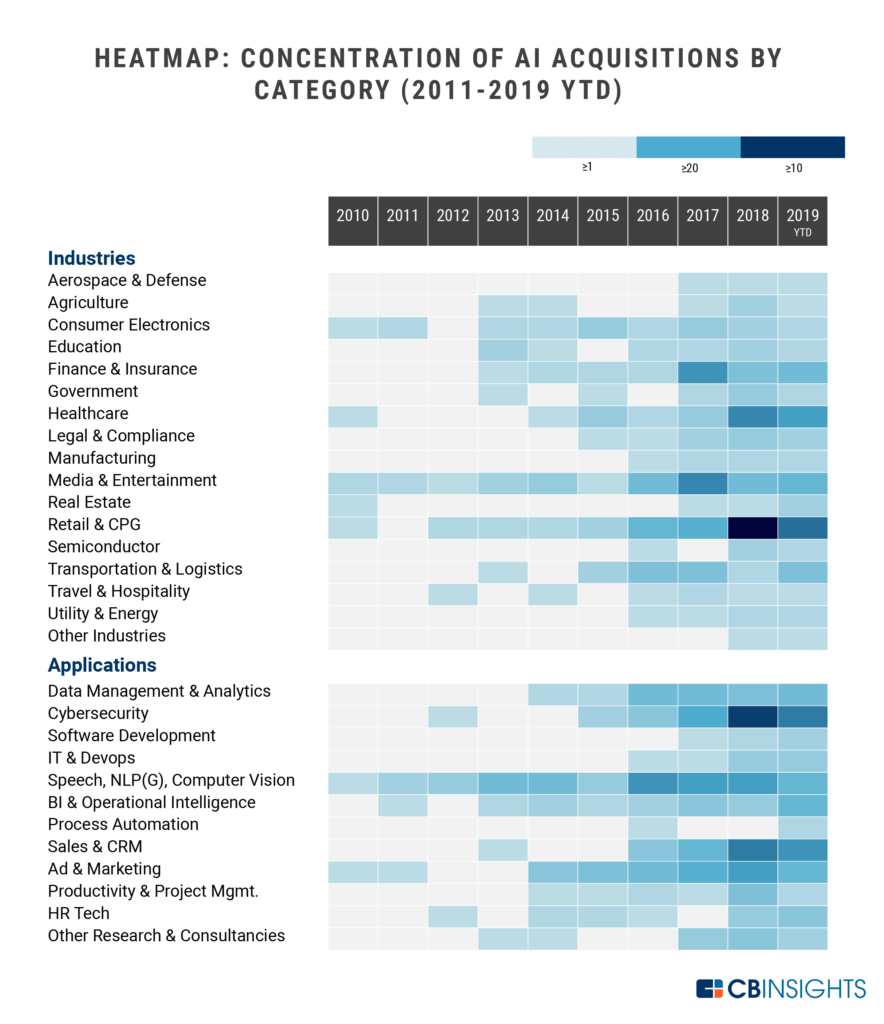 Under cross-industry applications, Speech, NLP/(G), and Computer Vision has been a leading area of focus. The category, which includes startups working on computer vision and natural language processing, has seen 66 acquisitions since 2010.
Large tech companies have scooped up smaller startups in this category to boost their internal AI R&D. For example, Apple acquired facial recognition firm RealFace and voice assistant startup Novauris Technologies, Google acquired human-computer interaction company Api.ai, and Microsoft acquired speech recognition & NLP startup Semantic Machines and voice assistant company Maluuba.
Our definition of AI companies includes startups selling AI SaaS (such as machine learning-based cyber defense software), using AI algorithms to develop their core products (such as AI-enabled diagnostic devices), developing hardware to support AI workloads (startups building AI processors for edge and cloud data centers), and AI "consultancies" (companies tailoring solutions to individual clients).
We include autonomous cars, trucks, and tractors, but exclude other hardware-focused robotics companies, as well as pure-play VR companies. We only count direct acquisitions made by parent companies, not subsidiaries, in our acquisition count analysis. Data is as of 2019 YTD (8/31/2019). 
If you aren't already a client, sign up for a free trial to learn more about our platform.