After being accused of years of fraud, Theranos officially shut down in September 2018. But in March of this year — and just a few months after its death — the company was granted its first blood-testing patent of 2019. Since then, Theranos has been granted 4 additional patents.
Theranos, the blood-testing company once valued over $9B, ceased operations late last year — after a whirlwind of events which led to its very public shut down. Among fraud allegations and conspiracy charges, Elizabeth Holmes' company went from one of Silicon Valley's hottest names to a spectacular failure virtually overnight.
want to know THE TOP 12 REASONS STARTUPS FAIL?
We analyzed 110+ startup failures to bring you the reasons why startups don't make it. Download the full 32-page report.
But in 2019, it looks like Theranos' patent activity is still very much alive: Since March, the company has been granted 5 new patents.
Elizabeth Holmes initially left Stanford to "build Theranos around her patents and vision for healthcare," according to Theranos' website circa 2014.
But the company was unable to build a reliable blood-testing device, despite being granted over 70 patents for blood-testing technology since 2003.
As a result, the USPTO has been criticized for its potential role in enabling Holmes to defraud investors and dupe employees. The agency is said to be under-staffed and overburdened with applications — and many claim that this "broken" system could have played a role in allowing Holmes to pursue as many patents as she has.
"Her innovation — which she has patented — requires the patient to surrender a mere drop of blood … It's no surprise that the company she founded on this technology is thriving." – Former USPTO Director Michelle Lee, May 25, 2015
This year, 5 blood-testing related patents have been awarded to Theranos — all filed between 2015 and 2016, when fraud allegations were in full swing.
Below is the cluster of the company's recently granted patents — two of which are from earlier this month:
1. Systems, devices, and methods for bodily fluid sample collection, transport, and handling (Granted: April 2, 2019)
The patent describes a system that aims to improve upon disadvantages associated with "conventional sample collection and testing techniques of bodily fluid samples." In one example, it may enable the collection of a smaller volume of blood (or other bodily fluid samples) in a more efficient and accurate manner than traditional methods used today.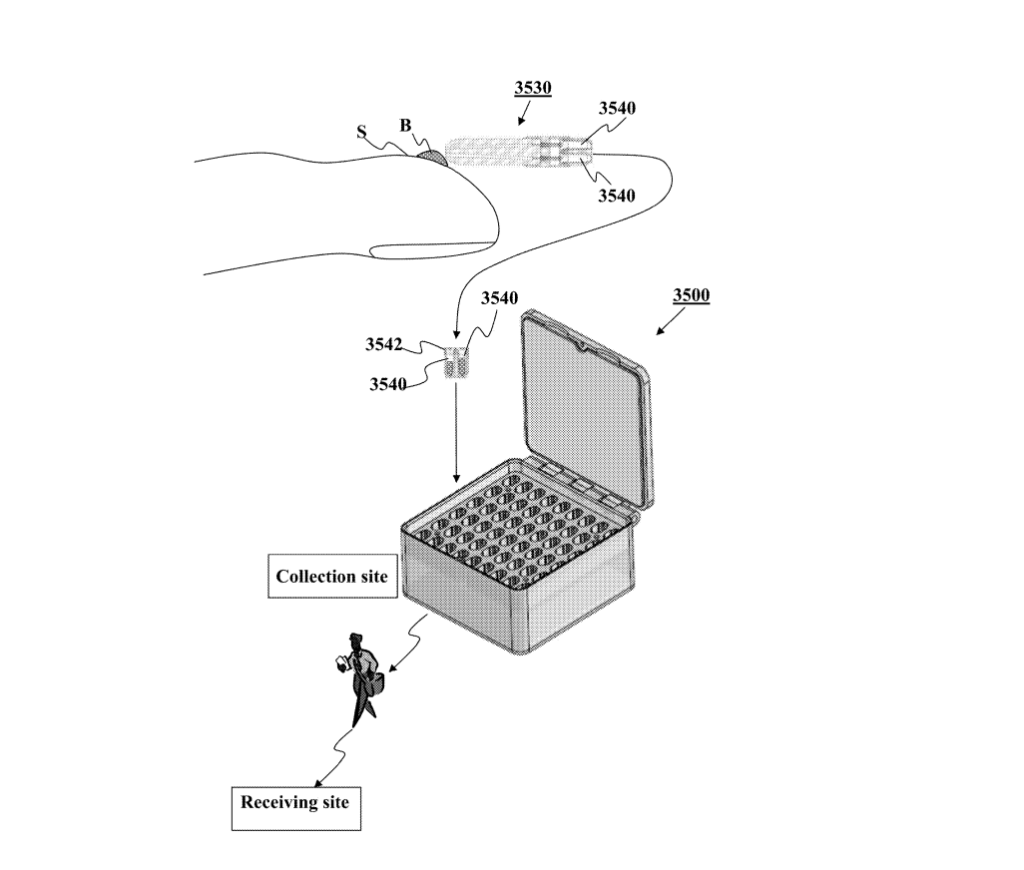 2. Systems, devices, and methods for bodily fluid sample transport  (Granted: April 2, 2019)
The patent illustrates a method for transporting small volumes of bodily fluid samples from one location to another.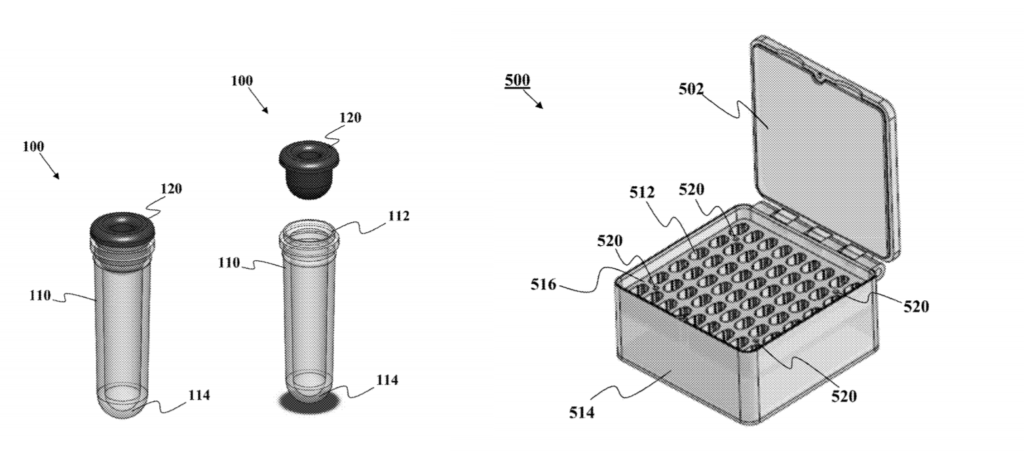 3. Systems and methods for sample preparation using sonication (Granted: March 19, 2019)
Sonication uses sound/vibration to agitate particles in a sample that could lead to the identification and extraction of various particles within a substance. The patent (No. 10,233,479) describes a system that could use a sonicator to identify pathogens in a sample of blood, for example.
Broadly, a sonicator may be used to "mix, resuspend, aerosolize, disperse, disintegrate, or de-gas a solution."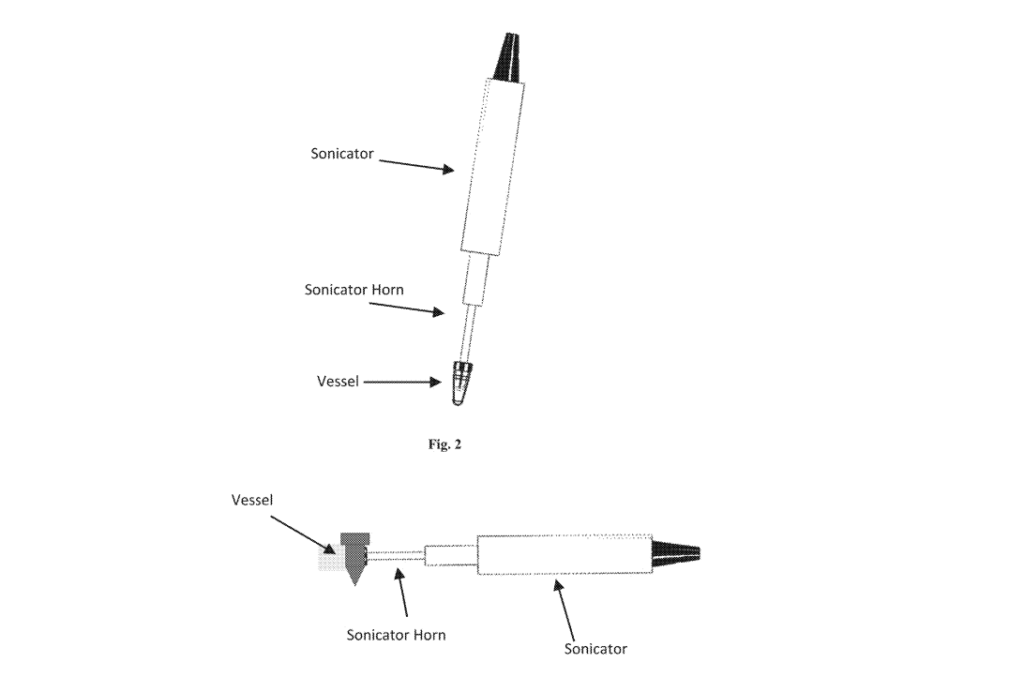 4. Systems and methods for sample preparation using sonication (Granted: March 19, 2019)
This patent (No.10,233,480) also aims to use sonication to "disrupt [cells], such as [pathogens cells] in a sample."
5. Rapid measurement of formed blood component sedimentation rate from small sample volumes (Granted: March 5, 2019)
The patent showcases methods for measuring the rate at which red blood cells sediment—  a common hematology test and non-specific measure of inflammation. Sedimentation tests are typically measured over an hour, and the patent aims to speed up the process.
(Pictured below: Sedimentation graph)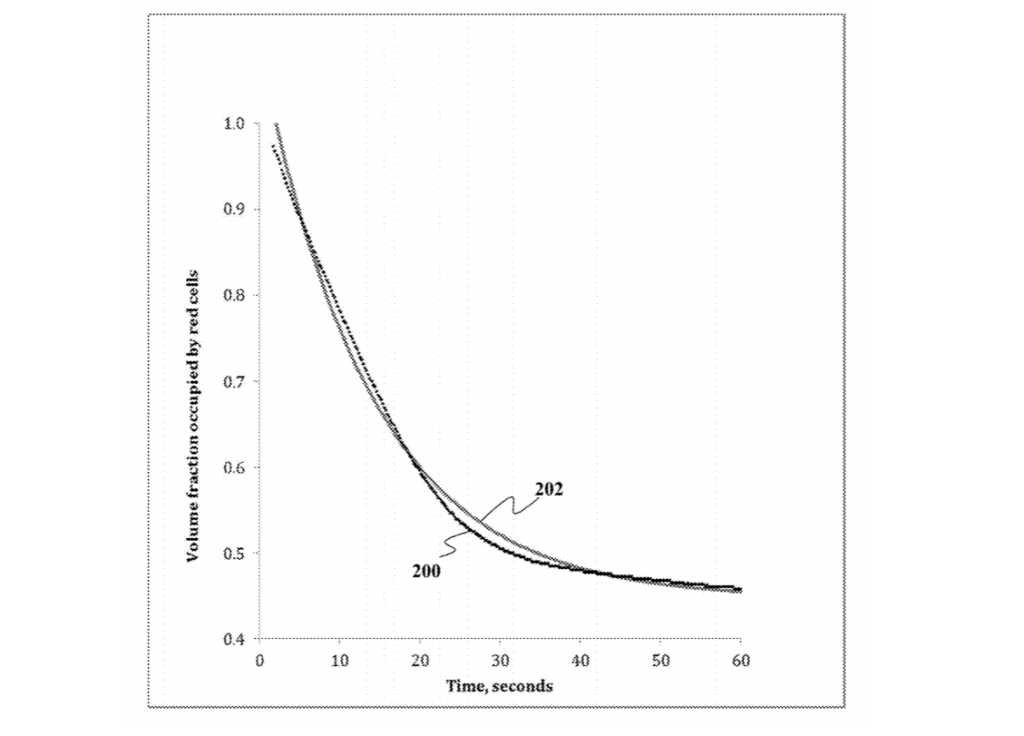 If you aren't already a client, sign up for a free trial to learn more about our platform.