Primary intel from software buyers reveals "white space" across the tech landscape, from remote patient monitoring to on-demand warehousing.
Today, we're exploring 3 areas of opportunity across the tech landscape based on Yardstiq's interviews with software buyers.
Digital health — Remote patient monitoring
Opportunity: Solving the "too much data" challenge
CADENCE
I think one of the drawbacks with all remote patient monitoring (RPM), and this is any vendor, is putting too much data back onto our providers to act on…I think what we need to do is really begin to take some of that data and make better interpretations of it so that our providers are getting just what they need. This all goes back to the alerts that are going to our provider. Yes, we're going to give them a lot of data…What are we doing with it to make sure that it's accurate and it's something that we can respond to vs. our providers might want to tune it out because they get too much? There's a real fine line there that I think all us organizations are working through. — CMIO, Healthcare network
Read the full transcript here.
Interest in RPM — which captures and analyzes patient data in real time to enable virtual care and ongoing disease management — surged alongside Covid.
Investment in the telehealth space also jumped with it (though now a pullback is happening):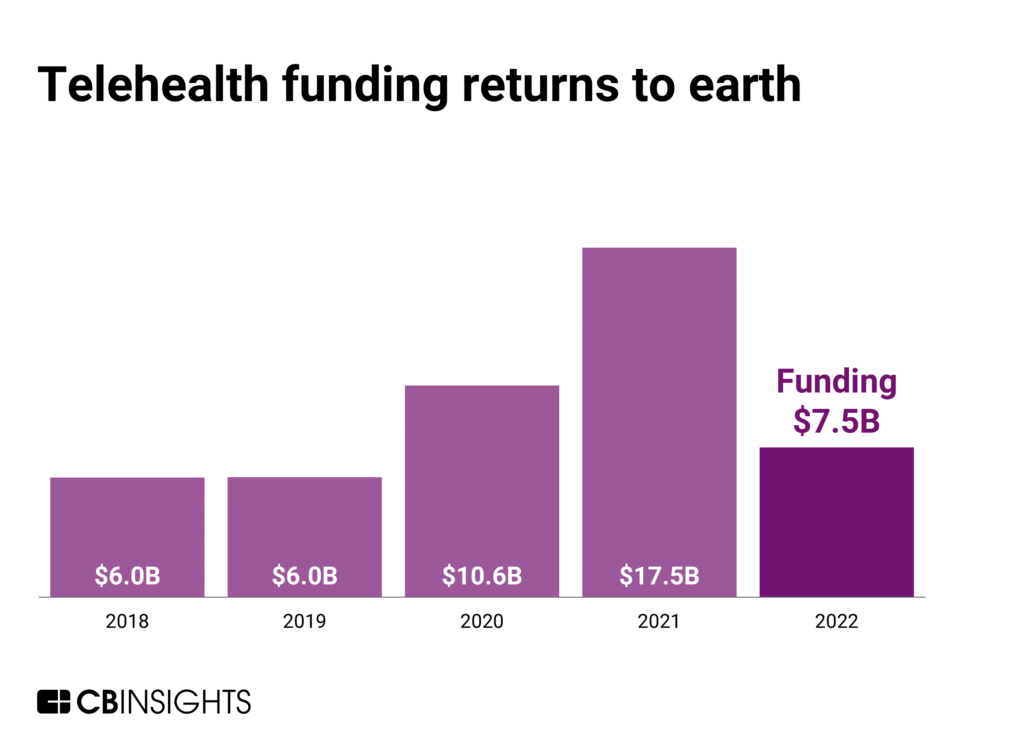 As providers move past the "honeymoon phase" of RPM, and add even more measurements, managing all of that data is a huge challenge. 
How RPM solutions harvest and analyze this data will continue to be a key differentiator.
In our 2023 Tech Trends Report, we explore how RPM tech will evolve into "ambient health monitoring" — no wearables needed. Read it here. 
Supply chain & logistics — On-demand warehousing
Opportunity: Getting into the nitty-gritty of data analytics
FLEXE
I always have the feeling that these companies could do a lot more with data analytics…You'd expect a tech company to come to you and tell you, "Hey, look, that profile of products actually is better stored here and there because X, Y, Z, because the labor cost is lower…" And the reality is it's not there. They might have very high-level network data, but it is not sophisticated in any way where you would be like, "Oh wow, this actually really helps me to make a decision on the best location, best type of players, best warehouse, best racking type of solutions, and so on." I think there is still definitely an opportunity there. — SVP, Fortune Global 500 company
Read the full transcript here.
Fluctuating demand for e-commerce has strained the warehousing capacity of retailers, brands, and logistics providers
Enter: on-demand warehousing. 
Providers like Flexe and its competitors — highlighted in the CB Insights on-demand warehousing scorecard below — provide temporary access to warehousing space, typically accompanied by e-commerce fulfillment support.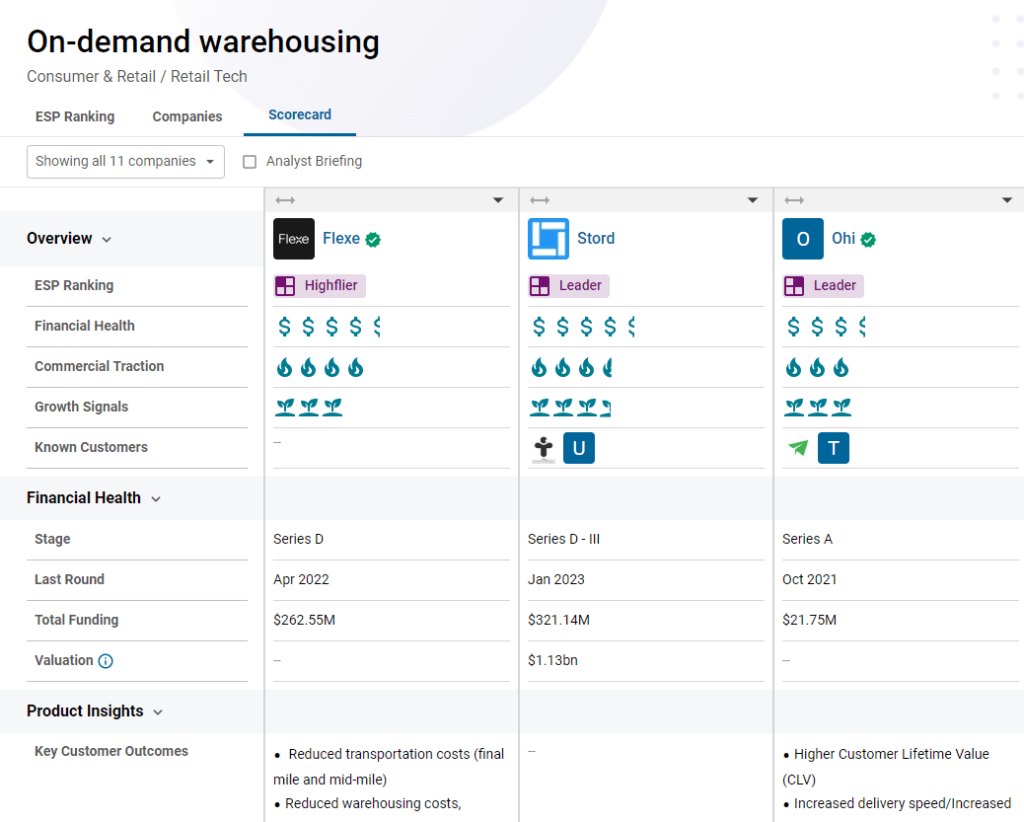 As the software buyer above describes, providing more sophisticated data analytics (a common theme we hear from buyers across industries) into where overflow is best directed remains an opportunity.
Monitoring & security — Bot protection
Opportunity: Anticipating next-level bot threats 
Perimeterx
A lot of these bot management solutions are susceptible to false positives, even though it's fairly low with PerimeterX. I mean the advancement in bot threats is only increasing and getting more and more sophisticated. So, identifying how you would be able to identify those next levels of bot threats, and how you would be able to mitigate them before they can turn out to be a nuisance, would be an interesting challenge that needs to be tackled by these solutions. — CISO, Engineering firm
Read the full transcript here.
Bot protection providers like PerimeterX (now HUMAN following its July 2022 acquisition) secure websites, apps, and more from malicious bot attacks and fraud.
As these attacks become more sophisticated, protecting vulnerable entry points is critical — and getting ahead of the attacks is a needed evolution for vendors in this space, per the above buyer. 
Clients can understand more about these solutions in financial services in this market map. 
Rapyd wins on price vs. NIUM, according to this buyer
RAPYD
The problem was that NIUM expanded out of Asia and Rapyd scaled out of Europe. NIUM had a very strong portfolio also and had stronger coverage. But they did not have a big presence, big product and support team based out of Europe or our time zone…But one real shortcoming beyond being not present in our time zone was the pricing. Rapyd is very aggressive when it comes to pricing. They even gave us a very sweet deal. And eventually in the final phase of RFP, NIUM ended up being almost two times more expensive than Rapyd, and that's why we chose Rapyd.
Read the full transcript here.
A crop of players have emerged to rethink how money moves across borders.
To understand the competition, we talked to buyers who've recently evaluated solutions like NIUM, Rapyd, and more.
Download our 1-pager to compare top cross-border payments vendors at a glance.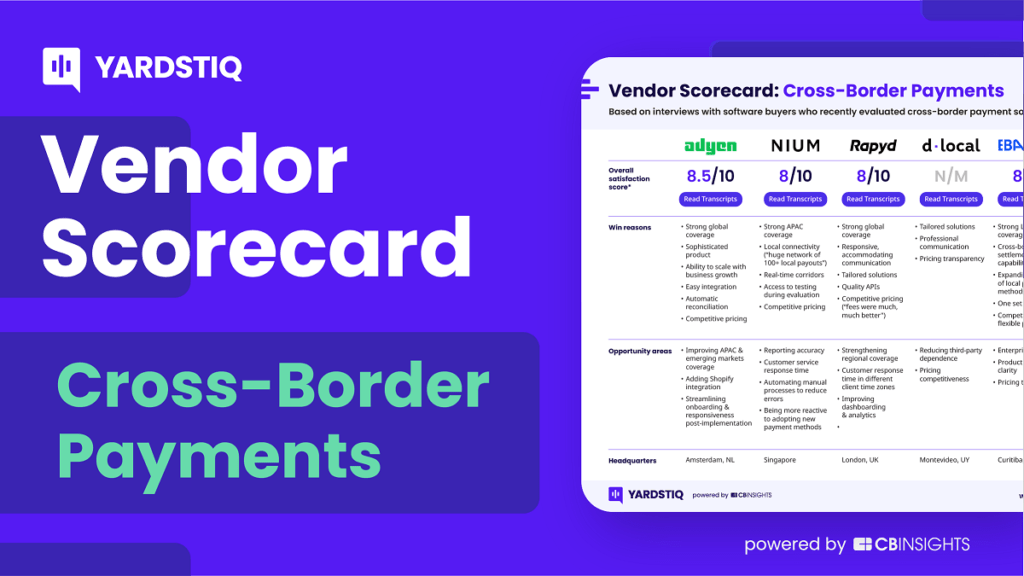 If you aren't already a client, sign up for a free trial to learn more about our platform.