In today's edition of The Transcript, we're taking a deeper look at SaaS consolidation trends with Yardstiq's software buyer interviews.
Companies' SaaS stacks have gotten huge. 
As execs look to cut costs, consolidating vendors offering similar functionality is high on the priority list. 
In today's edition of The Transcript, we're taking a deeper look at SaaS consolidation trends with Yardstiq's software buyer interviews.
Read on for: 
How sales tech vendors are converging

Brex & consolidation in spend management 

Where Okta's expansion play falls flat for one corporate user

Why BetterCloud customer won't renew
Salesloft customer intends to renew (for now). But ZoomInfo looms.
I am seeing companies that are having more and more convergence in their sales operations and sales enablement tools. For example, ZoomInfo has recently introduced their RevOS featured tool. It's an end-to-end platform that has similar capabilities that Salesloft has. It has similar capabilities that Gong or Chorus may have. It has similar capabilities to a chat. It's an all-inclusive platform, and I'm hearing more and more that that's the direction that companies want to be moving towards where they are converging all these different systems into a platform and not having these stand-alone tools that are disparate from one another. That's top of my mind in terms of long-term, but short-term, we'll definitely be renewing with Salesloft. — VP of Growth Marketing, $1B+ market cap software company
Read the full transcript here.
The reality is companies have too many sales tools.
Many of them are now overlapping and competing with each other, which means the sales tech stack is going to get smaller as companies aim to consolidate.
We looked at some of the vendors converging on each other in this competitive end market here as well as in this Vendor Scorecard.
Similar consolidation is occurring in spend management, as this Brex customer echos
I want to start consolidating my payables, all my AP. And I want to start bringing that in and unifying that with things like my corporate credit cards and out-of-pocket reimbursements. In this way, my employees only have to go to one place for all that stuff and I have one set of approvals to manage. And that's actually the power of a product like Airbase, one of Brex's up-and-coming competitors, that really is trying to do all three of those things well. There's consolidation in the space is what I'm saying to you. — CFO at $100M+ funded fintech
Read the full transcript here.
Airbase highlights in its CB Insights Analyst Briefing that its primary advantage vs. Brex is its "feature set," including advanced approvals.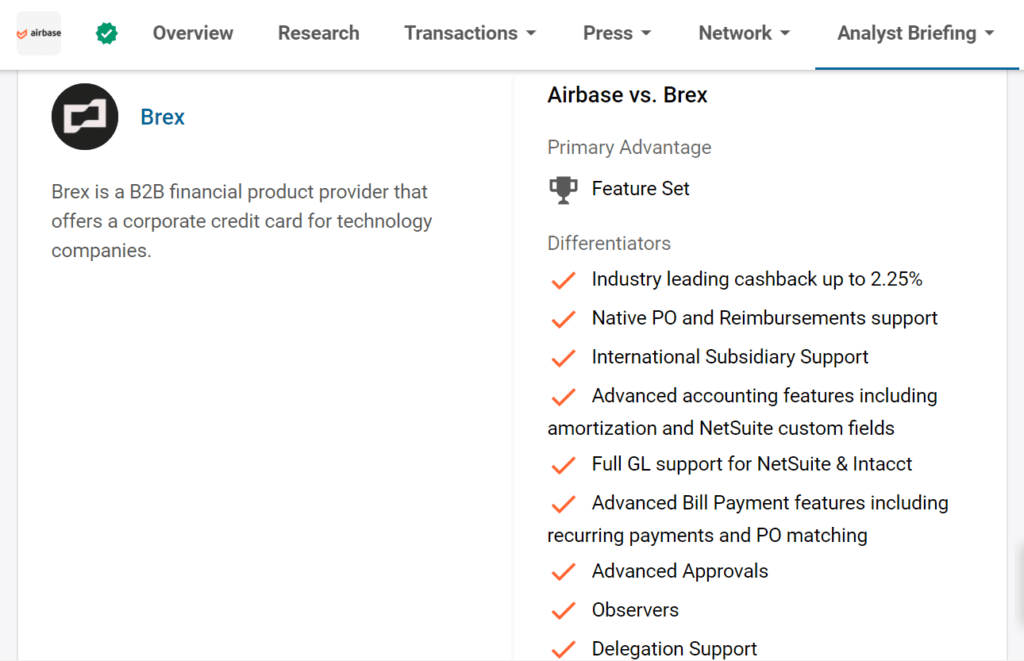 Compare the vendors attacking corporate cards & spend management with our free 1-pager.
Product breadth, however, does not equal depth, as this Okta buyer highlights
Okta started as an identity and access company, not focusing on governance or privileged access management. But now, it feels like they are trying to go into every aspect of IAM, including governance. And so, they are not only competing with Ping and Microsoft, they're also looking at competing against SailPoint and Saviynt, and many other vendors. I feel like Okta is diluting their value by going all over the place versus staying in one area, becoming stronger. And yes, they get the business, but they are not the leader in those spaces. So, if I am a corporate user, I still need to purchase other products, and they are trying to avoid that, which is a challenge right now. — Director, Identity at Fortune 500 company
Read the full transcript here.
Even SaaS management platforms are not immune: BetterCloud customer will churn off 
I would say for the majority of the time we were customers of BetterCloud, I would say an 8, I was very satisfied with what they can do. The customer support is really good. It's just that a lot of applications that we use have functionality that could replace BetterCloud. So BetterCloud has become just more of a nice to have. And the value is not worth the spend. — IT Engineering Manager at Marketing technology company
Read the full transcript here.
Extend your reach
We spoke with software buyers who recently purchased marketing automation & customer engagement solutions to understand product quality, competition, and pricing.
Quickly compare:
Bluecore

Braze

Iterable

Klaviyo

And more
Get the report here.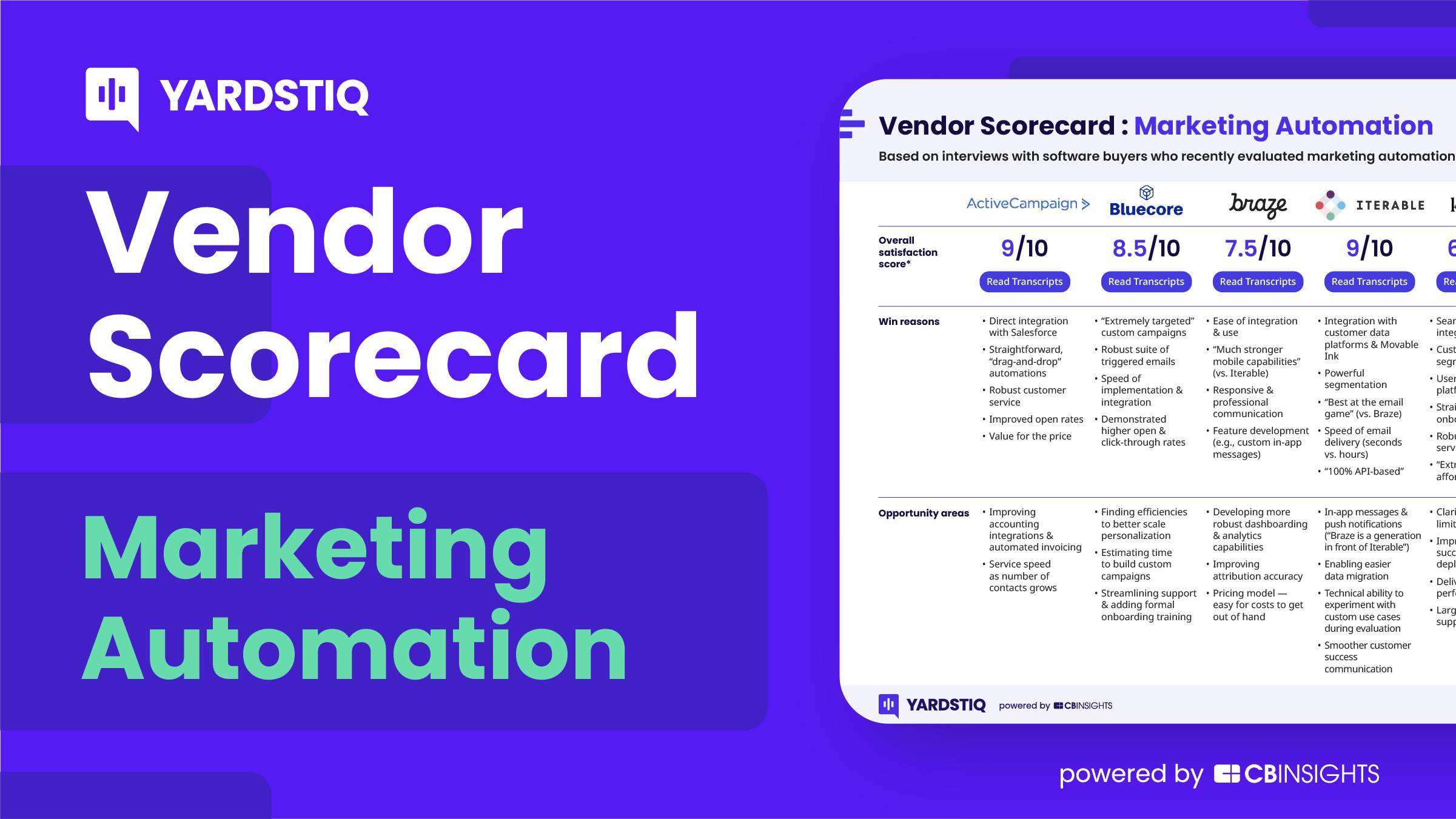 If you aren't already a client, sign up for a free trial to learn more about our platform.