With the acquisition, The New York Times plans to expand its sports coverage and subscriber base. Here are the top-line bullets you need to know.
The New York Times, a global media company, has acquired The Athletic, a subscription sports media startup, for $550M in an all-cash deal. The transaction is expected to close in Q1'22.
WHO ARE THE PARTIES TO THE DEAL?
The Athletic: San Francisco-based The Athletic provides digital sports coverage to fans of over 200 teams and clubs in the US. The media startup published 55,000+ articles and 6,500 hours of audio content in 2021. Founded in 2016, the startup currently has 1.2M paying subscribers. The Athletic reportedly generated $65M in revenue last year. The company maintains a presence across the US, Canada, the UK, and Europe, and it is supported by a team of 450 employees.
The New York Times: Manhattan-based The New York Times creates, collects, and distributes news and information via digital and print channels. The company has doubled its subscriber base over the past 3 years to reach 8M+ across 232 countries and territories. In FY'20 The New York Times generated $1.8B in revenue and $101M in net income. The company has about 4,700 employees, including 1,700 newsroom staff, globally.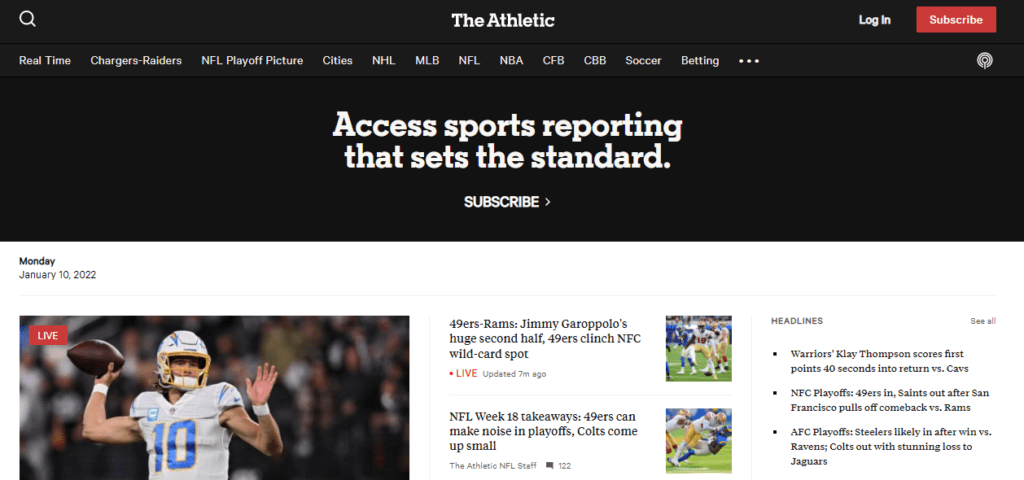 Source: The Athletic
WHY DOES THE MARKET MATTER?
The global media market is expected to reach a value of $2.67T by 2025, growing at a CAGR of 10%, according to The Business Research Company.
The adoption of virtual reality technologies by television and radio broadcasters amid the pandemic has contributed to market growth.