The emergence of edge-computing, the expansion of hybrid-cloud environments, and the proliferation of connected critical infrastructure are notable trends shaping the future of connected enterprise security.
Enterprises ranging from banks to nuclear energy facilities are leveraging the proliferation of internet of things (IoT) devices to connect employees, gather real-time data on critical infrastructure, and more. In tandem, the explosion of connected enterprise devices creates unique security challenges. As security vulnerabilities increase, startups are rising to meet the demand for more resilient connected enterprise security.
In this analysis, we take a closer look at startup investment activity, spotlight companies creating novel connected enterprise security solutions, and identify forward-looking trends, challenges, and opportunities.
Highlights from our analysis include:
TRACK ALL THE CYBERSECURITY COMPANIES IN THIS BRIEF AND MANY MORE ON OUR PLATFORM
Companies working on cybersecurity are gaining much more visibility as cyber threats increase. Look for Cybersecurity in the Collections tab.
Track cybersecurity companies
Information Technology (IT) vs. operational technology (OT):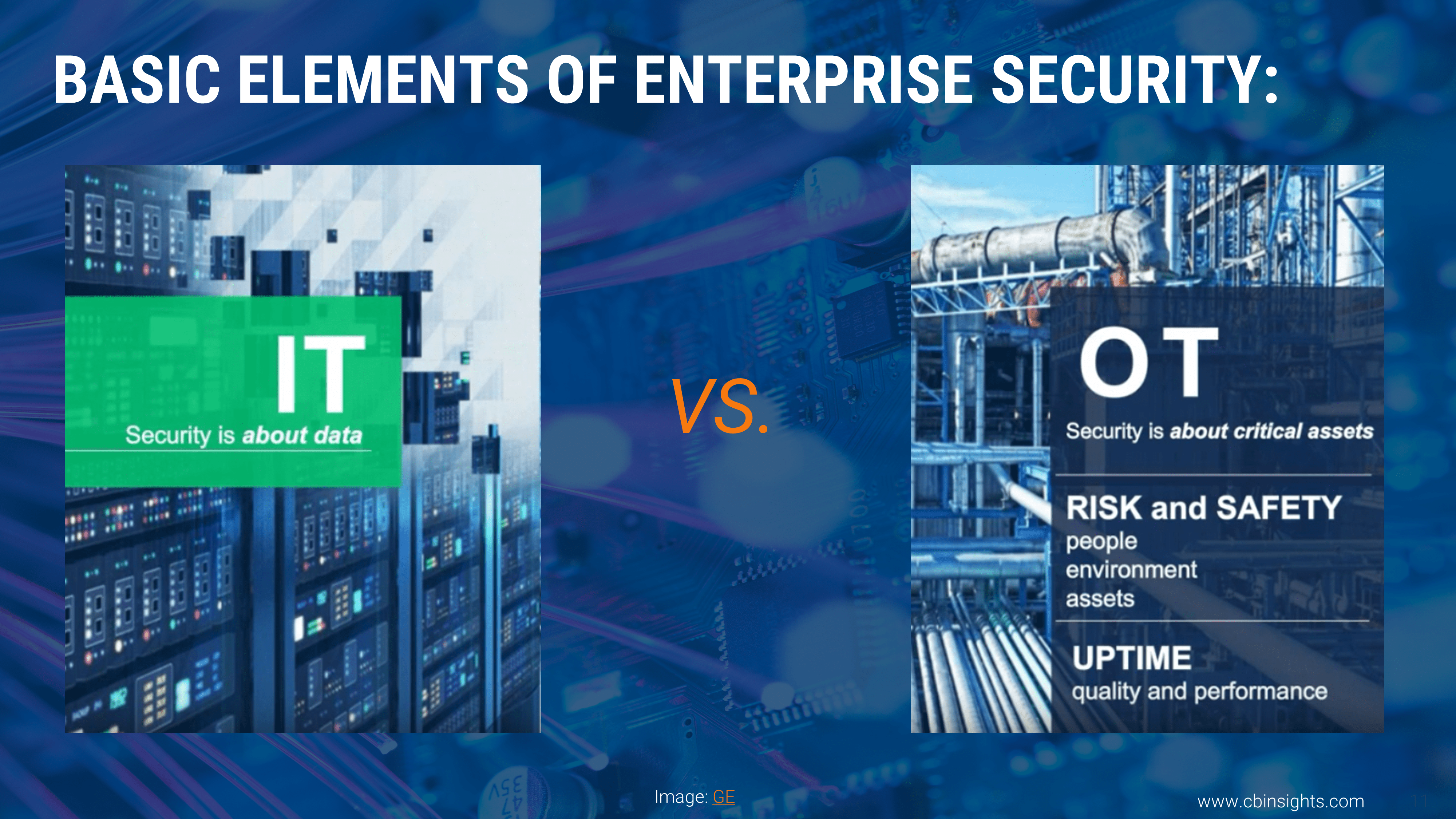 The basic elements of enterprise security are two-fold: securing information technology (IT) and operations technology (OT).
IT security is about protecting proprietary data and intellectual property.
OT involves securing critical physical assets such as connected manufacturing equipment, connected hardware in power plants, etc.
These two basic elements of enterprise security are in fact converging. More than ever, enterprises are connecting critical physical assets (OT) to generate real-time critical data (IT).
Connected hardware produces data which is then analyzed and used to boost performance, safety, and reliability in the enterprise. In particular, advanced manufacturing operations that leverage the industrial internet are at the forefront of this convergence.
Despite the convergence, though, creating tools to effectively secure IT and OT infrastructure for the connected enterprise means taking into account each elements' unique security challenges.
IT security is about preserving the confidentiality of critical data — the challenge is to prevent a network breach and subsequent exfiltration of information.

From an IT perspective, network endpoints such as laptops, smartphones, and other network connected devices are the enterprise's greatest vulnerability.

OT security is about maintianing the availability of critical systems — the challenge is to prevent the takeover and misuse or shutdown of connected infrastructure.

From an OT perspective, there are several particular vulnerablilities when it comes to securing critical infrastrucutre. Hackers can penetrate firewalls and takeover OT elements that include but are not limited to: programmable logic controllers (PLCs), remote terminal units (RTUs), human machine interfaces (HMIs), and supervisory control and data acquisition (SCADA) systems that if, left alone, put critical infrastructure at risk.
Funding trends: Investors ramp Up deals to startups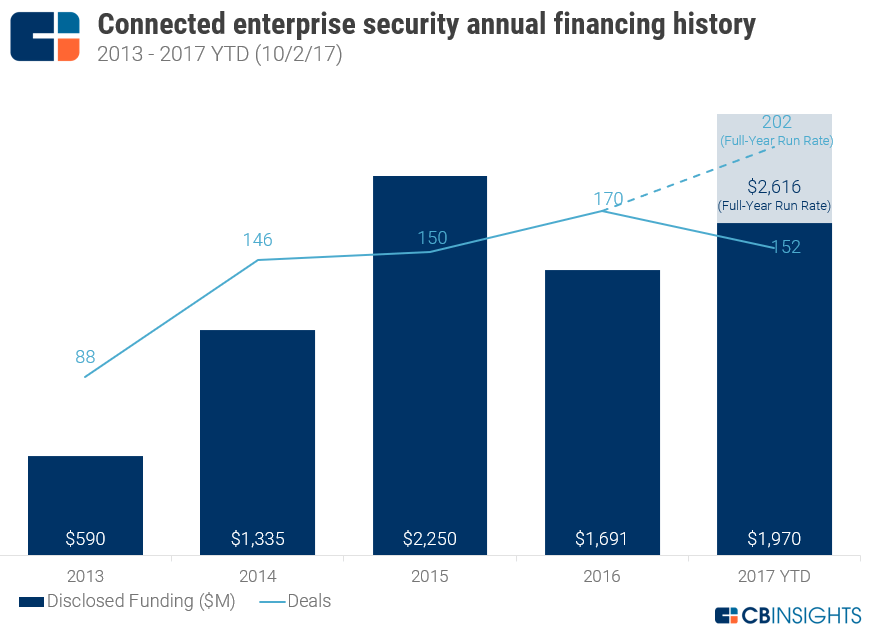 At the current run-rate, deals to connected enterprise security startups are on track to grow 19% over last year and funding is on track to hit an all-time high of $2.6B.
In 2017, late-stage deals to companies such as Illumio ($125M Series D) and Tanium ($100M Growth Equity) have bolstered the funding total.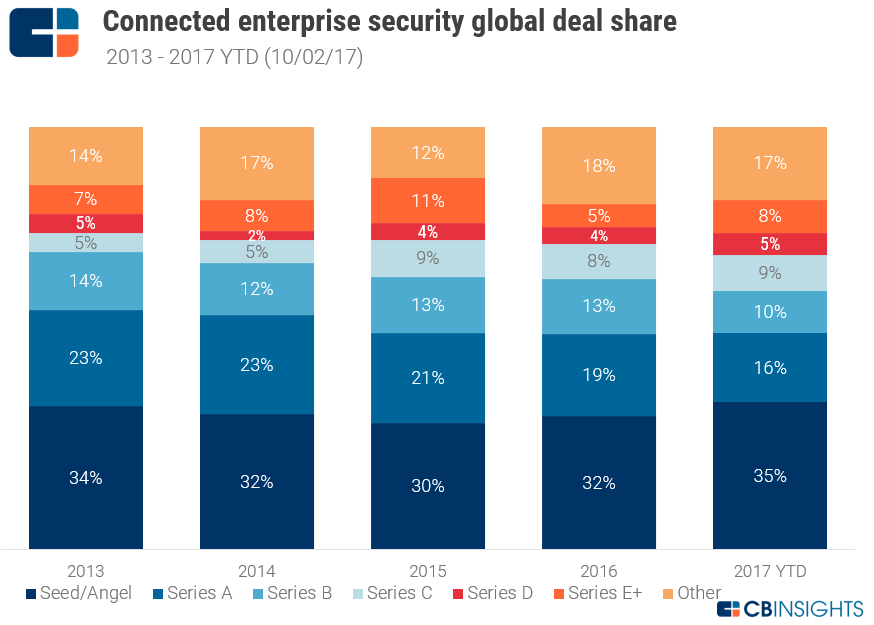 So far in 2017, 51% of the deals to connected enterprise security startups have been at the seed or series A stages, in line with last year. Overall, roughly 20% of deals have occured in the middle stage, and around 25% in the late stages, a breakdown that has held consistent since 2013.
Spotlight: Corporate Investment Activity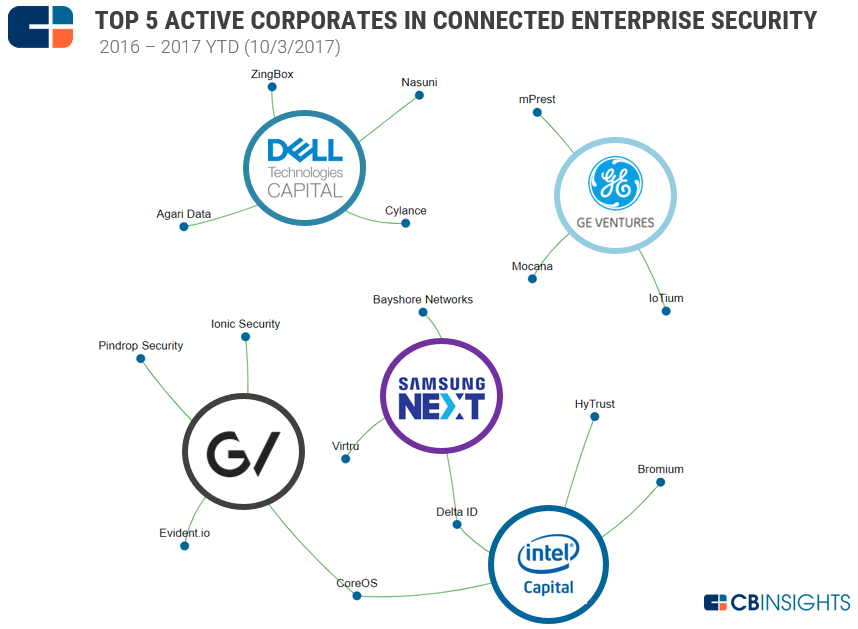 The most active corporate venture arms have some overlap in investments. CoreOS saw investment from both GV and Intel Capital, while Delta ID saw investment from Samsung Next and Intel Capital. Notably, Delta ID was acquired by the company Fingerprint Cards this year.
As expected, GE and Samsung's venture arms dabbled more than others into OT protection, whereas Intel, Google, and Dell have invested primarily on the enterprise IT side.
private market landscape
Included in the map below are some of the industry's most well-funded and most highly-valued companies, including Tanium, Lookout, and other cybersecurity unicorns valued at $1B+. ForeScout Technologies, featured below in the endpoint security category, recently raised $116M in an IPO.
Please click on the map to enlarge. The map is not meant to be exhaustive of companies in the space and the categories are not all mutually exclusive. More companies can be found in the Collection above.