Does candy have a chance in a wellness-focused world? Startups are using new ingredients, marketing tactics, and supply chain strategies to disrupt the industry.
In a wellness-focused world, does Halloween candy have a chance?
Traditional candy leaders have been fleeing the industry.
Nestle sold off its US candy business in January, partially due to competition from Hershey and Mars — but Hershey itself plans to focus more heavily on snacking, while Mars has focused investments on pet care.
Overall, discussion of candy on quarterly earnings calls has slid since 2014.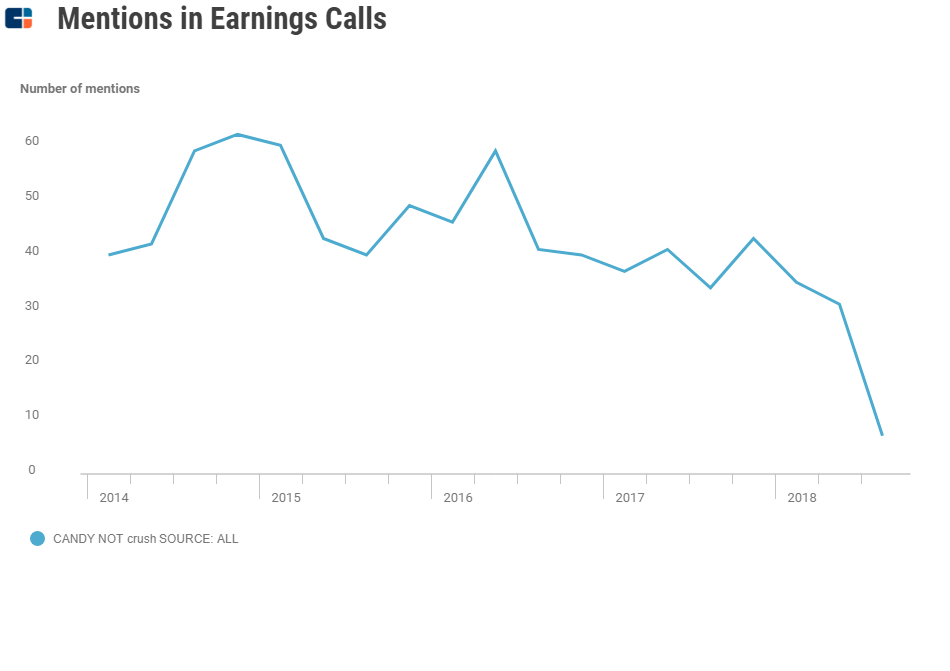 In the startup world, candy companies have raised roughly $479M since 2015 — that's less than half of what coffee startups will raise this year alone.
(Clients can check out candy funding here, and coffee funding here).
The world of candy may be shrinking, but it's also transforming.
Dozens of startups are using new ingredients, supply chain strategies, and marketing methods to try to reinvent the category.
And their time to shine is here – US Halloween candy spending is projected to hit $2.7B in 2018. We laid out 80+ candy startups in the market map below.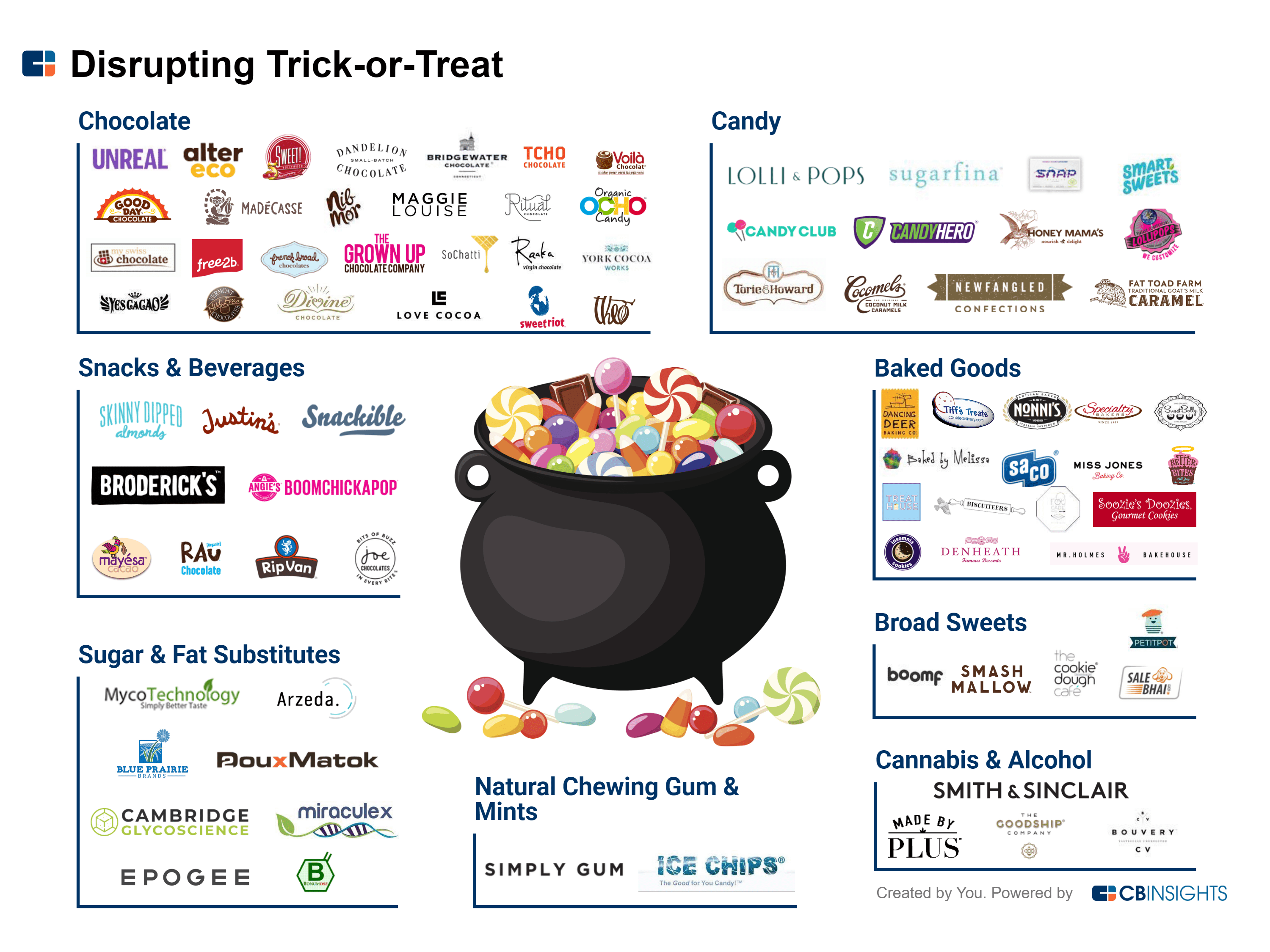 As we've discussed previously, there's a growing divergence between premium vs. healthy brands.
On one hand, some companies are doubling down on traditional candy by making it fancier than ever. Instead of talking about fat, calories, or sugar, they're emphasizing indulgence through:
Exotic ingredients like quinoa, turmeric, and chili
Natural and organic ingredients, making products feel healthier without changing their nutritional values
Promoting the stories behind the products, with farm-to-table foods, bean-to-bar chocolate, and ethical sourcing, to encourage the idea that buying these foods is good for the world. Sustainable chocolate sales grew +16% this year, compared to +5% growth in the full chocolate category, according to Nielsen.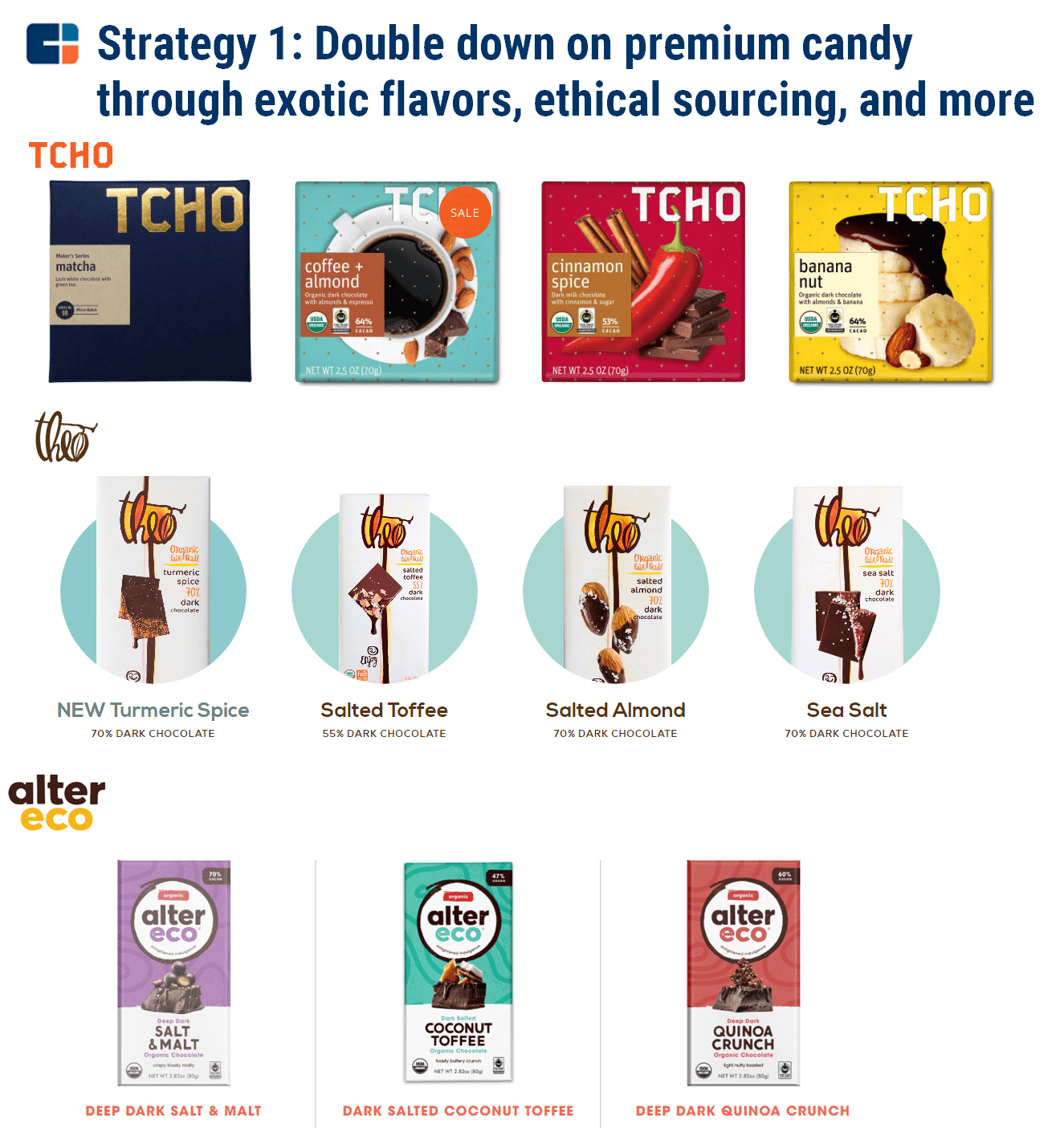 On the other hand, some companies aim to offer "guilt-free" chocolate using healthier formulations. Broadly, these startups tend to have fun branding, rather than luxury branding.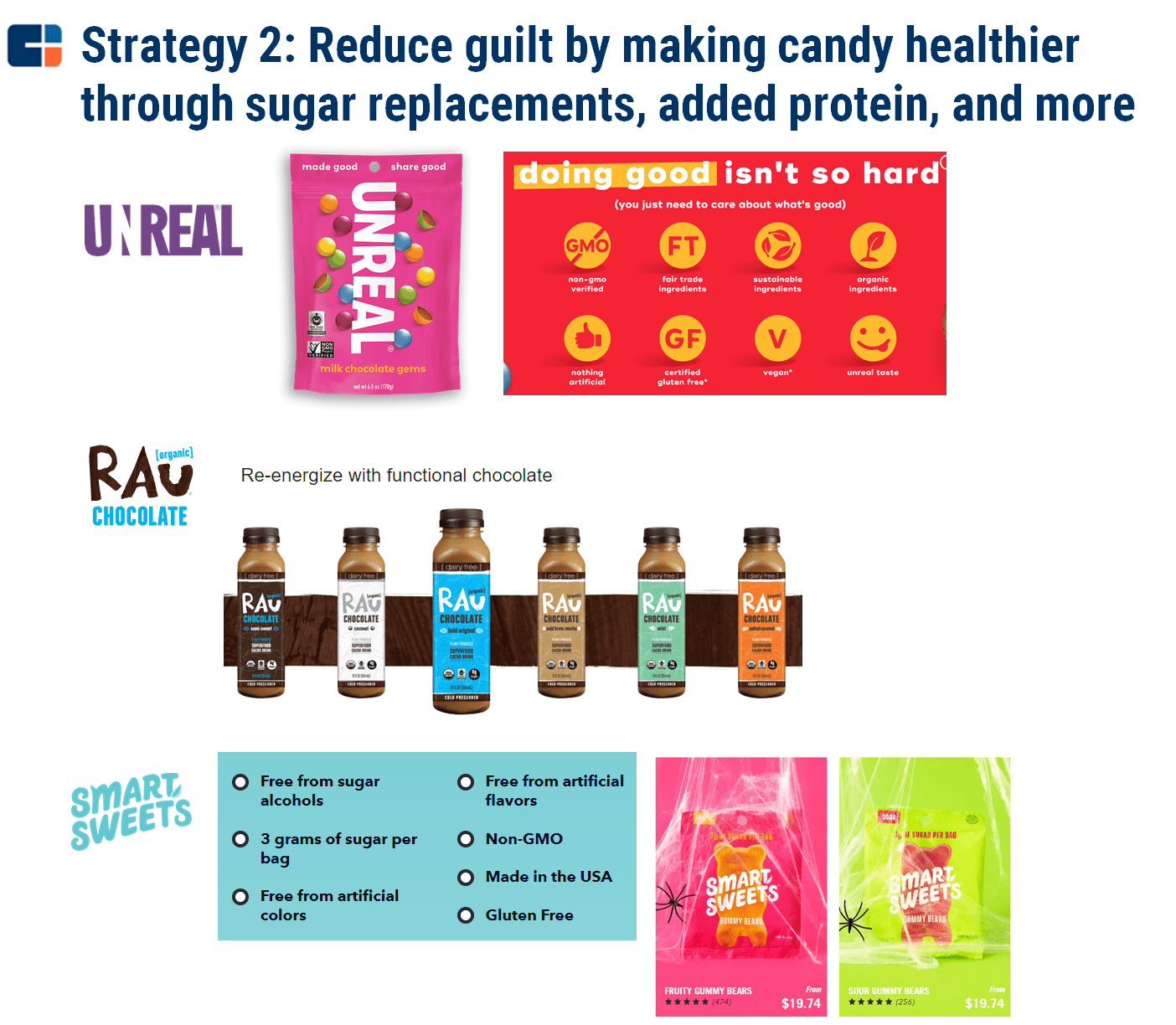 Just like in so many areas of life these days, the extreme ends of the spectrum — indulgence on one hand, health-consciousness on the other — are getting more extreme.
Among incumbents, famous truffle-maker Lindt highlights the divide. Its luxury brands, Lindt and Ghiradelli, have continued to grow, along with a recently launched line of reduced-sugar chocolates under its Russel Stover brand. Now, Lindt plans to invest $201M into expanding its US production facility.
What's next?
Looking forward, biotech advances could transform candy further. We see continued development with ingredients including:
Stevia — Extracted from a plant, stevia sweetener is 200x+ sweeter than sugar. Companies like Ingredion, Coca-Cola, and Tate & Lyle have been researching and rolling out new molecular formulas such as Reb M, Reb A, and Reb J.
Monk fruit — Based on an Asian melon, monk fruit extract is 150x+ sweeter than sugar. Startups like Rau Chocolate (above) have begun to use it, and in Feburary Unilever rolled out monk fruit-sweetened gelato.
Mushrooms — Startup MycoTechnology, backed by Kellogg's venture fund, uses mushroom molecules to create bitter blockers. By blocking bitterness, they help foods taste sweeter, and can allow sugar reductions of 40%+. MycoTechnology expanded into Europe last month.
Empty space — Is the future of candy… less candy? Nestle worked for years on a new sugar structure that is literally hollow — it still tastes sweet to the tongue but has less caloric mass. Nestle launched its first porous sugar product in March this year. Somewhat bizarrely, Xerox also applied for a patent this April on 3D printing hollowed-out chocolate, which would taste normal but have fewer calories.
Chocolate is always going to taste better than chickpeas; but, these innovations could help the candy sector adapt to a healthier world.
This content first appeared in our CPG Insights newsletter. Sign up here to get a weekly rundown on the top news & perspectives in CPG.
If you aren't already a client, sign up for a free trial to learn more about our platform.