Does Coinbase still move markets like it once did at the height of the crypto craze?
Analysts often point to Coinbase as a cryptoasset "kingmaker." In the past, cryptoassets listed on Coinbase's exchange have seen their prices and market capitalizations pop.
To illustrate, take the exchange's addition of bitcoin cash.
At around 7pm EST on December 19th, 2017, Coinbase surprised users by listing a fourth asset: bitcoin cash.
Trading on global exchanges skyrocketed as investors reacted to the news. A day after the announcement, bitcoin cash closed at $4,000 on some exchanges, up from around $2,200 two days earlier. Volume soared as well, from $2.5B on December 18th, to almost $12B on December 20th, an increase of 380%.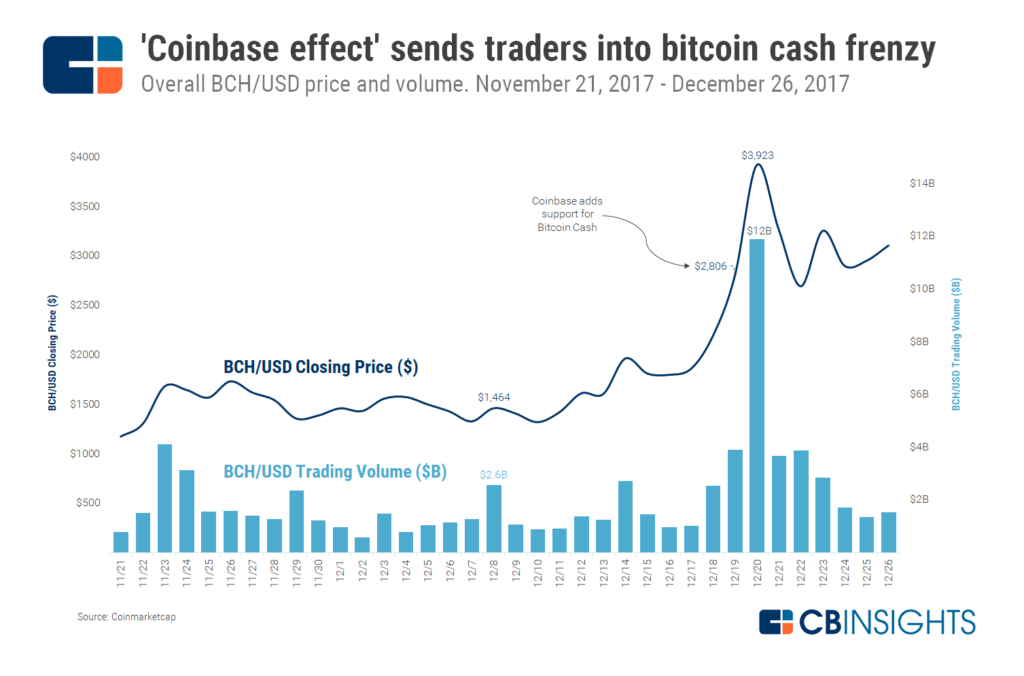 While just one instance, this event speaks volumes. Cryptoassets are difficult to obtain (especially in current market conditions), so an "accessibility premium" is often at play: when a cryptoasset is more accessible, it tends to rise in price.
Still, that was back in December – at the height of the crypto craze. Does Coinbase still command the same level of control over crypto markets?
Last week (on October 11th), Coinbase announced that it was adding ZRX to Coinbase Pro. ZRX is the token associated with 0x, which is a protocol that enables the decentralized exchange of cryptoassets. On October 16th, Coinbase added support for ZRX in its retail brokerage as well.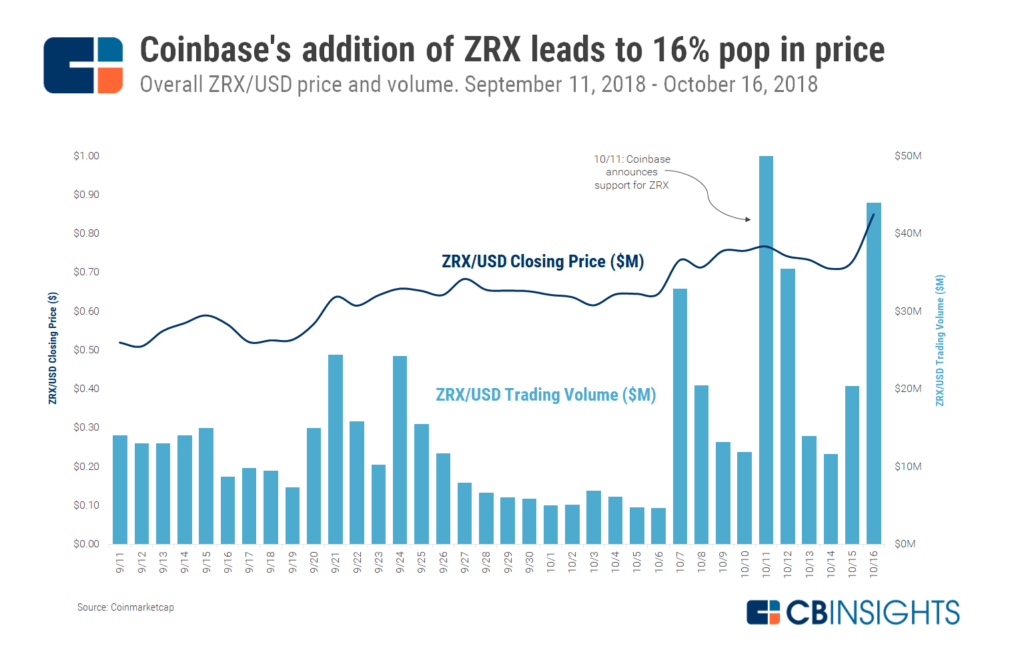 While volume across exchanges has jumped over the past week, it's all relative; volume closed at a modest $44M on October 16th (although trailing 24-hour volume on October 17th looks significantly higher than that), compared to upwards of $200M in volume during the market's peak, in January.
Meanwhile, the price of ZRX popped 16% on October 16th to close at $0.85, up from $0.73 at the close of October 15th. Again, it's relative; ZRX traded for a high of $2.37 in January.
According to the data, then, there's no question that Coinbase still holds a measure of influence in the cryptosphere. At the same time, the exchange's market position might erode due to increased competition and dampened speculative enthusiasm for the sector.
If you aren't already a client, sign up for a free trial to learn more about our platform.