More than 10 insurers ranging from Allstate and Progressive to Selective and Erie have mentioned telematics on earnings calls. Here's what they're talking about.
Telematics, or the use of an app or device to track a driver's behavior in real-time, has been a hot topic on corporate earnings calls over the last two years, and insurers are increasingly starting to add to the discussion.
Since the start of 2017, there have been over 830 mentions of telematics on earnings calls.
But insurers are not among the companies that most frequently mention the topic. According to the data, that distinction goes to firms with telematics business units such as Verizon and TomTom.
Over the same period, however, more than 10 insurers have mentioned telematics or their specific telematics programs in corporate earnings calls, indicating that driving apps are becoming a bigger strategic priority for management teams across the industry.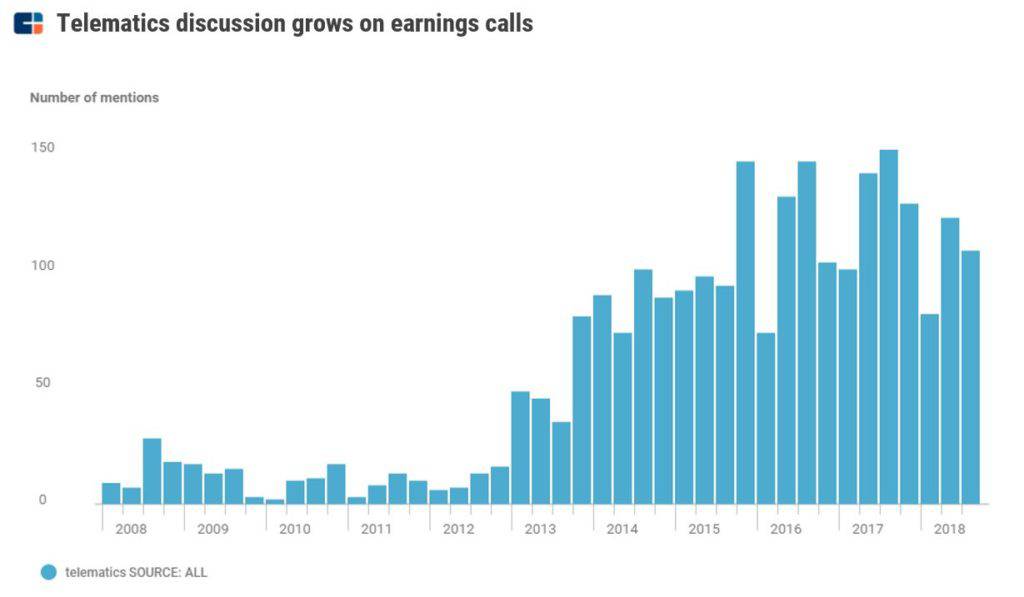 Why is telematics becoming more of a focus?
Telematics-based underwriting is appealing to insurers for a few reasons, including the possibilities of:
Attracting better risks as "good" drivers lean more toward telematics
Increased customer engagement and safety
More sophisticated claims handling around accident reconstruction and fraud tracking
More accurate and agile underwriting in light of trends such as distracted driving and ongoing marijuana legislation
On its most recent earnings call, Allstate CEO Thomas Wilson said he believed telematics will be the biggest underwriting breakthrough since credit scoring:
"I believe that, in the future, (telematics) will be the primary driver of insurance pricing in auto insurance, because it's every bit as powerful as credit and those who have been hanging around auto insurance like I had for a while credit, sort of, ripped through the industry and pricing in the early part of the 2000 and this is a little harder to implement because it requires the customer to do something rather than just buying data from TransUnion or some like that, but it's equally as powerful. So, it will happen."
To date, penetration of telematics in the US auto insurance industry has been slow with estimates of the total number of connected drivers in North America at 5%.
The use of telematics by insurers is also bifurcated, with a couple carriers such as Progressive and Allstate maintaining a data lead over other programs in the industry.
Progressive, for example, has collected 1.5B billion miles of driving data via the Progressive Snapshot mobile app. It is is piloting a new underwriting algorithm for mobile customers that includes variables related to distracted driving, with plans to roll out the algorithm to more states in 2019.
Allstate, meanwhile, says it is collecting almost 9 billion miles of driving data per month through its Arity unit.
Current telematics-based programs are largely promoting cost savings for policyholders at renewal. Progressive's Snapshot, for example, asks drivers to get a quote first and then drive with the Snapshot app or plug-in device for the entirety of the first policy period before the possibility of earning discounts.
A challenge for growing penetration is whether agents will be able to effectively sell telematics-based policies. Startup challengers such as Root Insurance, which was recently valued at $1B, are hoping to pick off strong risks by tracking users with the Root app first, and then offering a potentially discounted quote afterward. The Root app currently ranks at #56 in the "Finance" category of the App Store.
Which insurers are mentioning telematics on earnings calls?
Using CB Insights' Earnings Transcript Search Engine, we identified 13 insurers that mentioned telematics or their specific telematics programs on earnings calls since the start of 2018.
Insurers talking up telematics on earnings calls range from first-movers such as Allstate and Progressive to carriers in pilot phase such as Selective and Erie Insurance.
| Carrier | Telematics Program | Quotable |
| --- | --- | --- |
| | Selective Drive | "We expect that, over time, this service which is currently offered free of charge to customers, will add business value for our customers, while also leading to improve driving behavior." |
| | YourTurn | "To-date more than 5000 drivers have registered for the smartphone app in our pilot states of Ohio and West Virginia. From early results, we're seeing the customers who choose to register have better loss ratios than others." |
| | IntelliDrive | "We're excited about…further expansion of our IntelliDrive auto telematics program." |
| | State Auto Safety 360 | "You'll see us continue to have I think a lot of success with telematics, which has worked very well for us in a personal line side and we have very high expectations across commercial lines as well." |
| | Smart Wheels | "We remain one of the leaders in the young drivers telematics market with strong profitability also." |
| | DriveWise/MileWise | "You should expect the penetration (of telematics) to go up over time, we're pushing hard at it." |
| | my Driving | "The app will also integrate our latest telematics offer, which is also very popular with our customers. We see mobile users engage with us more than twice as often as users of other digital platforms." |
| | Progressive Snapshot | "What I can say is that when our customers who have driven with us and have a Snapshot device get a surcharge, often times they leave, which means that we're going to price them right, which is a high price." |
| | N/A | "Telematics alone is really not as powerful or isn't nearly as powerful as telematics coupled with facial recognition or other methods of identifying distraction." |
| | Bell Car Insurance | "Bell is now a telematics-only brand that we sell via price comparison and it's helping Admiral to stay as a telematic leader in the market." |
| | N/A | "We began working with the selected automobile accounts to implement a net-based telematic solution to monitor and prevent distracted driving practices by insured drivers." |
| | N/A | "What we're going to clearly have to do over the course of the next couple of years is play some catch up on it." |
| | SafeTeen | "The (telematics) program complements our account strategy, enabling us to meet the needs of our customers in the many stages of their life cycle." |
Which telematics vendors are insurers using?
When we look at which vendors the insurers that have mentioned telematics on earnings calls are partnering with for their telematics programs, a few are more commonly used than others.
Specifically, multiple insurers are using TrueMotion, a Boston-based mobile telematics startup that most recently partnered with The Hanover to roll out a teen driving rewards program.
Cambridge Mobile Telematics, another Boston-based mobile telematics vendor, is also used by multiple insurers and recently partnered with Erie Insurance for its young drivers program.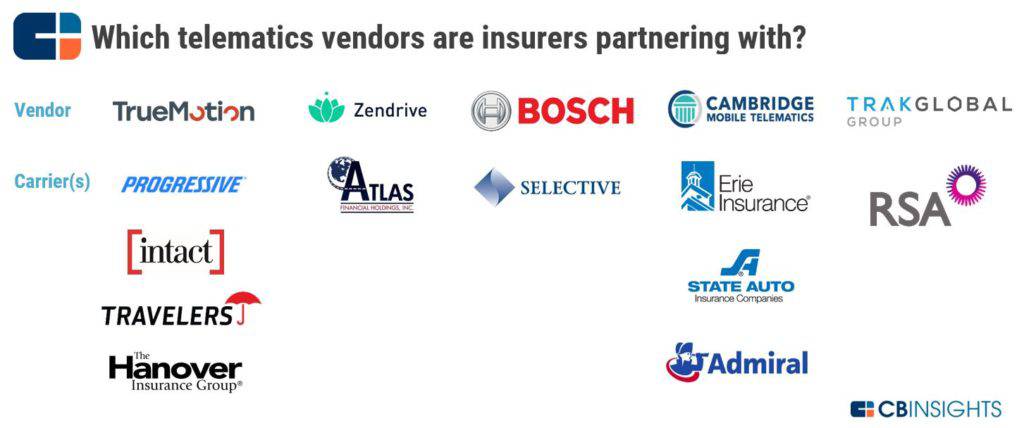 If you aren't already a client, sign up for a free trial to learn more about our platform.