The Post-Covid World
While telehealth has boomed during Covid-19, the trend was already taking off before the pandemic. From reduced costs to increased access, here's how telehealth could improve the healthcare system.
Due to Covid-19, in-person healthcare visits have been reduced or eliminated — but the doctor's office has been ripe for disruption for years.
Primary care and specialist visits in the US can be expensive, difficult to book, and often require wait time. For patients who are ill, the inconvenience of actually finding, booking, and going to the doctor is significant. For someone who is undiagnosed, a trip to the doctor may not even be relevant in the end.
Telehealth, which spans from video consultations to remote patient monitoring, has the potential to make healthcare more convenient and accessible while cutting costs and increasing revenue for providers and payers. The industry itself is worth an estimated $81B.
Below, we take a look at some of the benefits of telehealth — like improving wait times in the ER, reducing infection risk, and creating new revenue streams for hospitals — while also covering barriers the industry has yet to overcome.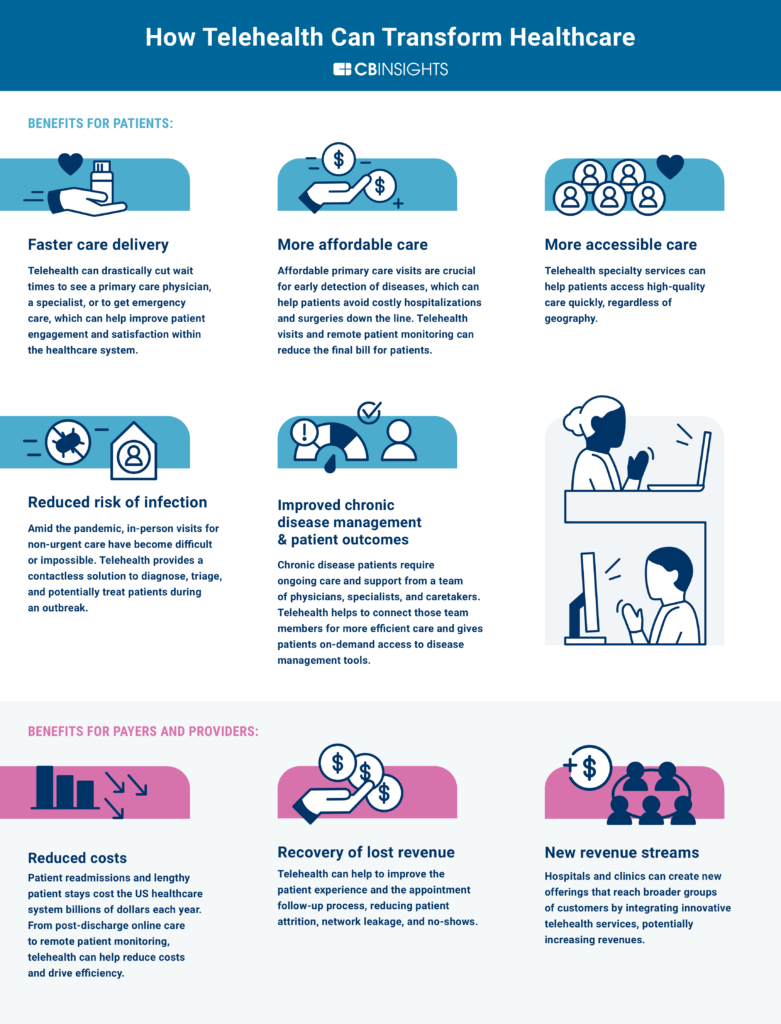 Table of contents
How telehealth benefits patients
How telehealth benefits payers and providers
How telehealth benefits patients
A large portion of the US population has at some point struggled to receive timely, high-quality healthcare.
Telehealth is addressing these pain points by giving people access to faster treatment at potentially lower rates, especially rural residents, the elderly, and those with disabilities who may face difficulties reaching a physician.
The convenience and accessibility of telehealth have played a critical role in delivering care during the Covid-19 pandemic, which has rendered in-person visits for non-urgent care difficult or impossible.
Faster care delivery
In the US, long wait times and overcrowded clinics pose obstacles to timely healthcare access.
The average wait time to see a physician for the first time was 24 days in 2017, a 30% increase from 2014. This problem may only get worse given an aging population — with the number of seniors in the US set to reach 80M by 2040 — and a shortage of doctors. It's estimated that this shortage will grow to 122,000 physicians by 2032, according to the Association of American Medical Colleges (AAMC).
Telehealth has drastically cut wait times to see a primary care physician, in some cases turning weeks into minutes. Telehealth providers can improve the speed of care delivery through online primary care, faster emergency triage, and online specialist access.
Online primary care
Primary care providers are an essential part of the healthcare system, making up 56% of all physician visits.
However, the number of primary care physicians is in decline. The AAMC predicts a shortage of up to 55,200 primary care physicians by 2032. In turn, physicians are backlogged, resulting in increased wait times and potentially decreasing the quality of doctor-patient relationships.
Telehealth providers aim to reduce that backlog through virtual primary care appointments. For example, telehealth company Amwell enables primary care physicians to meet patients by audio or video within 30 minutes of requesting an appointment after completing a short questionnaire. Similarly, 98point6 offers a text-based service that allows patients and doctors to communicate asynchronously throughout the day.
These services not only reduce wait times and make it easier to schedule appointments, but they also help patients receive ongoing care with convenient check-ins.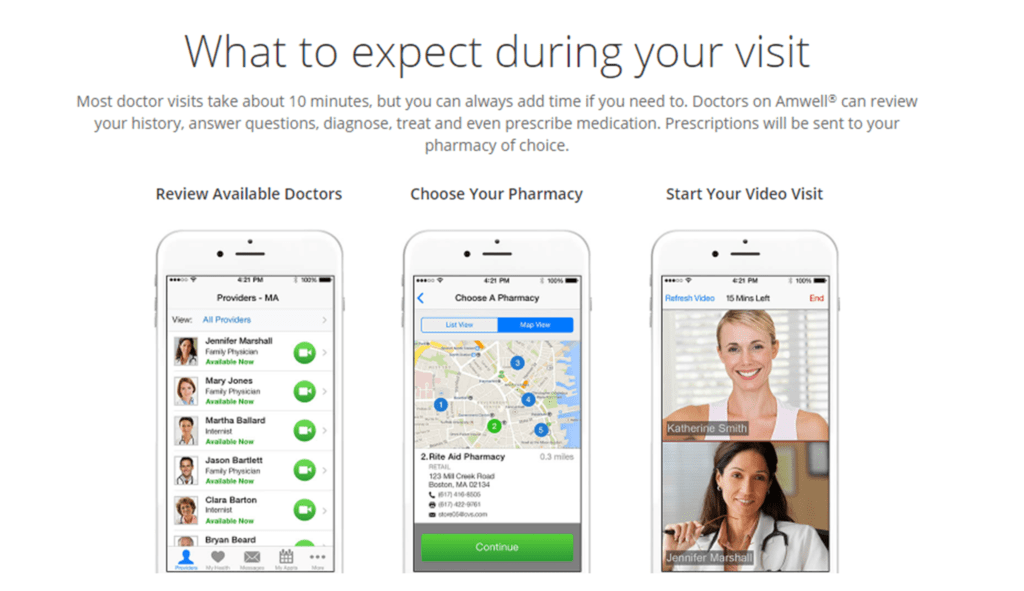 Source: Amwell
Emergency triage
Telehealth may help to drastically improve the speed and efficiency of the emergency department (ED). The average wait time in an emergency room can be up to several hours, exacerbated by the large proportion of cases in which emergency care isn't necessary. Overcrowding and delays can be deadly to patients who require immediate attention.
Various telehealth providers including Amwell and Galileo Health offer on-demand urgent care services that help physicians assess whether or not the patient requires immediate attention, preventing unnecessary visits and reducing the strain on emergency departments.
Telehealth can also be deployed on site to streamline processes and focus care on the most critical patients. In recent years, the NewYork-Presbyterian hospital has used its telehealth-based Express Care Service to funnel low-need patients to a separate room where they can see an ER physician over video.
This has helped slash ER wait times drastically — from over 2 hours to 35 minutes — while improving care for those with more urgent needs.
Specialist access
Telehealth can also cut the wait time to see specialists.
Normally, referrals to specialists involve months of waiting, additional expenses for patients, and travel. To make matters worse, a large portion of referrals end up being unnecessary — up to 40% for some conditions.
Video consults allow primary care physicians to meet with specialists online and assess whether a separate visit is necessary for a patient. Specialists using video consults can reduce their workload by resolving issues at the primary physician level and can treat patients more efficiently by getting involved earlier on.
The technology has helped the Los Angeles County Department of Health Services reduce specialist wait times by 17% and resolve a quarter of video consult engagements between primary care physicians and specialists without a follow-up visit.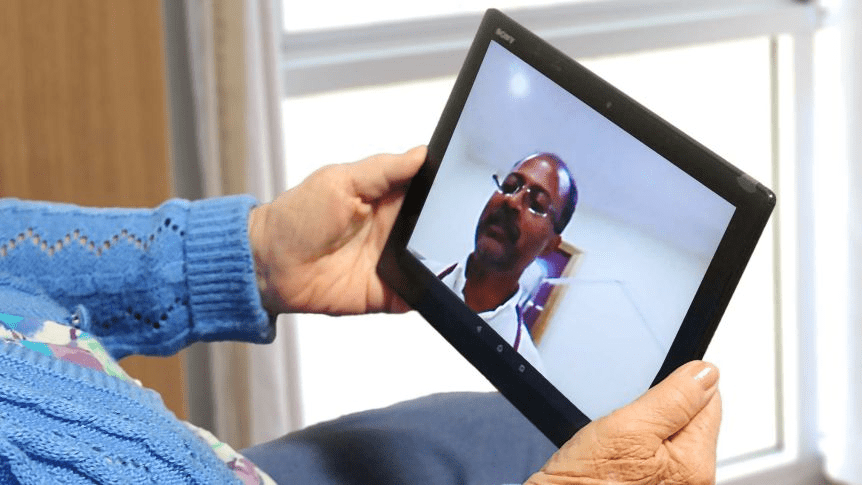 Source: abc.net.au
More equitable care
The rising cost of healthcare and a shortage of healthcare professionals are fueling health disparities in the US.
Total healthcare expenditure in the US reached $3.6T in 2018, and is projected to grow at a rate faster than the overall GDP.
As preventative care and treatments become more expensive, the gap between the health of higher- and lower-income Americans may widen further.
A nationwide shortage of health professionals is disproportionately affecting rural residents. Rural Americans have less access to health professionals and are more likely to die from preventable causes than urban Americans.
Telehealth can pave the way for more equitable care by improving affordability and access. Telehealth visits and remote patient monitoring can reduce the final bill for patients, while outsourced telespecialty can help patients access high-quality care quickly and regardless of geography.
Preventative care
Affordable primary care visits are crucial for early detection of diseases, which can help patients avoid costly hospitalizations and surgeries down the line.
Telehealth drives down costs of primary care by allowing providers to more efficiently manage patient flow and reduce fixed costs such as waiting rooms and administrative staff.
Whereas a primary care visit can cost around $176 for those without insurance, an online visit costs $40-50 on average, according to a Red Quill Consulting study. With insurance coverage, this can drop down to $10-20.
Nearly a quarter of Americans have skipped care due to cost. The lower prices associated with telehealth visits may encourage patients to engage in preventative care or consult with a doctor when the need arises to avoid a much bigger bill in the future.
Improved outcomes
Telehealth can also lead to improved patient outcomes, including shorter hospital stays and lower likelihood of readmission, which contribute to an overall reduction in costs for the patient.
In inpatient settings such as the ICU or progressive care units, telehealth can be used to collect patient data, record movements such as seizures, and alert physicians, enabling quicker interventions and informed judgments. Use of tele-ICUs has been linked to decreased complications, length of hospital stays, and costs.
Telehealth can also improve outcomes for patients once discharged. Remote patient monitoring enables physicians to continue to care for patients from afar and intervene with appropriate instructions or medication to avoid expensive readmission.
Wearables startups like mHealth and TytoCare allow for continuous or periodic collection of patient data, while companies like LetsGetChecked and Scanwell Health enable remote testing and labwork. Remote patient monitoring tools like these have been shown to reduce readmission rates among cardiac patients by about a third.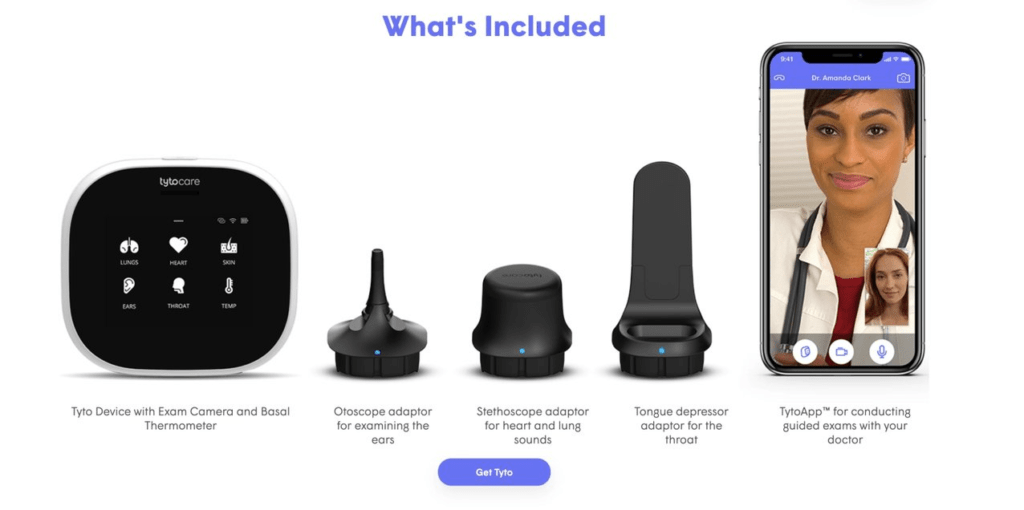 Source: TytoCare
Outsourced telespecialty
Regional hospitals suffer from a shortage of healthcare specialists: There are only 30 specialists per 100,000 rural residents, compared to 263 for urban residents, according to the National Rural Health Association.
As a result, rural patients are often transferred to an urban hospital sometimes hundreds of miles away to receive necessary care. This is not only expensive and time-consuming, but also potentially deadly, especially in urgent cases.
Telespecialty providers like SOC Telemed and RubiconMD allow regional hospitals to build their own telespecialty programs using outside specialists without needing to hire their own. Often, these specialists can be involved in a case within 24 hours.
Through outsourced telespecialty, patients save on expensive, potentially risky travel and receive care in their communities. Providers benefit from increased collaboration, which lays the foundation for higher-quality care.
For instance, the Cleveland Clinic has used telehealth to deliver neurological care to regional hospitals in Ohio, Pennsylvania, and Florida. Telemedicine carts were deployed to enable physicians to interact with patients remotely. Epilepsy monitoring beds were installed to track patients' brain activity and record movement during seizures, equipping physicians with data for informed decisions.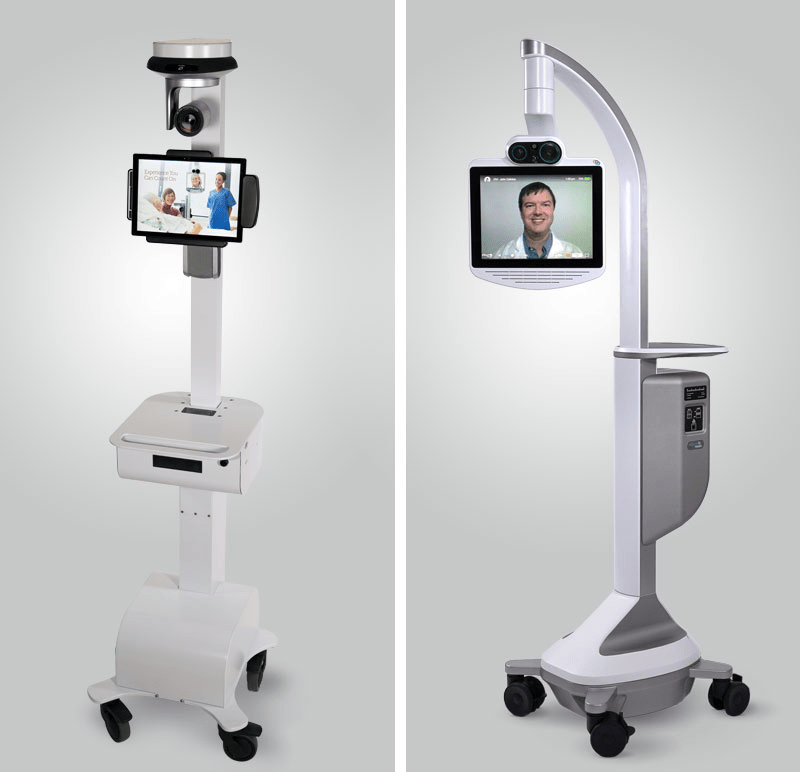 Cleveland Clinic's telemedicine robot carts. Source: InTouch Health
Reduced risk of infection
Covid-19 has demonstrated how infectious outbreaks can overwhelm hospitals and expose patients and healthcare providers to danger.
During the height of the pandemic, patients with Covid-19 symptoms formed long lines in front of hospitals, increasing the risk of transmission. Facilities experienced a shortage of ICU beds, personal protective equipment (PPE), ventilators, and staff. Widespread testing shortages left communities in the dark about infection rates, allowing for rampant spread.
Telehealth provides a contactless solution to diagnose, triage, and potentially treat patients during an outbreak. Practices implemented in response to Covid-19 could provide a model for how to contain outbreaks in the future.
Telehealth-based triage
Televisits help reduce unnecessary visits to hospitals and clinics by letting physicians screen and triage patients before they arrive at the hospital. If symptoms and risk factors aren't serious enough to warrant hospitalization, patients are treated at a distance, keeping infections contained in local communities.
In a critical care setting, tele-ICU technology helps maximize ICU capacity by enabling a small team of intensivists to monitor and care for up to 150 patients in remote hospitals. For example, platforms like Advanced ICU Care enable care providers to monitor patients around the clock and get automated alerts in case of complications. By enabling quicker interventions, Advanced ICU Care helps providers reduce ICU bed days, increase inpatient capacity, and save more lives.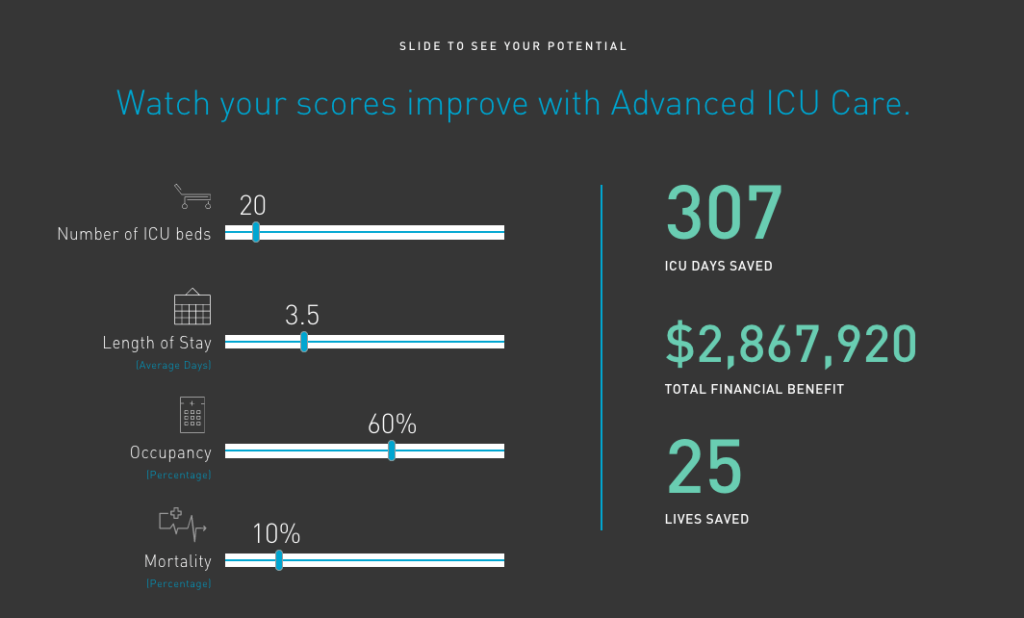 Source: Advanced ICU Care
Improved chronic disease management
Chronic disease management is one of healthcare's biggest challenges.
Chronic diseases constitute 4 of the 5 leading causes of death in the US and drive nearly 75% of total healthcare spending. Nearly half of Americans have at least 1 chronic condition, and this situation is projected only to get worse. Effective chronic disease management is therefore a priority to save lives while keeping costs from spiraling out of control.
Because chronic diseases progress slowly over time, patients require ongoing care and support from physicians, specialists, and caretakers to manage their conditions, respond to anomalies, and take appropriate steps to improve their health.
Telehealth enables more efficient team-based care, which can lead to more effective chronic disease management. Telehealth also empowers patients to actively manage their conditions by giving them on-demand access to guided therapies and educational resources.
Team-based care
Because chronic diseases are complex and constantly evolving, team-based care is necessary to involve diverse perspectives and relevant expertise throughout the disease's various cycles.
Team-based care involves the collaboration of 2 or more healthcare providers that work together toward a shared vision of recovery for a particular patient. The patient is often also a part of the team and has a say in which treatments should be applied.
Telehealth can facilitate this collaboration. Primary care physicians, for example, can use video consults to bring in specialists. Remote patient monitoring can be used to centralize and disseminate patient information to the team of providers working toward the patient's recovery.
Ongoing care
Each chronic disease progresses differently depending on the patient, so it's crucial for patients to stay engaged while managing their conditions. This means that they need to understand when symptoms warrant a hospital visit and which habits and lifestyle changes they need to adopt.
Guided therapy tools can help patients stay informed and engaged in managing their chronic conditions.
For instance, Livongo and Omada Health have programs for patients with conditions such as diabetes and hypertension. Patients enrolled in Livongo's diabetes management program receive reminders and educational information to help them keep their blood sugar levels within target limits. Their data is forwarded to physicians, and patients receive a check-in text or call when the blood sugar level is too high or low.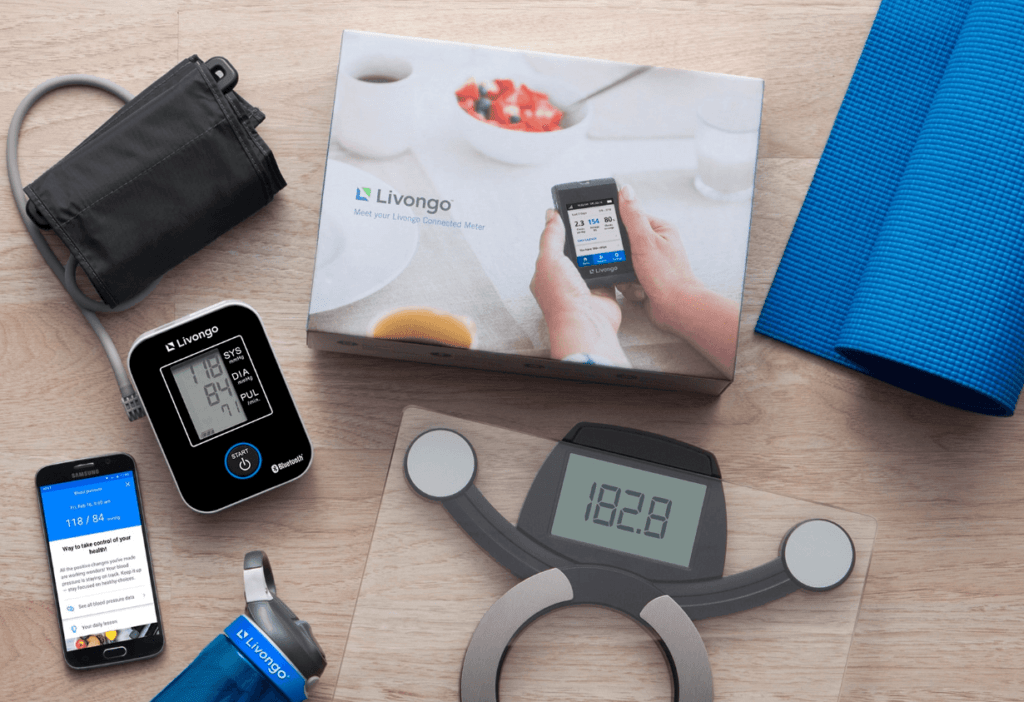 Source: Livongo
Compared to the irregularity of in-person visits, the continuous care provided by telehealth tools can offer a more effective and less expensive way of managing chronic diseases. By checking in regularly with their physician and receiving feedback, patients can stay engaged in their treatment and take a proactive role in improving their health.
Value-based care
Under the traditional fee-for-service (FFS) reimbursement model, providers are reimbursed on the quantity of treatments rather than the quality.
Critics say this incentive structure results in overpriced treatments that aren't necessarily tied to better outcomes. This can be especially detrimental to chronic disease patients who may require frequent visits, labwork, and hospitalizations.
An alternative is the value-based care model, which offers a way for these patients to reduce medical costs while receiving higher-quality care.
The value-based care model rewards providers on quality benchmarks such as readmission rates, patient safety, and patient satisfaction. Under this model, providers are incentivized to be cost-effective while focusing on positive patient outcomes.
This type of care is only possible through efficient coordination and sharing of patient data. Telehealth can offer a secure, straightforward way for this collaboration to happen by providing chronic disease patients with comprehensive care, smaller bills, and better outcomes.
How telehealth benefits payers and providers
Healthcare providers and insurers are taking a hit amid the pandemic, with high costs and stagnant revenue streams. This isn't new — the precarious financial situation has caused many rural hospitals to close over the past few years, and many more to reduce their services.
This is further exacerbated by costs like hospital readmissions and appointment no-shows.
Telehealth has the potential to curtail unnecessary spending and recoup lost revenue by making some processes more convenient and effective. It can also create new revenue streams by reaching a wider audience and unlocking new offerings.
Ultimately, these efforts can help providers and payers improve their bottom line.
Reduced costs and enhanced efficiency
Inefficient healthcare practices cost the healthcare system billions of dollars each year, in turn driving up healthcare costs for patients.
Avoidable readmissions cost Medicare $17B annually, and unnecessary ED visits cost UnitedHealth Group, the world's largest health system by revenue, $32B each year.
Research shows that over 20% of hospital beds are being misused, draining hospital resources and exposing patients to higher risks.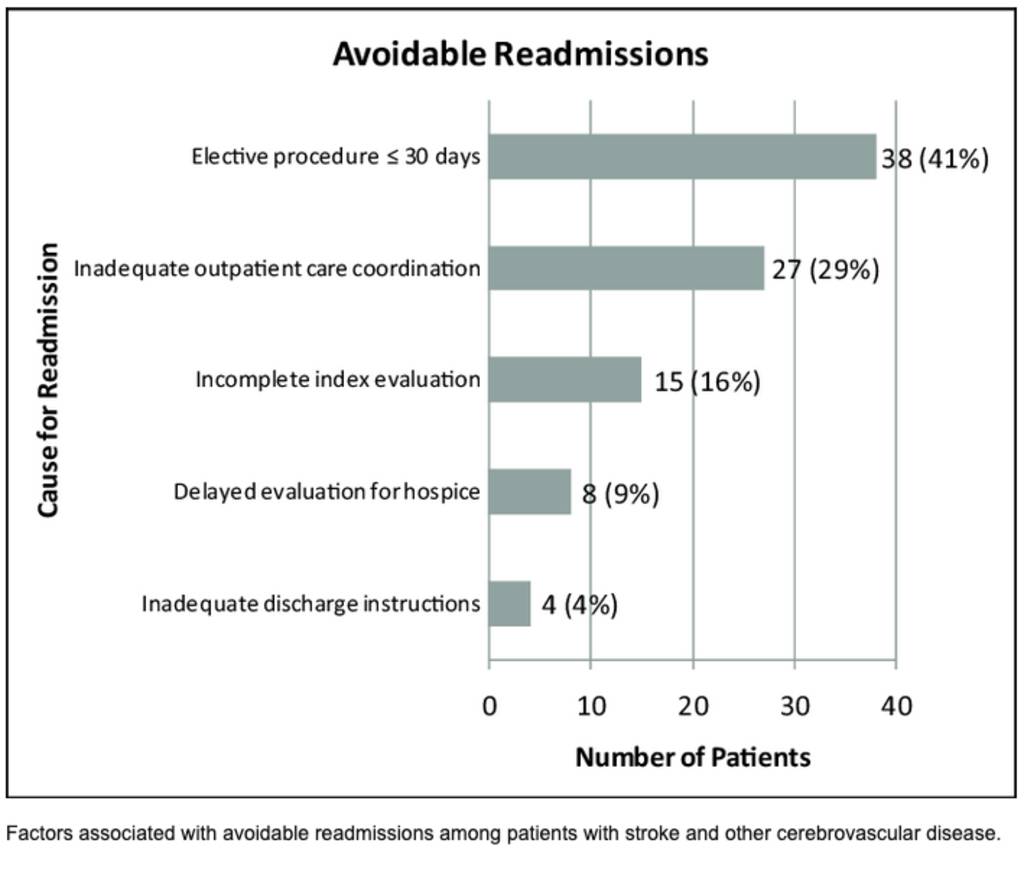 Source: ResearchGate
Telehealth can enable efficient care coordination essential to eliminating these avoidable costs.
The convenience of televisits and guided therapy apps allows patients to get the information they need to manage their condition and avoid in-person visits. Remote patient monitoring can be used to transfer stabilized patients out of the hospital more quickly without compromising the level of care.
Post-discharge care
Telehealth services such as televisits and remote monitoring can reduce readmission rates and unnecessary ED visits by facilitating ongoing care for discharged patients.
Providers can use televisits to follow up with patients within weeks of discharge to address any concerns or confusion. Guided therapy tools from companies like Livongo, Ginger.io, and metaMe Health can give patients continuous feedback on their condition and resolve minor problems. These tools also help physicians detect early warning signs and prevent complications that warrant readmission or an ED visit.
For instance, behavioral health platform Ginger.io aims to help mental health patients understand and manage their conditions.
Patients have access to a team of mental health coaches and therapists at any time via text, call, or video. If necessary, these coaches and therapists can escalate matters to a licensed psychiatrist who can intervene to prevent an ED visit or re-hospitalization.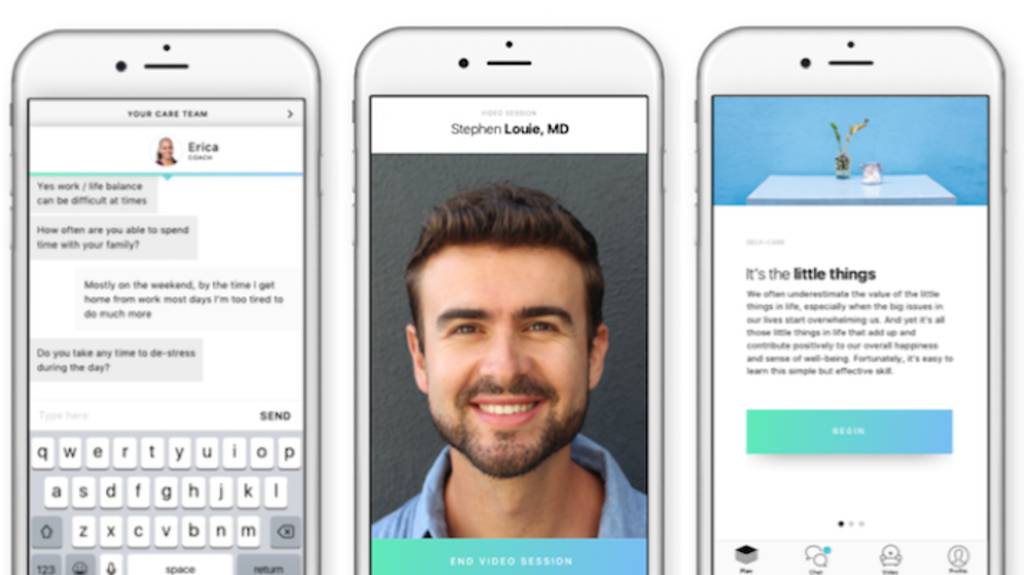 Source: Ginger.io
Telehealth integration has produced tangible results across various patient conditions. One study reported an 86% reduction in readmissions among veterans with PTSD, and another saw a reduction of up to 25% among cardiac patients. One health system was able to reduce ED visits by 11% by using a telemedicine triage kiosk to filter patients.
Inpatient care optimization
Unnecessary patient hospital stays are not only a drain on hospitals' resources, but also a risk for other patients.
Telehealth can reduce unnecessary patient stays by transferring non-acute patients to their homes, where they can continue receiving appropriate care.
For instance, Biofourmis' AI-based remote patient monitoring technology allows stabilized cardiac patients to continue to be cared for at home. Its wearable armband monitors patient vitals 24/7, detects cardiac abnormalities, and alerts clinicians on potential intervention measures.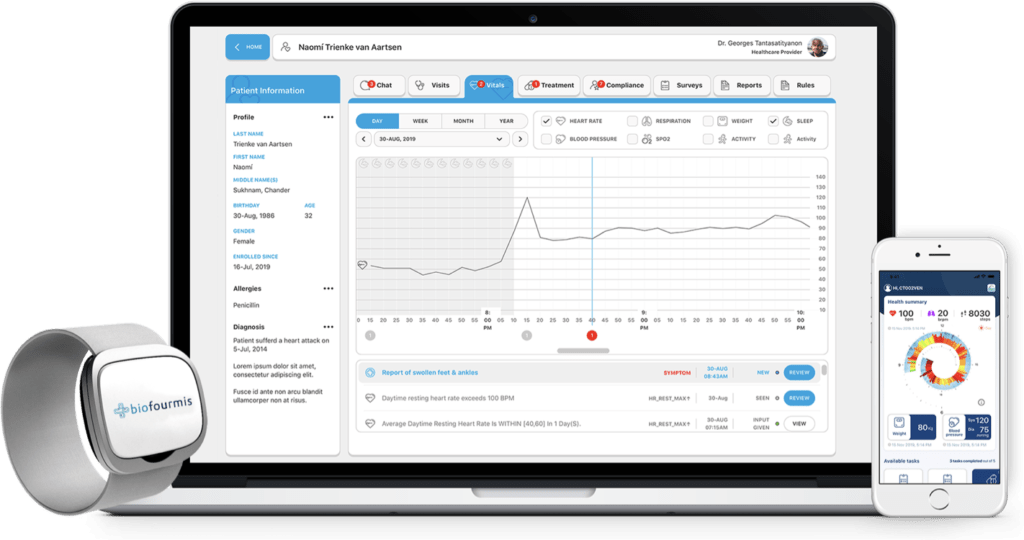 Source: Biofourmis
Technologies like these can reduce strain on hospital inpatient facilities and curtail unnecessary admissions.
Shorter hospital stays, as well as reduced hospital admissions, can create savings for health systems. The Veterans Health Association, an early adopter of telehealth, saved an estimated $1B in 2012 thanks to a 25% reduction in hospital stay length and 19% reduction in hospital admissions.
Lost revenue recovery
Patient attrition, network leakage, and no-shows represent areas of missed opportunities that could boost hospital revenues by millions each year.
Hospitals and clinics lose on average 17% of their customers per year. Cutting down attrition rates can help boost revenues while saving on acquisition costs. Reducing no-shows can also amount to significant savings: Missed appointments cost the industry up to $150B a year. Patient leakage, which occurs when patients go out-of-network, costs providers and payers around 10% of annual revenue.
Many of these missed revenue opportunities occur because in-person visits are inconvenient — they involve long wait times, travel, and other expenses that can discourage patients from attending. This is especially true for lower-income patients and patients in rural areas.
Telehealth can help hospitals and clinics capture these instances of lost revenue by improving the experience of a healthcare visit.
Telehealth can help to improve the patient experience — thus boosting patient retention — and the appointment follow-up process, thus reducing no-shows. It can also make the referral process quick and simple, improving the chance the patient will stay in network.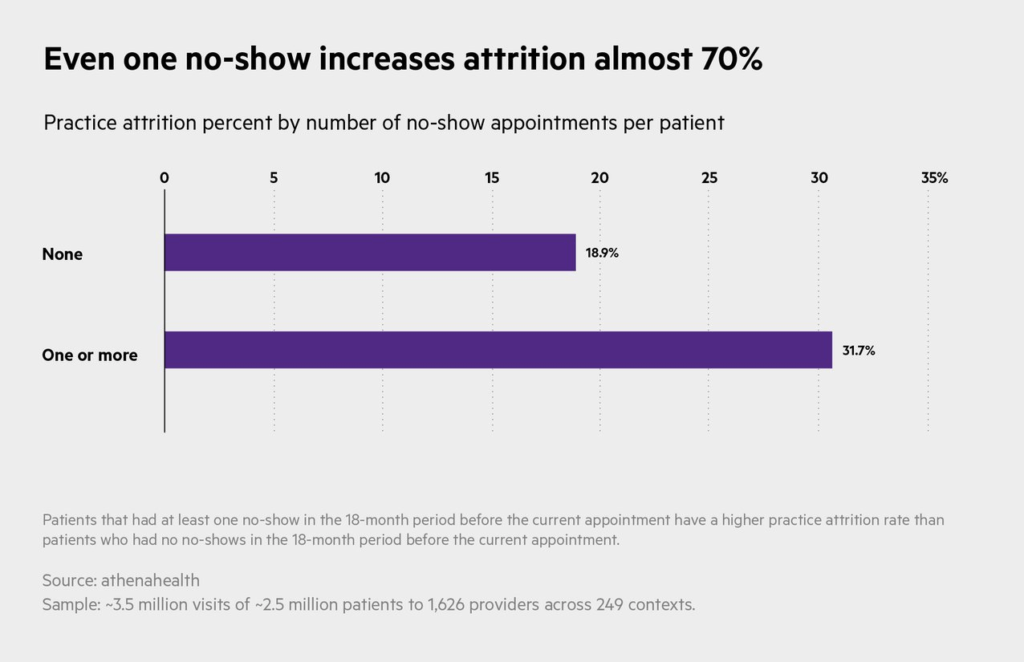 Source: athenahealth
Patient satisfaction and retention
The convenience of televisits eliminates various obstacles in scheduling healthcare appointments and makes ongoing interactions with physicians more likely and more comfortable.
Patients have reported high levels of satisfaction for televisits, citing ease and quality, which points to telehealth's potential to boost patient retention. Furthermore, no-shows decreased by 50% for 1 regional clinic that worked with telehealth startup Amwell to implement a telepsychiatry program.
In-network referral optimization
Telehealth can also increase in-network revenue for health systems by reducing friction to meet with referred specialists.
Video consultation providers such as AristaMD allow primary care physicians to bypass a time-consuming referral process by connecting a primary care physician with an in-network specialist. In most cases, patients are able to receive specialist care through their primary care physician's office.
By resolving issues at the primary care physician level, video consult platforms can reduce the number of in-person visits and unnecessary referrals that can clog patient flow. By optimizing the in-network referral process, payers and providers reduce patient leakage, retain revenues, and keep patient flow efficient.
New revenue streams
Hospitals and clinics need to innovate and create new revenue streams in order to survive decreasing margins and an uncertain market brought on by Covid-19.
Average operating margins for health systems have been trending down due to rising costs and falling revenues. In 2017, health systems made most of their profit margins from non-operating income through investment vehicles rather than patient care — but this revenue channel, too, is jeopardized by current economic conditions.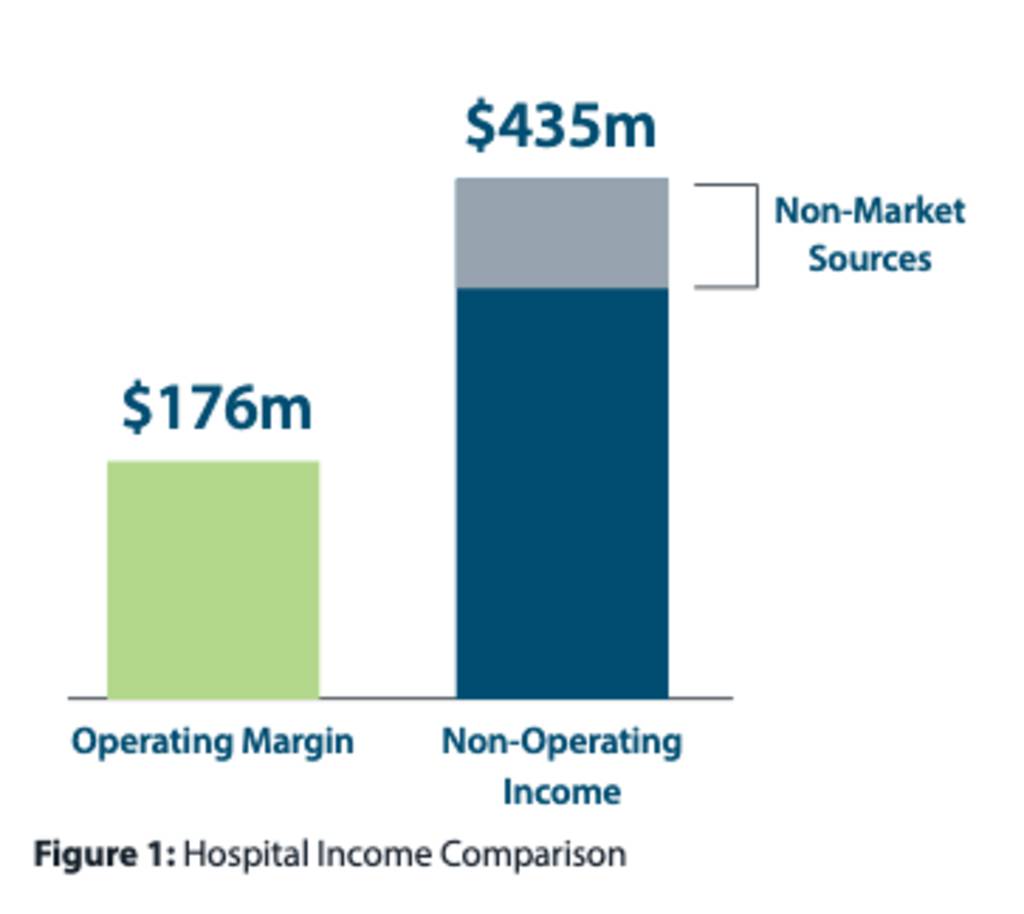 Source: Fitzroy Health
Hospitals and clinics can create new offerings that reach broader groups of customers by integrating innovative telehealth services, in turn generating additional sources of revenue.
New customers
Televisits can help hospitals and clinics acquire new customers who would otherwise have been difficult to reach — such as rural patients, seniors, or individuals with disabilities.
For example, the Kaufmann Clinic in Atlanta expects a 30% increase in revenue from its partnership with ExamMed, a customizable, HIPAA-compliant video chat service. Since partnering with the telehealth provider, the clinic has been able to reach new customers, increase the number of patients seen during the day, and improve in-clinic efficiency.

Source: Healthcare IT News
Ancillary revenues

Hospitals also lose out on potential revenue when they don't offer necessary specialty services.
Telespecialty companies such as RubiconMD offer a way for hospitals to customize and build specialty programs in areas like telestroke, telepsychiatry, or teleradiology that help to keep patients within the hospital system for treatment.
This allows smaller or rural hospitals to branch out to new practice areas and capture additional revenue, laying the foundation for a more robust care offering. For instance, hospitals incorporating telehealth saw labwork revenues increase by as much as $40,000, and pharmacy revenues by $6,000.
Barriers for patients
Patients hold the key to greater telehealth adoption by providers and payers. If more patients try telehealth and demand coverage, then payers will respond to market demand and incentivize providers to offer telehealth services.
However, while Covid-19 has made patients more willing to try telehealth, the majority of patients have yet to do so, especially among the older population.
For telehealth to hit mainstream adoption, platforms would need to overcome the following barriers:
Resistance to change. Only 5% of people over 65 have tried telehealth, according to a 2019 survey from JD Power. Telehealth will have to become more approachable for older patients who may be resistant to new technology or formats.
Perceptions about quality. Slightly less than half of respondents in the same survey said that telehealth visits are lower in quality than in-person visits, citing the lack of personal touch and connection with the physician.
Connectivity and infrastructure. Patients in rural areas are less likely to own smartphones or have the broadband internet connection necessary to deliver telehealth services. Spotty service can be a major roadblock, especially for high-acuity treatments that require a constant, stable connection.
Barriers for providers
Policy matters regarding reimbursement and physician licensing remain the highest barriers for providers. If providers aren't reimbursed for or licensed to offer telehealth services, adoption will hit a plateau.
There is a host of other challenges providers must overcome, including malpractice, data security, interoperability, and high upfront costs, any of which can be a major liability.
Reimbursement. While Covid-19 has lowered policy barriers regarding telehealth reimbursement, providers will continue to work with uncertainty surrounding telehealth service reimbursement until there is a concrete body of policy, regulations, and practices that clearly define which services are covered and to what extent.
Licensing and credentialing. For health systems that work across state lines, licensing and credentialing new telehealth providers can be time-consuming and costly because requirements vary widely from state to state. For rural hospitals with limited resources, credentialing specialists can be an expensive barrier to providing a much-needed telespecialty service.
Malpractice liability. Because telehealth is a relatively new territory that poses unidentified risks, providers need to make sure that they and the telehealth company they're working with are each covered for telehealth malpractice in insurance plans.
Data security. While the US Department of Health and Human Services (HHS) announced it would not levy penalties for HIPAA noncompliance as long as providers acted in good faith to deliver telehealth services during the pandemic, health systems looking to implement telehealth for the long term will have to invest in securing patient information.
Interoperability. Because providers are protective of data, arriving at a one-size-fits-all approach to telehealth integration is difficult. Providers and telehealth companies often have to build from scratch to ensure that the platform is interoperable with the provider's specific IT infrastructure.
Upfront costs. The upfront costs of installing a telehealth platform, training staff, and troubleshooting may jeopardize health systems that often operate on 1-2% margins. In response to Covid-19, the CARES Act set aside $200M to help these providers foot the bill in integrating telehealth services.
The road ahead
Telehealth's main benefit — improved outcomes at a lower cost — could serve as a catalyst for a value-based healthcare system in which treatments are evaluated on their cost-effectiveness, not on the number of times they were administered.
However, despite the growth opportunity presented by the circumstances of Covid-19, establishing telehealth as a healthcare staple remains a complex challenge that requires all stakeholders to play a part.
If you aren't already a client, sign up for a free trial to learn more about our platform.