The Covid-19 pandemic has shined a spotlight on the benefits that telehealth and virtual care can offer to patients, payers, and providers alike.
Telehealth has the potential to change healthcare for years to come.
From primary care visits to emergency triage, virtual healthcare can help to improve the patient experience, lower costs for hospitals and patients, reduce unnecessary hospital stays, and more.
Even before the pandemic, virtual care and online appointments were growing in popularity, but the Covid-19 outbreak has led to a telehealth boom.
Below, our graphic examines the ways telehealth can transform healthcare — not only for patients, but also for payers and providers.
Please click to enlarge.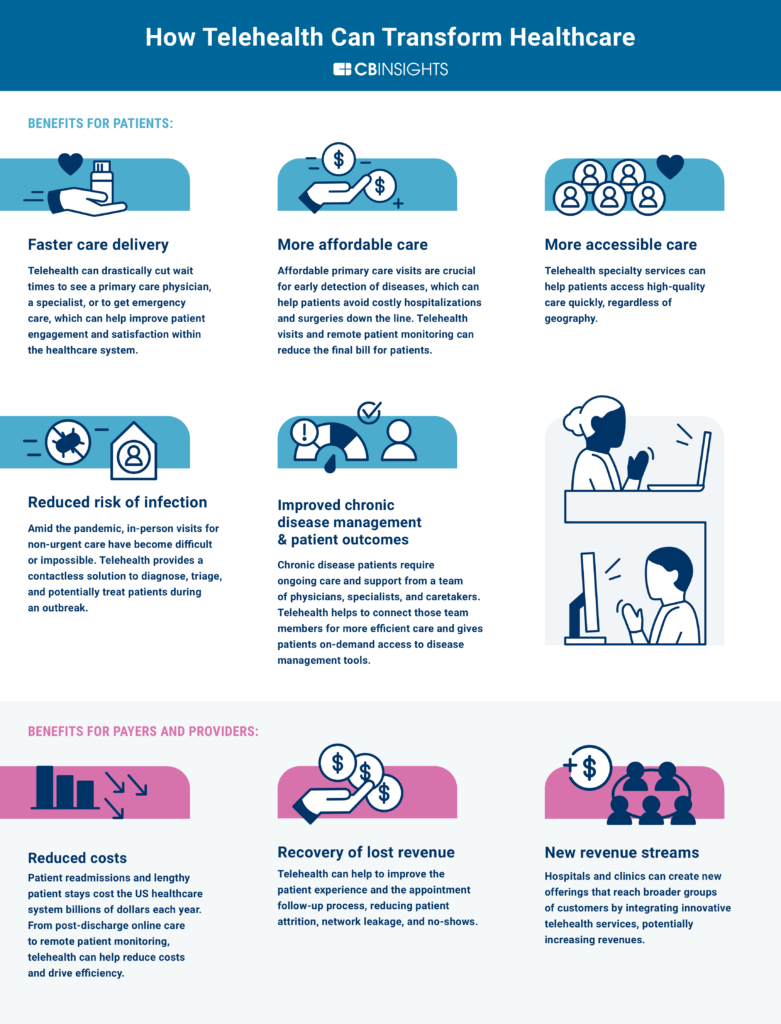 For example, while hospitals have paused certain in-person visits and non-urgent care to prevent the spread of Covid-19, patients still need access to care. To address this, many healthcare systems are adopting telehealth practices to provide remote care while avoiding in-person visits.
Similarly, telehealth is benefiting payers and providers. Telehealth services can help bring in new revenue streams for hospitals and clinics, while reducing patient attrition and no-shows.
For more on how telehealth is impacting healthcare, check out the CB Insights report on Healthcare In The Post-Covid World: 16 Ways Telehealth Could Transform Care.
If you aren't already a client, sign up for a free trial to learn more about our platform.