The pandemic has driven telehealth funding to new heights — and investment hasn't slowed down. Below, we discuss the sector's market drivers as well as emerging themes and their key implications.
Telehealth usage skyrocketed at the onset of the Covid-19 pandemic. US telehealth visits increased 154% YoY in the last week of March 2020, according to the CDC.
Now, 2 years into the pandemic, telehealth has become a key part of care delivery, and equity funding to startups in the space is at an all-time high.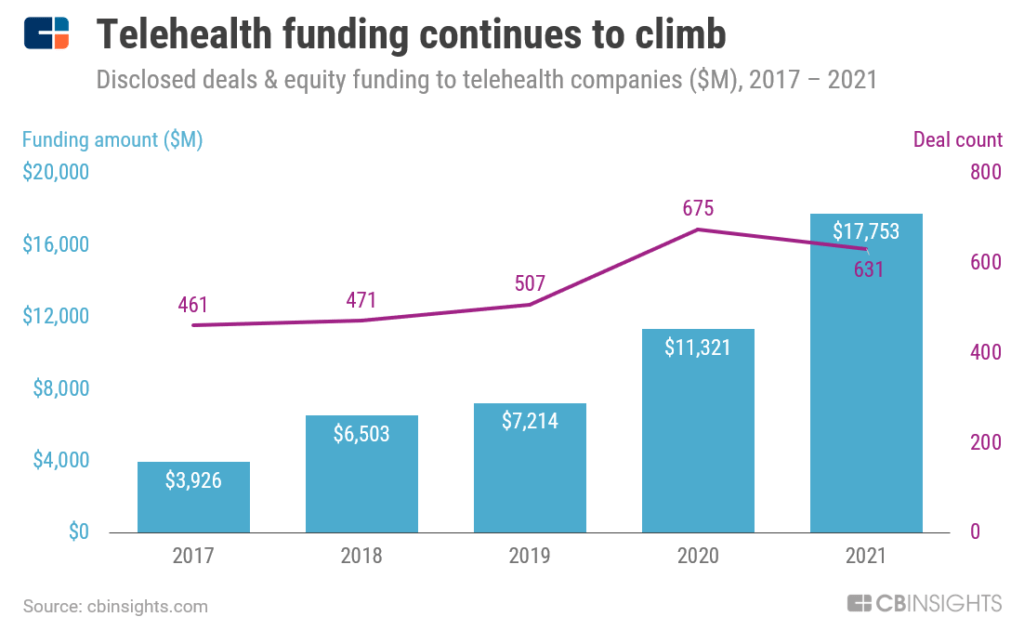 In 2021, equity funding to telehealth companies reached nearly $18B, a 57% increase from 2020's total. Mega-rounds ($100M+) largely contributed to the growth. For example, weight loss platform Noom and online pharmacy Ro both raised $500M+ rounds. Mental health startup Lyra Health also raised a $200M mega-round from Coatue Management and Sands Capital.
The telehealth space shows no signs of slowing down. In this brief, we'll look at:
The topline findings & implications for this growth

The market drivers underlying this boom

The categories receiving the most attention
To dig into all of the underlying data in this brief, sign up for a free trial to CB Insights here.
Telehealth
Companies developing, offering, or using electronic and telecommunication technologies to facilitate healthcare delivery from a distance.
Track Telehealth Companies