From more efficient pre-operative assessments to more convenient post-surgical rehab, telehealth has the potential to enable more patient-centric, value-based surgical care.
Covid-19 has paved the way for an irreversible paradigm shift in the way we seek and deliver care.
Telehealth, specifically, will play an increasingly important role going forward, as barriers between in-person and virtual care break down and as hybrid care pathways are adopted by providers, payers, and patients.
The degree and pace of change could have significant impacts in specialty areas like surgical care, where — for most physicians — the pandemic necessitated telehealth use for the very first time. Telehealth adoption among US surgeons grew more than 12x in response to Covid-19 — going from just 6% in 2019 to 75% by June 2020, according to Amwell.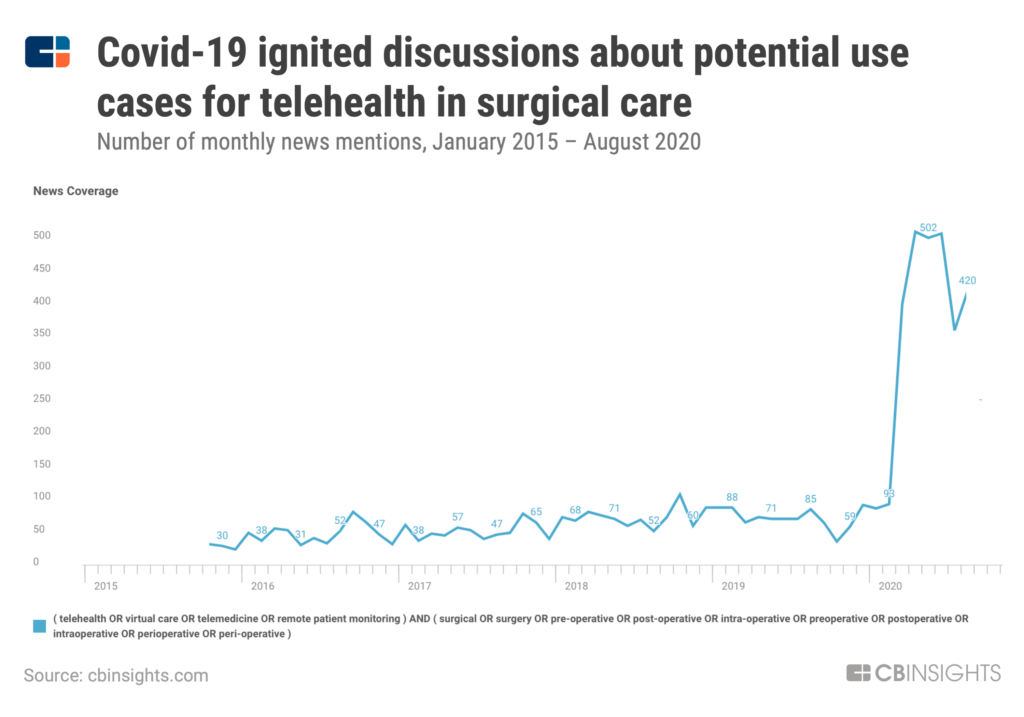 Surgeons' attitudes have also experienced a dramatic shift. In June 2020, for example, 95% of US surgeons said they were willing to use telehealth — more than double the percent reported last year. Additionally, 71% of US physicians (irrespective of specialty) said they'd be willing to use telehealth for post-discharge or post-surgical follow-up visits going forward.
The case for longer-term implementation will likely continue to build as the benefits afforded by telehealth are realized by surgical care stakeholders.
Below, we dig into some of the short- and long-term drivers supporting the integration of telehealth into surgical care pathways and explore some of the pre-, intra-, and post-operative applications of the technology.
---
Why surgical care?
COVID-19 IS A SHORT-TERM DRIVER
During the Covid-19 pandemic, many US states enacted temporary bans on non-emergent surgeries in an effort to reduce infection risk and conserve critical medical supplies. These bans caused an estimated $200B in financial losses for hospitals and health systems (between March and June 2020) — as well as a nationwide backlog of potentially millions of surgeries — to accumulate.
Many surgical care providers were forced to adopt telehealth solutions to stay in contact with deferred surgery patients and to generate revenue wherever possible. 
Though many of these restrictions have been lifted, providers are realizing that patients are still largely wary of the risk posed by Covid-19 and are not returning with the urgency that was expected. This dynamic is problematic to both providers who are dependent on surgical revenue and patients who, by delaying essential surgeries, put themselves at increased risk for adverse health outcomes.
Adopted initially as a stop-gap during the pandemic, telehealth is now being explored as a way for surgical care providers to reengage patients that continue to defer care, risk-prioritize their backlogs, and recover from pandemic-related revenue losses now that elective surgery restrictions have been lifted.

Source: Lumeon
For example, by shifting some of the pre- and post-operative care to virtual venues, surgeons may recoup more time in the operating room, improving throughput without sacrificing the quality of care.
By optimizing the balance between in-person and virtual care — with only the most necessary interactions occurring in person — providers can reassure patients that their risk of Covid-19 exposure is minimized.
Even telementoring solutions could expand access to surgical care, improve intra-operative efficiencies, and accordingly relieve some of the backlog-related capacity constraints in resource-limited settings.
the DESIRE FOR PATIENT-CENTRIC, VALUE-BASED cARE IS A longER-term driver
Traditional surgical care models have historically been plagued with high costs, preventable complications, longer than necessary lengths of stay, excess readmissions, and subpar satisfaction ratings. In an increasingly value-based world, there's urgent pressure to improve on these fronts.
The Perioperative Surgical Home (PSH) is a patient-centric, team-based model that's been proposed as a potential solution. In this model, the patient's experience is coordinated by a physician-led, interdisciplinary team throughout the entire surgical care pathway.