Market Map
From on-demand urgent care consultations to continuous cardiac monitoring, these private companies are shaping the future of virtual healthcare.
The Covid-19 pandemic has been a watershed moment for the telehealth industry.
In the year following the initial outbreak, telehealth news and earnings call mentions skyrocketed, business relationship activity accelerated, and new business models emerged.
Startup funding also accumulated, with companies — including Ro ($200M Series C), VillageMD ($275M Series C), and Alto Pharmacy ($250M Series D) — in the space raising a record $10.5B across nearly 600 deals in 2020.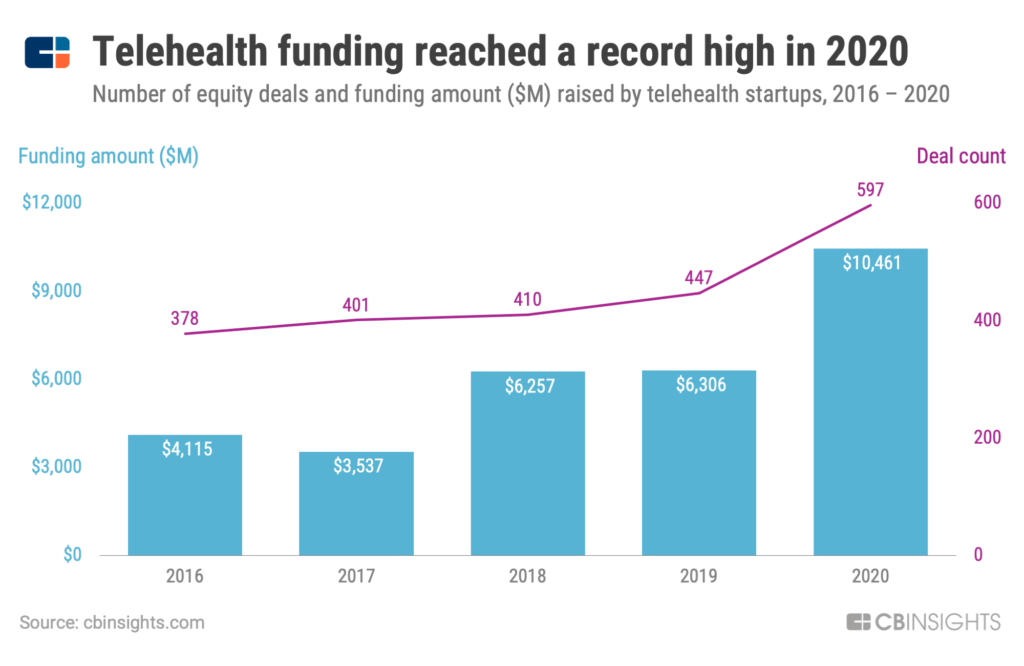 In addition, mergers and acquisitions ramped up, driving both vertical and horizontal consolidation across the industry. And through a combination of IPOs and SPAC-mediated reverse mergers, from GoodRx's $12.7B IPO to Hims & Hers' $1.6B SPAC deal, telehealth representation on public market exchanges multiplied.
Nearly 3 months into 2021, these trends continue to dominate the narrative and shape the future of the telehealth industry — and arguably the whole healthcare sector.
Using CB Insights' data, we identified over 170 startups driving telehealth forward.
These companies develop, offer, or use electronic and telecommunication technologies to facilitate healthcare delivery from a distance. The interactions they facilitate can take place via live audio/video streaming, phone calls, asynchronous messaging, data streams, or store-and-forward communication methods (e.g., e-mail).
Please click to enlarge.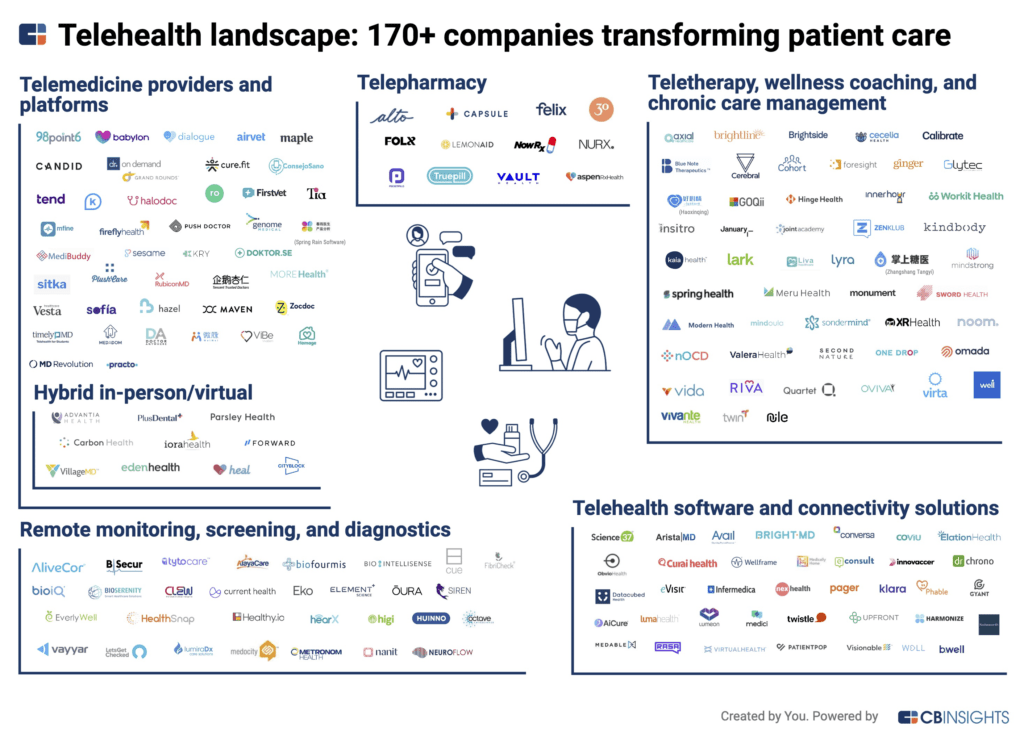 This market map consists of private, active companies only and is not meant to be exhaustive of the space. Startups were selected based on a combination of funding, business development activity, and CB Insights' Mosaic score, among other criteria. More companies can be found in our comprehensive Telehealth Collection.
Categories are not mutually exclusive; startups were placed within the category of best fit.
CATEGORY BREAKDOWN
Telemedicine providers and platforms: Companies in this segment offer online access to and facilitate interactions with remote healthcare professionals.
These interactions — whether between a patient and a physician or between physicians — are generally consultative in nature, and the providers available through these platforms may serve one or many segments of medical care.
For example, Candid provides orthodontia services, Maven Clinic caters to women's health, FirstVet is exclusive to veterinary medicine, and Genome Medical is focused on genetic counseling.
In contrast, companies like Doctor on Demand/Grand Rounds and Maple provide access to physicians across multiple specialties.
Hybrid in-person/virtual care providers (e.g., Parsley Health, Cityblock Health), a subset of this category, offer telemedicine services as a complement to in-person care.
Telepharmacy: Companies in this segment leverage technology to connect patients with pharmacists and deliver pharmacy services from a distance. Typical services include prescription fulfillment, patient counseling, drug selection, and medication management.
Some telepharmacy businesses like Capsule and Alto Pharmacy deal with a wide range of prescriptions, while others like Nurx are more specialized.
Teletherapy, wellness coaching, and chronic care management: These companies offer products and services that bring the patient-therapist (Lyra Health, Joint Academy) or patient-health coach (Omada Health, Noom) interactions online.
While telemedicine interactions are consultative, these interactions are more instructive: they guide and encourage patients through treatment plans or preventive health programs.
Telehealth
Companies developing, offering, or using electronic and telecommunication technologies to facilitate healthcare delivery from a distance.
Track Telehealth Companies
Remote monitoring, screening, and diagnostics: These companies offer products and services to assess patients' state of health and well-being from a distance.
Whether to monitor for signs of deterioration, screen for disease risk, or diagnose conditions, for example, these solutions differ in the types of data they analyze and the manners in which they collect and share it.
Connected device makers like BioIntelliSense and Element Science specialize in biomonitoring wearables, while others like TytoCare and Eko develop portable exam tools, and companies like Vayyar Imaging offer contactless alternatives.
At-home lab testing companies such as Healthy.io and LetsGetChecked allow patients to perform screening or diagnostic tests from home and then follow up online with physicians for the results.
Telehealth software and connectivity solutions: Companies in this category provide software and connectivity solutions to enterprises — largely healthcare-providing organizations — looking to implement telehealth service lines.
Some of the companies, like eVisit and Bright.md, offer video-based virtual care solutions. Meanwhile, a growing number of startups, such as Gyant and Conversa Health, focus on conversational AI and chat-based messaging solutions.
Other companies — for example, Medable and Science 37 — provide the infrastructure and software integrations necessary for decentralized clinical trials.
If you aren't already a client, sign up for a free trial to learn more about our platform.