With 5G on the horizon, telecommunications service providers are investing in technologies from cybersecurity to virtual reality. We visualize where these market leaders are investing, acquiring, and partnering.
As telecommunications providers roll out infrastructure to support the emerging wireless standard 5G, they're simultaneously investing in areas expected to benefit from the new technology.
While the Covid-19 pandemic dealt a momentary blow to 5G interest, with mentions of the wireless standard on earnings calls sinking to their lowest level in 6 quarters during Q2'20, the overall trend proved resilient — rebounding to pre-pandemic levels in the third quarter. In fact, Covid-19 will likely increase demand for 5G in the long-term as it accelerates the adoption of bandwidth-intensive activities like robotics and video communications.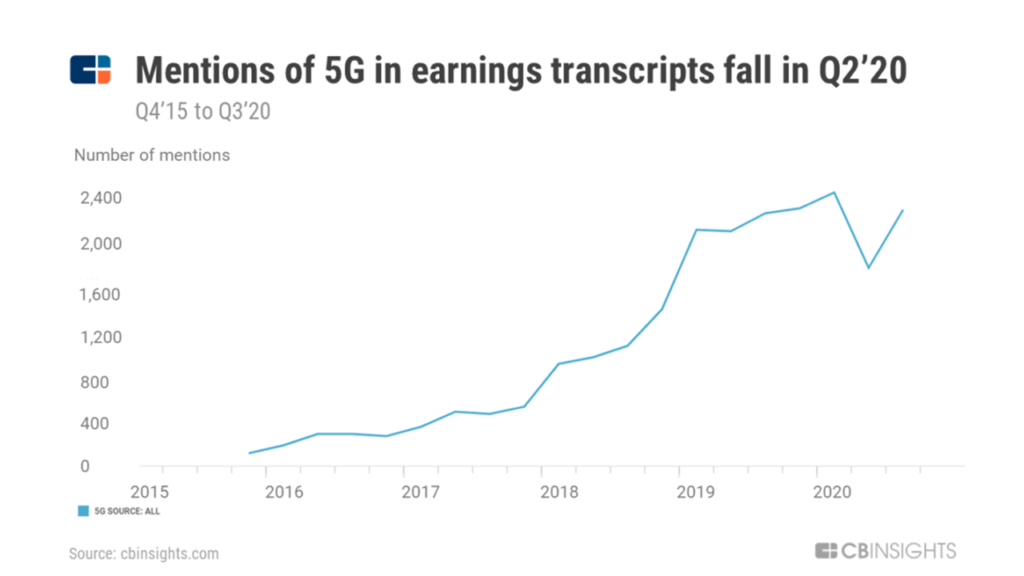 The world's largest telecom providers continue to express interest in the space, with investment activity on track to exceed 2019's levels. In October 2020, T-Mobile announced the creation of a multi-year investment fund "designed to fuel 5G innovation," while Telefonica debuted a new investment vehicle, Telefonica Tech Ventures, targeting cybersecurity companies.
Get the entire What is 5g? report
Download the free report to understand what 5G is, the industries it's disrupting, and the drivers paving the way for its implementation.
This investment activity reflects a desire to stay ahead of technical change in the industry, where hardware is being replaced by software-based network architecture relying on cloud computing, and "dumb" devices (like refrigerators and industrial machinery) are becoming smart.
As the domains of telecommunications and information technology collide, tech giants like Google, Amazon, Microsoft, and others have increasingly entered partnerships with telecoms in areas like edge computing, while competing with them in areas such as cybersecurity, advertising, and even internet access.
Using CB Insights data, we examine the recent investment, acquisition, and partnership activity of 12 major telecommunication service providers from across the globe to shed light on where the industry is headed.
The analyzed companies have $15B+ market caps and include:
AT&T
Comcast
Deutsche Telekom
NTT DoCoMo
Orange
Singtel
Telefonica
Verizon
Vodafone
T-Mobile
SK Telecom
Telstra
Where telecoms are investing
Despite uncertainty surrounding the pandemic, the investment activity of these 12 providers is on track to exceed 2019 levels.
Of the nearly 200 deals since 2019, two-thirds have been to mid- or late-stage companies, and more than half went to US-based companies. Behind the US are Japan and Israel, which together account for one fifth of all deals.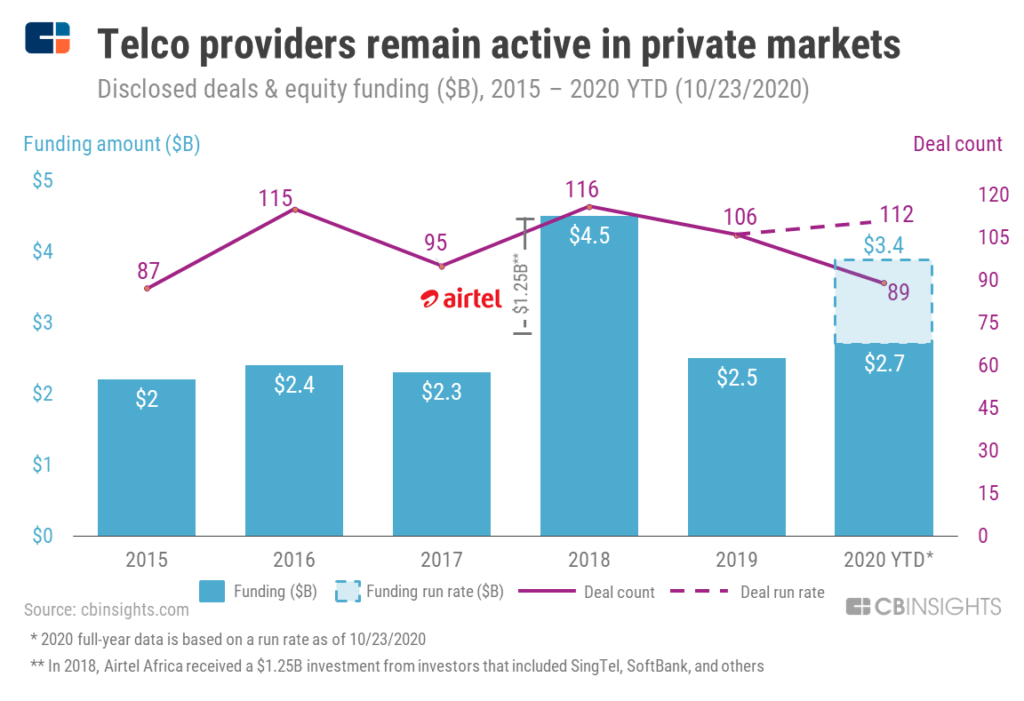 Comcast and NTT DoCoMo are the most active investors in 2020 with 24 and 20 deals, respectively. While Deutsche Telekom participated in fewer deals (10), these deals were larger on average, accounting for $765M in funding — the most among these telecom investors.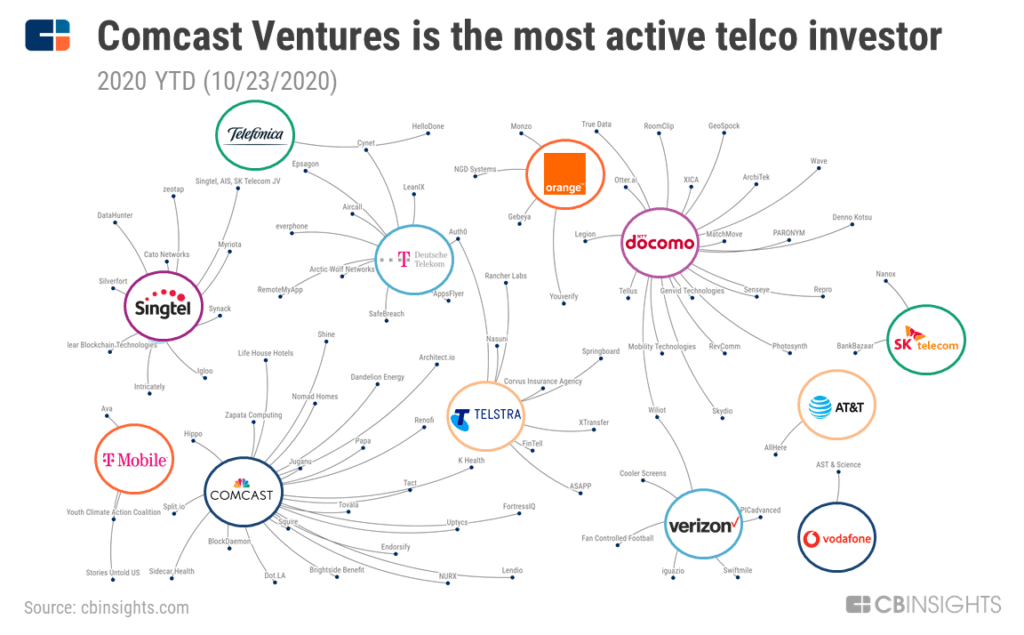 While each telco has its own strategy, recent investments (as well as acquisitions and partnerships, below) tend to center around 5 common areas:
Cybersecurity: Securing networks and the devices that run on them.
Content: Developing content (like games, news, and movies) for customers to access.
Advertising: Monetizing customer access and data.
Internet of Things (IoT) / Edge computing: Enabling connected device use cases such as predictive maintenance, connected homes, and more.
Visual technologies: Supporting communications requiring high bandwidth and low latency (video, augmented reality, etc.).
NOTABLE INVESTMENTS
Cybersecurity: Telstra's venture arm participated in a $120M Series F round for authentication and authorization platform Auth0 in July 2020.
Content: Comcast and SK Telecom created a $93M joint e-sports venture called CS T1 E-sports in October 2019 to capitalize on the South Korean and US gaming markets.
Advertising: Deutsche Telekom's venture arm participated in a $210M Series D round for marketing attribution company Appsflyer in January 2020.
Internet of Things (IoT) / Edge computing: Comcast's venture arm participated in a $150M Series E round for the IoT-enabled home insurance company Hippo in July 2020.
Visual technologies: NTT DoCoMo took a $280M corporate minority stake in augmented and virtual reality unicorn Magic Leap in April 2019.