E-commerce tech solutions are proliferating for everything from customer analytics to payments to fulfillment. This Market Map looks at the companies helping brands & retailers run the back-end, front-end, and merchandising side of an online business more profitably.
E-commerce is approaching a tipping point.
Despite a slowdown in the rate of growth, e-commerce's share of total retail sales remains higher than it was pre-pandemic — and associated revenues in the US are projected to keep rising. Funding to e-commerce enablement companies topped $11B last year as an increasing number of vendors entered the market.
Reflecting this growth, e-commerce tech stacks are becoming much more complex.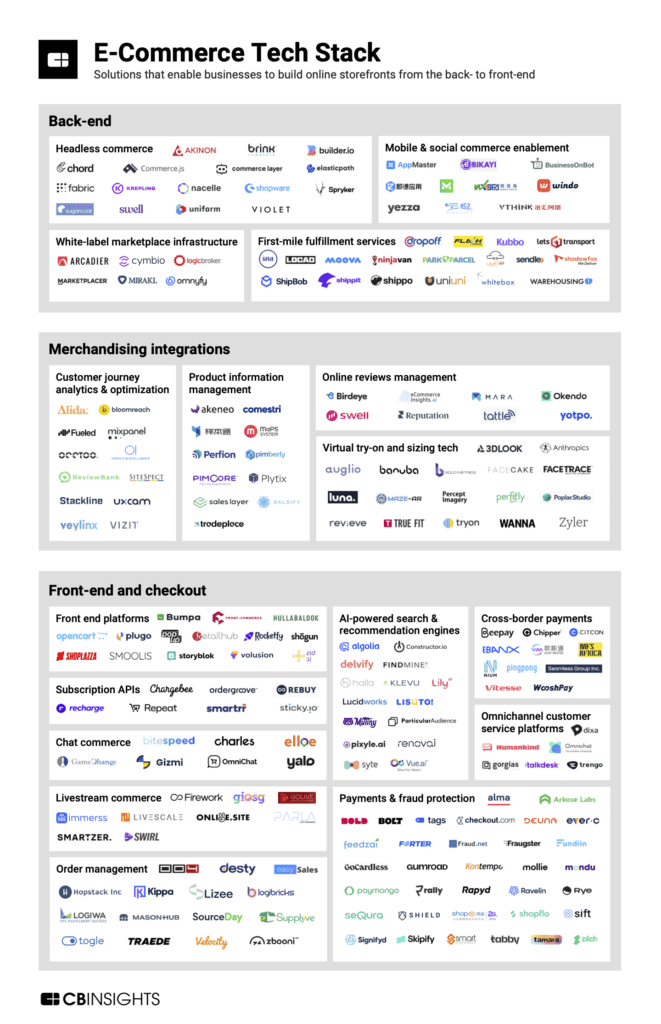 To dig deeper into this market landscape and connect directly with companies, check out the E-Commerce Tech Stack Market Map Expert Collection.
This Market Map shows private e-commerce enablement companies organized by primary application. It is not intended to be exhaustive of companies in the space and categories are not mutually exclusive.
On the back-end, retailers are assessing vendors offering services like headless commerce and first-mile fulfillment. Front-end considerations now include a broad array of shopper-facing tech like AI-powered recommendation engines and fraud prevention tools. Meanwhile, new merchandising integrations are popping up for everything from product information management systems to virtual try-on tech.
Using CB Insights data, we identified 217 companies across the e-commerce tech stack and assessed how the tools can integrate together.
Read more about these next-gen solutions in our report on The Future of E-commerce.
---
Market Breakdown
Back-end