We dig into Q1'20 VC funding trends across metro areas, from Silicon Valley to New York.
Investments in VC-backed startups in the US have been declining for 3 consecutive quarters. But despite recent downturns in startup funding in many US cities, some tech hubs are seeing increases in total startup funding year-over-year.
In the first quarter of 2020, St. Louis saw the largest increase in deal activity, as deals rose 50% YoY.  Meanwhile, Chicago experienced the largest decline, with deals falling 43% during the same period. 
St. Louis also saw the largest increase in funding, while funding in New York City was hit hardest, with a 36% YoY decline. 
Other regions beyond the usual hotbeds also attracted noteworthy investment in Q1'20: the Atlanta and Boston metros both hit 8-quarter highs for funding activity during the period.
Below, we dig into the state of VC funding across metro areas, from Silicon Valley to NYC.
Silicon Valley
Deals to VC-backed startups in Silicon Valley have trended downward for three consecutive quarters. On an annual basis, deals in the region have fallen 12%.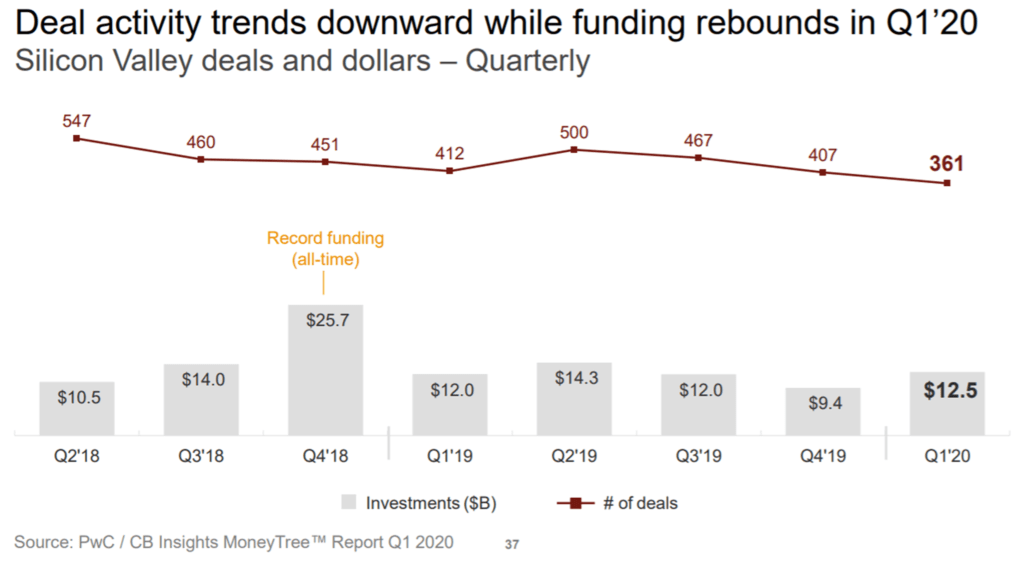 Nevertheless, all of the top 5 Q1'20 funding rounds in the US went to Silicon Valley-based startups. This contributed to a 4% YoY increase in funding in the region — and a 33% funding jump quarter-over-quarter.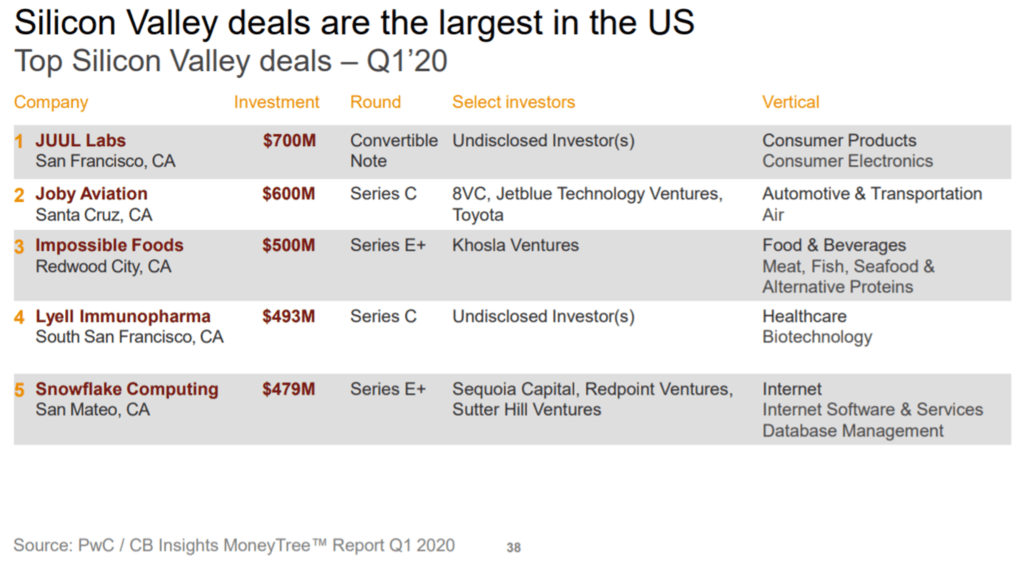 New York
Deal activity in the New York metro area fell 15% in Q1'20 versus Q1'19, making it the only major US metro to experience a YoY decline in funding.
However, the region experienced a mild uptick in deals and funding on a quarterly basis, supported by late-stage mega-rounds for ClassPass and Via Transportation.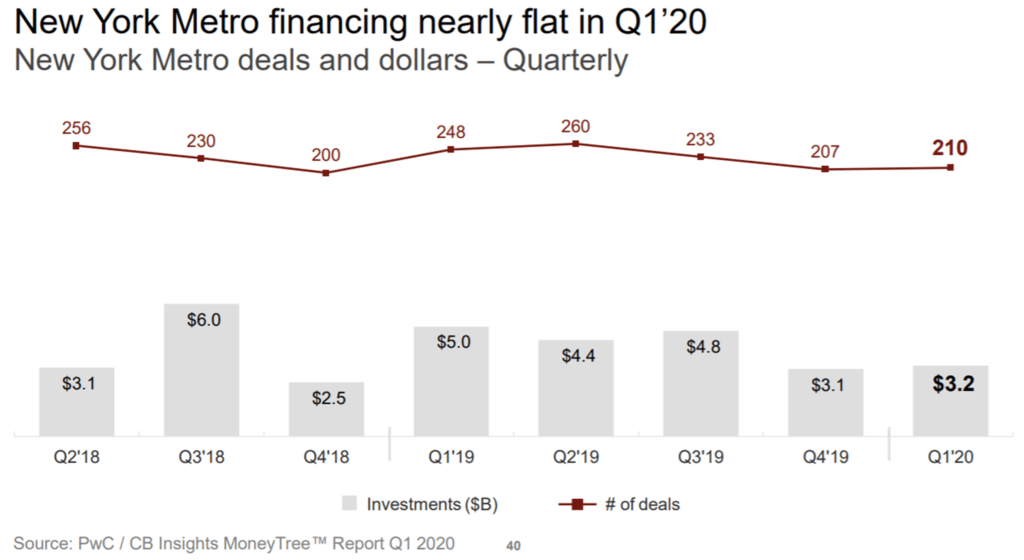 Atlanta
Startup funding in the Atlanta metro area rose nearly 50% YoY to reach $540M in Q1'20. However, deal activity contracted during the same period.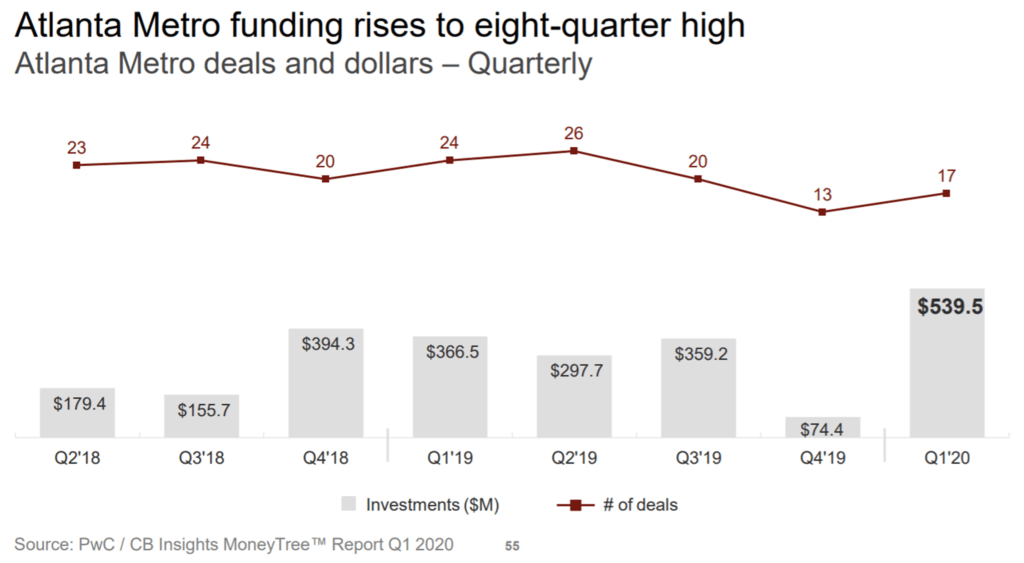 The spike in funding in Q1'20 was driven by $200M+ mega-rounds for two companies: Bakkt and OneTrust.
Bakkt, which is developing a platform for consumers to manage their digital assets, including cryptocurrencies, raised a $300M Series B in March 2020. Round investors included Intercontinental Exchange, The Boston Consulting Group, Microsoft's M12, Pantera Capital, PayU, CMT Digital, and Goldfinch Partners.
OneTrust develops privacy management software to help enterprises comply with international data privacy regulations, including Europe's GDPR. The regtech startup raised a $210M Series B from Insight Partners and Coatue Management in February. 
St. Louis
The St. Louis metro area experienced the largest uptick in YoY funding and compared to all other major US metro areas. Deal activity rose 50%, while funding grew more than 50x compared to Q1'19.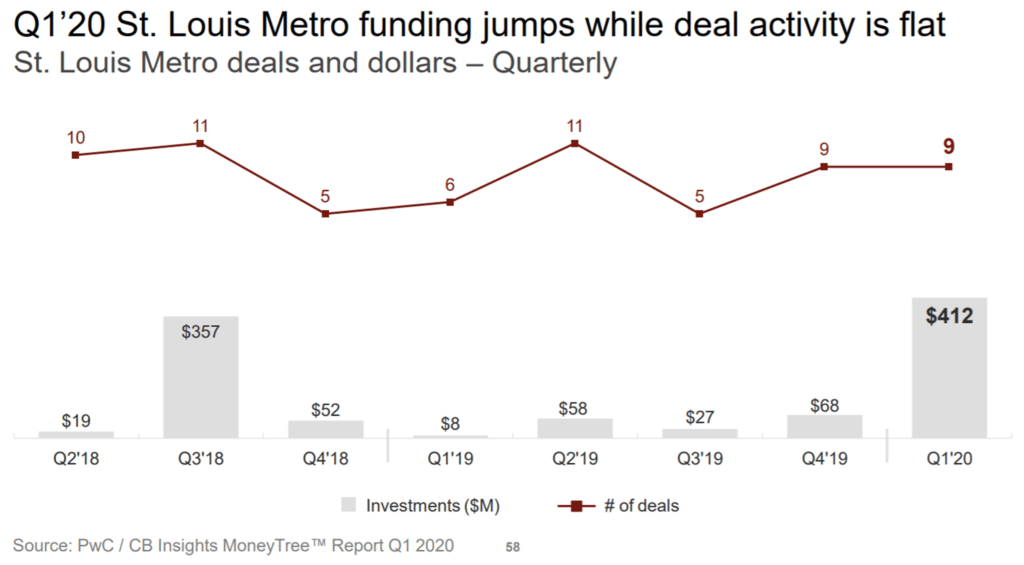 The uptick in funding was driven by largely a $320M deal to enterprise data center startup TierPoint. 
The second- and third-largest deals in the region were in the biotechnology sector, capitalizing on research resources and talent from Washington University in St. Louis. Sequoia Sciences, which develops therapeutics for infections and cancers, raised $41M, while medical imaging and diagnostics startup Adarza BioSystems raised a $25M Series D.
Boston
While the Boston metro area experienced a 13% YoY decline in deal volume in Q1'20, funding in the region rose 17% during the same period.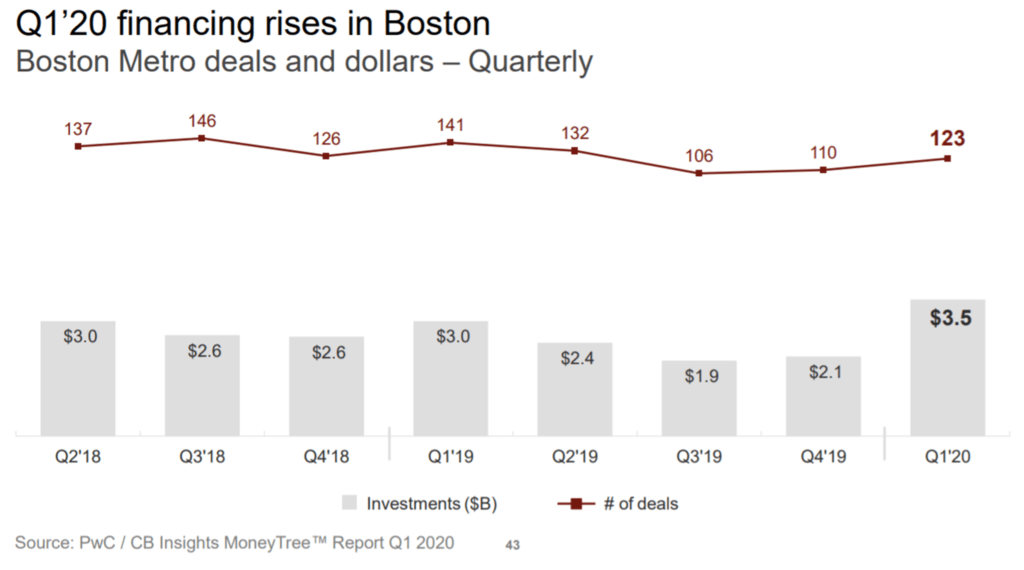 The uptick in funding was driven by a series of mega-rounds across retail, logistics, biotechnology and agriculture.
Toast, which develops point-of-sale systems and provides supply chain visibility solutions for restaurants, raised a $400M Series F, while Berkshire Grey, which develops autonomous "pick and place" robots for warehouse logistics, raised a $263M Series B. 
The region's historical focus on biotechnology persisted, as biotech startups EQRx and ElevateBio raised $200M and $170M rounds, respectively. Agtech company Indigo also raised $175M in convertible notes.
Other metro areas 
Chicago experienced the largest YoY decline in deal volume among major metro areas after peaking in Q1'19. However, biotechnology unicorn Tempus and advertising startup ActiveCampaign each raised $100M equity rounds, contributing to a 12% YoY uptick in funding in the region in Q1'20. 
Deal volume and total funding in Los Angeles rose 11% and 6% on a YoY basis, respectively, as $200M+ late-stage rounds for Califia Farms, SpaceX, and Scopely contributed to a small uptick in funding compared to Q4'19. 
Deal activity in the DC metro area fell 5% YoY in Q1'20. Funding, conversely, rose 24% over the same period. Clutch, which provides small businesses with analysis of potential agency vendors, raised the largest equity deal in the quarter – an $80M growth equity round from Susquehanna Growth Equity.
Take a deeper look at all the underlying data and get more insights in the PwC and CB Insights' Q1 2020 MoneyTree report.
If you aren't already a client, sign up for a free trial to learn more about our platform.